How To Convert PNG to JPG on Mac—No Hassle, No Downloads
PNG supports true color and has lossless compression unlike JPG. The upside of a JPG file is that it uses lossy compression to reduce the amount of disk space needed.
People convert PNG to JPG for a wide variety of reasons, such as:
Emailing photos—if you need to email the photo in a small size, PNG probably won't provide enough compression.
Posting on social networks—PNG files don't work well with Facebook, Twitter, and other social media sites
JPEG is generally a more efficient format for the web because it takes less space to store and displays faster. This is because it doesn't use metadata that other formats require, such as comments and other invisible information.
Professionals who use Macs encounter various file types that are either difficult or outright impossible to edit in Mac-native apps or simply take up way too much space.
If you want to know how to convert PNG to JPG on Mac, you've come to the right place. This article will answer all your questions and show you the fastest and easiest way to convert any type of file in seconds. Once you sign up for DoNotPay, you'll get access to our File Converter product that lets you convert hundreds of file types with a single click!
How To Convert JPG to PNG on Mac—A Step-by-step Guide
For Mac OS X users, there is a built-in program, called Preview, which can be used to convert PNG to JPG. Follow these steps to convert PNG files to JPG on Mac:
Open the image in the Preview program.
Choose the Export option from the file menu
Select JPG as the desired format from the drop-down menu
After typing in a name and choosing a location, click on Save
Converting PNG to JPG Using an Online Converter
Using the Preview program is not your only option. There are numerous online converters you can use for the purpose of converting your PNG files to JPG. The best part about such tools is that they don't require you to download or install anything on your Mac.
Some of the popular PNG to JPG online converters are listed in the table below:
| Online Converters | Description |
| --- | --- |
| PNG2JPG | As the name suggests, PNG to JPG is the right tool for the job. It's quick and simple to use, but the ads can get quite annoying if you're converting multiple images |
| CloudConvert | CloudConvert.com is a website that offers free online file conversion. It can convert any type of text or media file into any other type of text or media files, like PNG to JPG, PDF to DOCX, MP3 to WAV, etc. |
| Ezgif | Ezgi is a free online file converter that allows you to convert between hundreds of various formats, including word documents, PDF files, JPG files, PNG files, etc. |
What Are the Main Issues With Online PNG to JPG Converters?
Free online converts are rarely, if ever, truly free. There are a lot of hidden dangers and drawbacks to these tools and, if you're not careful, you might end up paying a steep price.
Here are the main issues with online file converters:
Lack of Quality Controls for the Output Image—PNG to JPG online converters typically don't provide any quality control which means you can't preview or adjust your image before it's converted
Loss in Quality—The loss of quality can be easily seen when looking at a sample of a single pixel, but it may also be seen when looking at your final product. A common reason for this reduction in quality is because many online converters can remove metadata from PNG files or even just not preserve it
Risk of viruses and malware—If you use a shady online converter, you might end up downloading malicious software that will harm your device. If worse comes to worse, hackers might use the malware to get access to your sensitive information, such as passwords and email accounts
How To Make Sure an Online Converter Is Safe?
Although it may not be possible to find a converter that is 100% safe, there are certain aspects you can look for which might help reduce the risk of your computer being infected with malware. These include:
Encryption—The converter should use an HTTPS connection for all communication. This will ensure that no one can intercept and view your information or inject malware into the website
Privacy policy—If a website on which the online converter is hosted doesn't have a Privacy Policy, steer clear from it. Legitimate sites will always tell you how they store your data, and for how long, as well as how they go about protecting it
Opt For DoNotPay To Convert Your PNG Files to JPG Safely and Quickly!
What if we told you that you could avoid wasting your time on scouring the web for a decent online converter and instead use an award-winning app that lets you convert over a hundred different file types with a single click? With DoNotPay, that's exactly what you can do!
Convert your PNG files to JPG in a matter of seconds, without worrying about the safety of your files! We will delete them automatically after 24 hours.
To start converting your files, all you need to do is:
Access your DoNotPay account from any web browser
Find the File Converter product and upload your PNG file
Choose JPG as the format you want to convert it to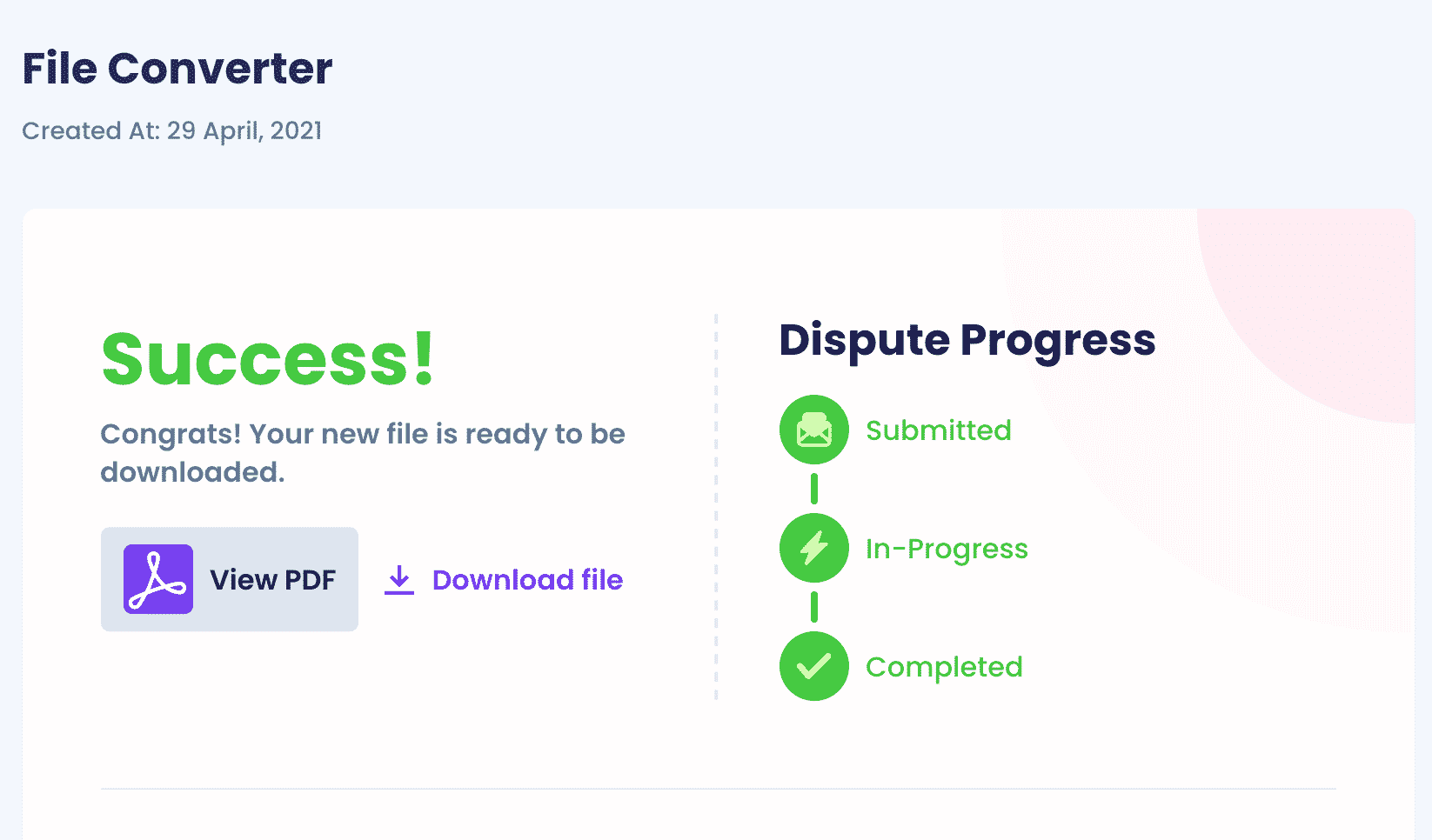 That's literally all there is to it! The conversion process will take only a few seconds. To download your new JPG file, go to the My Disputes page.
What Other File Types Are Supported By the DoNotPay File Converter?
Although you came here to convert PNG files to JPG, this isn't all we can do for you! Check out the table below for a list of files that you can quickly convert with our app:
Put Greedy Companies in Their Place
If being on hold with customer service and requesting refunds and cancellations is your idea of the worst nightmare, we come to the rescue!
When you create a DoNotPay account, you'll be able to do the following with ease:
If worse comes to worst, we can guide you through suing any company in small claims court.
Use DoNotPay To Resolve Numerous Issues
The number of products we offer keeps growing. From simple chores to bureaucratic tasks and serious issues, there's not much DoNotPay won't be able to handle in a few clicks.
Would you like to search for unclaimed money you may not know about? Are you trying to save your work from copyright violations? Do you want to contact government representatives? Once you have a DoNotPay account, you will get everything done in a flash.
Even if you are a victim of stalking or harassment, violent crimes, or workplace discrimination, we can help you out! DoNotPay can also perform a sex offender search in your area and give you weekly updates.
If robocalls and spam are what's bothering you, our app will free you from such annoyances for good. Whether the spam is coming via email or text, we'll know what to do.