How To Convert PDF to Word on MAC Without Breaking a Sweat
PDF is the most widely used document format in the world. It is especially useful for preserving fonts and graphics, but that comes at a cost—PDFs aren't interactive. They can't be indexed, live-updated, or hyperlinked. Word files are different—you can embed video or audio, pictures, links, and even live forms into Word documents, which is, besides the editing possibilities, the most common reason why people convert PDF to Word.
Since a particular document can't be converted directly from PDF to a Word document, you need to use specialized software for that purpose. If—as a Mac user—you're not sure which conversion tool to choose or how to use it, you've come to the right place! DoNotPay will explain how to convert PDF to Word on Mac without any hassle and answer some other questions you might have.
Consider using our File Converter product if you want your files to be converted safely and in no time. It is browser-based, so you can convert any file regardless of whether you're using Windows, Mac, or Linux. To get access to it, you'll only need to sign up for our service.
How To Convert PDF to Word on Mac Using Preview
Preview is a macOS app that is used for viewing and editing images and PDFs. If you want to avoid downloading and installing third-party software to your computer, this is the program you can use to convert PDF to Word on Mac. The steps you need to take are the following:
Open your PDF in the Preview app
Select the text you wish to convert to Word and hit Command+C
Navigate to the word processor of your choice (Microsoft Word or Pages) and paste the text into the document using Command+V
Save the file as DOC or DOCX
What Other Tools Can I Use To Convert PDF to DOCX on Mac?
Other than Preview, you can use a range of different tools that can be divided into two major categories:
Offline file converters
Online file converters
Using Offline File Converters To Convert PDF to DOCX
A desktop file converter usually provides a better conversion experience than an online one would. There are a few questions you should find answers to before opting for a particular file conversion app, though:
Can it convert my file?
Is it easy to use?
Does it have good reviews?
Does the converter app have a free version?
How long is the download time?
What's the file size limitation?
Is it capable of converting entire folders of PDF files at once, or just one at a time?
Is the download safe and virus-free?
Does it have extra features that I might need?
If the app is not free, you should download the free trial version of the software before buying it, just to make sure that it works well on your system and that it's safe to use.
Using Online File Converters To Convert PDF to DOCX
Online file converters are a great way to convert from one file format to another, especially if you do not have a lot of time at your disposal. Many of them are free and don't require installing any software. Some popular online PDF to DOCX converters are listed in the table below:
| Converter | Description |
| --- | --- |
| iLovePDF | With this tool, you can convert any PDF file to different formats, such as DOCX, TXT, HTML, JSON, XML, and more |
| Soda PDF | Soda PDF supports many different file types and makes the whole conversion process smooth |
| Freepdfconvert | Freepdfconvert is a free online converter that converts PDF to various formats, including PDF to JPG, HTML, Text, Word, and more |
How To Know if the Online PDF to Word Converter I Chose Is Safe To Use
If you want your files to stay private, never use an online converter before checking if it's safe. You can do this by:
Reading the reviews of previous users on Google or different forums
Reading the Terms and Conditions and Privacy Policy to make sure that the website won't sell your data to third parties
Taking a look at the website—Reliable file converters usually have a professional-looking website
Checking if a website has a lot of traffic—If a website has a lot of traffic, it is less likely that it's going to be a scam. Always go for sites that have a lot of visitors
Checking if an online converter uses SSL protocol to establish secure connections between clients and servers
Use DoNotPay To Convert PDF to Word in No Time
To prevent the previously mentioned security and privacy issues, opt for DoNotPay! Besides being 100% safe, our nifty File Converter product allows you to convert your files in a few seconds. The best part is that the files you'll receive will be of excellent quality—which is often not the case with online file converters. You can use our product on either Mac or Windows because it is browser-based. It is also easy to use, requiring minimum effort on your part.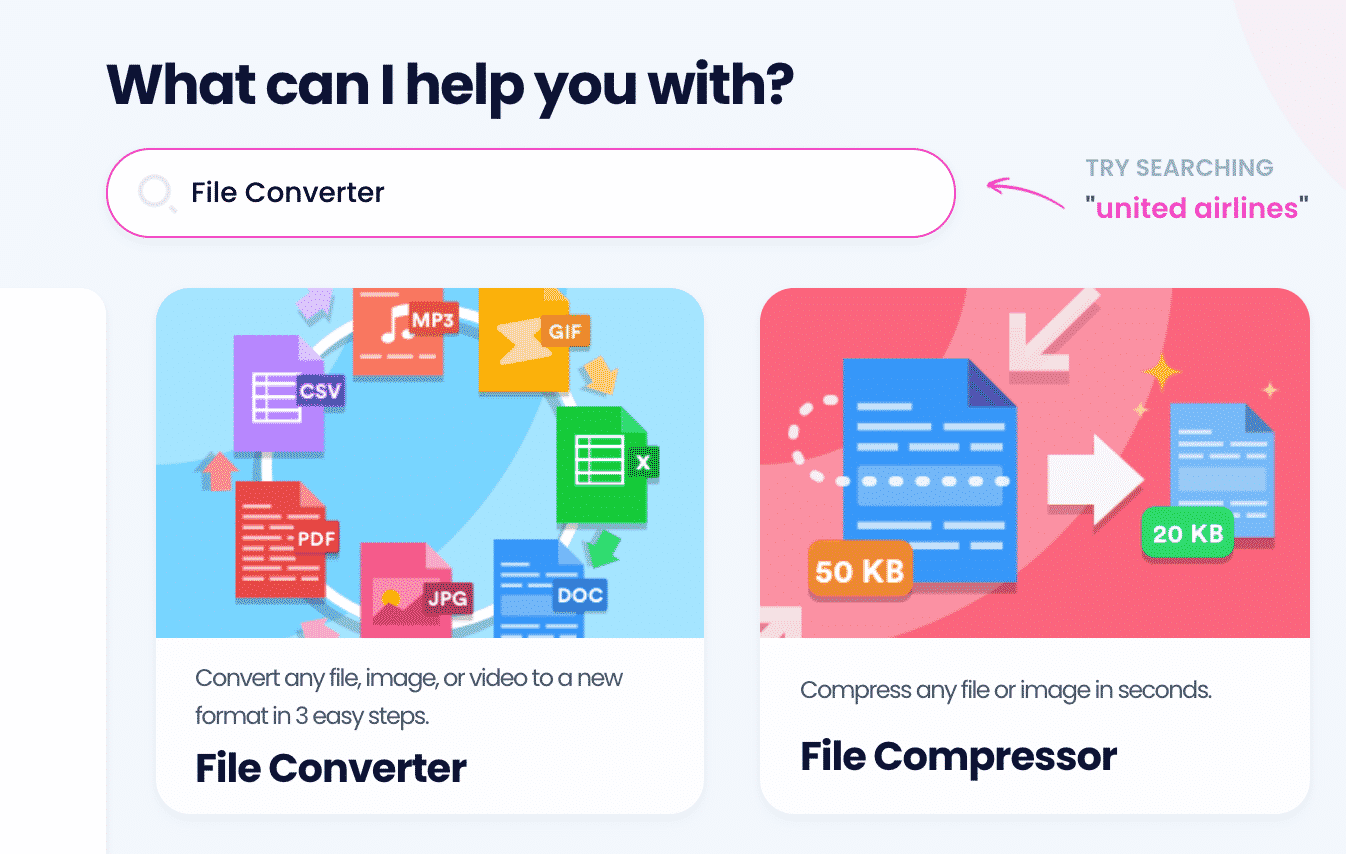 Once you've logged in to your DoNotPay account, take these steps to get your files converted in no time:
Open the File Converter product
Upload your PDF file
Choose Word as the format you want to convert it to
Go to the My Disputes page and download your new file
Keep in mind we'll delete your files 24 hours after the conversion to protect your privacy.
What Other Files Can DoNotPay Convert?
DoNotPay can convert an array of files, and there is no limit to the number of files you can convert using it. Check out what other files you can convert with our app in the table below:
Convert, Compress, and Download Anything With DoNotPay
Technology is advancing at a rapid pace, and it can be rather difficult to keep up. But there's no need to worry if you're not particularly tech savvy—DoNotPay got you covered!
With our easy-to-use app, you can compress any file, download videos from the web, and convert online videos to MP3 files, all with a few clicks. There's absolutely no experience needed. Your files are 100% safe, and your privacy is ensured because we delete the converted and compressed files after 24 hours.
Save Time and Money With DoNotPay
On top of file conversion, DoNotPay has hundreds of different products that automate boring tasks and streamline complex processes. And the best part is—you get access to all of them, so you can use our award-winning app to save a ton of time and money.
Here are just a few examples of what DoNotPay can help you with: