Learn How to Convert JPG to PDF on Mac in No Time!
JPG is a standard image format used in web design and digital photography while PDF is a popular document format. Most people convert JPG files to PDF because they are looking for a higher-quality final product—one that allows them to incorporate text alongside the images, and offers a lot more editing options.
JPG files compress the image file which can result in pixelation and poor image quality. With a PDF, the user has more control over the formatting, creating better text sharpness, contrast, and other features that are not possible with a JPG file. The best part is that if your original JPG is blurry or blotchy, converting it to a PDF will also make it crisper.
Additionally, you can convert an existing PDF file to another format without losing any of its content.
If you want to find out how to convert JPG to PDF on Mac, you've come to the right place. This article will walk you through the conversion process step-by-step, so you don't have to waste time figuring out which converter you should use or spend weeks learning complex tools. To start converting your files straight away, sign up for DoNotPay!
How To Convert JPG to PDF on Mac
Although not the best option, due to limited options and varying output quality, there is a way to convert a JPG image into a PDF file using a Mac-native app.
To convert JPG to PDF on Mac, you should follow these steps:
Double-click on the image you want to convert to a PDF—it will open in Preview, which is the default photo-viewing app for Mac computers.
In the Preview menu, click File and select Export as PDF
Enter the file name and choose a destination for the file
Click on Save
This way, you can also convert JPG files to other formats.
Other Ways To Convert JPG to PDF on Mac
Using the Preview app is not the only way you can convert JPG to PDF on Mac. Other options you have are:
Downloading third-party software
Using an online file converter
The latter is a more popular conversion method because downloading and installing a program not only takes time but also takes space on your laptop.
Take a look at the table below to discover some popular JPG to PDF online file converters:
| Converters | Description |
| --- | --- |
| Smallpdf | Smallpdf is a website where you can convert one file format to another in a few simple clicks. It offers unlimited free file conversion |
| iLovePDF | iLovePDF is a free document conversion service that enables anyone to easily convert PDFs to Microsoft Word, Excel, PowerPoint, and other formats |
| Freepdfconvert | Freepdfconvert is a website that can convert any PDF to a number of popular file types, including Microsoft Word, Excel, PowerPoint, HTML, and more |
What Are the Disadvantages Of Using Online JPG to PDF Converters?
While convenient, free online converters aren't always the best option. Here are some common disadvantages of using online file converters:
Loss of quality—If the online file converter is badly made, the quality of your converted files could be poor
Security risks—If the tools are hosted on sketchy websites, you might end up accidentally downloading malware, viruses, keyloggers, or similar harmful programs
Lack of control—The inability to edit converted files
Size limit—You may not be able to convert large files
How To Check If an Online Converter Is Safe To Use
You can check the safety of an online converter by first checking its SSL certificate. An SSL checker will show you if the website is secure, legit, and how often they've updated their encryption. Another way to test the quality of an online converter is to check the website's reputation by reading user reviews.
Lastly, make sure you read the Privacy Policy of the website. Check if it states that no information will be released or sold without your permission.
Converting JPG to PDF With DoNotPay Is a Piece of Cake!
DoNotPay is an award-winning app with over 150,000 monthly users. Our File Converter product is 100% safe and incredibly easy to use. The conversion process takes seconds and you can convert an unlimited amount of files. The app supports over a hundred different file types, so you'll never have to look for a file converter again!
To start converting your JPG files to PDF, you'll have to log in to your DoNotPay account first. Next, follow these simple steps:
Open the File Converter product
Upload your JPG file
Choose PDF as the file format your want to convert it to
Go to the My Disputes page and download your new file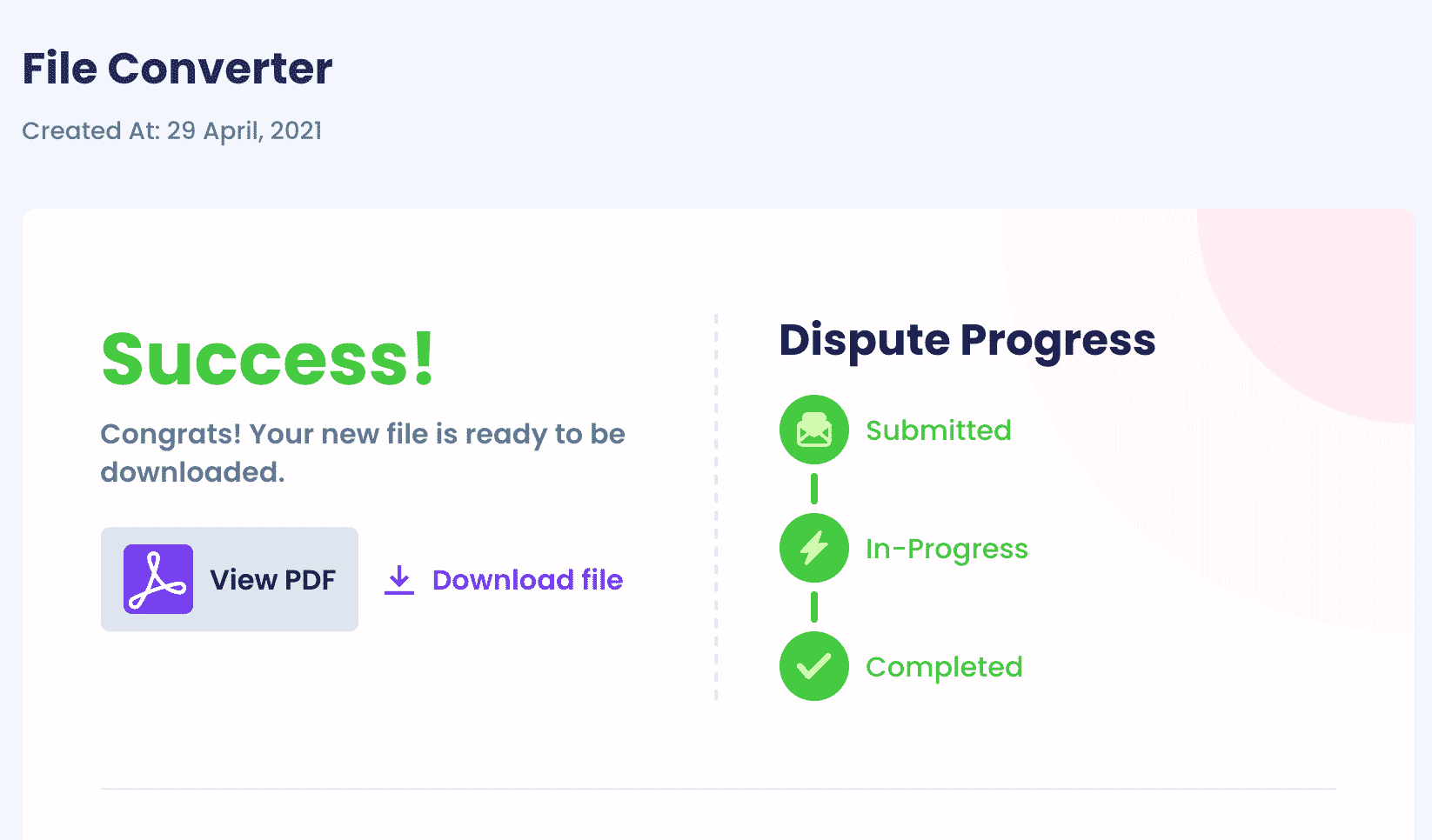 It is as simple as that! To protect your privacy, we will delete your files 24 hours after conversion and no copies will be kept!
What Other Files Can You Convert With Our File Converter?
DoNotPay can convert a ton of different file formats for you—safely and quickly! Some of them are listed in the table below:
Convert, Compress, and Download Anything With DoNotPay
Technology is advancing at a rapid pace, and it can be rather difficult to keep up. But there's no need to worry if you're not particularly tech savvy—DoNotPay got you covered!
With our easy-to-use app, you can compress any file, download videos from the web, and convert online videos to mp3 files, all with a few clicks. There's absolutely no experience needed. Your files are 100% safe and your privacy is ensured because we delete the converted and compressed files after 24 hours.
Save Time and Money With DoNotPay
On top of file conversion, DoNotPay has hundreds of different products that automate boring tasks and streamline complex processes. And the best part is—you get access to all of them, so you can use our award-winning app to save a ton of time and money.
Here are just a few examples of what DoNotPay can help you with: