Find Out How To Convert GarageBand to MP3
GarageBand is one of the most popular free music-making apps available in the Mac App Store. It has an easy-to-use interface that allows you to record audio straight from your device and boasts powerful tools for mixing different instrument soundtracks together. GarageBand exports the Audio Interchange File Format (AIFF), which can be used on Apple devices. AIF files are five to ten times larger than compressed MP3 files.
If you want to save space on your device, converting GarageBand files to MP3 is the best solution. MP3 is the most common and widely-used audio format.
In this short guide, DoNotPay will show you how to convert GarageBand to MP3 without any hassle. By signing up for our service, you'll get access to our File Converter product, which can convert 100+ different files.
How To Convert a GarageBand File to MP3
GarageBand's version 10.0.2 and higher support exporting AIFF to MP3. You can do it by following the instructions below:
Open your file in GarageBand
Click Share from Menu
Choose Export Song to Disk from the dropdown menu
Pick MP3 as the export format
Select audio quality and click on Export
How To Convert GarageBand to MP3 in iTunes
If you are a Mac user, you probably have iTunes installed on your computer. You can use it to convert GarageBand to MP3 by taking the following steps:
Drag and drop the GarageBand file you want to convert in the iTunes library
Click on Preferences
Select Import Settings and choose MP3 Encoder
Go back to your file, right-click on it and choose Create MP3 Version
Why Converting GarageBand to MP3 May Prove Problematic
There are several issues with converting GarageBand files to MP3:
The quality of the sound will be greatly reduced—the bass will be lower, the vocal range will be compressed, and the high-end frequencies will be less pronounced
Some special effects that GarageBand allows won't be present in MP3 (for example, chorus, reverb, phaser, and tremolo)
The converted MP3 files may be corrupt due to bugs
Use DoNotPay To Convert Your Audio Files in a Flash!
If you are looking for an easy and safe way to convert your audio files, DoNotPay's File Converter product is just what you need! Using it, you can convert not only audio but also video, text, image, and other files in no time. What's more, there is no limit to the number of files you can convert.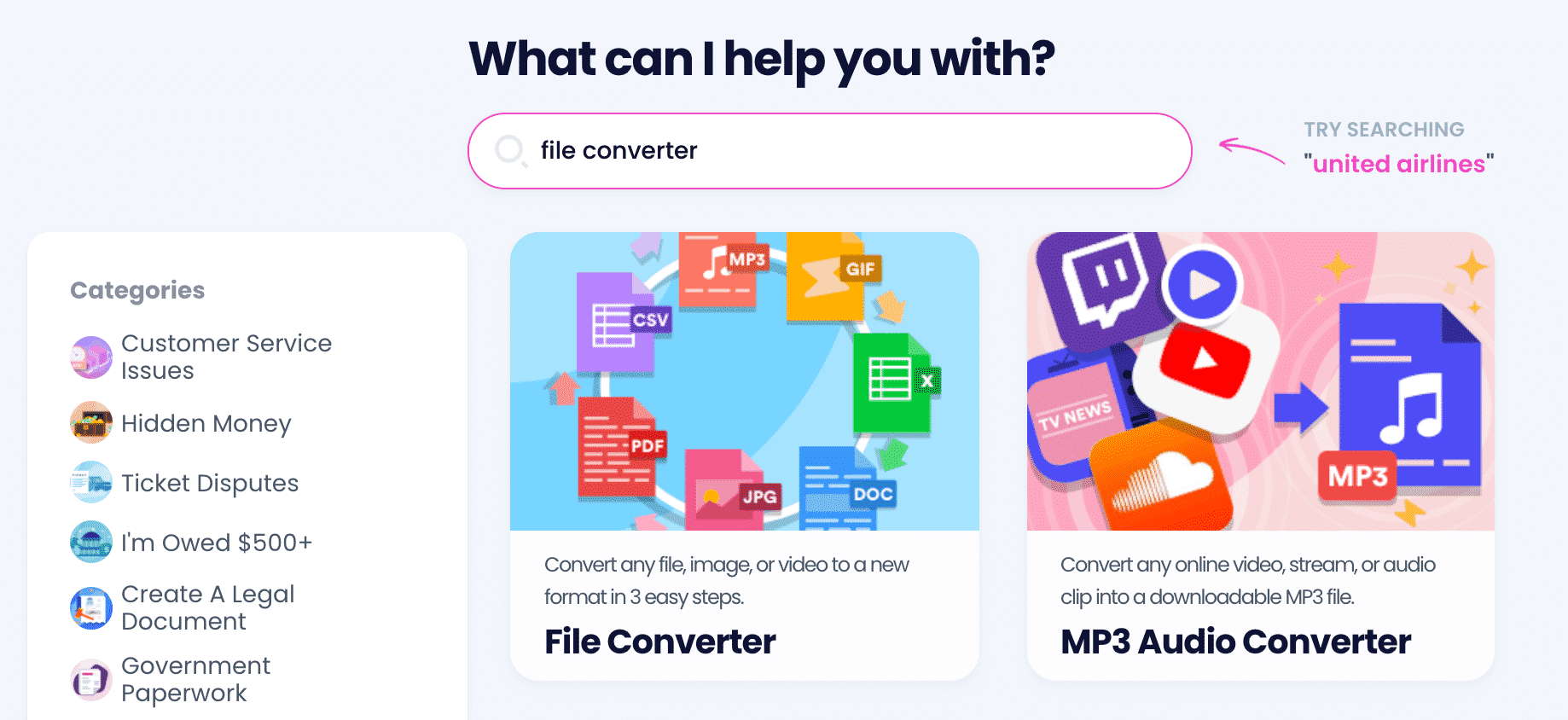 To initiate the conversion, you have to log in to your DoNotPay account and complete three simple steps:
Open the File Converter product
Upload the file you want to convert
Select the output format
And you're done! All that's left for you to do is go to the My Disputes page and download your new file. To protect your privacy, we will delete it from our server 24 hours after the conversion.
Keep in mind that DoNotPay is browser-based, so you can use it regardless of whether you have Mac, Windows, or Linux.
What Other Files Can DoNotPay Convert?
Not only can you convert an unlimited number of files using our app, but you can also convert 100+ different file types. Some of them can be found in the table below:
Have All Your Files in One Place
DoNotPay is designed to help you do more with less work. Apart from converting hundreds of different file types, you can also leverage DoNotPay to compress your files to take up less space on your device.
Found a video online that you'd like to save as an MP3 to play it on the go? Whether it's a music video, a guide, a lecture, or a podcast, DoNotPay can convert all manner of online videos to MP3 files with ease! You can also use our award-winning app to download videos from social media and the web so you can enjoy them even when you don't have access to the internet.
DoNotPay Helps You Tackle All Manner of Different Tasks With Ease
Streamlining complex processes and saving you a ton of time and money in the process is what DoNotPay does best!
For instance, we can help you skip the phone queue of any company by waiting on hold in your stead. We can also help you cancel any unwanted subscription or service with a single click, as well as request a chargeback, return an unwanted item, and get a late delivery refund.
You can also use DoNotPay to find unclaimed funds in your name, lower your bills, reduce property taxes, appeal parking tickets, and dispute seatbelt tickets. Apart from saving you a ton of money each month, DoNotPay can also give you that much-needed peace of mind by helping you get rid of annoying robocalls and email spam for good!