Learn How To Convert FLV to MP4 in OBS Easily
The FLV format is a video and audio format for digital media. FLV stands for Flash Video, which was developed at Macromedia as a movie container that would play on the Adobe Flash Player, and it is used by many video-sharing websites.
If you need to learn how to convert FLV to MP4 in OBS, we're here to help! We'll walk you through converting your files in OBS but also how to use a free online converter. If neither of those options works for you, you can always rely on DoNotPay to convert your files in a snap! Once you register for our app, you'll be able to convert any number of files you want in a few clicks.
How To Convert FLV to MP4 in OBS
To convert your FLV file to MP4 with OBS, follow the next steps:
Open the OBS app
Click on File in the upper-left corner
Select Remux Recording from the dropdown menu
Click on the three dots icon to the right
Open the FLV file that you want to convert
Find the target location where you want the recording to go and make sure that the filename of the Target Version is in the MP4 format
Click on Remux on the lower right side of the window
Select OK
Once you complete the above-listed instructions, your file should be successfully converted and saved in the MP4 format.
If you're looking for a different, less complicated way to convert your MP4 files to FLV, you can try using a free online converter. These converters are the most common way to convert any file type, and the process is super simple—here's how it works:
Upload your FLV file
Pick MP4 as the output format
Wait for the conversion to take place
Download your converted file once ready
You can choose from some of the following commonly used FLV to MP4 converters:
CloudConvert
Zamzar
FreeConvert
Using free online converters is super easy, and it saves you from the trouble of figuring out the confusing instructions on using OBS to convert files. However, free online converters also come with some disadvantages that should be noted.
Free FLV to MP4 Converters—Disadvantages
Free online file converters are a tempting option, especially when you are in a hurry and don't have time to download a converter app. However, because there are so many free converters out there with varying results, it can be difficult to find one that does exactly what you want it to do.
The biggest disadvantage is related to security threats. Malicious hackers can use the converters to steal personal information from your computer. They can corrupt your files, infect your computer with viruses and malware, or steal your personal and sensitive info.
Convert Your FLV Files to MP4s With DoNotPay in Three Quick Steps!
You can stop worrying about the safety of your files once you start using DoNotPay! We make sure you're completely protected during the conversion process and remove your data from our database after 24 hours. You can convert your files on both Mac and Windows without losing any quality. Here's how to get started:
Sign up for DoNotPay and open the File Converter product
Upload your FLV file
Select MP4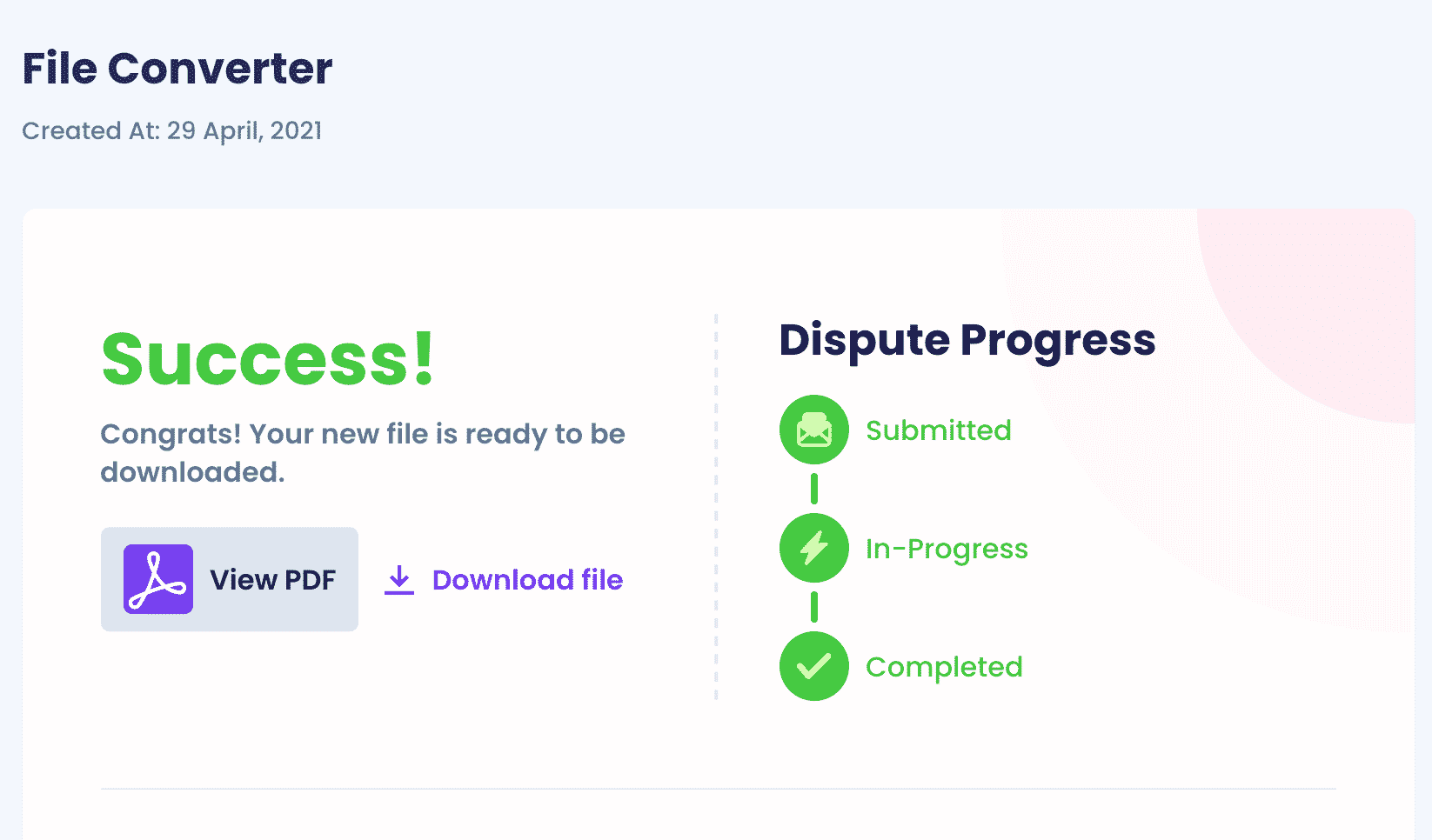 You can visit the My Disputes page to download your converted file instantly.
What Other File Types Can DoNotPay Convert?
Want to convert more than your FLV files? DoNotPay got you covered! Check out the table below to see what other files you can convert with our app in a snap:
Convert, Compress, and Download Anything With DoNotPay
Technology is advancing at a rapid pace, and it can be rather difficult to keep up. But there's no need to worry if you're not particularly tech-savvy—DoNotPay got you covered!
With our easy-to-use app, you can compress any file, download videos from the web, and convert online videos to MP3 files, all with a few clicks. There's absolutely no experience needed. Your files are 100% safe, and your privacy is ensured because we delete the converted and compressed files after 24 hours.
Save Time and Money With DoNotPay
On top of file conversion, DoNotPay has hundreds of different products that automate boring tasks and streamline complex processes. And the best part is—you get access to all of them, so you can use our award-winning app to save a ton of time and money.
Here are just a few examples of what DoNotPay can help you with: