Discover How To Convert CSV to Excel Quickly and Safely
CSV is an acronym for comma-separated values, and it is a file widely used to store tabular data. The conventional type of CSV file has a set of rows with fields delimited by commas in between each field or field name and the corresponding value or text value in each row. Although the CSV format is only one of many ways to store tabular data, it is a common choice because it can be easily created, edited, imported, exported, moved, searched, and processed with standard spreadsheet programs.
An Excel file is a spreadsheet created in Microsoft Excel that consists of one or more worksheets arranged in a tabular format, containing data arranged in rows and columns. The data may represent any type of numeric information, such as numbers or percentages.
Even though CSV files are a convenient way to store data, not everyone is able to read them.
In this article, DoNotPay will show you how to convert CSV to Excel without a hitch. By opting for our service, you will be able to convert an unlimited number of CSV files to Excel safely and in no time. All you need to do is sign up!
How To Convert a CSV File to Excel
You can convert CSV to Excel in two ways:
By using downloadable software
By using an online conversion service
How To Convert CSV to Excel Using a Desktop App
Using a desktop app, you will need to go through a dozen steps to complete the conversion process. Even though it will offer more features and more control over the conversion procedure, this might not be the best conversion method if you're in a hurry to convert your files.
How To Convert CSV to Excel Online
Online converters require less time and effort on your part. You won't need to download and install additional software or take a bunch of steps to get your file ready for conversion. All you'll need to do is upload the file you want to convert, select the output format, and hit Convert.
What Are the Disadvantages of Converting CSV to Excel Online?
There are two main disadvantages of converting CSV files to Excel online. First, you must trust the online service with your data. Some websites may sell your data to third parties without your permission. Secondly, there's a possibility of downloading malware or viruses on your computer together with the converted file.
Other issues you should take into consideration before using an online converter to convert your CSV files to Excel are:
The inability to convert multiple files in one go
Privacy concerns—Read the Privacy Policy before using an online converter
A limit on the daily number of conversions
DoNotPay Can Convert a CSV File to Excel in a Flash!
By opting for DoNotPay, you'll be able to convert CSV to Excel safely and in no time! Our File Converter product is browser-based, meaning you can use it on both Mac and Windows. The conversion process takes only a few seconds and is completely free of annoying ads. To initiate it, you'll need to complete three simple steps:
Log in to your DoNotPay account and open the File Converter product
Upload your CSV file
Choose Excel as the format you want to convert it to
As easy as pie, isn't it? Now, the only thing left for you to do is go to the My Disputes page and download your newly converted file.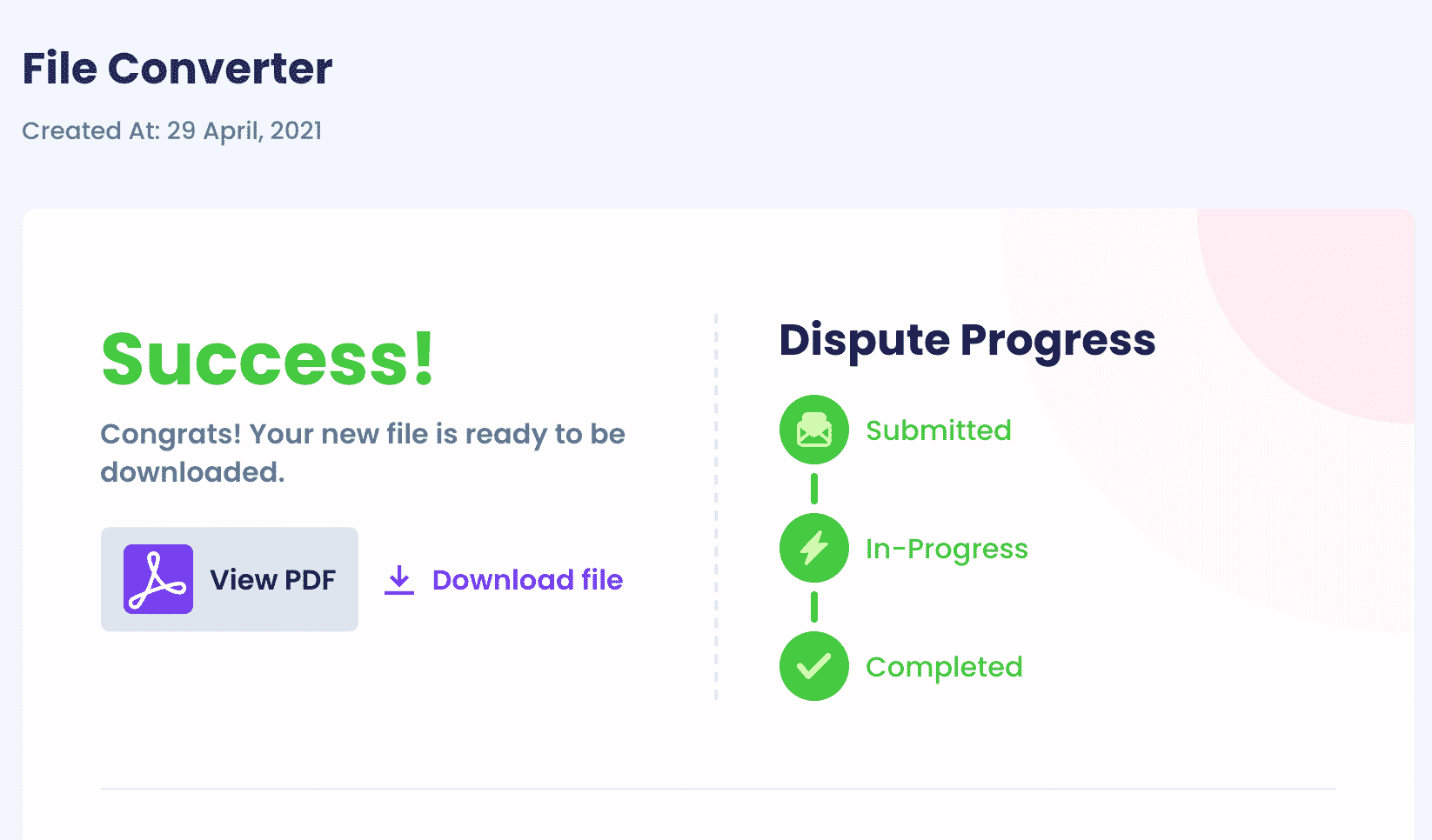 To protect your privacy, we will delete your file from our database 24 hours after the conversion.
What Other Files Can DoNotPay Convert?
DoNotPay guarantees high-quality output no matter what type of file you choose to convert. Besides CSV to Excel and Excel to CSV, you can use our nifty app to convert 100+ different file types. What's more, there's no limit to the number of conversions you can make! Take a look at the table below to see what other files you can convert using our service:
Convert, Compress, and Download Anything With DoNotPay
Technology is advancing at a rapid pace, and it can be rather difficult to keep up. But there's no need to worry if you're not particularly tech-savvy—DoNotPay got you covered!
With our easy-to-use app, you can compress any file, download videos from the web, and convert online videos to MP3 files, all with a few clicks. There's absolutely no experience needed. Your files are 100% safe, and your privacy is ensured because we delete the converted and compressed files after 24 hours.
Save Time and Money With DoNotPay
On top of file conversion, DoNotPay has hundreds of different products that automate boring tasks and streamline complex processes. And the best part is—you get access to all of them, so you can use our award-winning app to save a ton of time and money.
Here are just a few examples of what DoNotPay can help you with: