Find Out How To Convert a Picture to PDF Effortlessly!
Are you in need of converting your picture to a PDF document? With our help, you can transform any photo into a file that can be easily saved and sent to others—PDF.
PDF stands for Portable Document Format, and it was developed by Adobe Inc. in 1993 as a way of preserving the appearance of documents on different printers at high resolution. It took off in popularity because, unlike other formats, such as Microsoft Word documents, it doesn't require expensive software for Adobe to open.
The most common use of PDF is as a way to distribute documents containing images, charts, tables, or other graphics that are difficult to reproduce in another format.
You're probably wondering how to convert a picture to PDF without wasting time and money. That's why we're here! We'll walk you through the process of converting your files online with ease, but that's not all. We can also provide you with a convenient way to convert your files using DoNotPay in case you don't want to deal with online converters and unreliable websites. Once you sign up, we'll convert any file you want safely and in no time!
How To Convert Pictures to PDF Online
If you want to convert your pictures online, you can try one of the following online converters:
Smallpdf
Adobe
| Online Converter | Description |
| --- | --- |
| Smallpdf | Smallpdf is free, open-source software that converts any document to the PDF file format. You can use Smallpdf to convert, compress, and edit your PDF files |
| Adobe | The Adobe PDF converter converts documents, web pages, and images to PDF format. You can drag and drop your image files (JPG, PNG, BMP, and more) to convert them to PDF |
The Common Issues You Can Run Into With Free Online Picture to PDF Converters
Using a free online converter may seem like a good idea at first, but there are many drawbacks associated with it. Users of these sites often find themselves frustrated by the conversion process due to the lack of features and other issues. Their quality can be quite poor when compared to more established conversion sites that are backed by reputable software providers.
The issue lies in the fact that these online converters are often based on free software that is not supported by anyone. Many of the features that enhance the user experience are absent.
For example, an online converter may not be able to handle large files because there is no option for users to pay for the addition of extra storage space. This leads to issues such as conversion failure or long wait times since it can take a long time for a file to be uploaded onto the site's servers.
Another big issue is that these websites aren't protected against viruses and malware and that your data is often also left unprotected. If you're not careful, some sites will even share your personal info with other parties, which can be troublesome.
How Do I Find a Secure Photo to PDF Converter Online?
To help you avoid running into the above-mentioned issues, here are some aspects you should consider before using an online converter:
Look at the file converter's file size limits. Before anything else, you should take a look at how much data you are permitted to upload through the file converter's website. Check the site's specifications before moving forward to make sure its functionality meets your needs
Check the file converter's encryption options. To make sure your converted or moved files are as safe as they can be, look into the website's ability to encrypt those files for you. For those using online file converters as a way to transmit data, it's important that you encrypt your files before dumping them on another person's computer
Find the company's privacy policy. It should provide you with details about how your files and sensitive information will be protected
How To Convert a Picture to PDF With DoNotPay in No Time
You can use DoNotPay to convert your pictures to PDF at any time and with zero effort! The process is simple and takes almost no time at all! We also make sure the files you get are of high quality, and there is no cap on the number of files you can convert.
To start converting your files with our app, sign up and follow these steps:
Open the File Converter product
Upload your picture
Choose PDF as the format you want to convert it to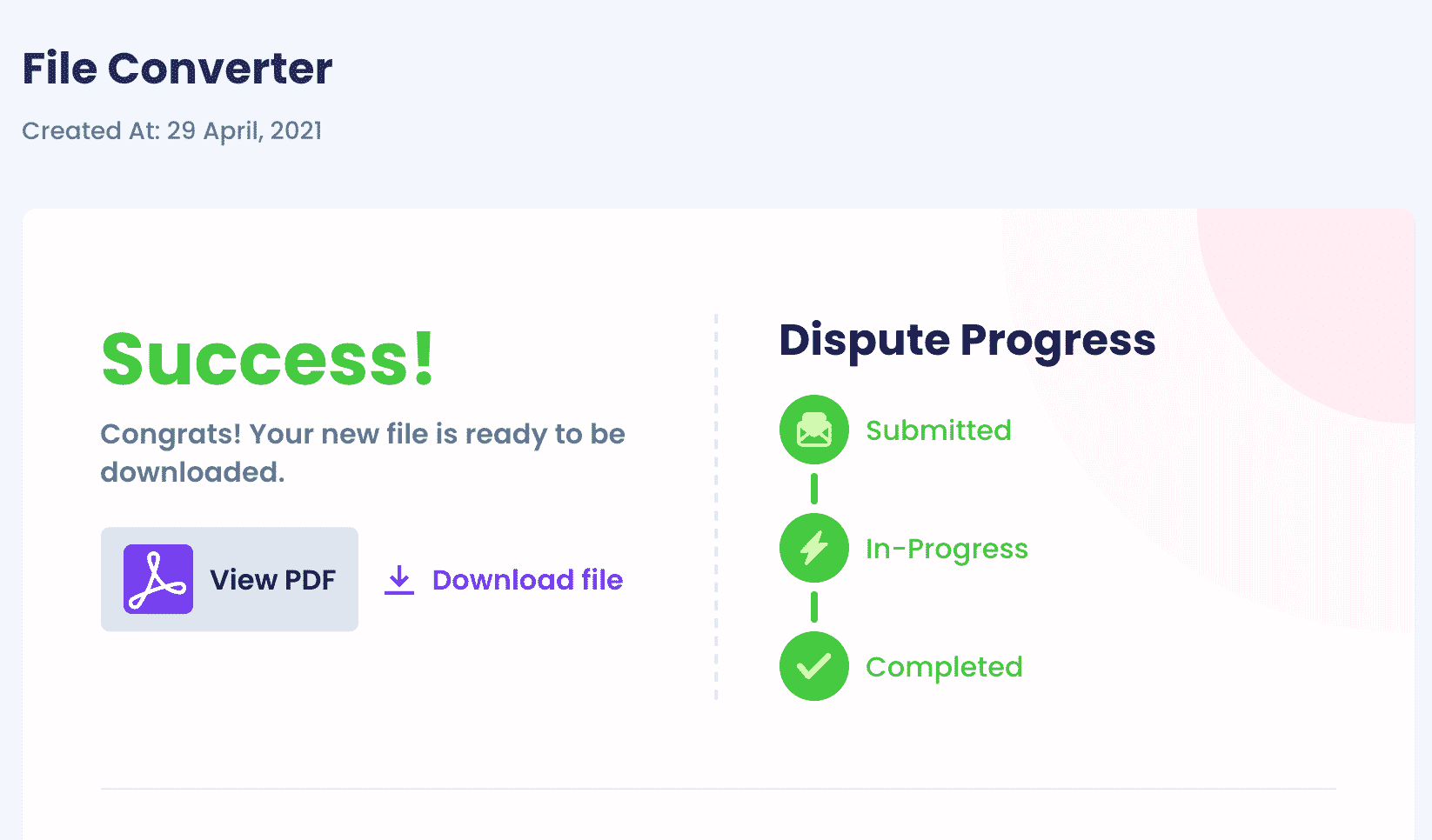 We'll convert your file in a few seconds, and you can go to the My Disputes page to download it right away!
What Other Files Can DoNotPay Convert?
DoNotPay is here to help you convert numerous files besides pictures and PDFs! Check out the table below to see what you can convert using our app:
Save Money With the Help of DoNotPay
Are you tired of losing money on useless memberships and forgotten subscriptions? Our app can help you cancel subscriptions or memberships in a snap. Have some questions for the customer service? Use DoNotPay to jump the phone queue.
If you want to sign up for a free trial but don't want to risk being charged, get our virtual credit card. Thanks to this card, you'll enjoy any free trial stress-free. It will also save you from receiving spam emails.
In case you're also struggling to claim a warranty or insurance, we can assist you with this too. Rely on DoNotPay to solve any issue regarding purchased products—whether you need to return an item, file a chargeback request, or get a late delivery refund.
If you're dealing with a serious problem, don't bother wasting your money on lawyers—our AI-powered app can help you file a complaint, appeal a banned account, sue anyone in small claims court, and draw up various legal documents!
DoNotPay Also Helps You Earn Money
Our app is an expert at saving money, but we can also assist you in earning some. You can use DoNotPay to find unclaimed funds under your name, sign up for paid clinical trials, and get victims' compensation. If you want to redeem your gift cards for cash, enter numerous sweepstakes, and get compensated for a delayed flight, count on our help!