How to Complain About a Coworker to Your Boss - Like a Boss
Most workplaces are made up of a diverse group of people with different backgrounds and personalities, therefore, it's guaranteed that you'll face conflict at work. When the time arises, it's important to know how to complain about a coworker to your boss. Complaining about a bothersome coworker to your boss can be quite frightening, but we'll go over the ways that make this process easier for you.
When Should You Complain to Your Boss About an Employee?
Not every employee disagreement should be reported to management, but some cases require the involvement of your boss. For instance, if you face harassment by another employee, you should speak to your boss about the problem. Your complaint could also involve the sentiments of other coworkers who feel the same way about the aggressor. The table below explains when and why you should talk to your boss about a problematic coworker:
Situation
Why You Need to Report to Your Boss

Talking to the coworker in question has not proven effective

If you have had a conversation(s) with the accused about this specific concern and there seems to be no change, you should take it up with your manager.

The concern in question affects multiple employees

If the accused's actions affect multiple employees and creates an unsafe or unhealthy work environment, it's important to let your boss know. This could include the accused not getting their work done, which hinders others from being productive as well.

Escalated conflict

If you notice that the issue you have with the accused is recurrent and is beginning to escalate, inform your boss. For example, if the accused goes from being passive aggressive to openly insulting, it's obvious the problem is escalating.

Company policy is being violated

If company policies like employee conduct, anti-discrimination and safety regulations are being disregarded or violated, your boss should be aware. Such actions, like

discriminating

against another employee, create a toxic work environment and the responsible parties should be held accountable.
Steps for Reporting Your Co-Worker to Your Boss
Complaining about a bothersome coworker to your boss requires a careful approach, especially if you want a specific resolution implemented. These 4 steps will help you speak to your boss about a toxic coworker while remaining professional:
Talk to your coworker. This should be the first step, if possible. If you have an issue with a coworker, talk to them first. This opens room for communication and can clear misunderstandings early on. If there is no change in their behavior after this, you can move to the next step.

Prepare your

complaint

. Have a clear plan of what you want to tell your boss. You can talk to other coworkers who have had the same or similar issues with the accused. Make sure your complaint is factual and don't include details that are not important.

Set up a meeting with your boss. Now that you have a plan, make an appointment to see your boss. Take into account the time and location to ensure that your conversation happens in private.

Clearly make your complaint and propose solutions. When you present your concerns to your boss, be clear and concise and offer examples of all

incidents

. State clearly how the accused's actions have negatively affected you or other employees, and be prepared to propose solutions to the problem.
What Happens When You Complain to Your Boss About a Colleague
Even after taking the proper steps to reporting your coworker to your boss, there could be some unpleasant consequences:
Your complaint could be met with disregard or inaction by your boss. This would be the case for a company that lacks a healthy, safe work culture. The impact of the accused's actions might be minimized, or your boss might be more interested in sweeping your concerns under the rug rather than resolving them.

You could get a bad reputation as a disloyal coworker. This could significantly strain the relationships you have at the workplace and make the environment unbearable.

If the company does not protect you as the complainant, the problems might escalate even further. The accused, or those loyal to the accused, might single you out with unfair or disrespectful treatment as retaliation.
How DoNotPay Makes Complaining about a Coworker to Your Boss Easy
If you're worried about the response you'll get from your boss, try submitting your complaint in total anonymity! With the Anonymous HR Complaints product, DoNotPay offers a helpful way to deal with toxic colleagues. In 3 simple steps, you can complain about a coworker without worrying about the risks involved:
1. Log-in to and open the Anonymous HR Complaints product.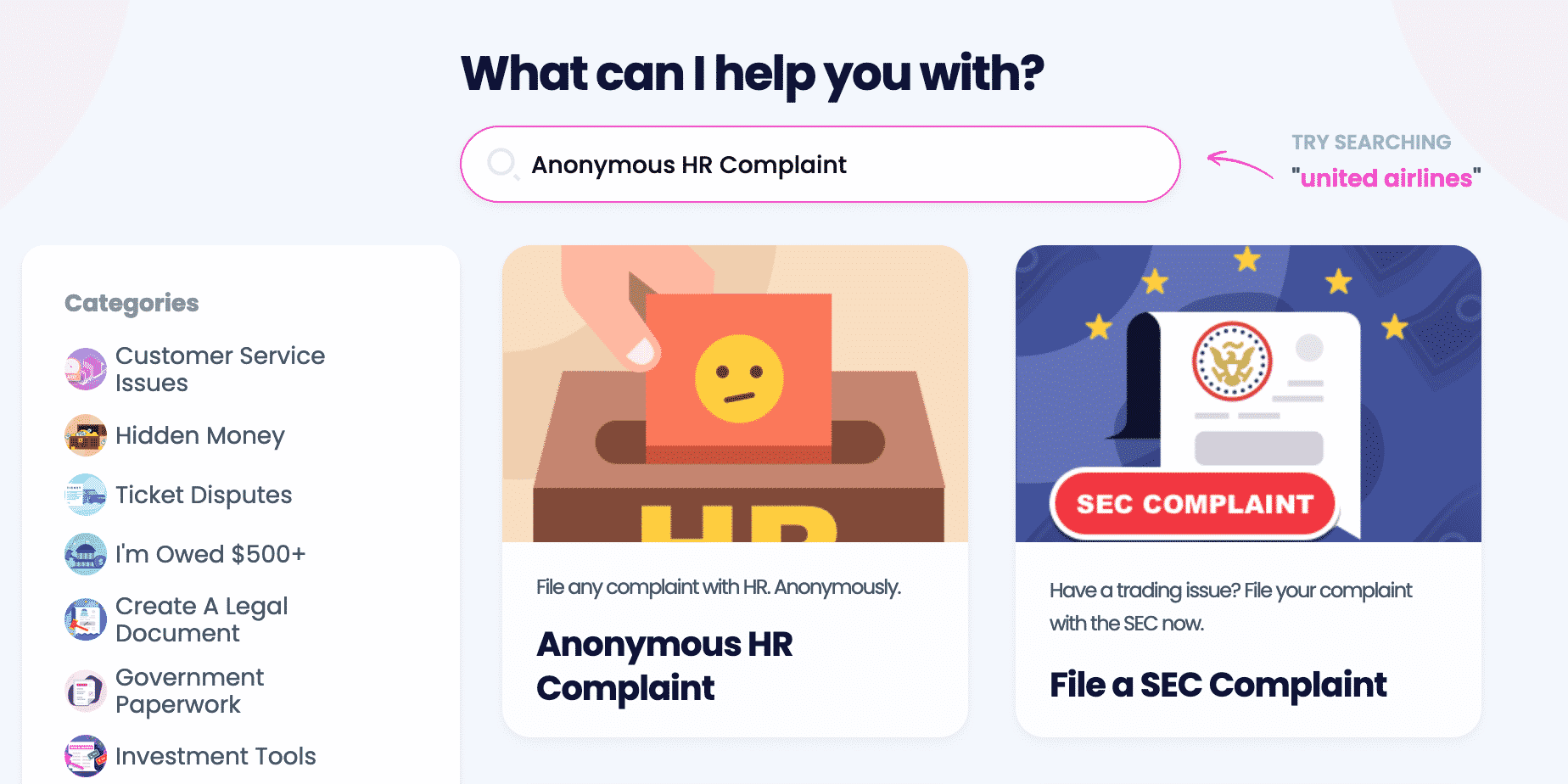 2. Enter your employer's name and your HR Department's mailing address.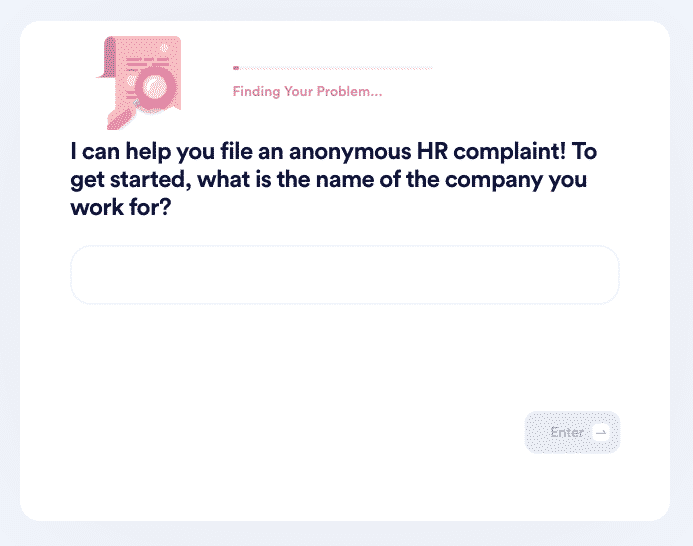 3. Explain the issue and how you would like it handled.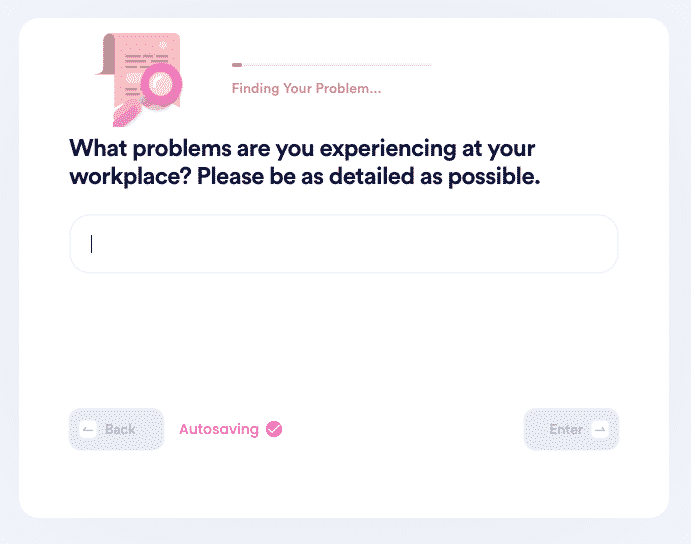 That's all there is to it! Let automatically send your complaint to HR without including any of your personal information in the report. You remain anonymous and can rest easy knowing that your complaint will reach the right person.
Other Services Offered by DoNotPay
Apart from complaints about coworkers, can help you report your boss without losing your job, write a complaint letter, and know more about HR complaints in general! Here are some other services you may be interested in: