How To Choose a Homeschool Curriculum—The Practical Guide
Choosing the right homeschool curriculum is a task that might be complicated for many homeschool parents. Though there are some standardized curriculums, this choice depends on many factors, starting from your child's needs and the situation you're in.
We'll show you how to choose a homeschool curriculum that works best both for you as a homeschool teacher and for your child as a homeschooled student.
Choosing a Homeschool Curriculum—The Most Important Steps
Since homeschooling directly affects your child's academic future, you should not make hasty choices. Instead, you should do thorough research. To choose the right curriculum, start by answering the following questions:
When you get all the answers, you can move to the concrete actions, such as:
Assessing the learning capabilities and interests of your child
Taking a look at the subjects various curriculums include
Trying out different homeschooling programs and teaching styles
Checking out other parents' curriculum reviews
Different Aspects of a Homeschooling Curriculum
Before you make your final choice, you should look at the homeschooling curriculum from different aspects, such as:
All of these aspects can help you decide which curriculum is right for you. For instance, you can find a homeschooling curriculum that is suitable for students with autism or hearing difficulties.
You could also choose a program adjusted to your child's age—from kindergarten and preschool to elementary, middle, and high school.
Homeschooling Curriculums in the Different States
Though homeschooling is legal in every state in America, some have more specified homeschool laws than others. This means your choice of curriculum might depend on state laws. These laws include a set of rules related to the parent's qualifications, homeschooling hours, testing, graduation, and college requirements.
For instance, in some states, your child has to take achievement or evaluation tests after certain grades, while others have no testing requirements at all.
Do You Have To Write a Letter of Intent To Homeschool?
The letter of intent to homeschool is a document required by some states. This document is a legal notice of your intent to start homeschooling. Once you decide to start educating your child at home, you will have to send the letter to the Department of Education or school, depending on the state laws.
Here are the details your notice should include:
While some states don't require you to submit this document, this is a must in the following states:
If you find writing the notice of intent too complicated and aren't willing to waste hours on it, subscribe to DoNotPay. Our app will help you get your letter easily and become your child's homeschool teacher in a snap.
Use DoNotPay To Write a Letter of Intent Without Complications

Preparing to start homeschooling your child can be overbearing, especially if you have never done that before. That is why you should not hesitate to ask for our assistance. DoNotPay can draft a letter of intent to homeschool in several minutes, and you only need to:
Locate the Notice of Intent To Homeschool feature
Type in your school district
Give us info about yourself and your child
You can choose whether you want us to send the letter to the school on your behalf or create a PDF version of the letter and let you mail it yourself. We'll be there to support you however you decide to begin educating your child at home.
Note that the state you live in might require you to get your letter notarized. If that is the case, let us know! DoNotPay can connect you with an online notary and help you get everything done at home.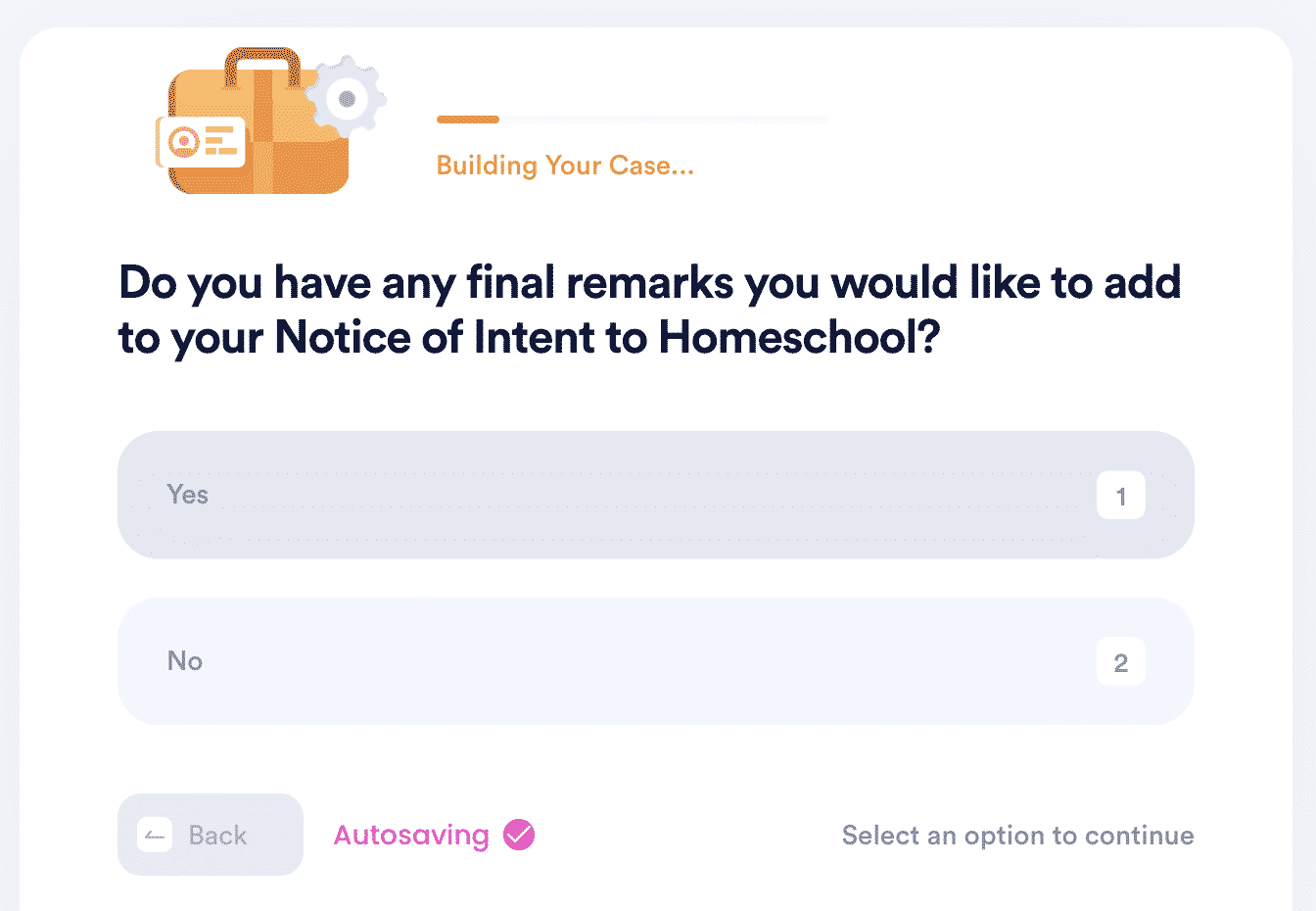 Check out other DoNotPay guides to homeschooling and learn more about this hot topic. In our knowledge base, you'll find the answers to various questions, such as:
Is Bureaucracy Getting on Your Nerves? We Have a Solution!
We all know that dealing with bureaucracy isn't pleasant, and it often leads to overwhelming frustration. The good news is that DoNotPay has found a workaround! You can now do the following by using our app:
Let DoNotPay Make Your Legal Troubles Disappear!
Drafting contracts and other legal documents isn't a task you should handle on your own. Don't want to spend a fortune on lawyers? That is why DoNotPay—the world's first robot lawyer—is here to take the lead and help you out! Check out the list below to see some of the legal documents that our app can draft for you:
We don't stop there! Cut through the red tape and let DoNotPay assist you in taking anyone to small claims court, getting your documents notarized, submitting anonymous HR complaints, or requesting crime victims' compensation.