A Guide on How To Block Noise From Next-Door Neighbors
Not much is as irritating as noisy neighbors. Whether it's their dog's barking, their loud walking, or loud sex, you need to learn how to block noise from next-door neighbors so you don't lose your mind.
This article will tell you everything you need to know—from how to block noise from next-door neighbors to how to file a complaint against them. DoNotPay can help you send them a letter that might help resolve your issues before you decide to go to the authorities.
How To Approach Your Neighbours in a Friendly Way
Before you resort to noisy neighbor soundproofing, you should try talking to them about the noise. Make sure that you don't go to see them when you're angry because that might result in a fight. You don't want to start a fight with your neighbors—you want them to turn down the noise.
You can follow these instructions on how to deal with noisy neighbors:
Go for a visit at a convenient time
Be friendly but assertive—make sure that they know how much the noise bothers you
Try being as polite as possible
Bring muffins or any other baked goods to be extra friendly
Explain how the noise affects you and your health
How To Block Noise From Neighbors
Blocking noise from neighbors is a difficult task—you'll have to think of some alternative methods if talking to them doesn't help. You also don't want to spend too much money on blocking the noise—after all, it's your neighbors' fault that they're loud, not yours.
How To Reduce Noise from Neighbors
We've come up with some ideas on how to block sound from neighbors. You can check out the table below for details:
| | |
| --- | --- |
| Technique | Explanation |
| Getting a noise-canceling device | You can buy a white noise machine or noise-canceling earplugs. You can even get noise-canceling headphones, but those aren't practical while you're sleeping, so earplugs should do the trick |
| Moving your furniture | A bookshelf or a wardrobe can block out noise from a next-door neighbor. The furniture should reduce the sound because it will allow fewer soundwaves to pass through |
| Putting up paintings | Paintings and picture frames can also work like sound absorbers. They can cancel out the sound coming from a particular part of the wall |
| Investing in wall panels | Acoustic wall panels are products that are specifically designed for absorbing sound. They are essentially wooden frames covered with fabric. The best part is—you can customize the fabric and make your living space prettier |
| Installing acoustic foam | If you have some extra money lying around, you can invest in acoustic foam. It is less costly than a wall panel but less pretty too. Acoustic foam isn't completely soundproof, but it can dampen the noise |
| Buying MLV | Mass-Loaded Vinyl (MLV) is a material that will soundproof your living space perfectly—this is a more long-lasting solution, so we suggest you use it if you own the apartment. The material does its work with soundproofing, but it isn't a pretty sight, so you might want to hang some paintings on top of it |
| Installing an extra layer of drywall | This is another permanent solution, so if you're just a tenant, you probably won't even consider investing this much in the apartment you're renting. Drywall is a panel made of gypsum, and installing one technically means you'll have two walls. It comes in all shapes and sizes, so if you're interested in purchasing it, be sure to buy the soundproof version |
How To Use DoNotPay To Deal With Noisy Neighbors
If soundproofing techniques fail you and your neighbors keep the noise up even after you've talked to them, it's time for DoNotPay to step in and save you from all the trouble!
Our Neighbor Complaint product will help you in more ways than one. We will help you deal with your bad neighbors legally by generating a demand letter that will contain:
Your complaint summarized
The arbitration notice
The amount of money you want as compensation
A warning of further legal action you might take if they don't comply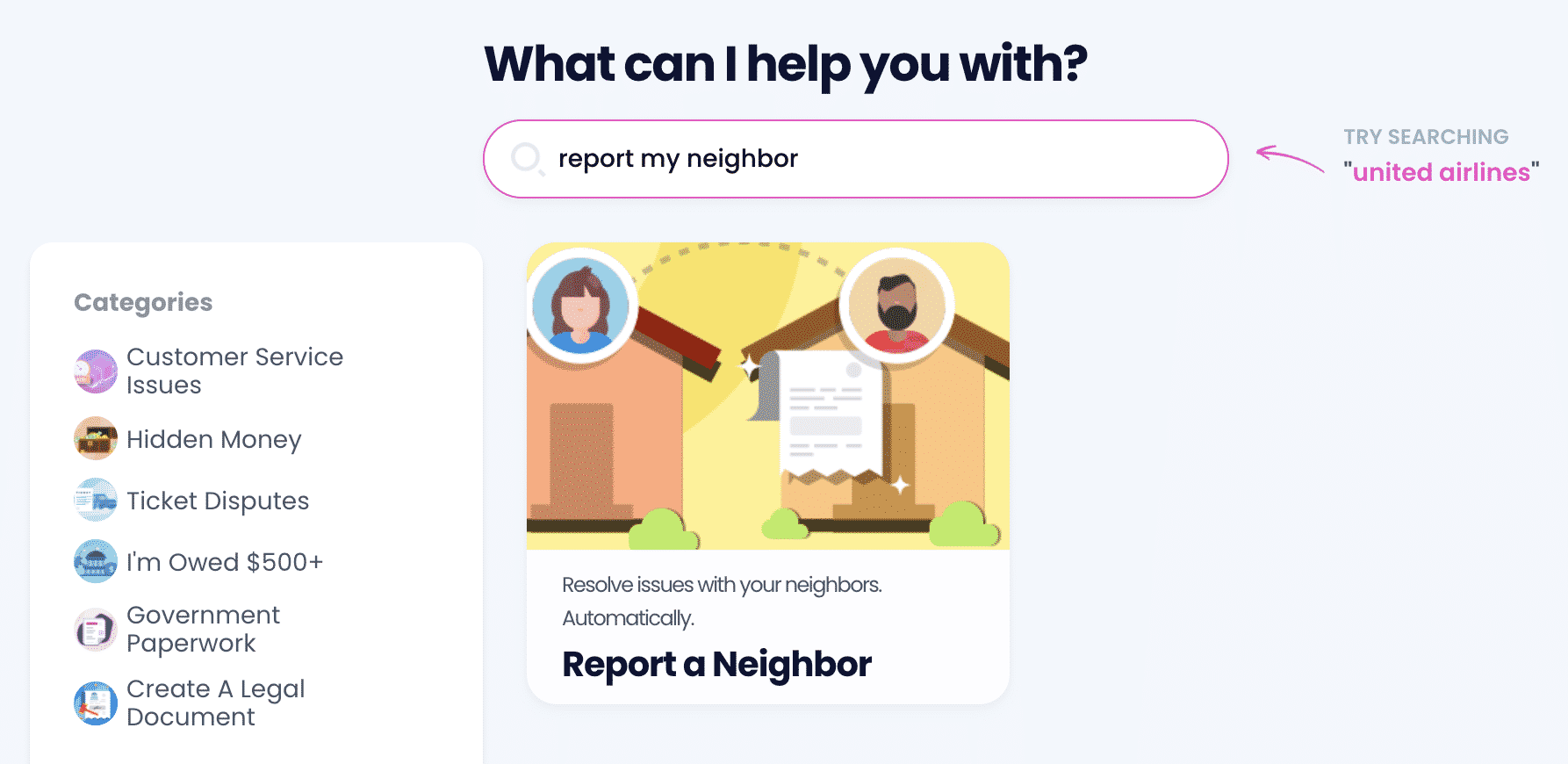 To use our amazing product, all you need to do is sign up for DoNotPay and follow these steps:
Enter Neighbor Complaint into the search field
Select the problem you're experiencing—Noise
Give details about the problem—when the noise occurs, whether you've already discussed the issue with your neighbor, etc.
We will draft your letter and mail it to your neighbor automatically.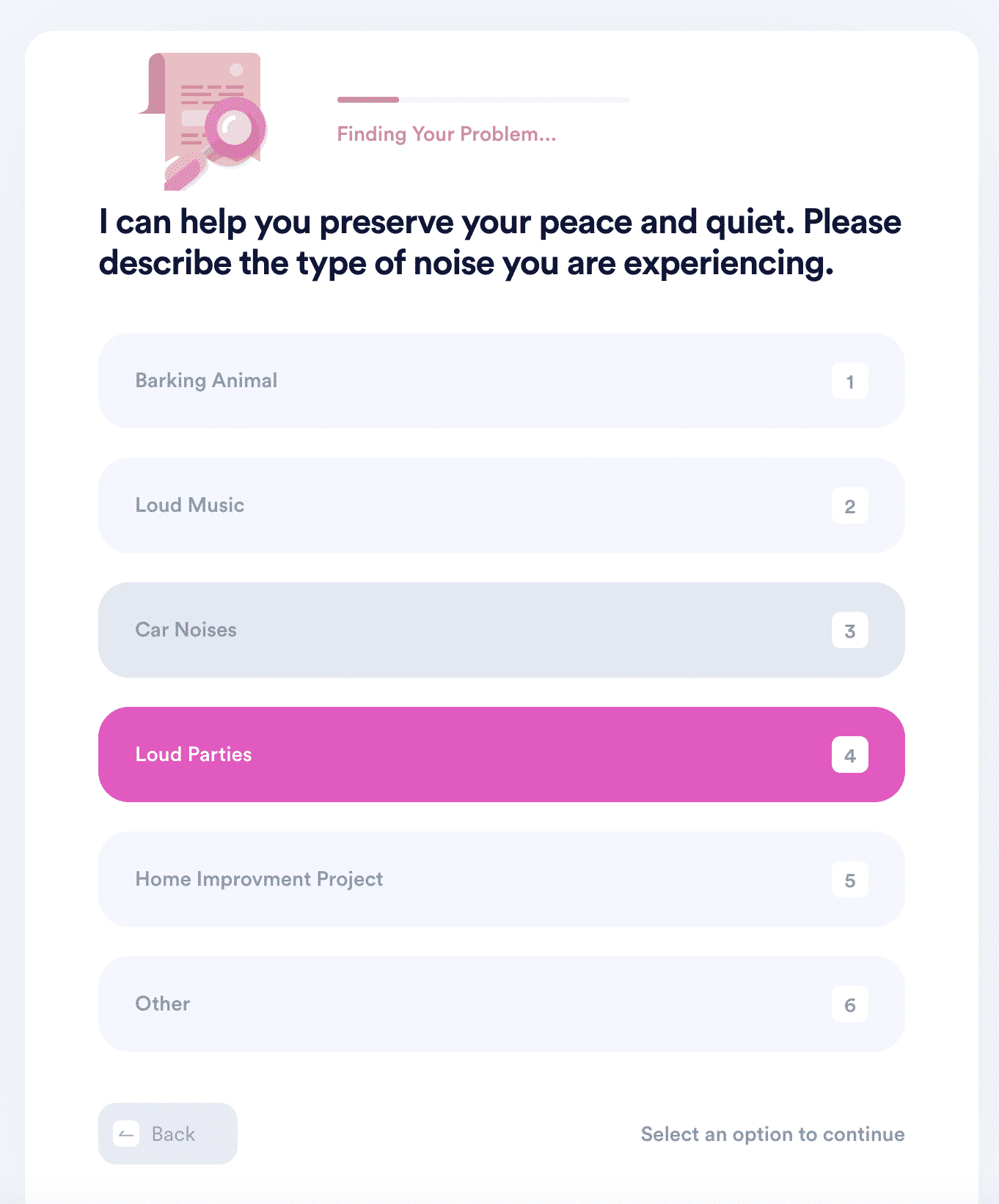 Should You Report Noisy Neighbors?
Reporting noisy neighbors to the authorities should be your last resort. Make sure that you don't call 911 because noisy neighbors aren't an emergency. See if your local precinct can provide you with the appropriate contact information for your complaint. Before reporting them to the police, you should check with your landlord or apartment manager if there's a section in your lease agreement that covers noise.
If You're Taking Your Neighbors to Small Claims Court, DoNotPay Is With You
Taking noisy neighbors to court should be the end of the line. After everything else fails, you can try taking them to small claims court if your case is eligible. DoNotPay can help you with that too! We will:
Collect all the necessary information about your case
Fill out your legal claim
Generate a script that you will use in court to make a strong case
Keep in mind that going to court should be your last option because it can be pricey, stressful, and unnecessary. You should go to court if you believe your neighbor is harassing you or dealing drugs.
Say Goodbye to Administrative Issues—Rely on DoNotPay
Are annoying procedures—such as canceling memberships, disputing parking tickets, filing warranty and insurance claims, requesting refunds for purchased products or services—giving you headaches? Do you dread calling an airline's customer support to request a refund and compensation for a canceled flight? You're not alone! The good news is—DoNotPay can help you solve these issues stress-free!
You can use our app to prepare for your driving test or other government exams and schedule an appointment with the DMV in minutes.
Are you wondering whether you're paying too much for your property taxes? Make sure to try out our Property Tax feature and learn about the best way to reduce your property tax bill.
Annoyed by Spammers? DoNotPay Can Help!
With DoNotPay, you can get rid of spam emails and text messages and report robocalls in one fell swoop. Our Burner Phone feature will generate a fake phone number that you can provide upon registration for any service!
Besides helping you enjoy free trials without the risk of being charged, DoNotPay's virtual credit card has another advantage. It will provide a random email address you should use when signing up for a free trial. That way, you'll avoid pesky marketing emails and email notifications.