Tips and Tricks on How To Block Noise From Neighbor's Yard
Do you enjoy your quiet time, but noisy neighbors keep ruining it for you? Bad neighbors can be an inconvenience to anyone who's not used to living in a communal area. The annoying behavior can range from mildly irritating to downright harassing.
Do your neighbors have frequent loud parties in their yard, and you want to block the noise once and for all? has the solution! We can help you figure out how to block noise from the neighbor's yard and make them take you seriously!
Get your peace back with DoNotPay's tips and tricks!
What Types of Noise Can You Expect From a Neighbor's Yard?
It is normal to hear some form of noise from your neighbors—you can't expect pin-drop silence all the time. Such noise can include walking, talking, opening and closing doors, etc. Some sounds can be more annoying and frustrating if they're loud and disrupt your peace.
Depending on the personality of your neighbor, you can expect some of the following noises:
Loud music
Loud parties
Shooting targets
Lawn mowing
Drilling and hammering activities
How To Deal With Noise From a Neighbor's Yard
Although the noise might be enough to make you bang your head against the wall in frustration, you should try dealing with the situation in a composed manner.
Take a look at a few available options of blocking noise from your neighbor's yard on your own:
How To Block Noise
Explanation
Soundproof your windows, walls, and doors
Sound travels through windows because they are the thinnest parts of your house.

Soundproof your windows with acoustic caulk or weatherstripping tape. You can also replace the windows with double panes to block noise more effectively

Install a noise reduction fence
A barrier fence will block out most outdoor noises. The more solid the fence, the more sound it will block
Play loud music
Another option to block a neighbor's noise is to make some noise yourself. You can do this by playing loud music or turning on the TV at a higher volume
Invest in ear muffs or a noise-canceling device
If the noise is louder at night, invest in ear muffs to help you fall asleep more easily.

Alternately, you can buy a white noise machine that cancels out outdoor sounds

Plant trees and vegetation
Other than giving a calming effect and being good for the environment, plants and trees are also good at blocking noise.

Make sure you space them correctly throughout your yard so no noise can come through

Moving furniture around
Bulky furniture blocks out noise from neighbors and will drastically reduce the number of sound waves passing through
Approach Your Neighbors if Your Tricks Didn't Work
Before you resort to filing a formal complaint, try reasoning with your neighbor. Avoid going to their place if you're angry—it is only going to worsen the situation. Follow these steps to deal with noisy neighbors:
Make sure you're calm and composed when you go to meet them
Be polite but assertive—let them know how disruptive the noise is
Bring homemade food as a peace offering
Offer them solutions
Can DoNotPay Help Me Block Noise From Neighbor's Yard?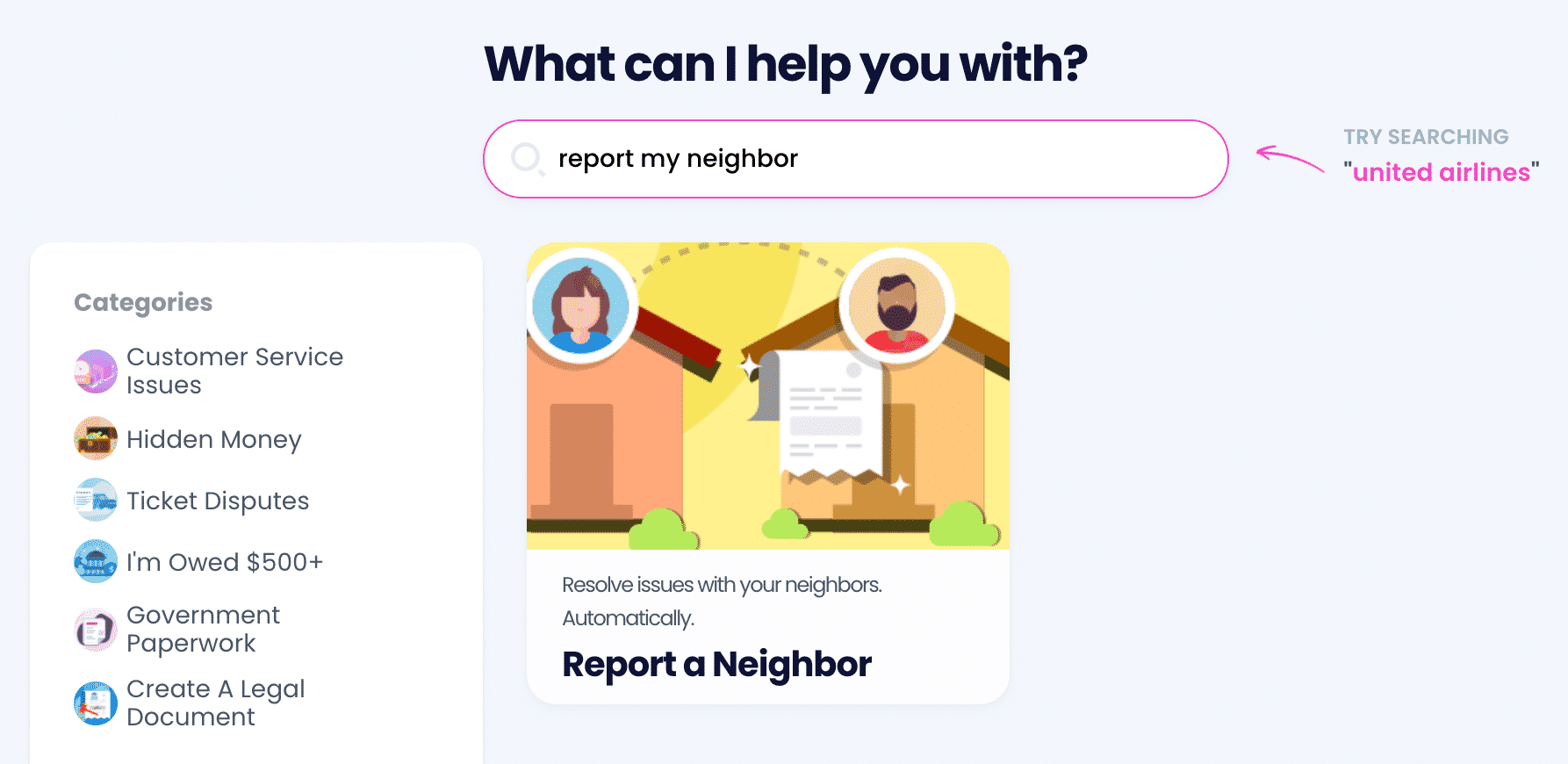 If nothing works, send your neighbor a letter to make them realize the gravity of the situation. The demand letter should be factual and include the following details:
Time of the day the noise starts
The way it affects you and disrupts your life
Ways for them to fix the problem
Legal consequences if they don't comply
Financial compensation
Arbitration notice
DoNotPay has the best feature to draft a demand letter in an instant. All you need to do is follow these quick instructions:
in your web browser
Choose the Neighbor Complaint service
Select the type of neighbor complaint you have
Add more details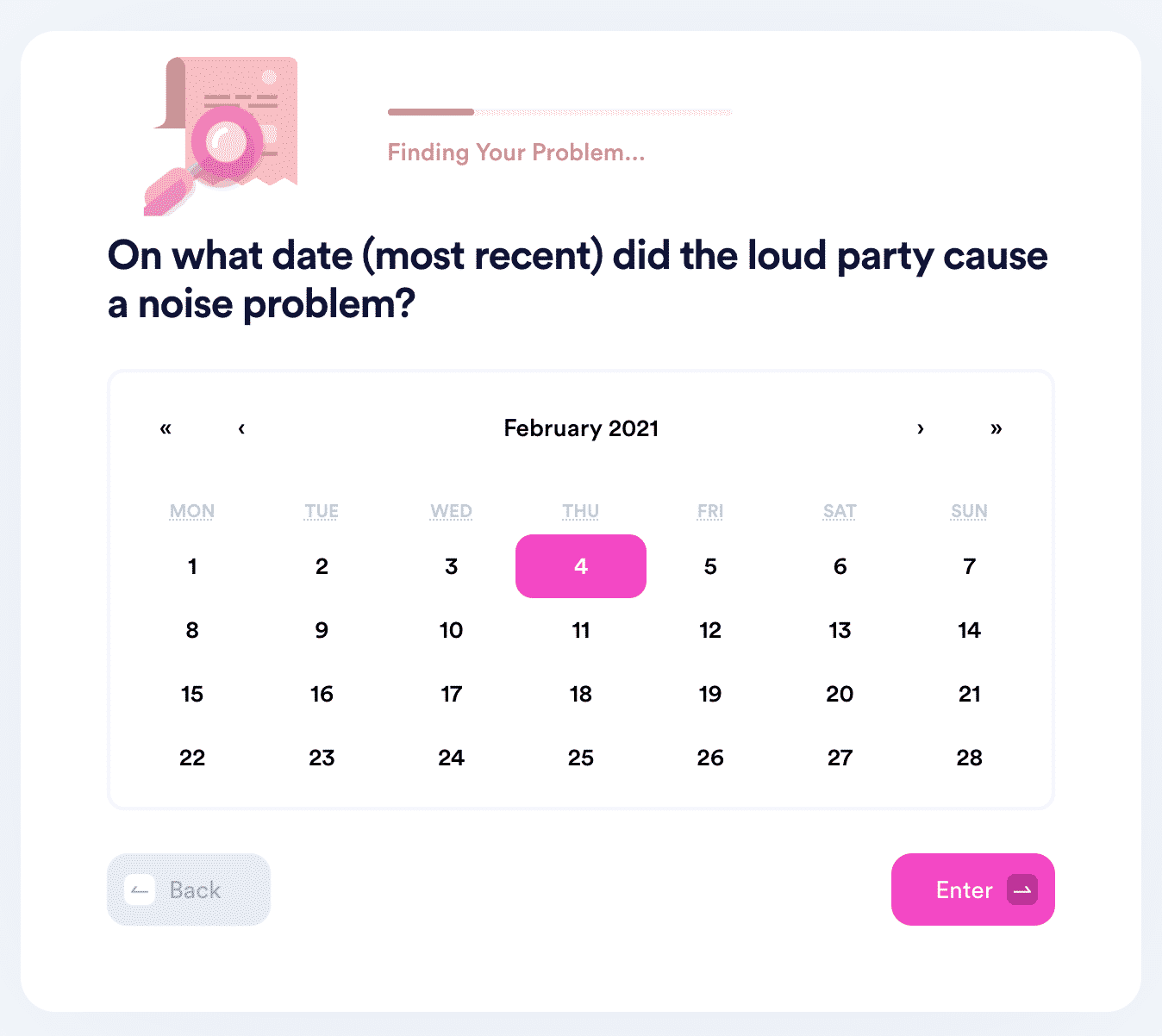 We will personalize the letter and send it to your neighbor. In most cases, they will realize their mistake and try to fix the noise issue.
Can I Report My Neighbors for Being Too Loud?
If your neighbors still don't turn the volume down on their activities, file a complaint with the local authorities. Most cities have noise regulations that all citizens need to abide by.
Before reporting your neighbors, read up on your local laws to know your rights and obligations.
Can DoNotPay Help Me With Other Neighbor Problems?
You won't encounter a neighbor-related problem we can't help you fix! Here are a few of the neighbor issues we can assist you with:
Easy-Breezy Ways To Deal With Not So Breezy Issues
Administrative and similar tasks don't have to be as complicated as we've known them to be. With DoNotPay, dealing with paperwork and companies is done in a few clicks. Let the world's first robot lawyer help you:
Draft various legal documents
Money Troubles? I Don't Know Her!
As our app's name says, DoNotPay's mission is to put a stop to losing money and overpaying. We will help you get your hands on free trials and snatch free raffle tickets. DoNotPay can also provide solutions for you to get help covering bills and reduce your property taxes.
If you want to get some additional funds, use our app to sign up for clinical trials. You may also take our practice tests to ace a government test and land a better-paying job.
It doesn't hurt to check whether you are owed some unclaimed money, and we can help you with the application.