DoNotPay Shows You How To Be Exempt From Jury Duty
Have you been summoned to serve as a juror, and now you're wondering how to be exempt from jury duty? Afraid of what your employer will say about you taking time off to participate in a trial? If you feel confused by the entire situation, you've come to the right place!
Our article will tell you whether you can skip or postpone jury duty, how jury duty works, and how much you'll get paid for service! You will also find out how to draw up a perfect leave request letter.
Who Can Do Jury Duty?
Potential jurors are randomly drawn from databases of voters and drivers. When you are summoned, you will receive a questionnaire that will determine whether you are eligible for jury service.
You are eligible for jury duty if you are:
A citizen of the United States
18 years of age or older
A resident of your judicial district for at least one year
Proficient at English
Free of any felony convictions
Mentally capable to serve
Unbiased towards the case
Why Is Jury Duty Required?
In the United States, every citizen has the fundamental right of having a trial by jury as it ensures a fair outcome. That's why you're legally required to show up at the court when you are summoned.
If you ignore jury duty, you will have to pay a fee of anywhere between $100 and $1,000, and you might have to serve time. In some cases, you will also be ordered to perform community service.
How To Be Exempt From Jury Duty
You can be exempt from federal jury service if you belong to one of the following groups of people:
Members of the armed forces on active duty
Firefighters and policemen
Public officers of federal, state, or local governments who serve full-time
In some states, you can skip jury duty if you are physically unable to serve, while in others, you can be exempt if you are over 70 years old.
As the law is different in each state, consult the table below to get more info:
Will You Be Paid as a Juror?
You will be paid for jury duty. Federal jurors receive $50 a day for the first ten days and $60 a day after that, while state jurors get paid up to $60 a day during the trial.
What if My Employer Lays Me Off for Jury Duty?
Have you been summoned for jury duty multiple times, and you're worried about how that will affect your work? Under federal and state laws, employers aren't allowed to lay off employees for serving as jurors. Instead, they are obligated to give their employees either paid or unpaid time off.
While preparing for the service, you should send your employer a letter along with the summons notifying them about your absence. Don't know how to do it? and let our AI-powered app draw up a professional leave request letter for you.
How To Get a Leave Request Letter the Easy Way Using DoNotPay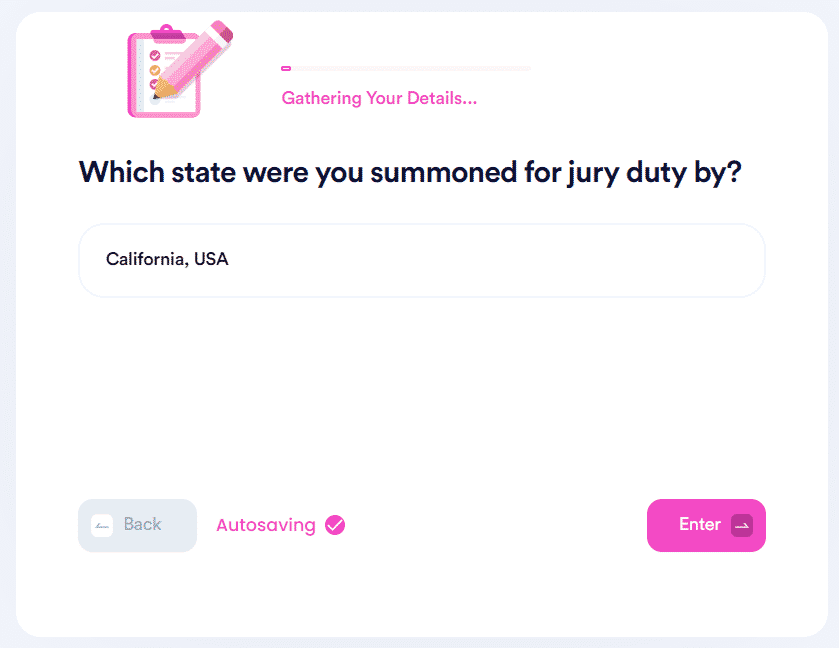 If you want to get a leave request letter without wasting time writing one yourself, our AI-powered app can help. We will draw up this important document for you in no time, and all you have to do is:
from your preferred browser
Select our Request Jury Duty Leave tool
Answer our chatbot's questions
Upload a photo of your jury summons
We will use this information to draw up a tailor-made leave request letter. You can choose whether to:
Receive the letter so you can download, print, and send it yourself
Have us send the letter to your employer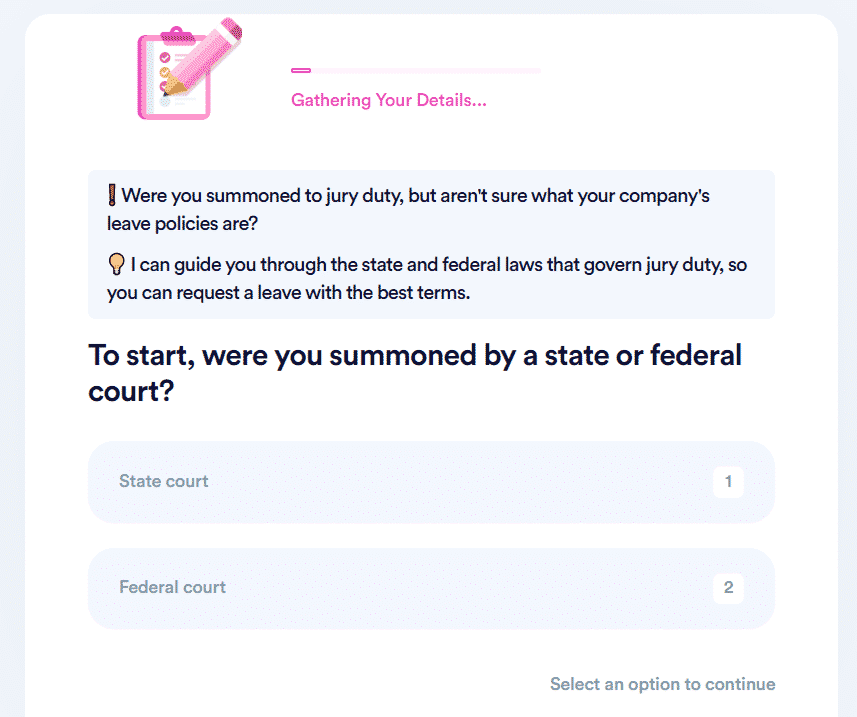 Protect Yourself With DoNotPay's Help!
In case you're looking for protection from harassers and stalkers, you can count on our help. Even if you're dealing with discrimination at work or noisy neighbors, our app can solve your issues. When spam is what's bothering you, our AI-powered app will put a stop to it. Email spammers, texters, and robocallers won't be able to reach you.
What if you need to take the issue to court? The world's first robot lawyer will be by your side. With our help, you can file a complaint or sue anyone in small claims court.
If you're wondering whether there might be a sex offender in your area, we can help you find out. Use our app to perform a sex offender search and get updates.
A Pocket-Sized Assistant Is All You Need
Is your to-do list getting longer and your paperwork piling up? DoNotPay swoops in! We'll cut through numerous bureaucratic tasks so that you can sit back and relax.
Here's what we can assist you in: