How To Avoid Trademark Infringement in a Few Simple Steps
If you are starting a small business, you should take steps to secure your original brand. In this article, we will discuss how to avoid trademark infringement and keep your enterprise up and running.
Registering a trademark will ensure your idea is protected from counterfeiting and other attempts at fraud. , you can start the registration process in minutes and prevent anyone from infringing on your rights.
What Is Trademark Infringement?
A trademark is used to identify the goods and services provided by a particular brand. Almost anything can be viewed as a trademark, and the following are the most common examples:
Trademark infringement is the unlawful application of a particular trademark and the leading reason why you should consider registering. If you decide to list a word, phrase, picture, or symbol as your trademark, you should know that:
You have the right to press charges against a company or individual that has used your trademark without authorization
You will have to provide the court with the registration certificate to prove your ownership over the trademark
Others are allowed to use a word or phrase that you trademarked, as long as it's not in reference to your particular brand
Trademarks and service marks can expire after a few years if not properly maintained. Artists should consider copyrighting their work instead since it provides long-lasting protection
The U.S. Customs and Border Protection (CBP) can confiscate counterfeit goods that contain a registered trademark
How To Avoid Trademark Infringement With the Right Protection Level
The trademark protection laws cover several types of trademark use. You can choose the legal framework best suited for the scale of your business and your overall objective:
Common law rights—You don't need to register a trademark to gain local protection. As soon as you start using it, you are granted trademark ownership in the immediate geographic area
State trademark protection—If you file for state registration, your brand is protected from infringement by state laws. You must register anew if you relocate or branch out to a different U.S. state
Federal trademark registration—To add your trademark to the federal database and ensure nationwide protection, you must file for federal registration. In case of expansion, you won't have to submit another form. You can also include the ® symbol in your brand name to make it stand out more in the marketplace
International trademark protection—As of now, you can't ensure worldwide trademark protection, but there is an international treaty. The Madrid Protocol is signed by 124 countries and can help you avoid trademark infringement in certain countries overseas
Can You Register a Trademark Yourself?
To file a trademark successfully, you will have to register with the United States Patent and Trademark Office (USPTO). Check out the table below for a breakdown of the requirements:
Requirement
Description
Using an original trademark

If you don't want to be the one committing trademark infringement, you must ensure your trademark is unique. Conduct a thorough search of the USPTO database before you apply

Assigning a trademark class to your goods and services

Following the international trading standards, you should categorize your goods and services into trademark classes. You can choose between 45 categories. Note that you cannot change the listed ones or add more afterward

Completing a trademark application form
You need to file a trademark registration form and include the following information:

Name
Contact information
Trademark type and class
A sample of the trademark
Proof of paid registration fees

Covering the costs of trademark registration
The cost of trademark registration depends on:

The number of trademark classes
The chosen filling option

You are charged for individual classes, meaning the more versatile your brand is, the steeper the cost. The USPTO Trademark Electronic Application System has two filing options with different pricing:

TEAS Standard ($350 fee per class)
TEAS Plus ($250 fee per class)
How To Avoid Trademark Infringement? Apply for Trademark Registration With DoNotPay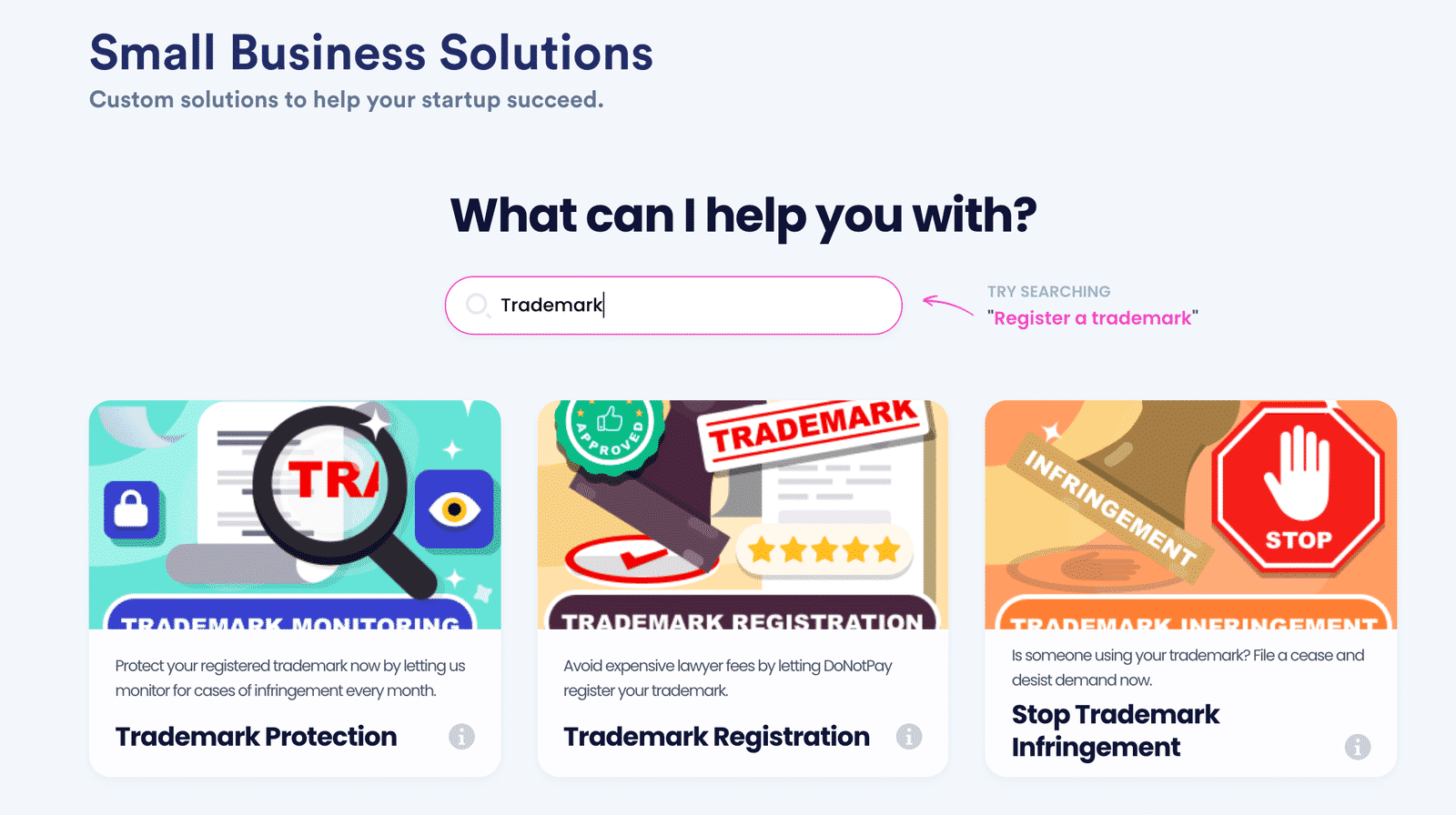 Registering is the only way to ensure legal protection from trademark infringement, but it is not that simple. If you don't complete the registration form correctly, you risk your application being rejected. Instead of hiring an overpriced lawyer to guide you through the process, why not try DoNotPay's streamlined services?
Our Trademark Registration product can help you file for trademark registration with the following steps:
Access the Trademark Registration product
Provide information about yourself and your brand. Describe the type of trademark you are registering
Confirm that you have paid the required application fees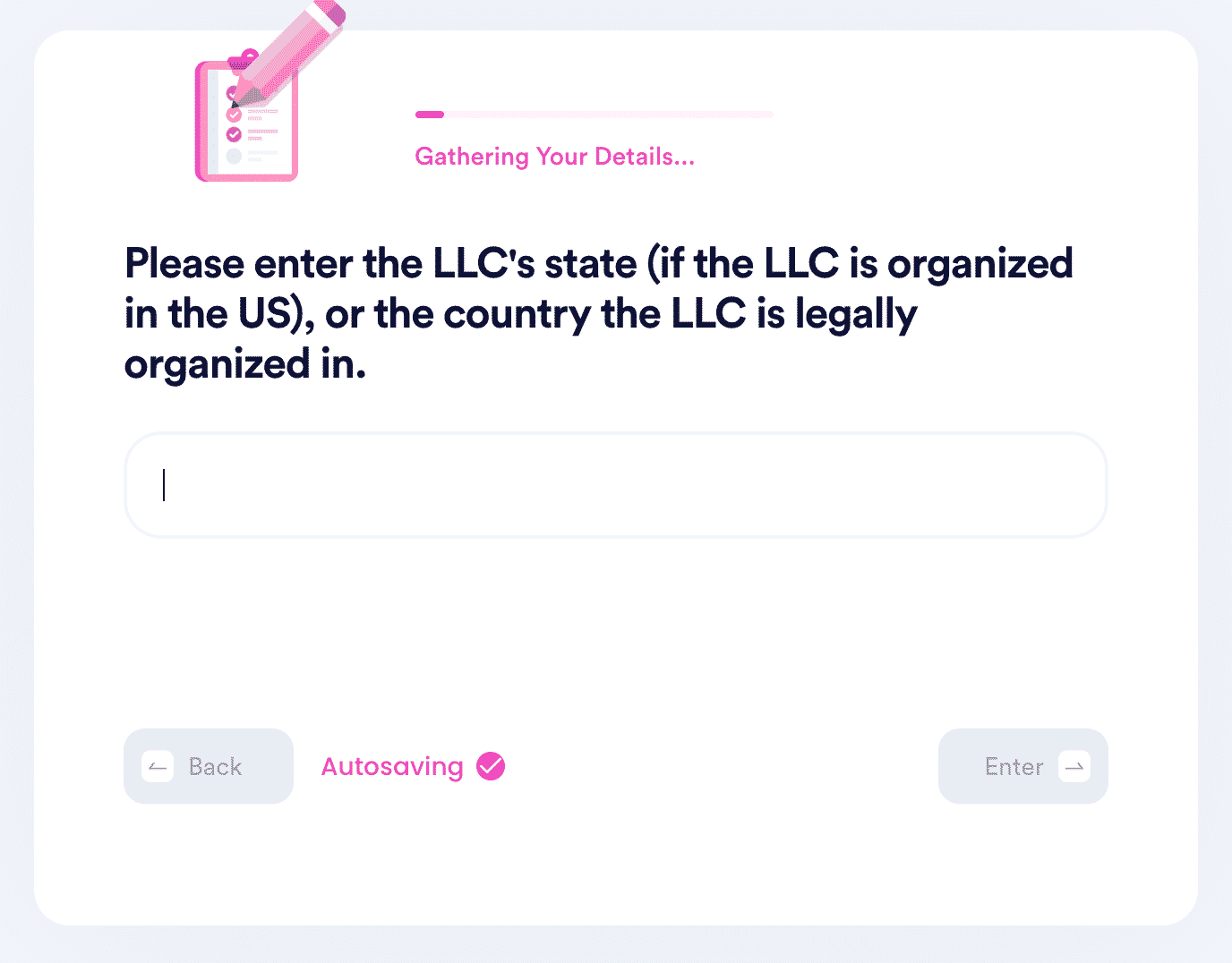 To complete the application process, you have to include your e-signature at the bottom of the form. After that, DoNotPay will ensure the document is delivered to the USPTO for evaluation.
Run Your Business Worry-Free!
Every beginning is challenging, which is why DoNotPay has everything you need to start running your business stress-free! We have created numerous easy-to-use products that will make boring administrative tasks easier to manage.
To help you get started, DoNotPay will assist you in taking care of trademark, Employer Identification Number (EIN), and DMCA agent registration, Privacy Shield self-certification, and business loan requests.
We can even help you maintain a good business reputation by:
Monitoring your trademark and filing a cease and desist letter in case someone tries to use it
Reporting fake negative reviews that could harm your business
Disputing illegitimate chargeback requests in a matter of minutes
DoNotPay Helps You Create and File a Number of Legal Documents
Why waste time worrying about how to draw up and file various legal documents when you can have the world's first robot lawyer do that in your stead? You do not have to waste thousands of dollars on lawyer's fees—our extensive database has a myriad of documents on offer.
DoNotPay will help you automate the procedure of completing and filing 83(b) election forms, write a formal demand letter requesting payment from clients who try to avoid it, and deal with other important paperwork.
Don't want to waste time going to the post office to mail a contract? Now you do not have to! With DoNotPay, you can fax and mail any document in a matter of clicks!