Learn How To Avoid Neighbors Easy-Peasy!
Are you having a difficult time figuring out how to avoid neighbors? Don't worry! We are here to show you how to deal with your bad neighbors without breaking a sweat!
to learn all about neighbor complaints and how to create a demand letter in a few minutes!
How To Avoid Neighbors in Three Easy Ways
If you don't live in the near proximity of your neighbors, congrats—you're one of the few people who don't have to deal with issues like:
Most people have to deal with such issues, though. If you're one of them, these are the methods you can use to avoid your neighbors and the drama:
| | |
| --- | --- |
| Method | What To Do |
| Becoming familiar with your environment | Learn all about your surroundings and find a way to escape from any unpleasant encounters with your neighbor. You can use a fire escape, an elevator, or any other way to run away discreetly in case you see your neighbor approaching you |
| Deflection | Have a magazine or newspaper with you just in case. If your neighbor sees you and there is no way to walk away, you can pretend to read your magazine intently. The chances are that your neighbor won't bother you in that scenario |
| Scare them away | Say something weird or unexpected to scare your neighbor away. If the previous two attempts fail, this is your fail-safe. Although this method is a bit extreme, your neighbor will most likely walk away from you if you pretend that you're crazy |
How Can I Deal With Inconsiderate Neighbors?
If your neighbors are inconsiderate and you are unsure about what to do, check out the list below for useful tips for dealing with bad neighbors:
Talk it out
Negotiate
Speak to a lawyer
Talking It Out
Neighbors aren't always unwilling to listen to what you have to say. You should try talking to your inconsiderate neighbors before deciding on a different approach.
Make sure you are calm and collected before you reach out to your neighbor. If you get angry and yell instead of speaking calmly, the chances are that the other party won't be as willing to hear you out. They'll probably get defensive, and you will only worsen the situation.
Negotiating
Your neighbor may not respond to your request at first, but that may change after you offer them something of value. You should start negotiating with them by offering to do or give them what they want. They will inform you about what you can do, and you will work towards reaching the middle ground.
Speaking to a Lawyer
Involve a lawyer only if necessary. There is no need to waste money on professional assistance if there is another way to get what you want. If your neighbor won't budge and you exhausted every other possibility, find a lawyer and let them help you solve the issue.
Should I Sue My Inconsiderate Neighbors?
Reporting your neighbors to the authorities should be the last resort. You shouldn't call 911 unless:
You feel unsafe
Your neighbor breaks the law
You can't find another solution
Check what public service is responsible for the issue you're having with your neighbor, and file a complaint. Make sure to keep any evidence to back your claim, such as recorded conversations you had or proof that your neighbor caused damage to your property.
Use DoNotPay To Create a Demand Letter for Your Inconsiderate Neighbors
DoNotPay steps in with a neat feature that helps you compose a demand letter in a few simple steps! This letter will show your neighbor how serious you are and what the consequences of their actions will be if they refuse to cooperate.
The best part is that we do all the work! After completing the following instructions, we'll draft your letter quickly:
Choose the Neighbor Complaint feature
Tell us what type of complaint you have and answer a few questions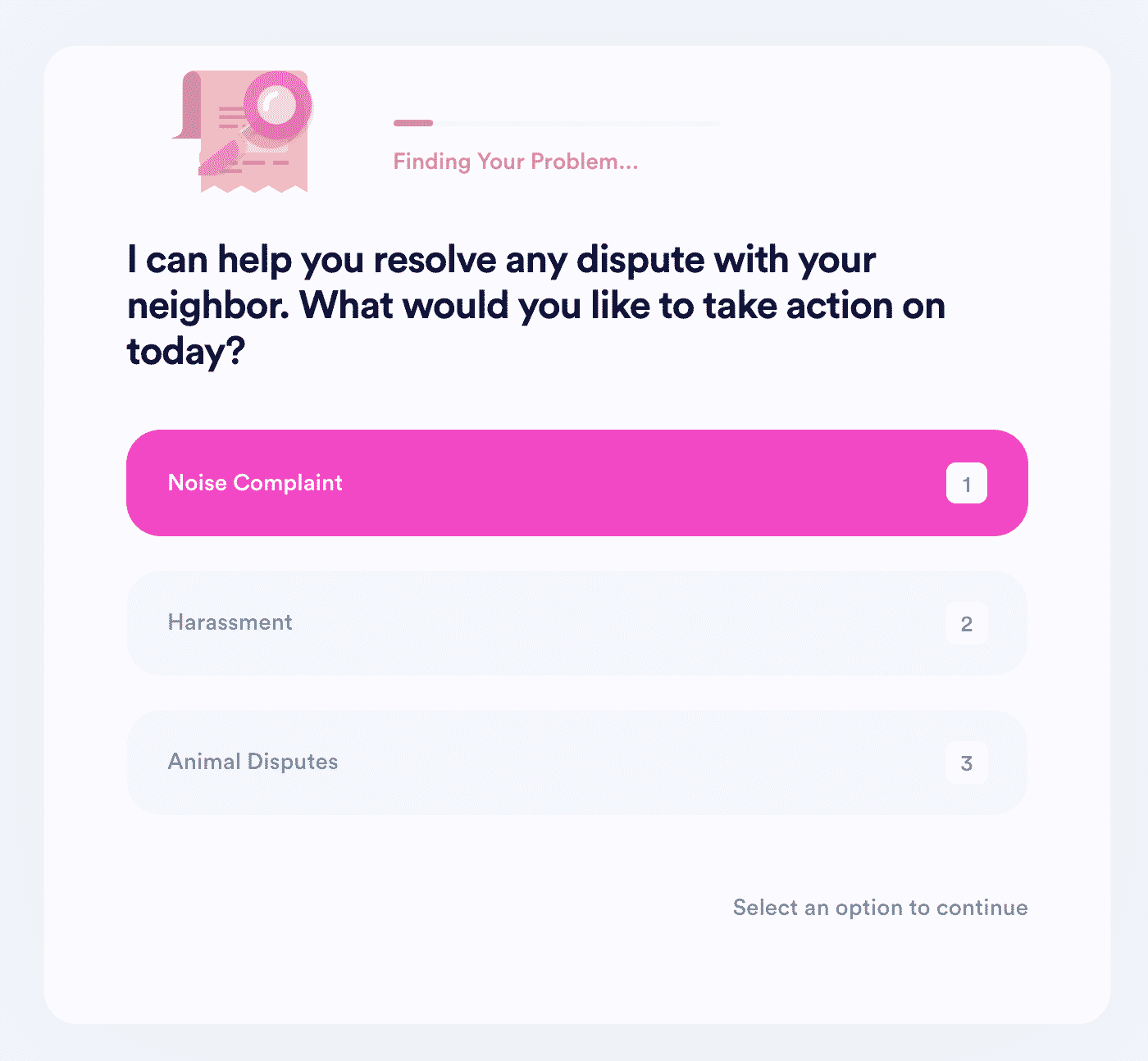 DoNotPay Helps You Deal With All Kinds of Neighbors!
DoNotPay can help you with more than avoiding your neighbors! We'll walk you through handling any neighbor-related issue you encounter with ease! Take a look at the table below for some of the common issues our app helps you resolve:
Say No to Spam and Unnecessary Paperwork
If your inbox, mailbox, or to-do list is overflowing, our app is exactly what you need! Check out ways to declutter your life:
You can have your cake and eat it too—DoNotPay makes it possible to cut down on unnecessary red tape and save you money—all in one full swing. We can help you overturn your parking tickets, apply for a college fee waiver, uncover missing money, submit a FOIA request, and much more.
Discover Numerous Fast and Easy Solutions
DoNotPay is all about helping you through a complicated task by coming up with simple solutions: