How To Apply for Small Business Loans Under the Coronavirus Stimulus Bill
The COVID-19 pandemic had a devastating impact on the global economy, especially small businesses. In an attempt to remedy the situation, the U.S. Congress introduced the Coronavirus Aid, Relief, and Economic Security (CARES) Act.
How to apply for small business loans under the coronavirus stimulus bill and how small business loans work in general is a topic we will discuss in this article. We will also explain how to use DoNotPay to apply for loans in a few minutes.
COVID-19 Loan Relief Options
The Small Business Administration (SBA) offers the following types of small businesses loans for those whose businesses were affected by the COVID-19 pandemic:
Paycheck Protection Program (PPP)
Economic Injury Disaster Loan (EIDL)
Emergency grant of $10,000
SBA Debt Relief
Paycheck Protection Program (PPP)
A PPP is a loan option that provides a direct incentive for workers' payroll. There are the first and second draw of these loans—if you already received a PPP loan, you might still be eligible for the second draw. You should check whether you also qualify for a PPP loan forgiveness.
Economic Injury Disaster Loan (EIDL)
The EIDL program offers long-term loans with fixed and low interest rates to small business owners to help them overcome the effects of the pandemic. You can use this loan to cover the expenses of operating a small business, such as:
Payroll
Rent or mortgage
Utilities
Ordinary business expenses
Business debt incurred
The maximum amount you can get is $2 million. Collateral is required for loans of more than $25,000, and you also need to provide a personal guarantee for those over $200,000. The EIDL also has Advance Programs for the most affected businesses and private nonprofits—loans that you do not have to repay.
To apply for the EIDL loan, do the following:
Determine whether you are eligible
Complete the Intake Form
Create an account via SBA email invite
Complete the steps in the portal
Upload the required documents
An Emergency 10,000 Loan for Small Business
This is an emergency grant of $10,000 awarded to those applicants whose loan request for the EIDL has been denied. You can use this loan to:
Provide employee sick leave
Maintain payroll
Pay rent
SBA Debt Relief
The SBA enabled debt relief to the existing borrowers whose businesses suffered due to the pandemic. If your 7(a), 504, or Microloan were approved by September 27, 2020, the SBA will provide assistance automatically without you having to apply. The SBA will pay six months of principal, interest, and any other fees the borrower owes for 7(a), 504, and Microloans reported in regular servicing status.
Regardless of whether you need a COVID relief option or a regular small business loan, you should consider an SBA loan as your first choice. The table below will provide you with a brief overview of the benefits and downsides of SBA loans:
Pros
Cons

SBA is designed specifically for small businesses and startups
It can be used for a wide range of expenses
SBA loans are secured
Lenders are more willing to offer financing to small businesses because of SBA

SBA loans require a personal credit score
You must be at least two years in business to apply
These loans have restrictions on what the financing can be used for
The SBA loan eligibility criteria may be difficult to meet
DoNotPay Can Help You Get Your Loan Easily
Apart from SBA loans, you should check whether you qualify for some of the best small business loans that banks and credit unions offer.
Keep in mind that meeting the official qualifications doesn't automatically get you a loan. To get a loan, you need to know exactly what the lenders expect from you and how to write a convincing loan request letter. This is where DoNotPay comes in—our app can help you draft the perfect small business loan request letter that should pique the lenders' interest.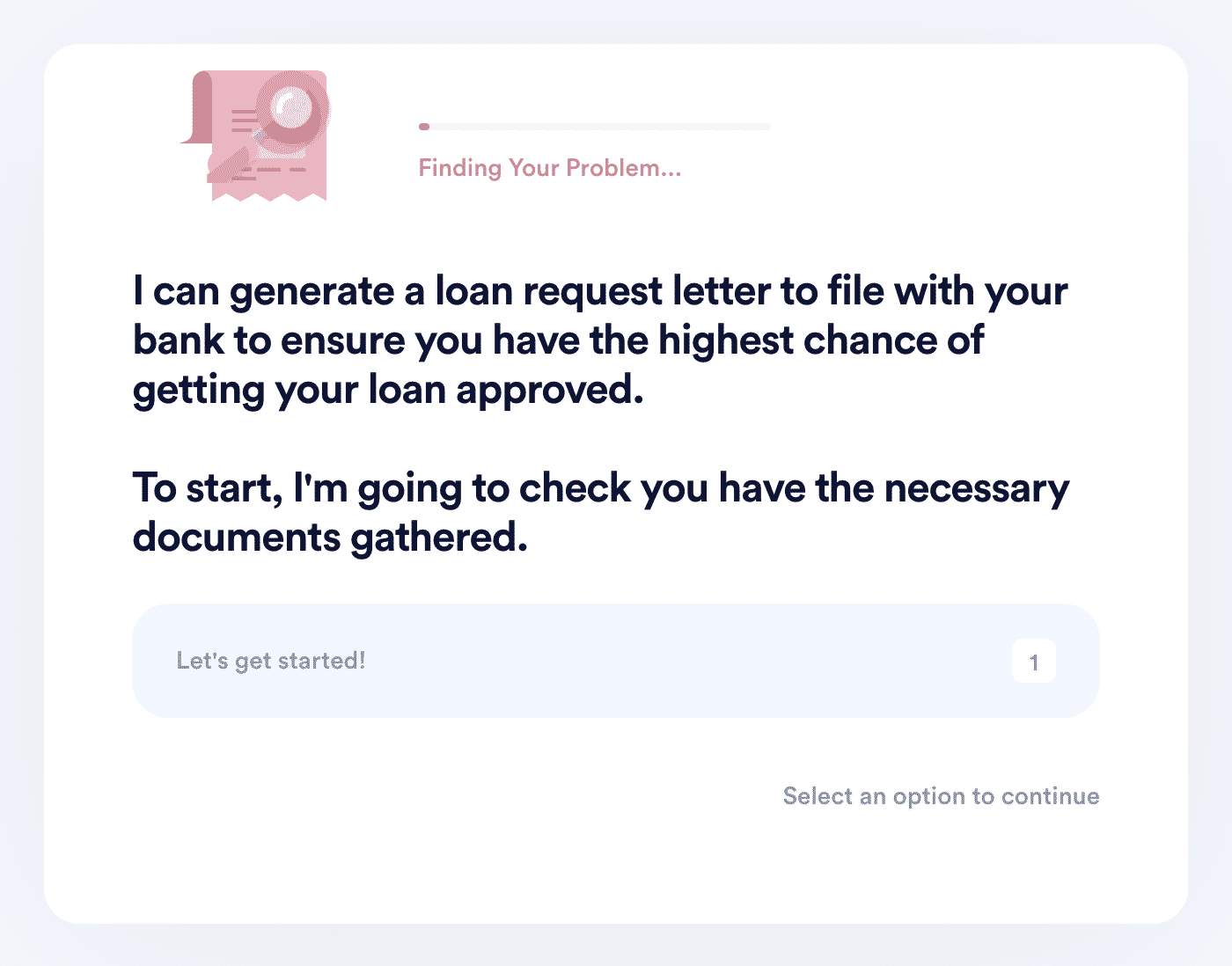 Sign up for DoNotPay and follow the steps below to create your letter:
Open the Business Loan Request Letter product
Collect your personal and business credit scores
Prepare financial statements, such as

Balance sheet
Cash-flow statement

Upload all the required documents
If you still don't have a lender in mind, DoNotPay will help you find one through our integrated Find Online Business Loan Lender tool. It exists as a separate product as well, but you can select it as an option while applying. Follow the steps below to find a lender:
Answer a few questions
Tell us about your business and the industry you are in
Submit your request
DoNotPay will compare loan providers (amounts, interest rates, and repayment schedules) to present you with the top three options.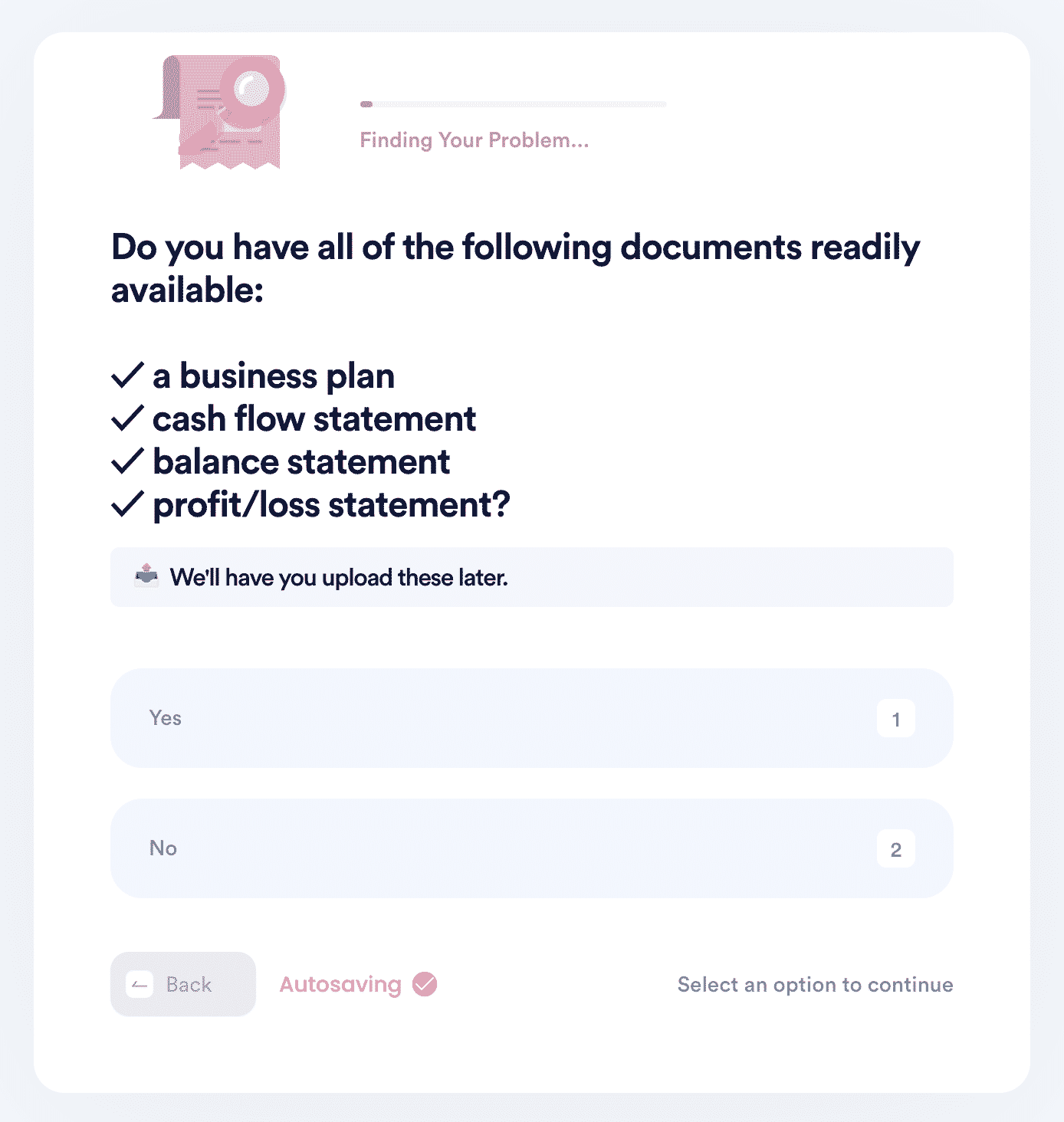 Get the Upper Hand With DoNotPay
The business world is extremely competitive—that is why it is always good to have some extra capital set aside when you need to invest in your company. You can leave the bureaucratic task to us—DoNotPay will draw up business loan request letters in your stead.
If your finances are taking a hit, rely on our app. With our assistance, you will be able to:
Fight fraudulent chargebacks
Remove fake negative reviews online
Register and protect your trademark
Send mail and faxes at no additional cost
Handle clients breaching contracts and get what you are owed
Whatever the task at hand, our AI-powered app will see it through successfully.
DoNotPay—The Assistant Every Business Needs
You cannot escape bureaucracy in business. What you can do is let DoNotPay deal with it. Whether you need to register a DMCA agent or complete an Employer Identification Number (EIN) registration, our app will lead the way.
Using DoNotPay, you will also not have to worry about 83(b) election forms or Privacy Shield self-certification. From generating to filing important documents and from dealing with employees to handling clients on your behalf, our AI-driven app is your go-to solution.
Grow and protect your business with the world's first robot lawyer!