How To Appeal Property Taxes in NJ—A Guide

What many homeowners don't know is that they can lower their property taxes and appeal tax assessments. If you know the right strategies, appealing may be your last resort.
We will introduce the appeal process to you and help you learn how to appeal property taxes in NJ, thanks to our customized property tax guide! New Jersey may not be a state with low taxes, but with DoNotPay's help, your tax bill will be low.
What To Do Before a New Jersey Property Tax Assessment Appeal
If you use the following tips, you may not need to resort to the appeal process.
Here's what you can do before, after, and during your property tax assessment:
Plan your renovations ahead

—Home improvements could affect the value of your property, which may increase your tax bill

Stay close to the assessor during your property assessment

—Ask questions and check whether the calculations are fair and correct

Check your property description

—You may find certain mistakes, such as the number of bedrooms or square footage, and you can contact your assessor to let them know

Find out whether you qualify for a property tax exemption

—New Jersey offers various

tax relief

programs you could be eligible for

Review your tax bill

—Typically, you can only appeal an assessment—not your bill—but if you find any errors in your tax bill, contact your assessor
How Can I Lower My Property Taxes in NJ?
You can apply for different property tax relief programs, exemptions, and deductions to lower your taxes. Check out an overview of various options you may qualify for:
Property Tax Relief Option
Eligibility Factors

Reside in New Jersey

Live in your primary residence in NJ

Pay your property taxes

Meet the income requirements:

Homeowners aged 65 or older blind or disabled—$150,000 or less

Homeowners under the age of 65 and not blind or disabled—$75,000 or less 

Senior freeze

Age and disability:

Be 65 or older

Get federal Social Security disability benefit payments

Income limit (changes every year):

In 2019, it was $91,505 or less

In 2020, it was $92,969 or less

Paid property taxes and site fees

Residence—Live in New Jersey as a homeowner or renter

Homeownership—Be a homeowner or a mobile homeowner

Property tax deduction for veterans

Be a homeowner

Be a legal New Jersey resident

Have active duty service in the U.S. Armed Forces with an honorable discharge

Active military service property tax deferment

Be a serviceperson deployed or mobilized for active service in time of war

100% disabled veteran property tax exemption

Be honorably discharged

Be a legal New Jersey resident

Have active duty service in the U.S. Armed Forces

Own and occupy a property as your primary residence

Property tax deduction for senior citizens and disabled persons

Own and reside on the property

Don't exceed the set

income threshold

Be a legal resident of New Jersey for a minimum of one year
When Can I File a Property Tax Appeal in New Jersey?
You can appeal your property tax assessment when you have reasons to believe it's unfair.
The key to a successful property tax appeal is proving your property's assessed value is overassessed compared to the standard value. You may do so by presenting one of the following:
True market value standard—the price your property would sell for

Common level range standard—it depends on the taxing district, but it's usually around 15% more or less than the average ratio
What Is the Deadline for Property Tax Appeals in NJ?
Typically, you have 30 days after your tax assessment notice to file an appeal. The assessment calendar is not the same in every county in New Jersey. In 2020, some counties' appeal deadline was April 1, while in others—such as Monmouth and Gloucester counties—it was September 30.
You can call your County Tax Board and check how much time you have to appeal your property tax assessment.
How To Lower Property Taxes in NJ and Appeal Them With DoNotPay
Dealing with exemptions and appeals by yourself can be too much to handle. A lot of research is involved as well as form and document collection. You may also need to contact your assessor or the authorities in the process.
Fortunately, we have exactly what you need! DoNotPay has created the Property Tax feature to generate a personalized guide for users who need help paying tax bills.
Our guide contains the following sections:
Property Assessment Appeals
Tax Exemptions

Tips for negotiating with your assessor

Advice for gathering evidence

Instructions for filing out a

property tax appeal form

Information about the property tax exemptions you are eligible for

Methods of obtaining the necessary forms

Guidelines for submitting your application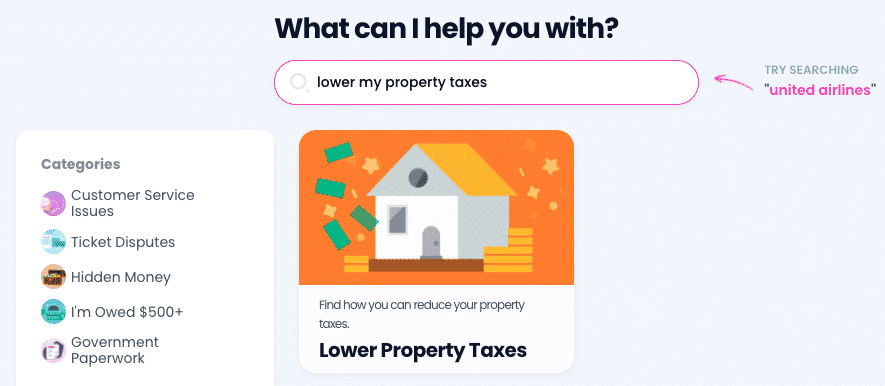 All you have to do to get your Property Tax guide is to follow these instructions:
Access DoNotPay from a

web browser

Find the

Property Tax

feature

Provide relevant info about yourself

Answer a few questions regarding your property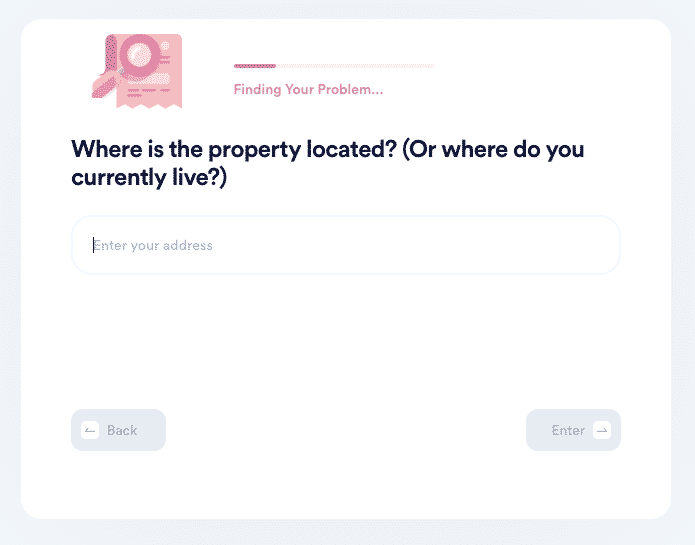 Tired of Companies Not Taking You Seriously? Use DoNotPay To Put a Stop to It
If you're sick of companies that violate your consumer rights, DoNotPay is here to help. If you're struggling with reporting robocalls, requesting a refund, claiming any type of warranty, scheduling a DMV appointment, reporting spam text messages, or anything else, our robot lawyer will help you sue any firm or individual in small claims court.
With DoNotPay, you can also sign up for any free trial, cancel any subscription, avoid getting charged after your free trials end, and much more!
Want Your Money Back? DoNotPay Is Here To Help
Are you looking for your missing money? Do you want to get a refund for a delayed or canceled flight? Are you trying to flip the script on illegal robocalls and earn money off them? DoNotPay will assist you in dealing with any of these pesky issues!
We can also help you bypass phone number verification, sign up for clinical trials stress-free, ace any government test in a jiffy, and block spam emails for good.