Knowing
How To Appeal a Property Tax Assessment in California
Can Save You Big Money
California is one of the states with low property tax rates, but the high property prices in the Golden State mean that you can still be hit with a substantial bill every year.
DoNotPay is here to help you reduce your property taxes, and one of the ways to achieve this is to appeal your property tax assessment in California. If you need help paying your property tax, DoNotPay is your partner.
How Does California Work Out Your Property Tax?
The State of California allows each of its 58 counties to administer property taxation, but the state Board of Equalization makes sure the process is fair and equitable.
Your property tax bill is worked out by combining two elements, namely:
Tax rate

Assessed property value
Tax Rate
The tax rate in your county of residence is set locally to generate enough revenue to fund local amenities and services, such as:
Police

Fire department

Schools

Libraries

Public recreation facilities
The state puts a cap on the property tax rate, meaning that your tax bill should not exceed 1% of your property's value. Your county or city can levy additional taxes, though, which are used to fund specific projects that have been approved by public referendum. These are known as Mello-Roos taxes.
Assessed Property Value
Each county assesses the value of your real estate to determine its fair market value. The assessment takes place every year and uses the sales-value approach, meaning that sale prices for similar-sized properties in your area are used to work out what your property is worth.
Property prices in California are rising by 7–8% every year, so your property may see its assessed value rising annually by that factor. If you are unlucky, your property could be static in market value, but your property tax assessment could rise because your area is experiencing an upswing in popularity.
What Can You Do About Your Property Tax Bill in California?
As a California resident, there are two ways you can reduce your property tax bill.
You can look for property tax exemptions that offer tax discounts or relief based on your circumstances. There are several property tax exemptions available in California, including exemptions for senior citizens, veterans, disabled persons, and transfers to your children or grandchildren.
If you feel your California property's value has been assessed incorrectly, you can appeal against the assessment. You may even have an opportunity to apply for a property tax reassessment exclusion that would freeze your assessment at its current rate.
How Can You Appeal Your Property Assessment in California?
A successful property tax appeal in California is within your reach if you are prepared and have done your homework.
There are two types of appeal you can lodge, as follows:
| | |
| --- | --- |
| Appeal Type | Explanation |
| Base-year appeal | This is an appeal against an increase in your property's assessed value as a result of a supplemental assessment or a mistake by the county in your assessed value. You will have received a notification of this by mail |
| Decline-in-value appeal | This is an appeal against your assessment based on your evidence that your property has lost value |
Here's what you need to do to appeal your property tax assessment:
Apply for an assessment appeal

Prepare your case and documentation

Negotiate with the assessor

Present your case
Apply for an Assessment Appeal
Your first step is to file an assessment appeal application with your county Assessment Appeals Board. You can usually fill out the forms online, but you must print the completed forms and submit hard copies.
For each appeal type, there is a California property tax appeal deadline you should adhere to, as follows:
Appeal Type
Deadline

Base-year appeal

You should appeal within 60 days of the date on the notice you have received. If you miss this deadline, you can appeal at a later date, but your appeal—if successful— will only be effective prospectively

Decline-in-value appeal

Your appeal can be lodged between July 2 and September 15 in the following counties:

Inyo

Kings

Sierra

Placer

Sutter

Santa Clara

San Antonio

San Francisco

San Luis Obispo

For all other counties, the deadline is November 30
Prepare Your Case and Documentation
Your county assessment board assesses your property according to its fair market value, so you will have to prove that your understanding of the property market in your area is better than that of the board.
Your valuation should be set at the same date as the assessment you have received from your county assessor. You can use either of the following approaches to reaching your valuation:
Sales value approach

, which compares sale prices for similar properties in your area

Cost approach

, which estimates the cost of building your property at today's prices
If you use the sales-value approach in California, you must use sales data from no more than 90 days after your valuation date. If your property is high-value, it is probably worth having it assessed by a professional appraiser. For lower-value property, valuations from realtors should be sufficient.
If you use the cost approach, you will need at least three comparable quotes from reputable contractors.
Negotiate With the Assessor
Before your hearing, you can try talking directly to the county assessor to see if they will adjust your assessed value without the need for a hearing. If the assessor is unwilling to do this, you can at least understand their reasoning and calculations. This can help you prepare your case.
Present Your Case
Your hearing before the assessment appeal board is your opportunity to present your case and cross-examine the assessor. It is similar to a trial, and the better you state your arguments and reasoning, the more likely you are to succeed. You can call for expert testimony from your appraiser or realtor, but they should also be prepared to be cross-examined.
The better prepared you are, the higher your chances of your assessed value being reduced.
DoNotPay Can Help You With Your Property Assessment Appeal in California
DoNotPay is your most valuable resource in appealing your property tax assessment in California.
DoNotPay's app features a property guide that can give you personalized advice based on your situation.
The guide deals with two areas:
Property tax exemptions

, including what is available in your area, which documents you need, and where you can apply

Property assessment appeals

, featuring how to deal with assessors, what appeal documents you require, and where you can lodge your appeal
How Can You Get Your Personalized Property Guide From DoNotPay?
Your guide is ready for you with a few clicks of your mouse. Here's how to get it:
Go to DoNotPay in your web browser and

sign up

Look for the

Property Tax

feature

Fill in some details about yourself and your property

Wait while your personalized guide is created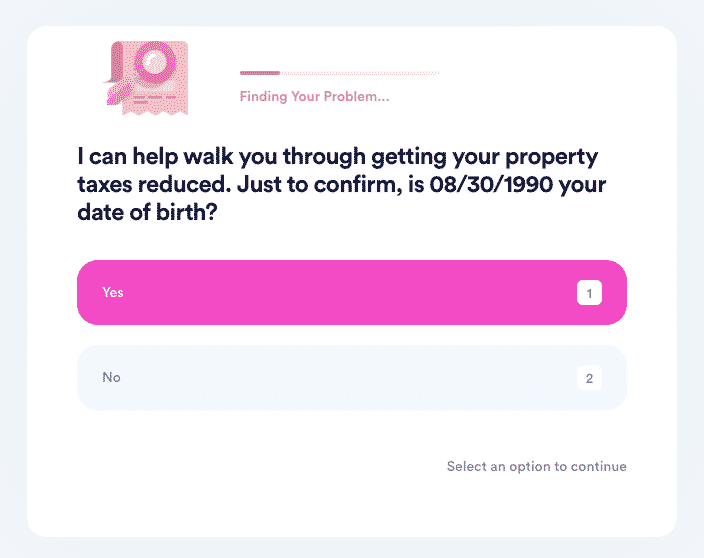 Explore the Full Range of DoNotPay's Services
Don't let annoying bureaucracy stop you from exercising your rights or finding new opportunities. DoNotPay—the world's first robot lawyer—comes with a diverse portfolio full of practical shortcuts for:
Struggling with finances? Our app will help you manage unpaid bills, find and claim lost money in any state, or get college application fee waivers. 
Minimize Paperwork With DoNotPay
Writing letters, filing claims, sending requests—these chores are nobody's idea of fun. Thanks to DoNotPay, you can bypass these menial tasks with a few clicks in your browser. 
Our platform is full of useful tips and features for filing insurance and warranty claims, dealing with parking tickets, getting refunds and chargebacks, or writing harassment cease-and-desist letters. 
DMV offices don't have to be the place where hope goes to die. With DoNotPay, you will be able to schedule any DMV appointment without the nightmare of waiting in lines. While you're at it, you can check out our guides and practice tests for the best driving exam preparation!