How Often Can You Be Called for Jury Duty in NY? Find Out Here
Have you been summoned to serve as a juror in New York, even though it seems like you were on jury duty recently? If so, you are probably wondering, "how often can you be called for jury duty in NY?" Our article will answer this question and help you prepare for jury duty by explaining how jury duty works in New York and helping you draw up a professional leave request letter.
How Often Can You Be Called for Jury Duty in NY?
How frequently you are called for jury duty in NY depends on how long you were a juror the last time you served, as follows:
Less than ten days—You won't have to serve again for six years
More than ten days—You won't be summoned for jury duty for the next eight years
How Does Jury Duty Work in NY?
To be a juror in New York, you must be:
A citizen of the United States
Living in the county in which you were summoned
Free of felony convictions
At least 18 years old
Able to communicate in English
Trials by jury are important as this system enables everyone to have a fair trial. If you fail to appear in court when summoned for jury duty in New York, you will be served with a notice of noncompliance. If you don't respond to the notice, you may have to pay a fine of up to $250, and you will receive another summons for jury duty.
New York State Jury Duty Exemptions
There are no statutory jury duty exemptions in New York, but you can file a jury duty excusal request in which you can ask to be exempt if the situation requires it. You should also submit all the relevant documents to support your request. The court will decide whether to accept or deny your excuse.
Work and Jury Duty in New York State
While your employer isn't legally allowed to fire you for taking time off for jury duty, you need to send them a leave request in advance so that they can delegate your responsibilities to someone else. In case you want to draft a leave request in no time, you should subscribe to DoNotPay.
DoNotPay Helps You Draw Up a Leave Request for Jury Duty in New York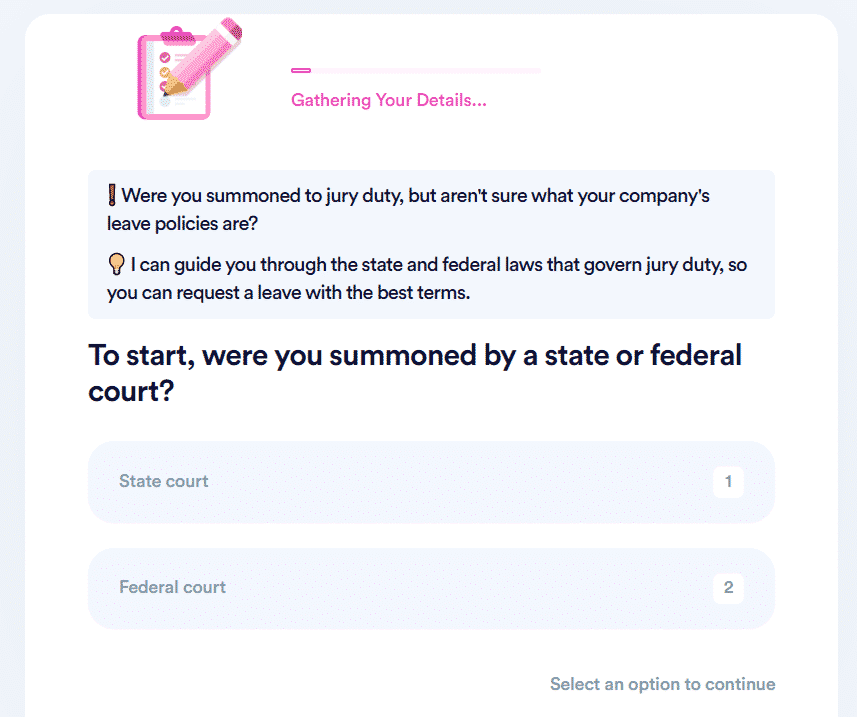 If you want to draft a leave request letter without having to waste time writing one yourself, subscribe to DoNotPay. Our AI-powered app will generate this document for you based on the information you give us. You can choose to:
Have us mail the letter to the employer in your stead
Receive the letter in PDF form and send it yourself
To get the letter, all you have to do is:
Find our Request Jury Duty Leave tool
Answer our chatbot's questions
Specify the days when you will be absent
Upload a photo of your jury summons so your employer can verify it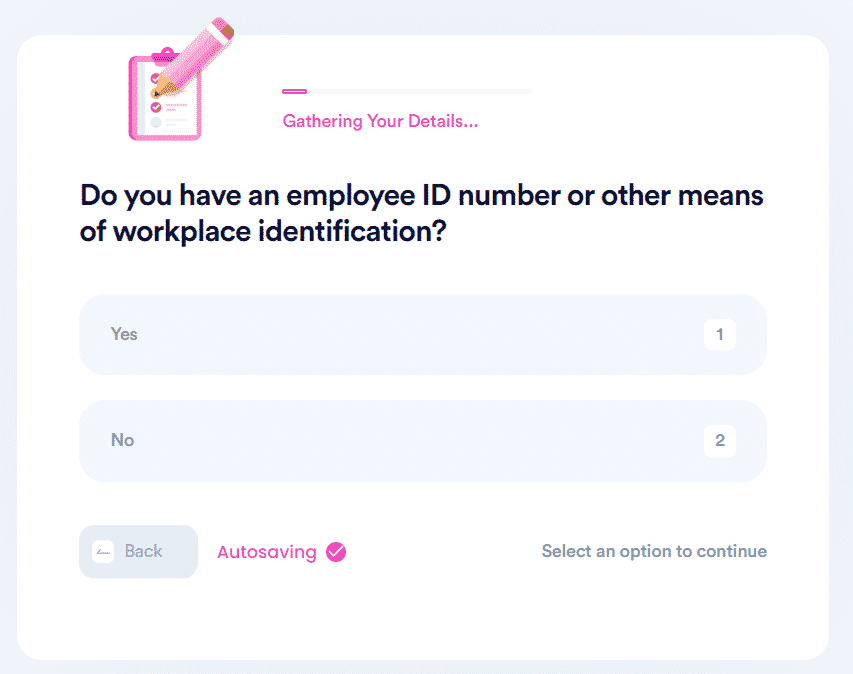 Frequently Asked Questions About Jury Duty
Check out the table below to get the answers to some of the frequently asked jury duty-related questions:
Protect Yourself With DoNotPay's Help!
In case you're looking for protection from harassers and stalkers, you can count on our help. Even if you're dealing with discrimination at work or noisy neighbors, our app can solve your issues. When spam is what's bothering you, our AI-powered app will put a stop to it. Email spammers, texters, and robocallers won't be able to reach you.
What if you need to take the issue to court? The world's first robot lawyer will be by your side. With our help, you can file a complaint or sue anyone in small claims court.
If you're wondering whether there might be a sex offender in your area, we can help you find out. Use our app to perform a sex offender search and get updates.
A Pocket-Sized Assistant Is All You Need
Is your to-do list getting longer and your paperwork piling up? DoNotPay swoops in! We'll cut through numerous bureaucratic tasks so that you can sit back and relax.
Here's what we can assist you in: