How Often Can You Be Called for Jury Duty in NJ?
Serving on a jury is obligatory for every eligible American, and some people might get summoned multiple times over the years. If you're wondering, "how often can you be called for jury duty in NJ?" DoNotPay is here to answer the question. We will explain how jury duty works so you can prepare in advance.
Our app can also help you file a jury duty time off request with your employer in no time!
How Often Do You Have To Serve Jury Duty in NJ?
In New Jersey, you can get selected for jury duty once every three years. Prospective jurors are picked by random from the following databases:
Driver licenses
Voter registration lists
Tax returns
Homestead rebate applications
Credit applications
Your name will be removed from the jury pool once you have completed your service and added again after three years have passed.
How Does Jury Duty Work in NJ?
You qualify as a prospective juror in New Jersey if you are:
A United States citizen
A resident of the county where you were summoned
At least 18 years old
Able to read and understand English
Not convicted or indicted of a criminal offense in New Jersey or other states
Not considered incompetent as a juror due to mental or physical disability
Even if you received a summons, it doesn't mean that you're automatically chosen as a juror for a trial. You will go through an examination process, where you will be asked a series of questions by judges, prosecutors, and defense attorneys. The goal of the questioning is to see how your background, beliefs, relationships, or prejudices may affect your judgment as a juror.
If you pass jury selection, the court will inform you of the trial date. You must be ready to be on call for up to two weeks.
Will You Get Paid for Serving on a Jury in NJ?
Yes. The juror pay varies among states, but you will be compensated according to the type of service, as follows:
Petit jurors—$5 a day for three days and $40 for each day after that
Grand jurors—$5 a day regardless of how long you have to serve
If you serve on a jury in a federal court, you will receive $50 each day.
What Are Jury Duty Exemptions in New Jersey?
You can postpone or decline jury duty service if you qualify for any of the following excuses:
| Condition/Occupation | Excused From Jury Duty? (Yes/No) |
| --- | --- |
| Elected official | No |
| Military | No |
| Student | No |
| Police | No |
| Breastfeeding mother | No |
| Medical worker | No |
| Disability | Yes |
| Firefighter | Yes |
| Old age | Yes (for seniors over the age of 75) |
If you are unable to serve, you can send a notice to the court in question stating the reason for your excusal and submit supporting proof. The court will decide whether you're exempt from serving on a jury.
People over the age of 75 can decline jury duty for any reason without submitting evidence.
What Happens if You Skip Jury Duty in NJ?
You must not skip jury duty without a good reason. If you do, you risk facing legal repercussions (from paying a $500 fine to imprisonment).
Can You Get Fired for Serving on a Jury in NJ?
Your employer can't fire you for serving as a juror, and they are obligated to grant you unpaid time off. You may need to notify them with a written notice and submit your jury duty summons so they can verify it.
DoNotPay Can Write and Send a Jury Duty Leave Request Letter on Your Behalf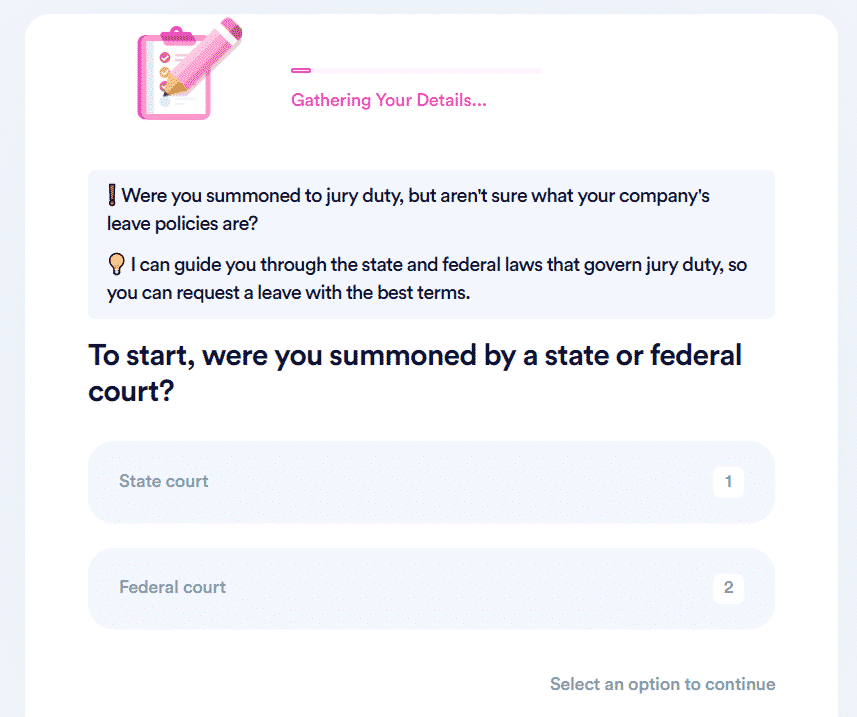 You don't need to waste money hiring an attorney to create a jury duty leave request letter for you. Our app can help you write and send one in minutes, and here's how:
Choose our Request Jury Duty Leave product
Provide a few details about your employer and jury duty schedule
Upload supporting documents and sign the letter digitally
Within minutes, we will generate a leave request letter you can send to the employer. You can also allow us to email the letter in your stead. All replies will be delivered straight to your inbox.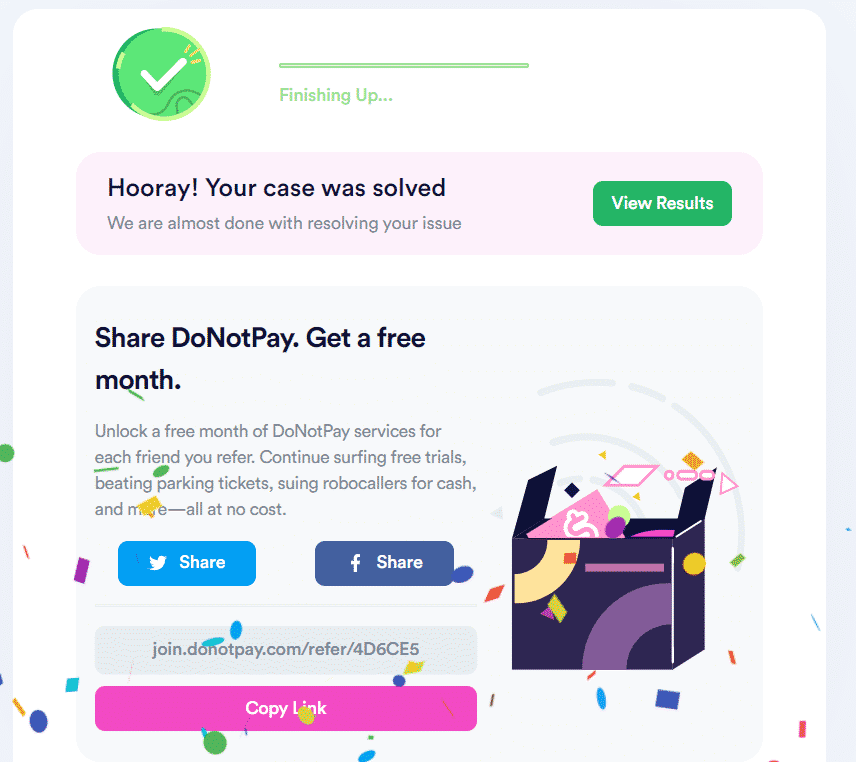 Check Out DoNotPay's Exhaustive Product Range
You can use our app to deal with any issue you could think of—from contesting parking tickets, applying for clinical trials, drafting an affidavit to homeschool, and sending defamation demand letters to contacting government representatives, applying for scholarships, appealing banned accounts, and getting in touch with embassies and consulates.
With DoNotPay by your side, you will never have to worry about how you'll cover your utility bills or property taxes again. Sign up now to discover all the ways in which we can assist you!
DoNotPay Puts Your Fears to Rest
Have you been dealing with workplace discrimination lately but don't know how to submit a complaint to your HR? Do you have a stalker or creepy neighbor who's a registered sex offender and who keeps you up at night? Do you want to put an end to robocalls and email and text spammers once and for all? DoNotPay can help you out!
If you're a victim of crime, we can help you get compensation as well. No matter the issue you're facing, you can count on us for swift and reliable assistance.