How Much Is a Trademark Worth? Find Out Here!
When trying to attract potential investors, you need to determine the projected value of your brand. In this article, we explore what makes a trademark potentially lucrative while explaining how to get started in the registration process .
Take the time to evaluate the earning power of your chosen mark, and find out the answer to: "how much is a trademark worth?" with DoNotPay.
How To Value a Trademark
Trademarks, service marks, patents, and copyright are legally recognized as intelligible assets. As such, it is possible to forecast their potential worth with an expert evaluation. You will need to include several variables (e.g., overall business goals, marketplace competitors, and potential expansions) into the calculation to come up with an approximation. Consider enlisting the services of a specialized agency that performs trademark assessment since the process can be quite tricky.
How much is your trademark worth, then? Here are the basic guidelines on how to value a trademark:
Past income—The evaluator will take into account the income history of your business and project the trademark's earning potential
Current marketplace position—The trademarked goods and services are compared to similar offers from your marketplace competitors
Trademark costs—The overall value of your brand derives from individual elements, such as advertisement, trademark registration, official launch, and maintenance fees. Trademarks expire after a while, so the evaluator will factor in the renewal fees as well
Estimated royalties—Royalty fees and discount rates that come with trademark ownership determine the projected cost
Why Are Some Trademarks Better Than Others?
The type of trademark you use contributes to its overall worth. Having a so-called "strong" trademark can benefit your brand in terms of marketplace visibility, thus increasing the projected monetary value.
You want a trademark that is distinctive, i.e., unmistakably tied to your goods and services. It can be any type of visual or text symbol, such as:
Try to avoid generic terms that add no value to your products. For example, if you run a t-shirt shop, don't use the words "T-Shirt Shop" as your trademark—it lacks originality.
Descriptive phrases are also considered "weak" trademarks as they don't provide any discernible features. If you owned a men's clothing brand, you wouldn't name it "Men's Clothes" since it says little to nothing about the actual items.
The Importance of Trademark Protection
The main reason why you need a trademark is to guard your small business against attempts at infringement. A trademark will protect your original idea and further legitimize your business, making it more appealing to investors.
You can acquire local protection by merely using the mark in commerce, as per common law rights. To reach state- or nation-wide protection, though, you must register the trademark with the United States Patent and Trademark Office (USPTO). Currently, you can apply for:
State registration—Trademark is guarded by the trademark protection laws of your state
Federal registration—Your brand is safe from fraudulence and counterfeiting within U.S. borders
International registration—Your trademark is protected in the 124 countries that signed the international treaty (i.e., the Madrid Protocol)
You can also forward your registration certificate to the United States Customs and Border Protection (CBP). The CBP officers will then prevent the importation of counterfeit goods that contain your trademark.
How To Register a Trademark With the USPTO
You can start the registration process online—via the Trademark Electronic Application System (TEAS). The table below contains a step-by-step breakdown of the requirements:
Trademark Registration Steps
Description
Checking the trademark availability

You must first confirm the trademark you are registering is not already listed in the public database. Conduct a USPTO search to check the availability

Classifying goods and services
Choosing a filing option
The USPTO offers two trademark application forms:

Select one according to your needs and complete the paperwork with the following data:

Legal name of the company/trademark owner
Business address and contact information
Trademark type
Trademark classes
Filing basis:
Use in commerce along with proof
Statement of intent-to-use
Evidence of prepaid USPTO fees

Paying the registration fees
The two TEAS forms have different pricing plans:

TEAS Plus—$250 per class, and you must pay the entire sum upfront
TEAS Standard—$350 per class, but you can divide the fee into several payments
DoNotPay—The Easiest Way To File Your Trademark Application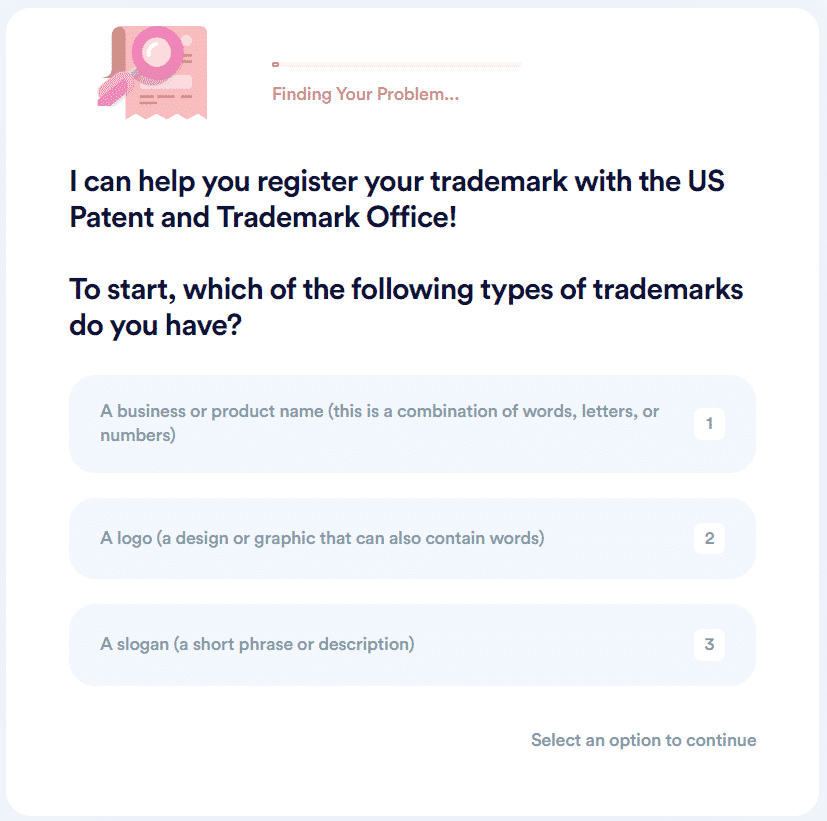 If you are looking for a cost-friendly method of registering a trademark that will not affect the overall worth, look no further than DoNotPay. Our Trademark Registration product can help you fill out an application form in minutes and even conduct a USPTO search in your stead.
Here's how to use the feature:
Select the Trademark Registration product
Answer questions about your business structure and applied-for trademark
Provide evidence you paid the USPTO fees
The final step before sending the document to the USPTO is to authorize it with your e-signature. After that, DoNotPay will deliver all the paperwork to the federal agency for trademark registration.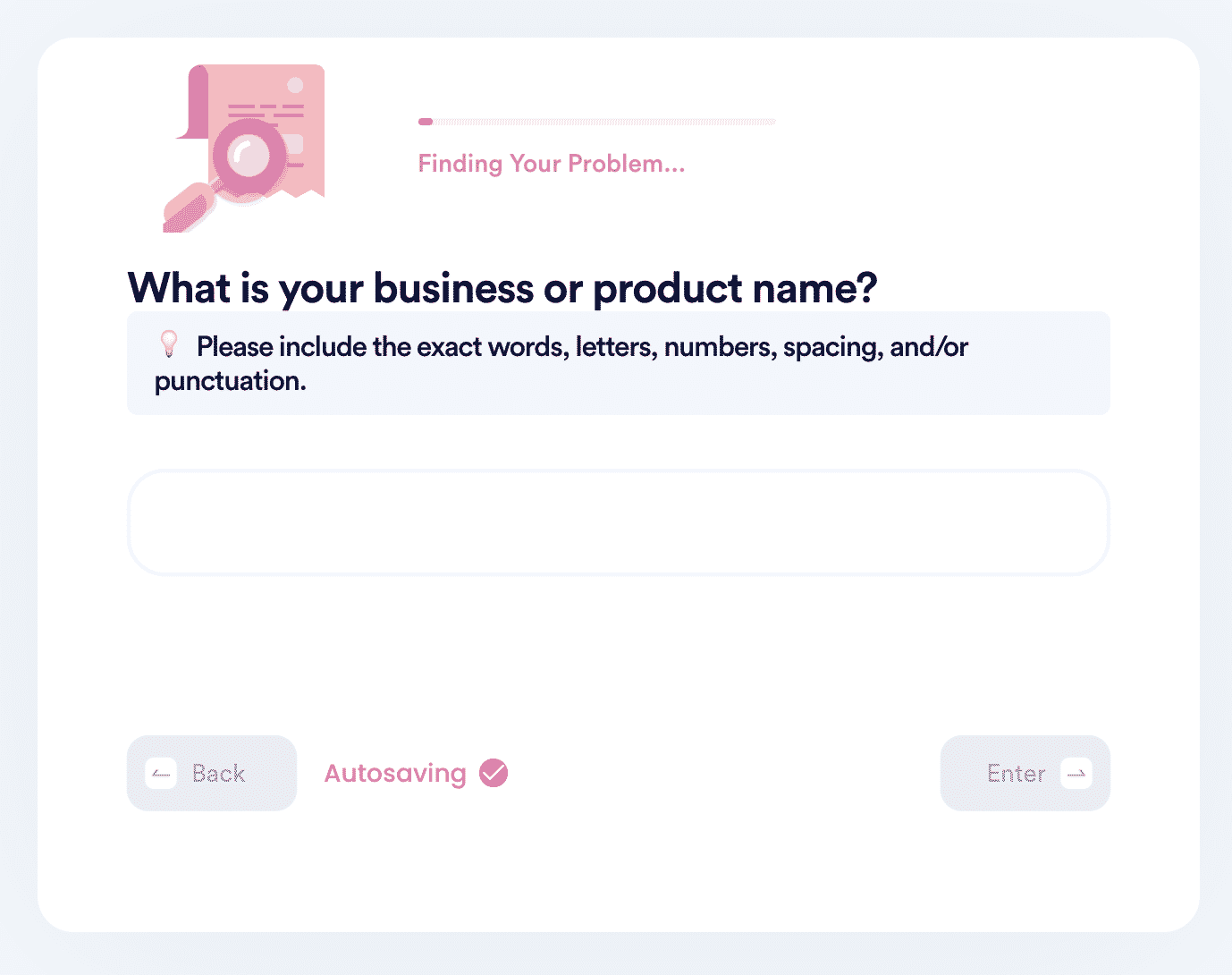 Resolve Various Business Problems With the Help of DoNotPay
Handling annoying administrative issues is the last thing you want to worry about while trying to build a business empire. The good news is that you do not have to! DoNotPay has developed many nifty products that make various pesky tasks easy to complete.
Some of the small-business-related matters we can help you with are:
Taking out business loans
Obtaining an Employer Identification Number (EIN)
Automating the filing of 83(b) election forms
Requesting your money from customers who won't pay
Registering a DMCA agent
DoNotPay can also make communication with your clients or business partners easier as we enable you to fax and mail your letters, forms, and other important documents without leaving your office.
Maintain a Good Business Reputation
It is no secret that building a trusting relationship with clients takes time and effort, so why have all that hard work ruined by negative online reviews that are fake? DoNotPay is here to help you remove illegitimate, fake reviews in a matter of clicks!
Want to dispute unfair chargeback requests but are not sure how to go about it? By using our Fight Chargebacks feature, you can have DoNotPay create a customized chargeback rebuttal document in a few minutes.
With our app, you can also protect your trademark from people trying to use it, file the self-certification request with the Privacy Shield program, and handle many other aspects of your business hassle-free!