How Much is a Hunting License? DoNotPay Can Find the Price For You!
If you are planning a hunting trip, it's important to have the proper license to hunt in the state where you'll be staying. If you're wondering, "How much is a hunting license?" DoNotPay can help.
Each state has its own license requirements, and they come at a variety of price points. DoNotPay can help you track down the license you need, and we'll help you get your hunting license quickly.
Who is Eligible to Get a Hunting License?
Obtaining a hunting license varies from state to state. Since each state has its own requirements, it's important to research and obtain all of the necessary documents before hunting. 
Here are a few of the things that need to be taken into consideration when applying for a hunting license in most states.
Age
Most states have a minimum age requirement of around 12 years old, but in some states, the age can be much younger. In Texas, for example, children as young as nine years old can apply for a hunting license.
In many states, unlicensed children can hunt with an adult who is licensed, but things can get muddy since the rules differ across state lines. Luckily, DoNotPay can research and purchase your hunting license, so you don't have to waste any time.
Residency
Oftentimes, states offer hunting licenses at a discount for people who can prove that they've been a resident for at least 60 days. You can do this by submitting a copy of your driver's license or state ID.
Out-of-state licenses are also available, but they typically cost a little more.
Education Courses
Hunter's education courses are required in many states before a person can obtain a license, and you'll receive a hunter safety card upon completion. These courses are usually offered online and in person.
Hunting in the United States
Depending on the state you'll be hunting in, you'll need to apply for the appropriate hunting license. Since each state has its own variety of animals, locations, and unique climates, they all have different licensing requirements.
In order to obtain a hunting license, you'll need to research and apply for the appropriate one for your intended location. You can check with your state hunting license website to see its specific requirements for licensure.
What Are the Different Types of Hunting Licenses?
Each state offers a variety of hunting licenses, and it's important to obtain the correct one. Some of the licenses that are offered include:
Resident License
Non-Resident License
Youth License
Disability License
Senior License
Small Game or Large Game License
Military/Veteran License
Disability License
In addition to these license types, you can also obtain a license for the type of game you'll be hunting. These licenses vary by state.
In many cases, combination hunting licenses are also available for purchase.
How Much is a Hunting License?
In order to obtain a hunting license, you'll need to pay for it. Each state has different hunting licenses available for purchase, and they come at a variety of price points.
Here are some of the most common hunting licenses and their average prices. Obviously, the exact price will depend on the state in which you'll be purchasing your hunting license.
| | |
| --- | --- |
| Resident License | A resident hunting license is usually around $25 but can be as low as $12.50 in states like Illinois. If you're purchasing a lifetime resident license, you can expect to pay several hundred dollars. |
| Non-Resident License | A non-resident license costs anywhere from $60 in Midwestern states to upwards of $300 in states like Texas. |
| Youth License | When purchasing a youth license, you can expect to pay around $7. |
| Military/Veteran License | In most states, these hunting licenses are usually free. |
| Disability License | People with disabilities are usually able to obtain a hunting license for free. This includes disabled veterans. |
How to Purchase a Hunting License on Your Own
If you need to purchase a hunting license, you need to decide which one to buy. Here's the best way to go about obtaining a hunting license and determining how much it will cost.
Go to your state's hunting license website.
Scroll through the countless hunting licenses that are available and read the requirements for each.
Select the appropriate hunting license and begin your application process. You'll need your driver's license, social security card, and a number of other documents.
Research the required courses and documents needed for the specific license you want to obtain.
Begin the process of submitting documents and attending classes.
Submit your information to the appropriate website or take it to the appropriate location if you want to apply in person.
Wait and see whether you're approved or if they need more information from you.
You'll receive your hunting license online once the process is complete. Print your license and keep it in a safe place.
If this process seems tedious and frustrating, you're probably right. Since each state offers many different hunting licenses, and the requirements vary from state to state, it can be a very confusing process.
Luckily, DoNotPay can do the research for you. Let us find the right hunting license and help you apply, so you don't have to waste time searching online.
DoNotPay Can Get Your Hunting License Quickly
With DoNotPay's help, you can have your hunting license in no time.
Here's how you can use DoNotPay to get your hunting license:
1. Search "hunting license" on DoNotPay and select the state you would like a hunting license for.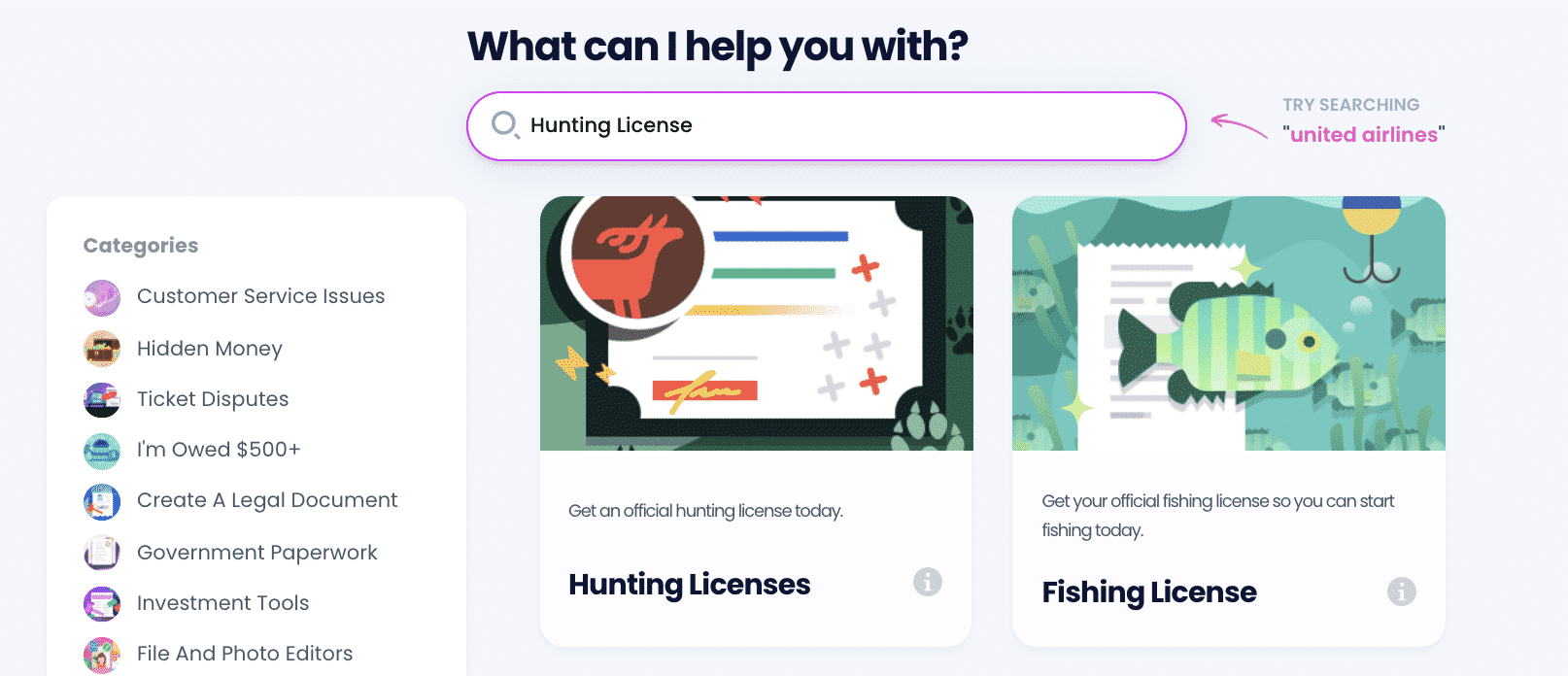 2. Indicate whether you are a resident or non-resident, and choose the type of license you want. For example, an annual or one-time pass, big game or small game license, bear tag, etc.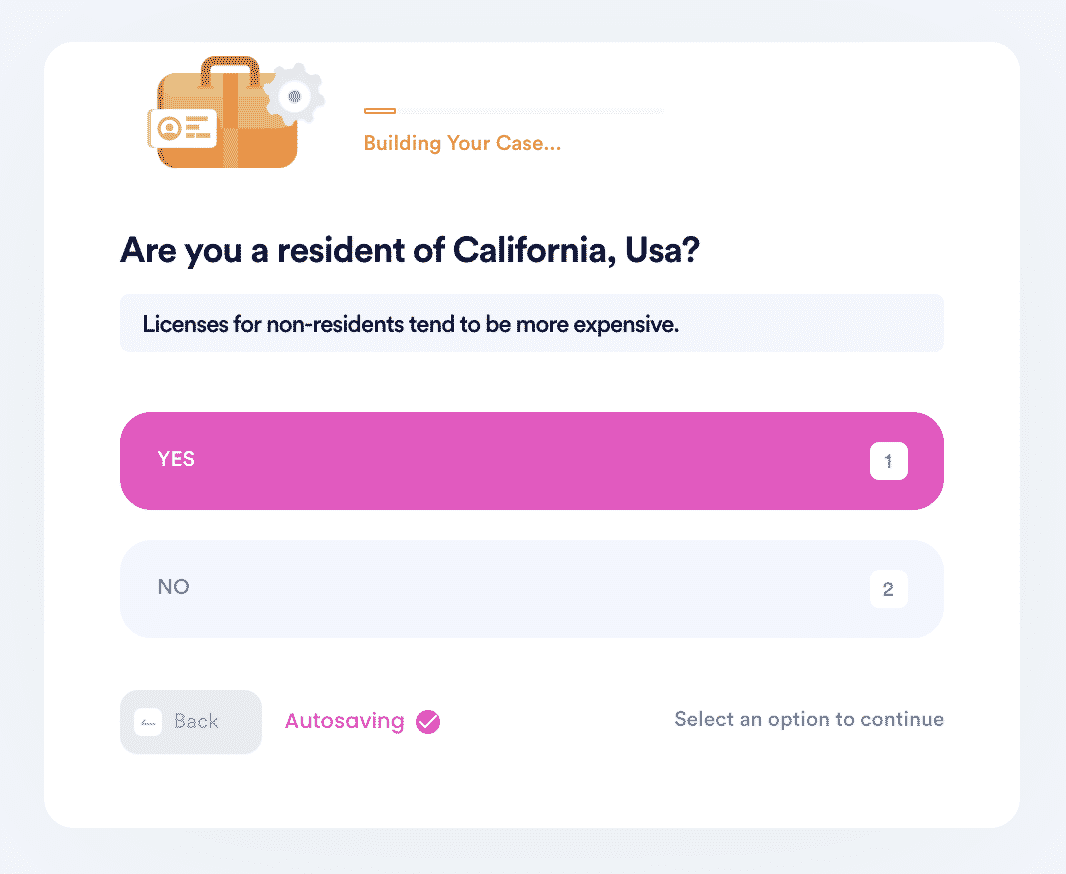 3. Provide your contact information, a copy of your government-issued ID, and pay the fee required by the state.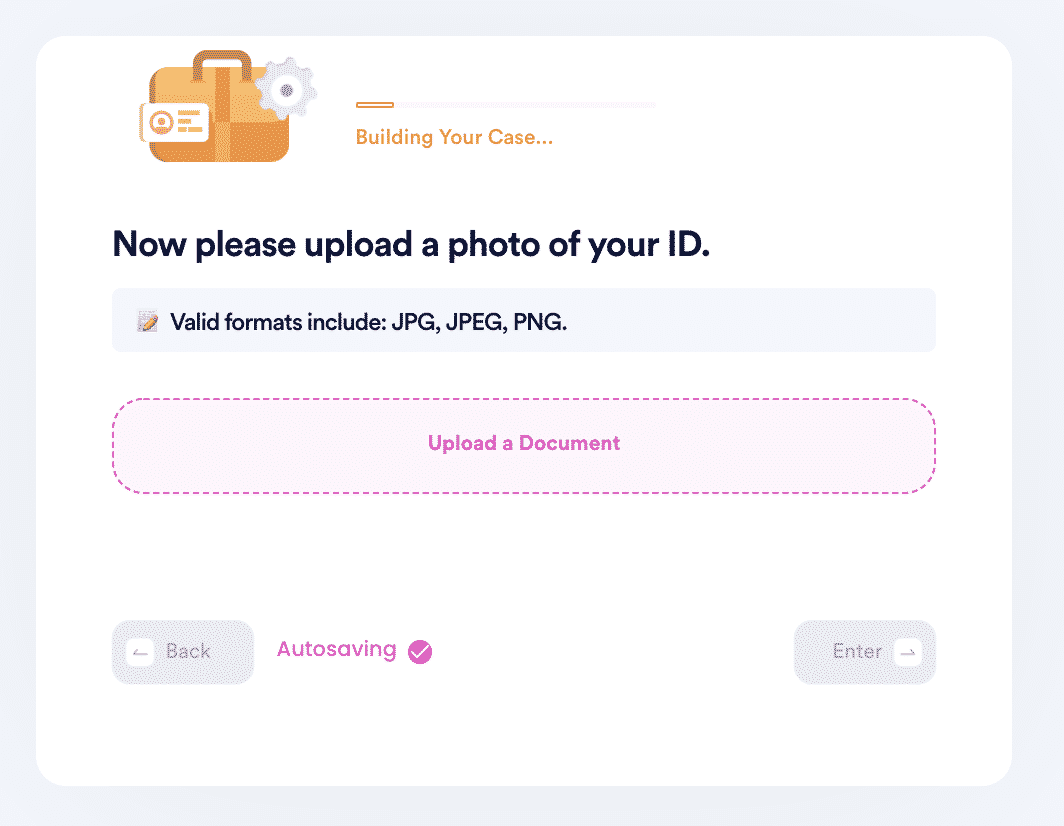 And that's it. DoNotPay will get the hunting license on your behalf, which will be valid immediately. Just download the file and print it as a temporary license, while a physical copy gets processed and sent to you by mail.
DoNotPay Can Help You Purchase a Hunting License
Since each state offers a variety of unique hunting licenses at different price points, there's a lot of information to sift through. Instead of wasting your time scrolling through hunting license requirements, let DoNotPay do the work for you. 
We scan the internet for the hunting license that meets your needs, and we'll help you apply quickly, easily, and efficiently.
DoNotPay Can Help You With All Kinds of Tedious Tasks
Our services don't end with hunting licenses. DoNotPay can help you do all kinds of important but tedious tasks. Here are a few things we can help you accomplish:
Filing a Police Report
Paying Parking Tickets
Deleting Online Accounts
Fishing Licenses
Finding Discounts Online
What Else Can DoNotPay Do?
We're here to solve all kinds of problems, so you don't have to waste your time. DoNotPay can help with a variety of issues, including:
Let DoNotPay help you live abundantly by taking those tedious tasks off your hands.