How Much Is a Divorce in GA? We Have All the Info You Need!
Stress and emotional pain are not the only consequences of ending a marriage. A divorce can also damage your finances. Understanding how everything works can help you save some time and money. Luckily, we can give you the lowdown on the process of filing for divorce in Georgia—from preparing the paperwork to getting the final decree without a lawyer.
How much is a divorce in GA? In this article, you will find the answer to this and other questions you might have!
What Is the Average Cost of Divorce in GA?
Divorce expenses are high in Georgia. In the following table, you can see the average costs of contested cases based on the circumstances:
| | |
| --- | --- |
| Contested Divorce in Georgia | Average Cost |
| With children | $22,000 |
| With alimony | $20,300 |
| When marital property is divided in court | $20,700 |
Factors That Affect the Divorce Cost in Georgia
How much your divorce is going to cost depends on the duration and complexity of the case. Here is an overview of the basic divorce expenses in Georgia:
Factors that affect the cost of divorce the most include:
Can You Lower Divorce Costs in GA?
Yes, you can reduce your divorce expenses in Georgia by choosing alternatives to the traditional marriage dissolution process, including:
DIY divorce—Instead of hiring lawyers and other professionals (coaches, mediators, property assessors), you should handle the whole process on your own. This includes negotiating the terms, preparing the paperwork, and filing the petition
Out-of-court settlement—Litigation is the most expensive and time-consuming divorce process. It involves both court and attorney fees. To avoid going to court, you should discuss issues with your spouse out of the court and draw up a marital settlement agreement
Proceeding Pro-Se—Having legal representation is not necessary in every case. If you opt for a Pro-Se proceeding, you're choosing to represent yourself in the court
Limited-scope representation—Instead of hiring a lawyer to represent you throughout the entire process, you can get a family law attorney to help you out with specific issues
What Is the Cost of Uncontested Divorce in Georgia?
Depending on the circumstances and the route you decide to pursue, the cost of an uncontested divorce in Georgia might range from $250 to $1,000. To get a low-cost divorce, you and your spouse must reach an agreement on issues regarding children, property, and spousal support. You also have to meet certain requirements:
Proving residency—At least one of you must have been living in Georgia for a minimum of six months before petitioning for divorce
Having no-fault grounds for divorce—Both of you agree that the marriage is irretrievably broken
If you agree on every important issue, you can get a divorce without a lawyer. Going through the process on your own can help you save a significant amount of money. With a friendly divorce, you won't have to pay sky-high fees for attorneys and other professionals.
How To File for a Cheap Divorce in Georgia
If you meet the requirements for uncontested marriage dissolution, getting divorced in Georgia can be as easy as ABC. Here's how to start the process:
Prepare the paperwork—You need to download uncontested divorce papers from the official government website and fill them out. Check out our guides for preparing the right forms in various Georgia counties, such as:

File the petition with the court—You have to go to a local clerk's office in the county where you live and submit the original divorce documents in person. The state of Georgia doesn't allow filing for divorce online
Serve your spouse—Depending on your relationship, you can either deliver the papers in person or hire a process server
Draft a settlement agreement—There's no need to waste time on unreliable templates and money on attorneys. All you need to do is , and we'll write the agreement for you in a jiffy
Attend a hearing to receive the final decree—The judge has to review your petition and settlement agreement to make the decision. Your divorce is finalized once the judge signs the final decree
DoNotPay Helps You Reduce the Cost of Divorce in Georgia
To get an uncontested divorce, you must have a written divorce settlement agreement—a document that outlines the important terms of the divorce you and your spouse negotiated and agreed upon. If you need assistance drawing up this legally binding document, you're in luck—DoNotPay has the right product for you!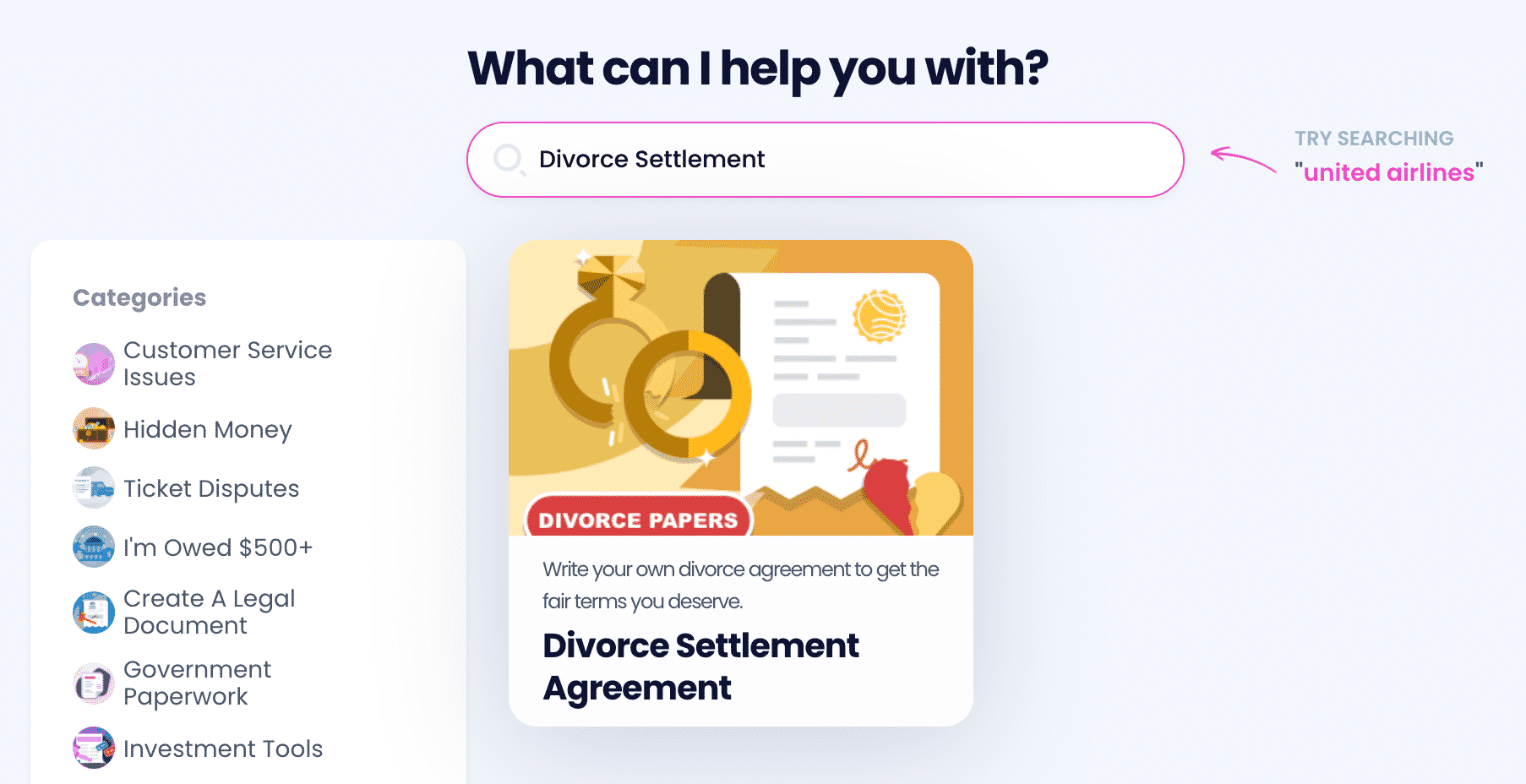 We use a comprehensive database of laws and regulations in each state in the U.S. and combine that information with the details you provide.
All you need to do is and do the following:
Locate the Divorce Settlement Agreement tool
Fill out our brief questionnaire
Notify us if you need a notary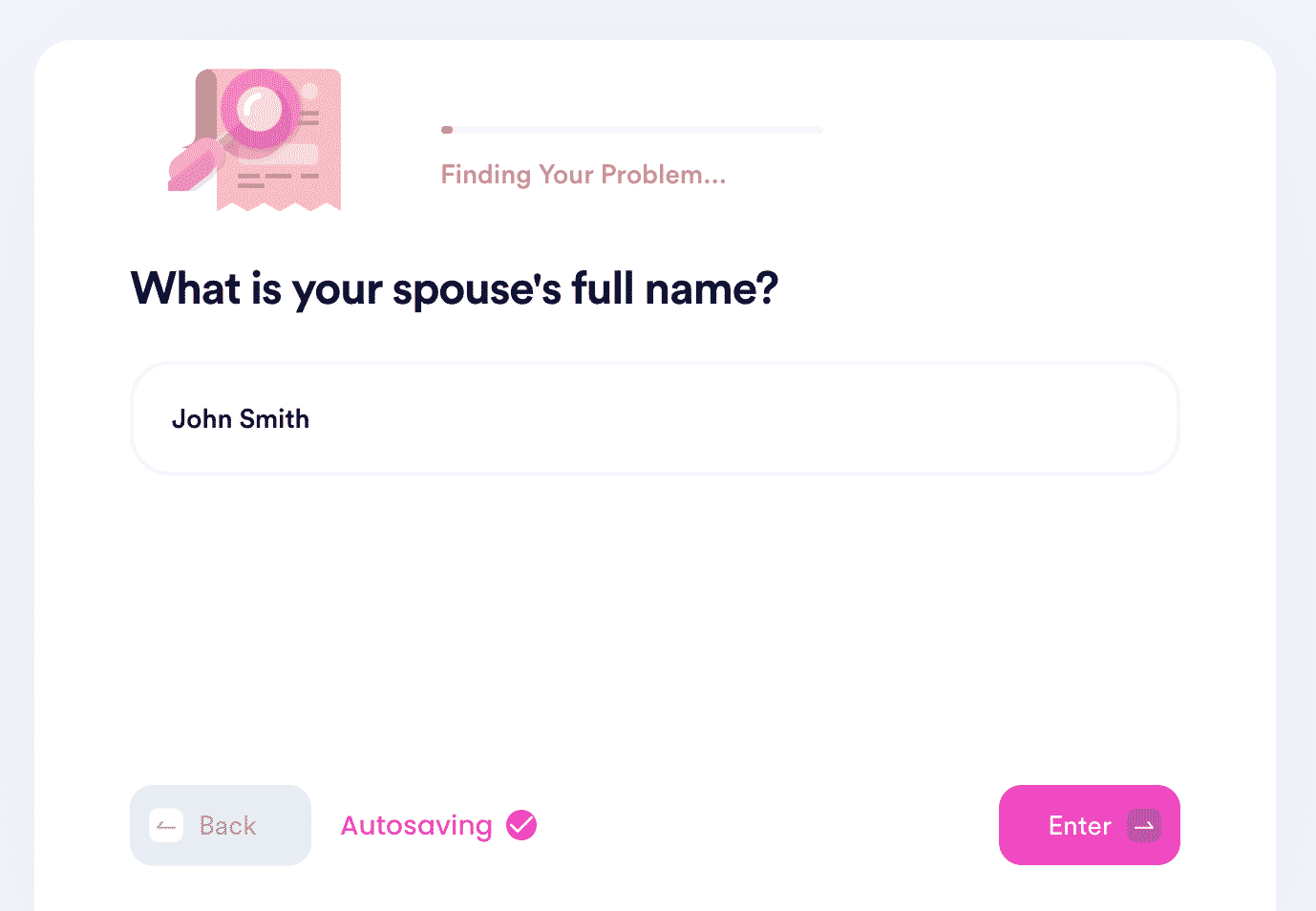 You'll receive an ironclad settlement agreement within minutes! If you have any other questions about divorce—contested or uncontested—you should visit our constantly expanding learning center!
What Other Issues Can Our App Solve?
DoNotPay can support you through various burdensome procedures and turn them into a breeze! Here's a table showing a tiny part of our extensive offer:
| | |
| --- | --- |
| DoNotPay Can | Services |
| Create various documents | |
| Protect your safety and privacy | |
| Get your money back | |
DoNotPay Is Your Ticket to Simpler Life
Don't bother going through complicated tasks alone—we are here to take care of them! Seek our help if you want to get in touch with customer service instantly, fax anyone online, or get your documents notarized. Besides providing these amazing services, DoNotPay can make preparations for your travel adventures by assisting you in getting passport photos at home and obtaining tourist visas.