Jury Wages—How Much Does Jury Duty Pay in PA?
When you receive a jury duty summons, you have to show up in court or face penalties for not attending. You'll also have to prepare for your duty, which includes getting time off work and rescheduling all other appointments.
While we all can agree that jury duty is important, it's also an inconvenience you'd be better off without. The good news is, jurors receive pay for their service, and the amount differs throughout the U.S.
How much does jury duty pay in PA? We'll provide the answer in this article, as well as introduce a quick and convenient way to inform your employer of your jury duty and request leave.
Pennsylvania Jury Duty Pay
Jury duty pay in Pennsylvania depends on how long the duty lasts and what type of court summons you. If a state or county court calls you up, you'll receive:
$9 a day for the first three days of service
$25 a day from the fourth day forward
You may also receive compensation for any mile you travel to get to the court, but not throughout Pennsylvania—only three counties offer travel reimbursements for jurors. Check out the following table to find information about the counties and the compensation provided:
| PA County | Travel Compensation per Mile |
| --- | --- |
| Berks County | $0.17 |
| Lebanon County | $0.31 |
| Lancaster County | $0.17 |
You can also receive a summons for federal jury duty. If one of the four federal courts in PA calls you up, you'll receive a federal payment of $50 per day. That amount goes to $60 after:
Who Gets Paid?
Only jurors who get selected as a member of the jury will receive money, and receiving a summons is not enough to be on the jury. You need to go through the selection process.
The process consists of two steps:
Filling out a questionnaire
Going through an interview with attorneys
The purpose of this is to see if you have any conflict of interest and if you can provide a fair and unbiased verdict.
If the court doesn't select you, or you manage to get out of jury duty, you won't receive anything.
Jury Duty Pay in Pennsylvania—What Happens With Your Salary?
According to Pennsylvania law, your employer must allow you to fulfill your jury duty and must not coerce you to avoid it in any way, regardless of how many times you've been summoned.
Being employed is not a valid reason for being exempt. The only exception is if you work for a small company and can prove your absence will bring undue hardship to your employer.
While your employer can't punish you in any way, the law doesn't oblige them to pay you your wages—you'll receive unpaid time off for jury duty leave.
As an employee, you have to inform your employer and let them verify you really have the summons to respond to. You'll need to submit your summons, as well as a formal jury duty leave request letter. If you don't know how to go about it, you can and let us handle everything for you.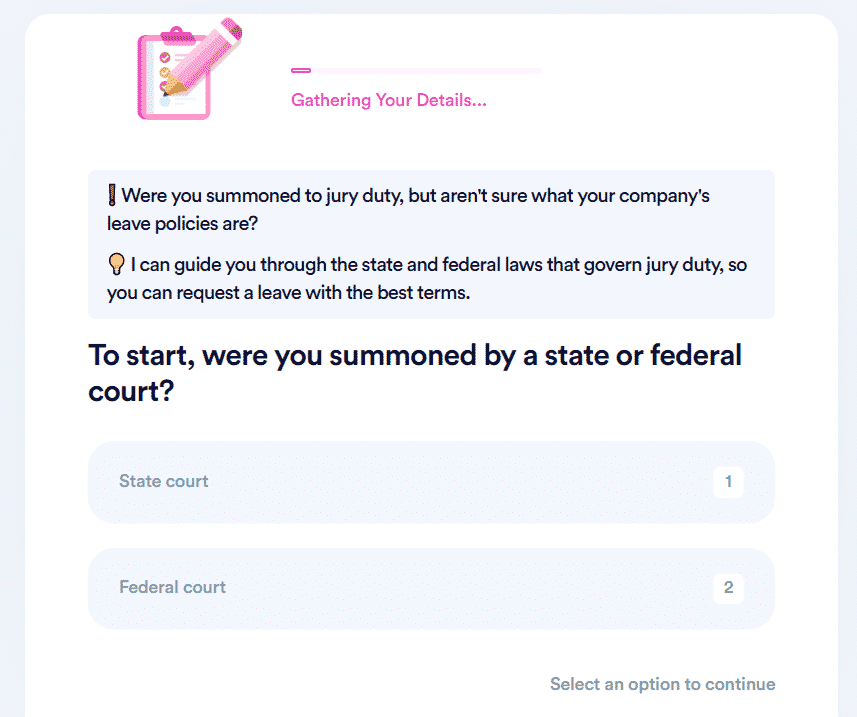 If the employer demotes or fires you, you can sue them and receive lost benefits and wages. The employer will also have to cover your attorney expenses, and the court may force them to reinstate you.
Request Jury Duty Leave With DoNotPay
If you don't know what the best way to request jury duty leave is, you should rely on DoNotPay. Our app will draft a professional leave request letter based on the information you provide. You only need to:
Navigate to the Request Jury Duty Leave feature
Answer a few questions
Upload a photo of your jury summons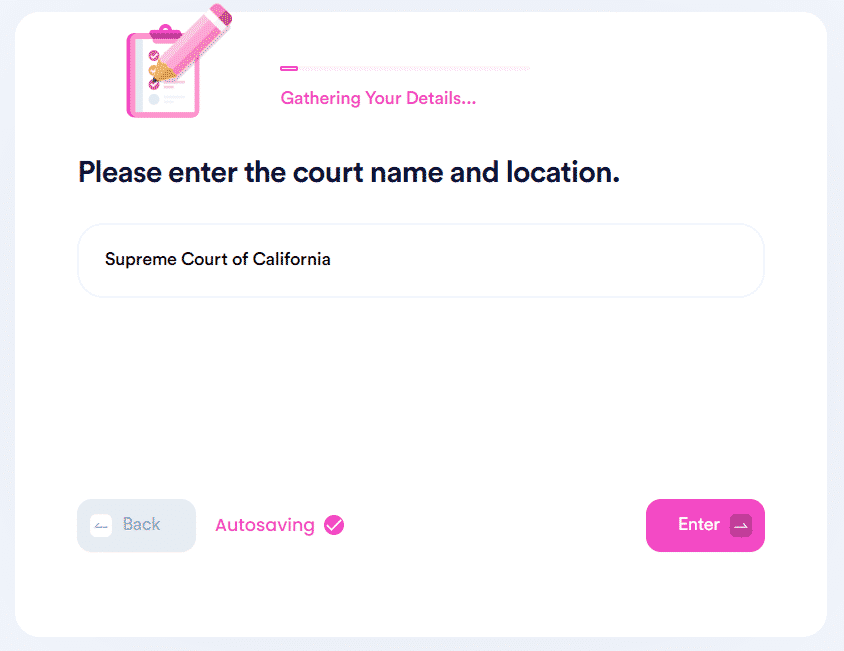 What About Other Perks Our App Offers?
DoNotPay offers valuable assistance with the following tasks:
DoNotPay Cares About Health Matters
Finding suitable and verified clinical trials you can participate in is often complicated and time-consuming. Still, with DoNotPay, it becomes a breeze! Our platform allows you to search through clinical trial databases and apply for the ones that seem acceptable to you.
If you want to make sure your health wishes are honored if you get too sick, we help you compose an advance health care directive based on your preferences. That's not all—you can also name a person who can decide on your finances and estate if you get incapacitated by creating a power of attorney in our app!