How Much Does It Cost To Trademark a Band Name? Discover With DoNotPay
If you have thought of a band name that you love and want to pursue, it may be time to register it as a trademark to prevent others from using it. The main question arises—How much does it cost to trademark a band name? DoNotPay has all the info you need.
This guide will explain everything you should know about how to register your band name as a trademark and what costs are associated with it. You can also choose the easier option— to apply for trademark registration in no time!
Trademarks in a Nutshell
A trademark is a mark or word that you can link with your business and the goods and services you offer. It helps people identify and associate with your business while also giving a competitive advantage over other business owners.
You can trademark almost anything, provided it has not been trademarked before, including the following:
Can You Register a Band Name as a Trademark?
Band names can be registered as trademarks, as long as they are:
Unique
Not confusingly similar to other band names
Many people believe that band names can only be copyrighted. Although you can copyright your band's logo, you cannot copyright the band name.
You can either trademark the name, register it as a service mark, or both. While trademarks identify goods, such as band merchandise, record albums, etc., service marks are needed for offered services, including shows and performances.
A Breakdown of the Costs To Trademark a Band Name
You will need to consider the following costs when filing a trademark:
Filing basis—You can either choose to file a trademark under:

Use in commerce basis, where you have already been using the band name as a common law trademark
Intent-to-use basis if you have not yet used the band name as a trademark but intend to do so soon

USPTO filing options—You can apply for a trademark in two ways:

Trademark Electronic Application System (TEAS) Plus (specifying the class(es))
Trademark Electronic Application System (TEAS) Standard (not specifying the class(es))

The number of classes of goods and services—Every trademark is classified under a specific trademark class. You can also choose multiple classes to register the same trademark, but each class will have a separate fee. Artists and musicians typically use the following trademark classes to register their band names:

Class 9—audio, video, and sound recordings
Class 41—live performances

Lawyer fees—In case you consult a lawyer for trademark registration, you have to pay their fees
Other Costs To Consider
Here is a breakdown of other expenses that you will need to incur after your band name is trademarked:
| Form Name | Purpose | Cost |
| --- | --- | --- |
| Declaration of Use | Confirms that you are using the trademark for your business | $225 per trademark class |
| Declaration of Incontestability | Grants you incontestable rights to use the trademark | $220 per trademark class |
| Renewal application form | Renews your trademark after its expiration | $525 per class if paid on time |
Benefits of Trademarking Your Band Name
Although you can use the common law trademark for your band name, your trademarked name will not be protected by trademark law across the U.S., and you risk other bands using it for their profit. A federally-registered trademark will give you the advantage of:
Suing other people if they use your trademark without your consent
Prohibiting other musicians from using similar names for their bands
Increasing the intrinsic value of your business
How To Trademark a Band Name
Apply for a registered trademark for your band's name by following the instructions listed below:
Think of a creative and unique name for your band
Conduct a trademark search on the USPTO database to ensure that your band name is original and is not similar to other bands
Decide which band member will own the trademark
Choose the trademark class
Fill out the trademark application form through the Trademark Electronic Application System (TEAS) or DoNotPay
Pay the application processing fee
Review the form to ensure that there are no errors or inconsistencies
Submit the form
The USPTO will email you a serial number that you can use to track your application in the Trademark Status and Document Retrieval (TSDR) system. If everything goes smoothly, your band name will be registered within six to eight months.
Apply for a Trademark With Ease Using DoNotPay
Many small business owners and individuals hire lawyers to apply for trademark registration to avoid inconveniences and drawn-out tasks. Opt for a cheaper alternative and use DoNotPay to submit your trademark registration to the USPTO!
Our app will do the following: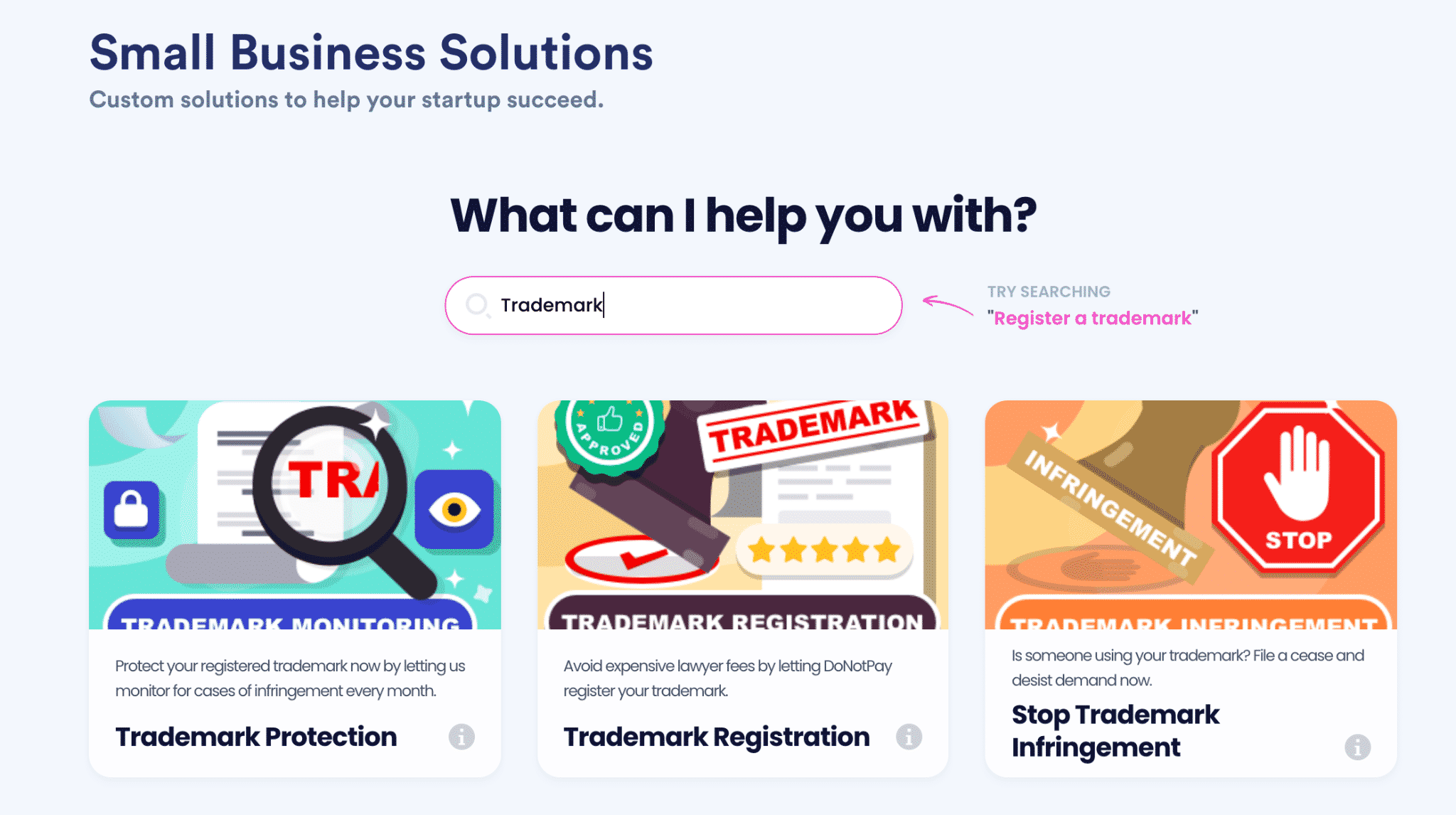 Here is what you need to do after :
Type Trademark Registration in the search bar
Provide information about your band and intended trademark
Pay the USPTO application fee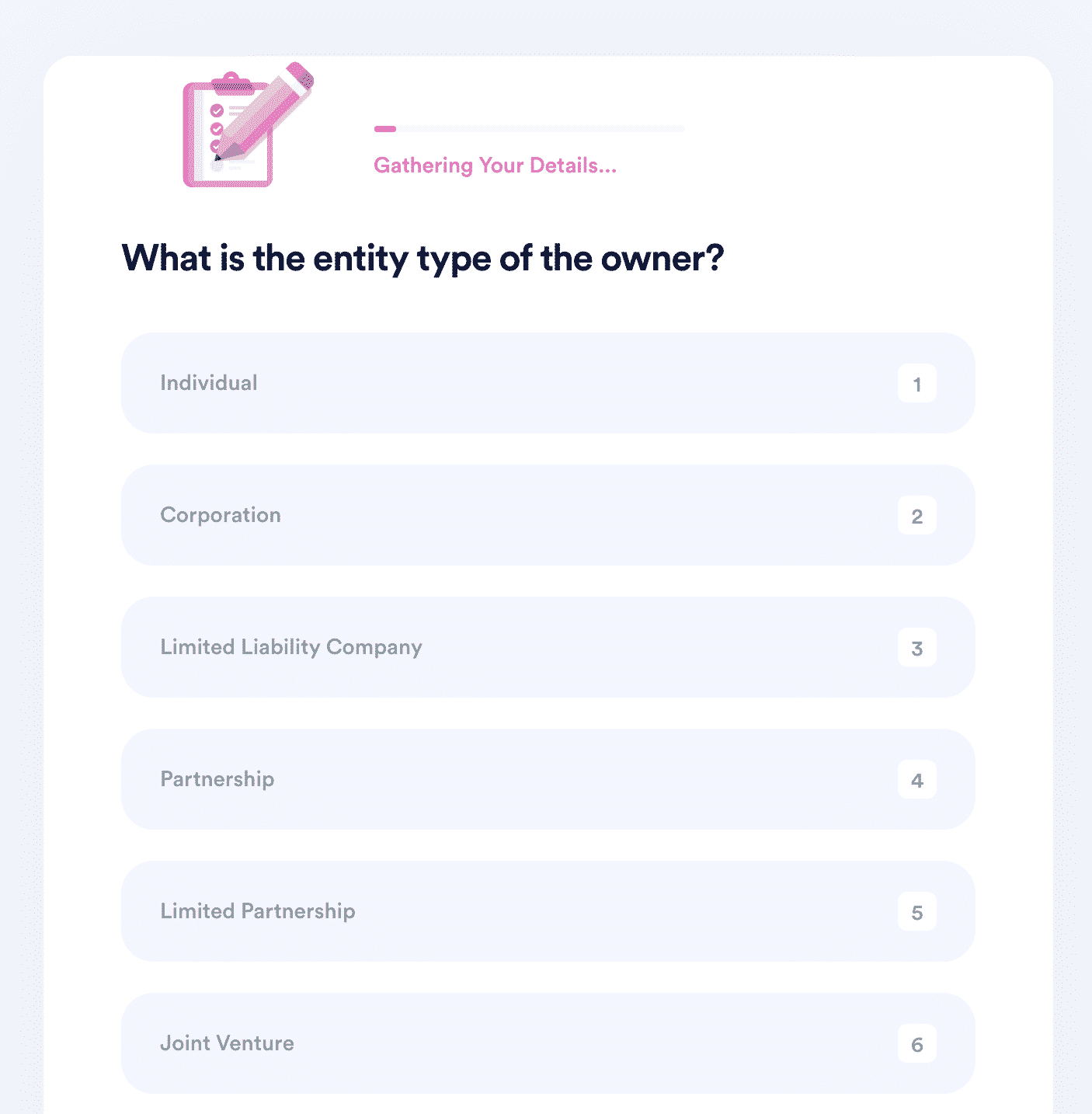 DoNotPay Has Everything You Need for Your Small Business
Navigating numerous business procedures can be overwhelming, especially if you don't have much experience. DoNotPay strives to make the situation easier for business owners, which is why we offer a number of simple-to-use products that can help you take care of various processes, including DMCA agent and Employer Identification Number registration, Privacy Shield program self-certification, and trademark registration and protection.
If you are not sure how to manage the filing of 83(b) election forms, DoNotPay has a solution that will automate the entire process and help you save time. Our app can even generate a convincing small business loan request letter for you. Don't feel like walking or driving to the post office to send the letter? Use DoNotPay to fax or mail any document in a matter of clicks!
DoNotPay Helps You Deal With Bad Clients
If you need help handling unpleasant situations with your clients, you can rely on DoNotPay. We have created various products to assist you in:
Making sure your business is free of negative, illegitimate online reviews—DoNotPay will analyze the review in question, estimate the best reason for reporting it, and report the review until it is deleted
Dealing with clients who breach the contract and refuse to pay—We will generate and send a demand letter requesting what's rightfully yours
Fighting unjustified chargebacks—Our app will create a personalized chargeback rebuttal document to help you keep your revenue
Resolve various business issues without wasting time or money—DoNotPay has got your back!