How Much Does It Cost To File for Divorce in MD? DoNotPay Knows!
If you want to get divorced in Maryland, you're probably wondering, "how much does it cost to file for divorce in MD?" We have an answer to this and many other divorce-related questions, and we provide additional details about the process of a low-cost divorce.
If you , we can help you get a friendly divorce without hiring a lawyer or going to court.
What Are the Average Divorce Costs in Maryland?
The average cost of a divorce in Maryland will depend on what type of divorce you go for. If you have a contested divorce, it will cost you more than an uncontested one because you'll have to attend numerous court hearings and pay high lawyer fees. Filing for a friendly, uncontested divorce in Maryland is the most affordable option.
The price of your divorce will also depend on the way you go about your divorce papers. There are three options:
Hiring a lawyer
Using online divorce platforms
Filing the papers yourself
How Much Will the Divorce in Maryland Cost if You Hire a Lawyer?
If you engage a lawyer, you can expect to pay between $11,000 and $13,500 for your divorce. Lawyers charge per hour, and the average hourly rate in Maryland ranges from $260 to $325.
If your divorce turns out to be simple, these prices can drop by a few thousand dollars. Having a messy and complicated divorce can cause the price to skyrocket, making the cost of your divorce over $20,000. For example, if you have children and you and your soon-to-be ex-spouse can't agree on custody, your divorce could drag on for years, which means that it will be super expensive.
An uncontested divorce will keep your expenses low since you won't need a lawyer to get divorced if you and your spouse can agree on everything in advance.
How Much Will You Pay if You Use an Online Divorce Platform?
Some websites offer divorce forms that you can download and fill out. Most platforms also offer various other services, such as filing and serving divorce papers.
While the price depends on the service you use, you can expect to pay anywhere from $150 to $1,500.
How Much Does a Divorce Cost in Maryland if You Do Everything Yourself?
The most affordable option is to handle the whole divorce process by yourself. This approach is a little risky if you aren't familiar with divorce laws in Maryland. If you want to represent yourself, you'll need to:
Do proper research
Fill out the divorce forms
Submit the divorce papers with the court
Serve your spouse (you can't deliver the papers yourself, so someone else has to do it for you)
Draft a divorce settlement agreement if your divorce is uncontested
Even though representing yourself is the cheapest way to finalize your divorce, you'll still have some expenses. For example, you'll have to pay the filing fee.
Which Expenses Can You Expect To Have During Your Maryland Divorce?
Check out the table to find out more about which expenses you might have during your divorce process:
Divorce Expense
Details
Filing fees
The minimum price you'll pay for filing for divorce with a court is $165 (if you represent yourself). If you file for a divorce with a lawyer representing you, the fee will be $185
Cost of mediation
If you and your partner wish to reach an out-of-court settlement but can't agree on all terms of the divorce, you'll probably need to book mediation sessions.

Sessions are charged on an hourly basis, and the cost depends on the county you reside in. The average cost of divorce mediation in Maryland is $200 per hour

Administrative expenses
Administrative expenses you can expect to pay are:

Copies of court documents—$0.50 per page
Certification of court documents—$5 per page
Exemplification of your documents—$10
A motion to modify alimony, custody, child support, or visitation—around $31

Divorce settlement agreement
A divorce settlement agreement is a document that should spell out the terms of an uncontested divorce, such as:

Lawyers will charge a lot of money for drafting divorce settlement agreements, so the best approach is to do it yourself. DoNotPay can help you create a divorce settlement agreement without paying an arm and a leg
What Happens if You Don't Have Money for a Divorce in Maryland?
If you don't have the means to go through the divorce process, you can ask your county court for a fee waiver. You have to submit your fee waiver request when you file for divorce. The court will use the MLSC Client Income Eligibility Guidelines to determine whether you qualify. If you do, the court will start your case as soon as your fee waiver is granted.
Save Money and Time Using DoNotPay's Divorce Settlement Agreement Product
If you decide to file for an uncontested divorce in MD by yourself but aren't sure how to write a divorce settlement agreement, you can rely on DoNotPay. It's crucial that this document is properly written as it should spell out all of the previously agreed-upon divorce-related terms and help you avoid misunderstandings. DoNotPay can create a mistake-free divorce settlement agreement for you in a matter of minutes.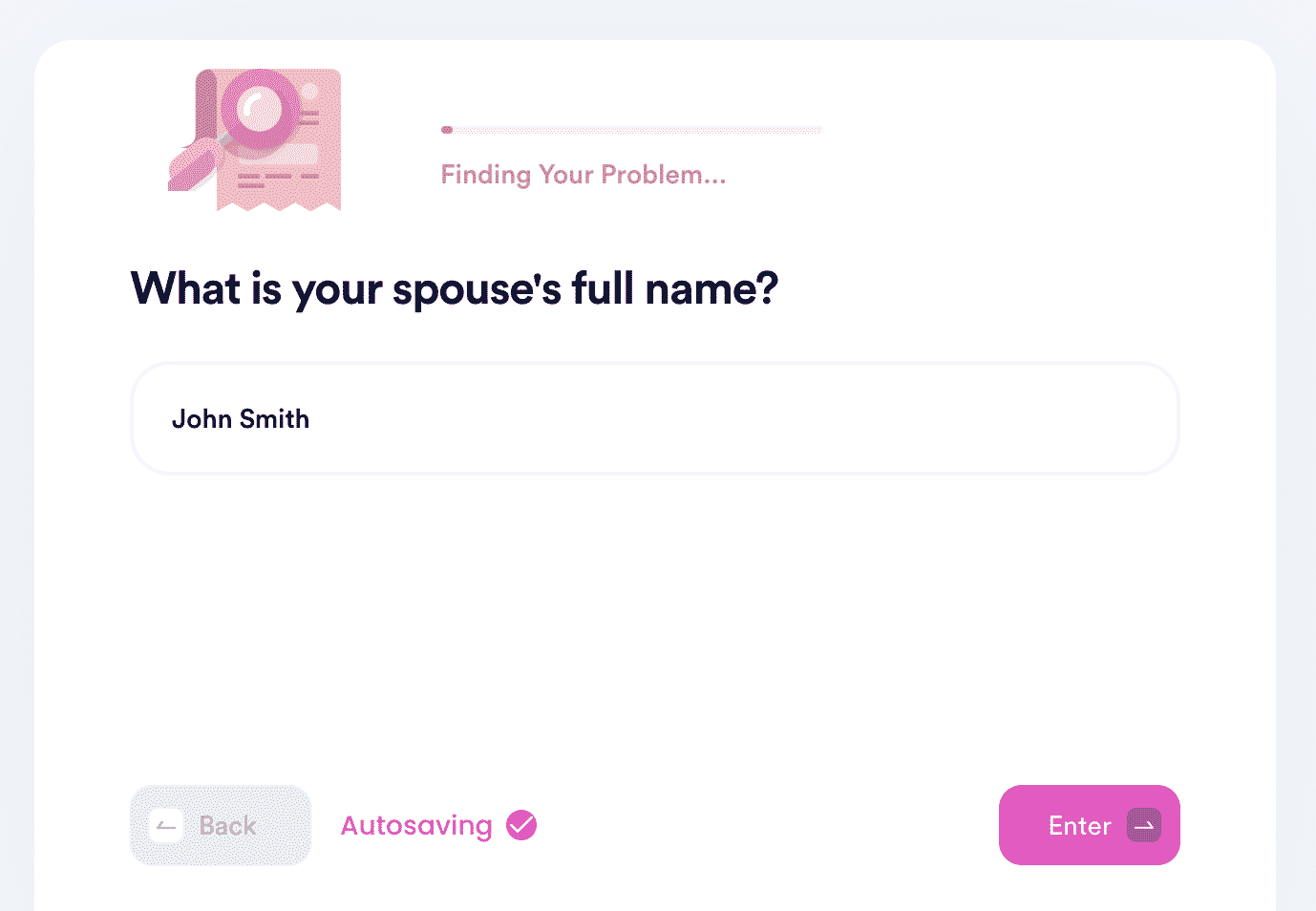 To use our product, and follow the steps below:
Open the Divorce Settlement Agreement product
Provide the required information about your spouse and children if you have any
Add all the necessary details about your income and assets, and indicate how you'd like to allocate them
DoNotPay will automatically create an agreement that will be tailored to your case. All that's left to do is for you and your spouse to sign it and get it notarized.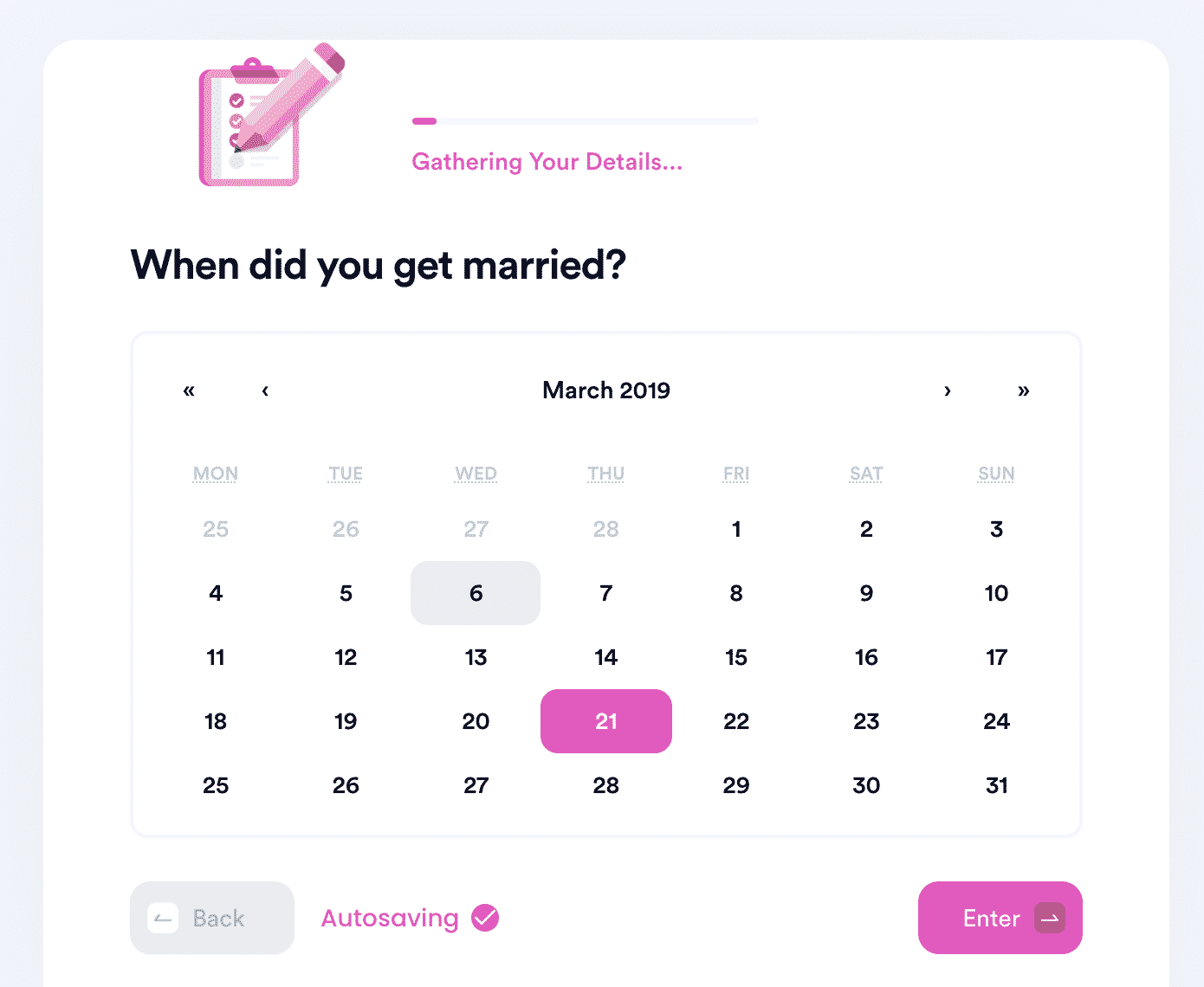 Consult our learning center to find answers to a plethora of divorce-related questions, including:
DoNotPay Can Help You With Almost Anything
DoNotPay's goal is to have a multitude of features that can be useful to you with handling various issues. Whether you want to apply for clinical trials, prepare for government tests, or even get in touch with your locked-up friends or family—DoNotPay has got you covered!
For a small yearly fee, our AI-based app will help you:
Want To Save and Earn Money at Once? Subscribe to DoNotPay
DoNotPay can help you earn and save a buck or two. We'll assist you in reducing your property taxes, canceling any unused subscriptions, and signing up for free trials with our virtual credit card.
As if that wasn't enough, we'll save you money and spare you from a headache if you receive any faulty deliveries by filing a refund or an item return request in your stead! This is just the tip of the iceberg of features that DoNotPay has in store for you.