How Much Does It Cost To Build a Website for a Small Business? DoNotPay Answers
Establishing a digital point of contact for your new company is a critical startup cost. You cannot expect the modern consumer to engage your services or buy your goods in person or over the phone.
Are you unsure whether your small business budget can accommodate a new website? How much does it cost to build a website for a small business anyway?
DoNotPay breaks down the costs in this article so you can better understand the many expenses involved in running a startup.
If you lack the finances to build a website, you can secure additional funding through small business loans. DoNotPay can assist with the process of finding a lender and composing a request letter.
How Much Does a Website Cost for a Small Business?
The average cost of website design for a small business is $2,000–$15,000. Whether your website falls in (or exceeds) that range depends on the number of pages you require and the features you want integrated.
It can take an average of 14 weeks to build a new website. The time and money required to build your website will depend on its purpose:
| Website Purpose | Time To build | Cost range |
| --- | --- | --- |
| Business promotion | 190–260h | $9,500–$13,000 |
| E-commerce | 350–750h | $17,500–$37,500 |
| Landing page | 20–50h | $1,000–$2,500 |
Essential Expenses That Makeup Small Business Website Costs
Paying for website development is about more than finding someone to put it together for you. Websites come with additional fees.
Critical website expenses include:
Design services—$2,000–$15,000
Hosting fees—$24–$120 per year
Number of pages—$1,000–$5,000
Features and functionality—$2,000–$25,000
Secure Sockets Layer (SSL) Certificate—up to $1,500 per year
Content management system—$2,000–$25,000
Domain name fees—$0.95–$12 per name
Design Services
You need to pay someone to design and assemble your website. The cost of this service depends on several factors:
Skill and scale of the website development team
Timeline for design
Whether they are writing the content or you are
If you hire a team to write the content on the web pages, that will cost extra.
Hosting Fees
Your website will require space on a server. Hosting services like GoDaddy will facilitate your website's server space at an annual rate. Providers that offer more features and robust security capabilities will charge higher fees.
Number of Pages
The more pages your website requires, the more it will cost to design them. While most web design services cover a set number of pages (your home page, about us, contact information, and a few service pages), you can expect any beyond that amount to cost around $100 each.
Features and Functionality
While some websites are entirely informational, others offer advanced features and interactive tools. Potential website features include:
Online stores
Video libraries
Online payment systems
If you want your website to be more than a source of information, it will be more expensive to develop.
SSL Certificate
An SSL certificate is not mandatory, but most businesses consider it essential for online management. It protects your website and visitors' data. You can tell a website has an SSL certificate by the closed lock icon next to the URL in your web browser.
Content Management System
If you plan to update your website on an ongoing basis, you will need a content management system (CMS). This type of tool allows you to make changes to your website—post blogs, modify color schemes, create new pages—without writing code.
Domain Name Fees
Your domain name is your website's URL. It is how customers connect directly to your website, rather than having to Google your business name.
Hosting services like GoDaddy own the vast majority of domain names. You can purchase them for a year or longer and will have to continue to pay annual fees to keep them.
Can You Afford To Build a Small Business Website?
While websites are undeniably necessary in the modern business world, that does not mean you cannot minimize the cost of building one. For example, if you cannot afford a CMS, you can issue updates over free social media accounts instead. You can also think frugally about the number of web pages you need.
Some costs are unavoidable, though, and if they exceed what you can cover at the moment, you should consider taking out a startup business loan.
How To Pay for Your Small Business Website
Borrowed financing can help you cover the cost of website design as you launch your new company. Small business loans work by giving you access to capital funding before you start generating revenue. You then pay the money back to the lender after your business is up and running.
There are two primary types of small business loans:
Term loans
A term loan gives you a lump sum you can apply to the bulk of the design costs. A line of credit is more effective at covering ongoing expenses such as domain name and hosting fees.
Before You Apply for a Loan
Before determining whether you qualify for a loan, you need to understand the terms it imposes on you as a borrower.
Loans come with an interest rate, which dictates the additional amount you pay back on the initially lent sum. Some loan arrangements may also charge additional fees and penalties if you fail to meet money commitments or pay the loan back too quickly.
The best small business loans levy minimal interest and impose as few fees as possible.
How To Apply for a Loan
To get a small business loan, you must first find a lender. There are three primary ways to do so:
Talk to your bank's loan officer
Search for an online lender
Select from the Small Business Administration's (SBA) database
A majority of banks offer a variety of lending products, usually with low interest rates and favorable repayment terms. It can be challenging to qualify for a bank loan, as they often require high credit scores and extensive collateral.
Once you have selected a lender, you can apply for a loan by:
Gathering necessary business and financial documents (business plan, bank statements, budget)
Scheduling a meeting with the lender's loan officer
Explaining your need and presenting your plan
DoNotPay Will Help You Get Funding for Your Website
You may need a loan to pay for your website, but that does not mean you have to find a lender and apply on your own. DoNotPay will facilitate both tasks for you.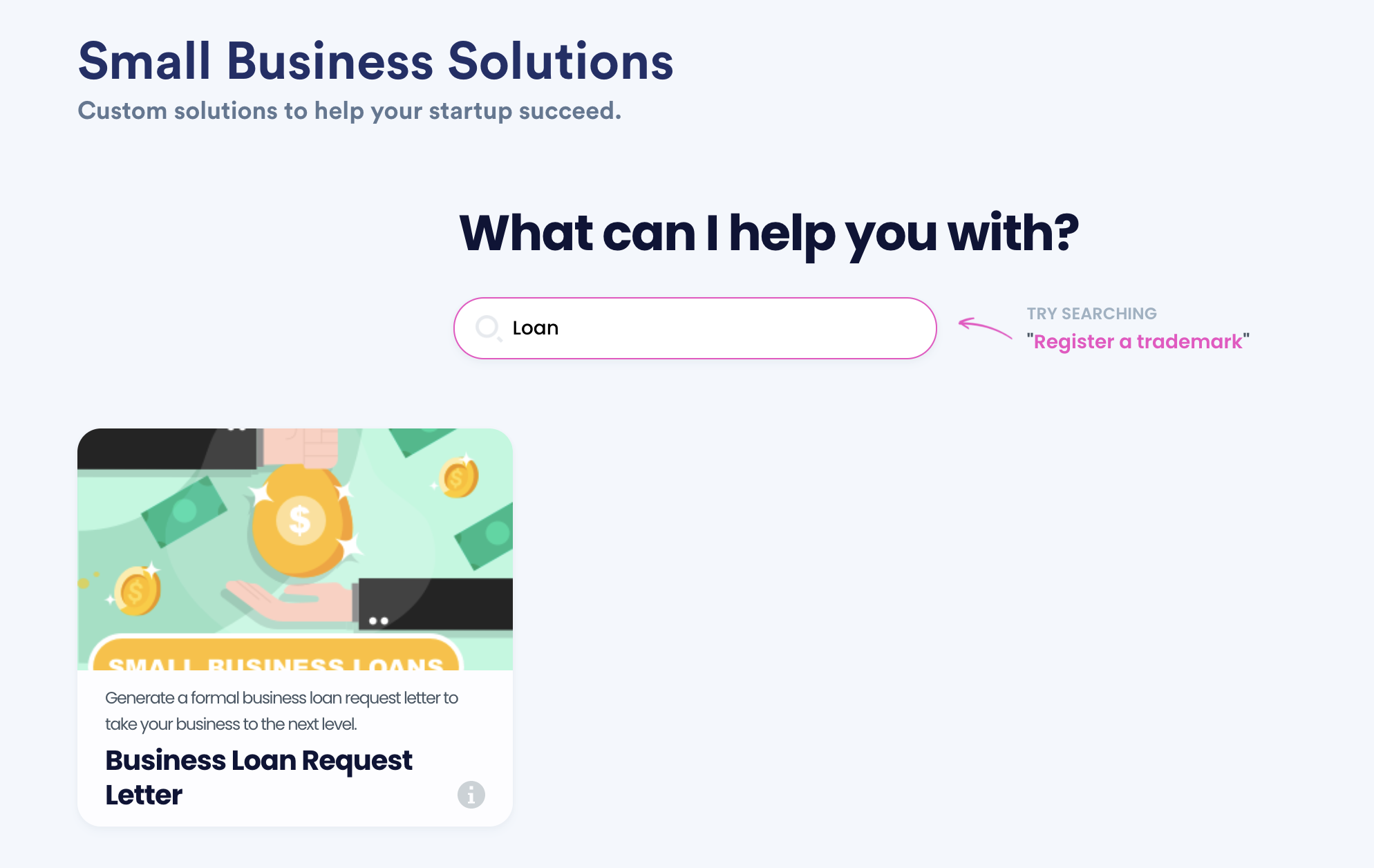 DoNotPay can help you look for a suitable lender with our Find Online Business Loan Lender feature. After that, you can use our Business Loan Request Letter product to draft a loan request letter—a crucial document that should convince the lender that you are a reliable borrower.
To increase your chances of taking out a loan, follow these steps:
Log in to your DoNotPay profile
Select the Business Loan Request Letter product
Explain your business plan and loan requirements
We will create a letter and send it to the lender in your stead.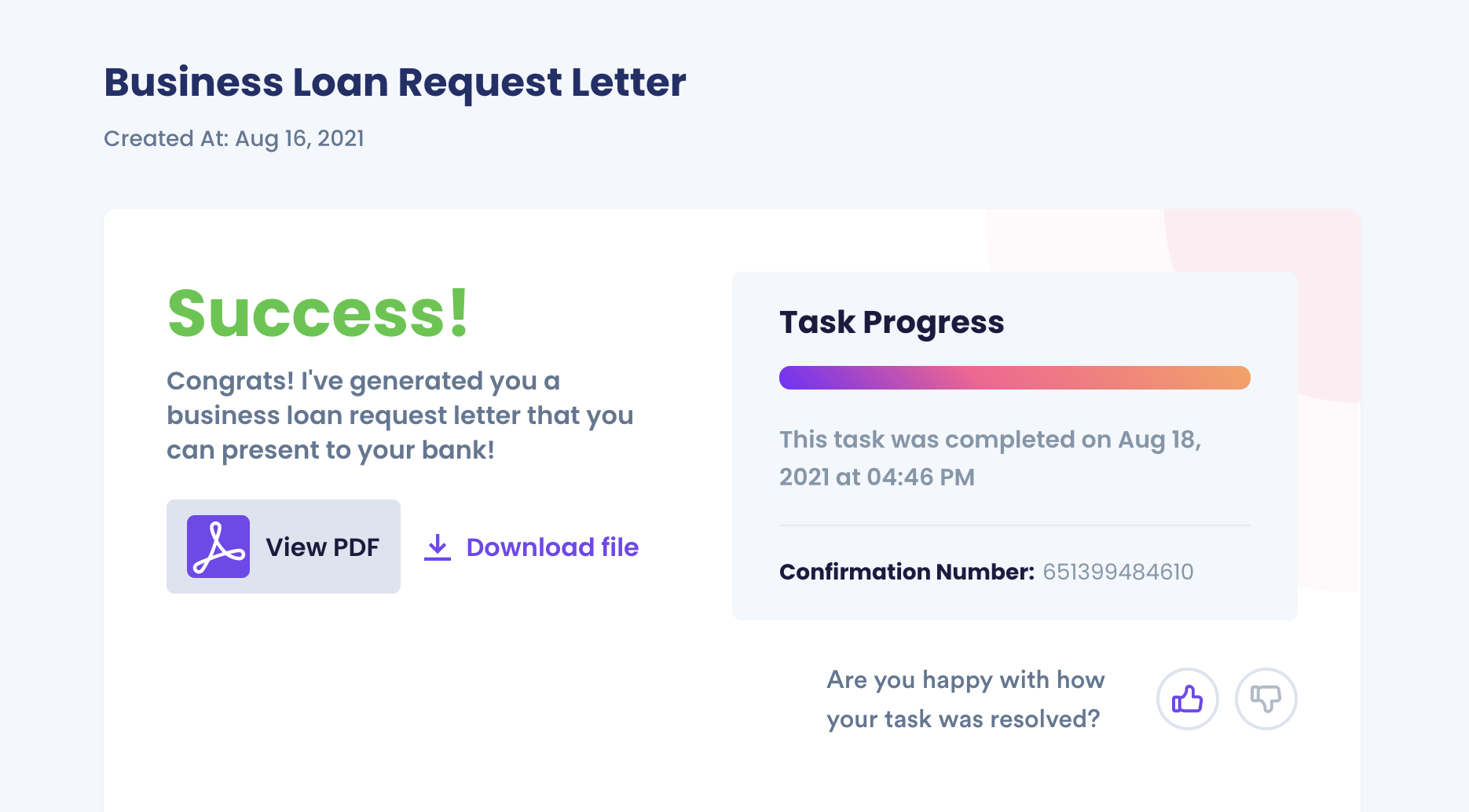 Let DoNotPay Help You With Boring Administrative Tasks While You Focus on Becoming a Business Mogul!
DoNotPay can assist you in dealing with a number of business-related tasks. We have developed a plethora of simple-to-use products that make running a business much easier and less stressful.
Do you need help registering your business name as a trademark? We have got you covered! Not sure how to write a convincing letter to request a small business loan? DoNotPay helps with that, too!
Use our app to get a perfectly generated chargeback rebuttal document, formally request payment from clients who breach the contract, and find out how your employees can file 83(b) election forms in a matter of clicks!
Check Out Our Other Nifty Products!
That is not all DoNotPay has to offer. Our awesome tools will make tedious administrative tasks easier to manage so you can concentrate on your business instead of wasting time waiting in lines and filling out forms. Rely on DoNotPay to:
Take care of DMCA agent registration and Privacy Shield program self-certification
Make sure no one else is using your trademark
Get rid of fake online reviews that harm your business reputation
Manage Employer Number Identification (EIN) registration
Enjoy the convenience of faxing and mailing from the comfort of your home or office