How Much Does Federal Jury Duty Pay?
When a court summons you for jury duty, it's mandatory to appear, and you can't avoid it unless you're okay with paying penalties. You'll need to take time off work and may miss out on the salary you would normally receive for that period.
The question is—does the government compensate jurors for their time? How much does federal jury duty pay to those who understand the importance of the jury system?
In this article, we'll go over:
What jury duty reimbursements you can expect
How you can send a leave request to your employer effortlessly using DoNotPay
Are You a Salaried Employee of the U.S. Government When on Jury Duty?
No. The money you receive from the government is a reimbursement for your travel, food, and beverage costs.
Jury duty is your obligation as a citizen—your time invested in it won't receive any compensation. What the court pays you won't be regarded as a salary.
How Much Does Federal Jury Duty Pay?
The amount you receive from a federal court for your jury duty will depend on the:
Type of jury you're involved in
Check out the following table to see how much money you can expect for jury duty on a federal level:
Note that the federal court, unlike some state courts, will not force your employer to keep paying you your salary.
State and county courts also differ on the amount of money they pay to jurors. The following table contains guides with information about jury duty in all 50 states and the District of Columbia:
How Federal Jury Duty Works
When a federal court needs a jury, it compiles a list of all eligible people who reside in the particular state or county. The court does so by taking a look into voter registration and driver's license holder lists. To be eligible, you need to:
Be between the ages of 18 and 70
Have a U.S. citizenship
Be eligible to vote
Not be convicted (or under indictment) for a felony, misdemeanor, or theft
Speak and read fluent English
Not have any mental or physical disability
Not be an unemployed caregiver
Then, the court uses software to randomly select 12 people that meet the criteria. If you receive your summons, you'll need to prepare yourself for jury duty. The first steps are:
Show up in court when the summons says
Fill out a jury questionnaire
Answer questions from lawyers to show you won't have any conflict of interest
Appear every time the court is in session
How Jury Duty Works for Employed Jurors
While on jury duty, you won't be able to go to work. This can become a problem with your employer, especially if you keep receiving summonses.
Jury duty is job-protected leave, meaning that your employer can't use it as a reason to demote or fire you. They also can't threaten to lower your salary if you don't excuse yourself from the court.
As an employee, you'll need to send the employer a notice that you'll be absent so that they can verify the info. If you don't know how to go about it, and create a professional leave request letter in no time.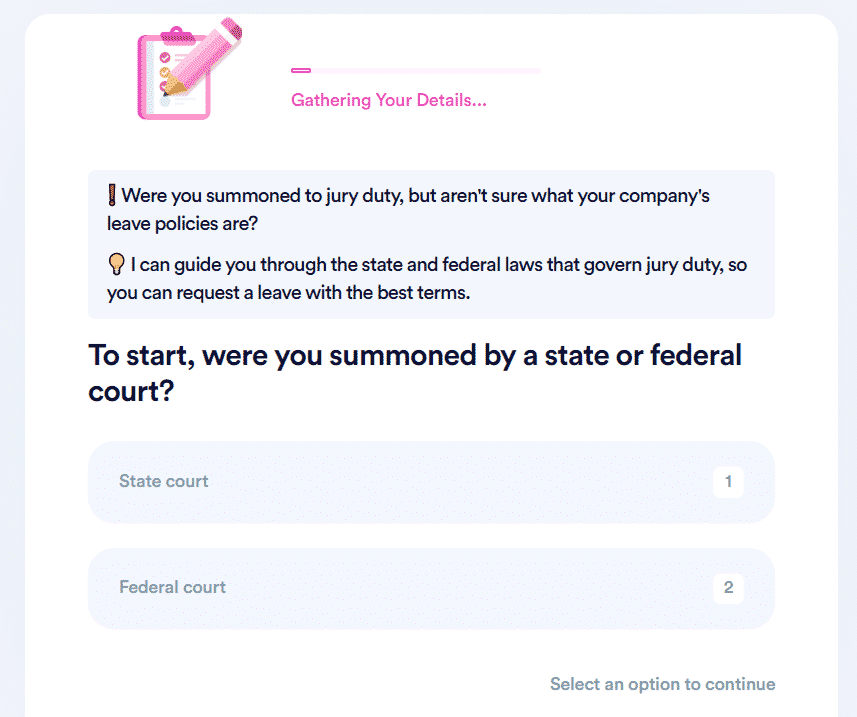 How To Send a Leave Request Hassle-Free Using DoNotPay
DoNotPay can help you create a leave request that covers the jury duty law of your state and leaves no room for your employer to deny you any of your rights.
Our app will draft a leave request letter based on the information you provide and send it via email to your employer. If you prefer, you can also download the letter and submit it yourself.
All you need to do is the following:
Use your browser to
Select the Request Jury Duty Leave tool
Answer a few questions
Upload a photo of your jury summons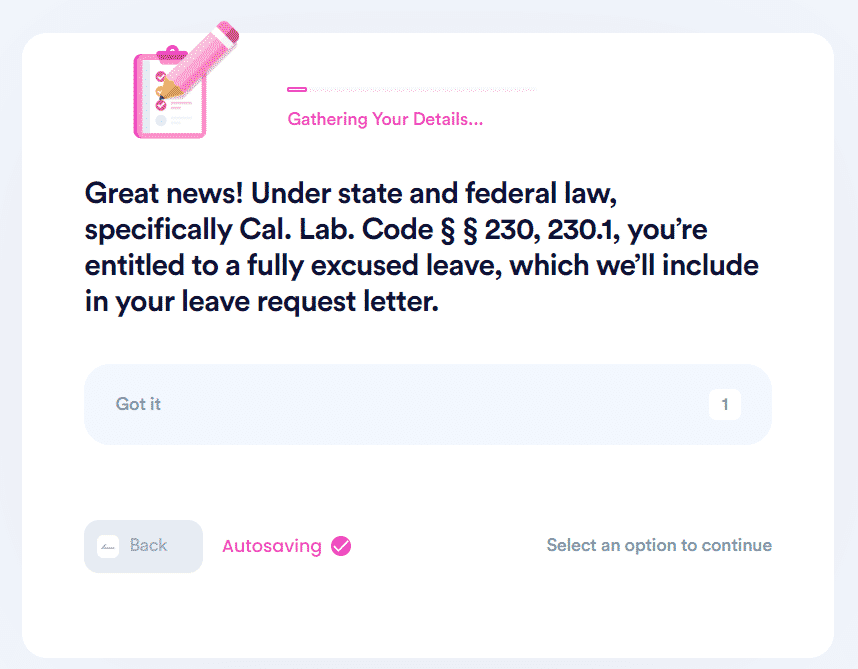 Solved Your Issue? Check Out More of Our Product Range
DoNotPay's forte is its versatility—you can use the app to resolve any problem of legal or bureaucratic nature!
As soon as you subscribe to our platform, you'll be able to:
Our App Helps You Both Save and Earn Money
Want to get more familiar with our extensive product range? Check out how, for one low monthly fee, we can help you both save and earn money by: