How Much Does an Accountant Cost for a Small Business? Find Out Here
When running a startup or a small business by yourself, keeping track of costs can be stressful, demanding, and time-consuming. In such cases, delegating responsibilities is the best option. How much does an accountant cost for a small business, though? This article will tell you all you need to know about accountant expenses and explain how they will affect your budget.
If you need help covering these and other business expenses, you can apply for a small business loan using DoNotPay's help.
Why Do You Need an Accountant for a Small Business?
Whether you are running a startup or a small business, hiring an accountant is important because they can explain all the tax structures and registration requirements. An accountant will help you manage finances by keeping and interpreting your business records.
Having an accountant is essential as they will:
Help you avoid costly tax filing mistakes or fines
Provide planning advice resulting in financial gain
Average Cost of Accounting Services for a Small Business
Consult the table below for a brief overview of the average accountant costs for small businesses:
| Cost | Percent of Small Business Owners |
| --- | --- |
| $1,000 or less | 23% |
| $1,000–$5,000 | 31% |
| $5,000–$10,000 | 18% |
| $10,000–$20,000 | 12% |
| $20,000 or more | 16% |
About half of all small business owners pay more than $5,000 annually for administrative costs, internal expenses, and legal fees for accounting services.
What Affects the Cost of an Accountant for Small Business?
There isn't a standard accounting fee, but some of the following factors will affect the cost of accounting services:
Pricing structure
In-house vs. outsourcing
Tasks
Skill
Pricing Structure
The cost of accounting services will depend on how the accountant structures their pricing. There are three most common fee structures that accountants use:
Hourly rate—If the accountant selects this pricing structure, they will charge an hourly rate for their work. The rate can be anywhere between $150 and $400 per hour
Proposal-based price—The accountant determines how long they will work on the project and gives you an estimate before starting work
Fixed-fee structure—You will pay a monthly fee for each project
In-House vs. Outsourcing
You can choose whether you want in-house or outsource recordkeeping. An in-house accountant can work part-time or full-time, which can be the most expensive option because you will pay an individual salary.
If you go with outsourcing, this will mean that an accountant is a freelancer, so they will not be on your payroll—you will work with them when their services are needed.
Tasks
How much you will have to pay your accountant depends on the performed tasks. If you are hiring an accountant to do simple tasks such as balancing accounts, you will pay less. The more complicated the task is, the more you will pay.
Skill and Experience
The accountant rates vary depending on their skill and experience—an experienced accountant will charge more than a novice.
Can an Accountant Help With Securing a Business Loan?
Yes, an accountant can help you secure a business loan. They can explain which types of small business loans will suit your needs best, how these loans work, and how you can get one. Accountants should be able to help you with:
Qualifying—Once you find the best small business loan, whether you want to get it from a bank or use the Small Business Administration (SBA) program to find a lender, the accountant should be able to help you articulate the purpose of your loan. If you don't know how much you need and for what, you might not be able to qualify—this is where an accountant can help you
Quantifying—An accountant should help you quantify the credit need and financial condition. They should also help you calculate the interest rates determined by lenders and repayment terms
Presenting—Since many financial institutions require reviewed or audited financial statements, an accountant can help you gather this documentation. They should also be able to explain the lending process to you from the lender's perspective
Hiring an accountant to take you through the process of lending the money can cost you a lot. Luckily, there is another option—DoNotPay can help you apply for a loan easily once you sign up.
Save Money and Time—Apply for a Small Business Loan With DoNotPay
DoNotPay can help you fulfill all the application requirements by creating a fully personalized and professional loan request letter. We will make sure that you have all the required documentation so you don't miss out on funding opportunities.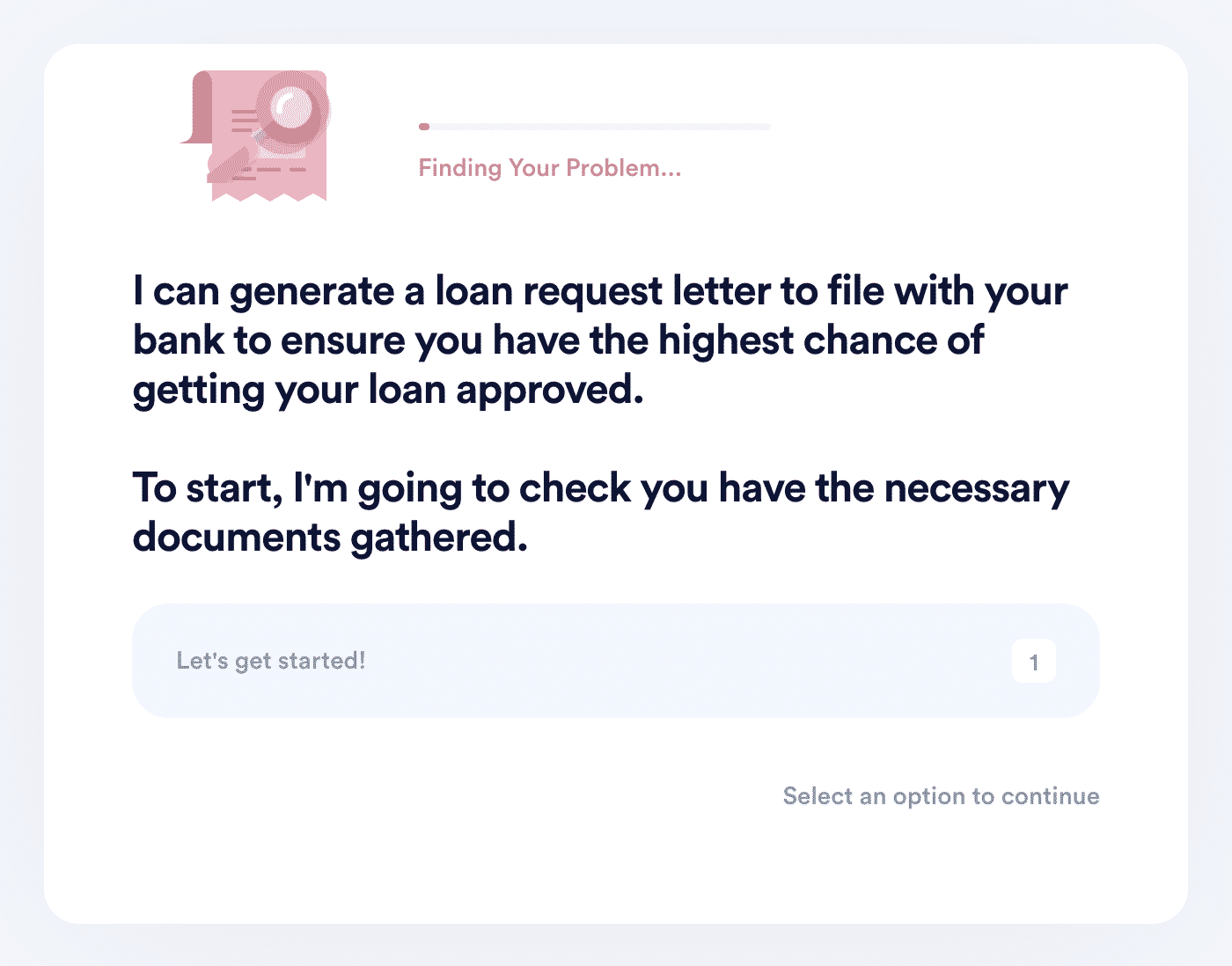 Register for DoNotPay and follow these steps:
Open the Business Loan Request Letter tool
Collect all your personal and business scores
Prepare financial statements, including:

Profit and loss statement
Balance sheet
Cash-flow statement

Upload all the necessary documents
If you still don't have a lender in mind, DoNotPay can help you find one with our Find an Online Loan Lender product.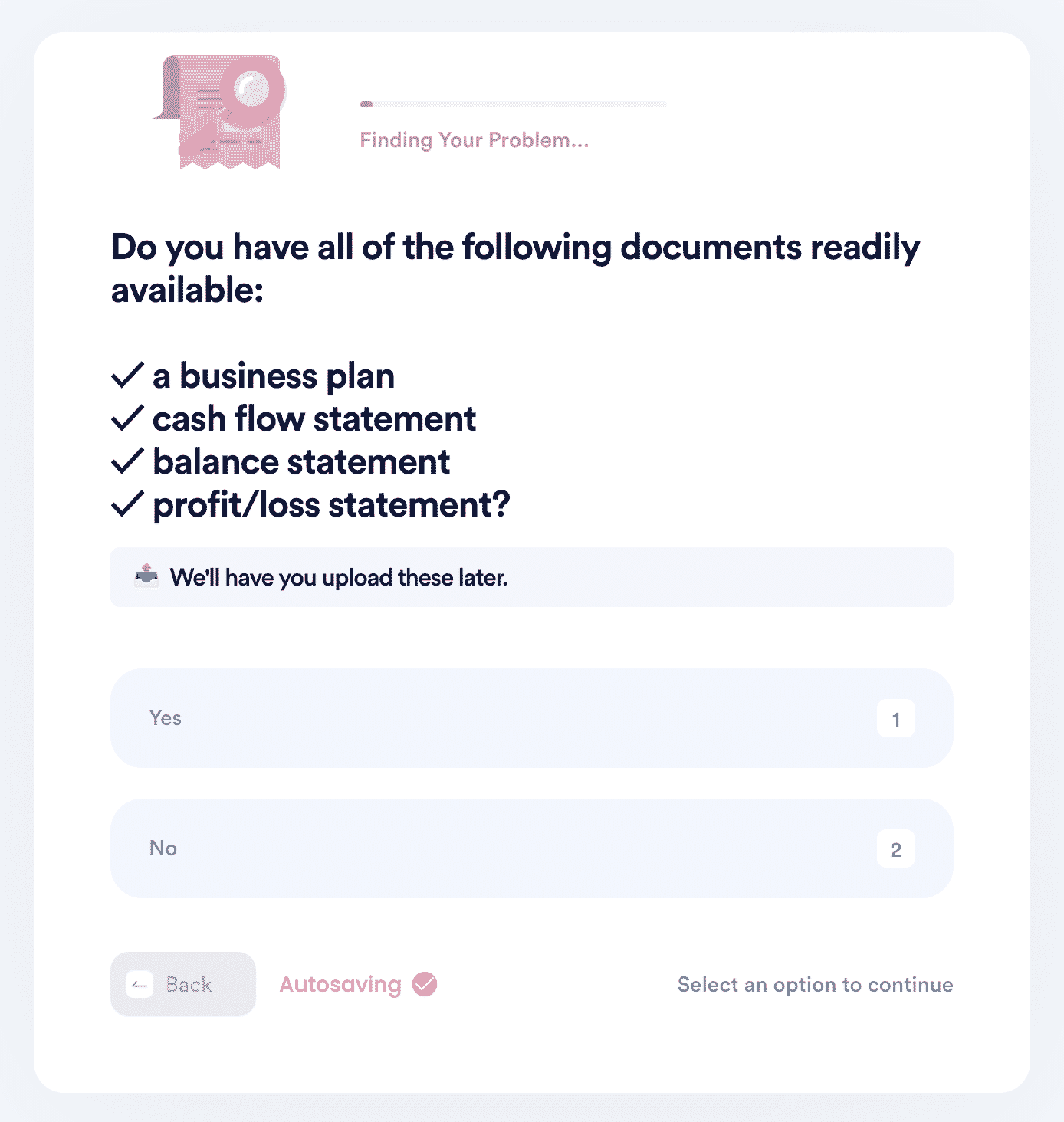 Get the Upper Hand With DoNotPay
The business world is extremely competitive—that is why it is always good to have some extra capital set aside when you need to invest in your company. You can leave the bureaucratic task to us—DoNotPay will draw up business loan request letters in your stead.
If your finances are taking a hit, rely on our app. With our assistance, you will be able to:
Fight fraudulent chargebacks
Remove fake negative reviews online
Register and protect your trademark
Send mail and faxes at no additional cost
Handle clients breaching contracts and get what you are owed
Whatever the task at hand, our AI-powered app will see it through successfully.
DoNotPay—The Assistant Every Business Needs
You cannot escape bureaucracy in business. What you can do is let DoNotPay deal with it. Whether you need to register a DMCA agent or complete an Employer Identification Number (EIN) registration, our app will lead the way.
Using DoNotPay, you will also not have to worry about 83(b) election forms or Privacy Shield self-certification. From generating to filing important documents and from dealing with employees to handling clients on your behalf, our AI-driven app is your go-to solution.
Grow and protect your business with the world's first robot lawyer!