How Much Does a Living Will Cost? Use DoNotPay To Find Out
Creating a living will is an important task that could help your family in potentially unpleasant medical situations. It is not the easiest process, and making this document is often not cheap. How much does a living will cost? DoNotPay presents all your options for creating this document and lets you know which one comes with the best price.
What Is a Living Will? Essential Information You Should Know About
A living will is a type of advance health care directive. This document is used when you are dying or permanently unconscious. The person appointed as your agent or health care proxy will be in charge of making the medical decisions for you according to your wishes.
Depending on the state where you live, a living can also be called:
Medical directive
Medical power of attorney (there is a special one for children)
Advance directive
Advance decision
Personal directive
Health care power of attorney
Durable power of attorney for health care
Some states recognize differences between these documents, while others view them as the same. If you need further explanation about the terminology and potential uses, you can check out our article on the power of attorney and a health care proxy.
What Information Should a Living Will Contain?
To make a living will valid, you must make sure the document contains all the necessary information, such as:
Your agent's personal information
Statements on how you wish to be treated in specific health-related situations
Names and signatures of witnesses
Notary's seal and signature
The last two items on the list are state-specific, so make sure to research the local requirements.
How Much Does It Cost To Make a Living Will?
How much money you'll need to set aside for a living will depends on whether it needs to be notarized and how you create it. Take a look at the table below to see the living will prices:
Cost of a Living Will
Price
What You Should Know
Made by a lawyer
Hundreds of dollars
When it comes to making a living will with the help of a lawyer, you should know that the price of the service also depends on:

Their prominence and expertise
Directive complexity
Location

Created by yourself using a form
Up to a hundred dollars
You should not choose this option and use any form templates if you do not have the required legal knowledge
A more convenient and affordable solution than those two options is DoNotPay. Our app will save you money and generate an airtight legal document.
The Living Will Cost Goes Down if You Choose DoNotPay
If you don't know how to create a living will yourself, it is best not to experiment. To get an enforceable living will your health care proxy can rely on, you should look no further than DoNotPay. We'll generate this legal document in a matter of minutes. All you have to do is follow these steps:
Open the Advance Health Care Directive product
Let us know who your agent will be and enter your relevant medical information, such as your primary physician
Include the powers you would like to appoint to your agent (treatments you authorize or do not authorize)
Type in the names of individuals who will witness the signing of the document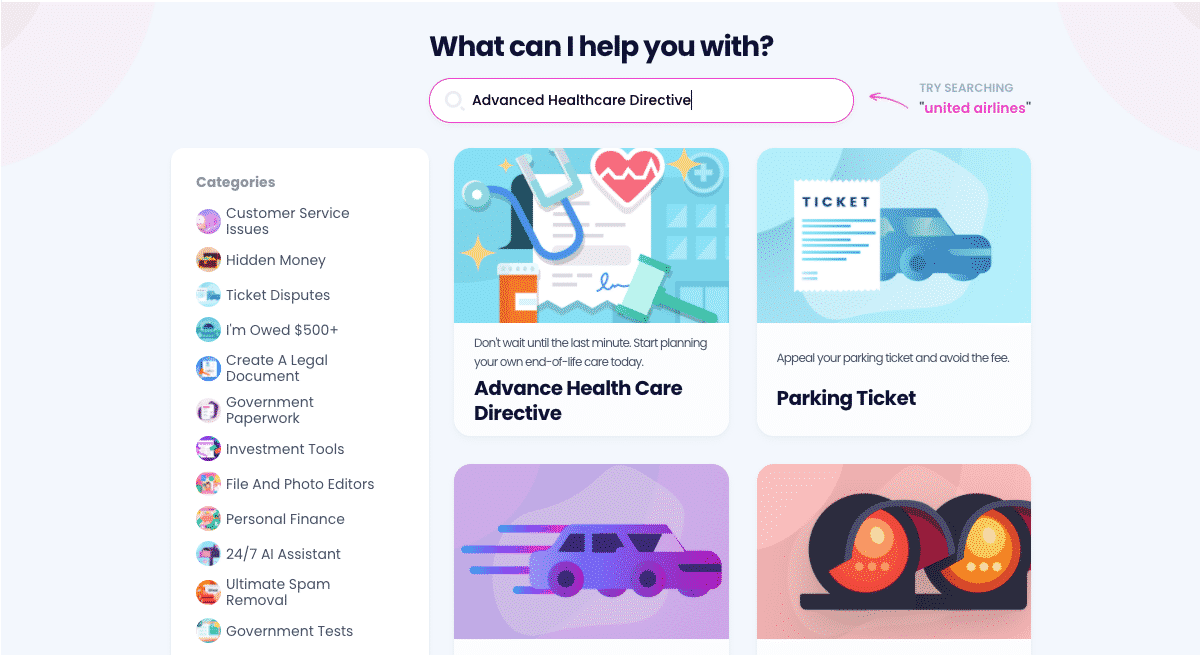 What Happens if There Is No Living Will?
If you become permanently unconscious without having created a living will, your spouse or the doctors will be the ones making important decisions on your behalf. In case you do not relay your wishes to the immediate family members, the treatments will be chosen according to the standard medical practices in the given situation.
Let Our App Assist You With Paperwork
You don't have to deal with bureaucratic tasks on your own! DoNotPay is here to help you cancel your memberships, appeal parking tickets, discover unclaimed funds, and get any document notarized online.
If you need help covering your bills or you'd like to get extra cash by signing up for clinical trials, we are your go-to!
We can also assist you in drawing up and sending out the following documents:
Keep Your Online Safety Intact
Staying anonymous is almost impossible these days, but with DoNotPay's help, your contact and payment details will remain private.
Thanks to our Burner Phone product, you'll be able to keep your phone number to yourself and get a temporary one you can use when you register on various platforms.
If you want to avoid getting charged and revealing your personal info when signing up for free trials, we can help you kill two birds with one stone. Get our multifunctional virtual credit card and skip submitting your name, email address, and payment details.
With our app, you can also handle stalkers and harassers, fight workplace discrimination, and block spam.