How Much Does a Divorce Cost? DoNotPay Will Answer!
How much does a divorce cost? The answer depends on multiple factors and isn't that easy to determine. If you're getting a divorce and want to know how much you need to spend on the process, DoNotPay can help you out.
We'll break down all you need to know about the cost of divorce and show you how to get a low-cost one the easy way!
What Is the Average Cost of a Divorce?
The average cost of a divorce is around $8,000, but some factors impact that number. The final amount will depend on:
The most significant factor is whether the divorce is contested or uncontested.
The filing costs for both divorce types are usually the same, but spouses who get a contested divorce have to pay more overall. This is due to the attorney and expert witness fees (e.g., financial consultants or appraisers).
Contested divorces usually take longer than contested ones because the couple will have to go to multiple hearings. If you go for an uncontested divorce, it will shorten the length of the process as you can get an out-of-court settlement.
If you want to find out how to get a cheap divorce across the States, check out the table below:
Uncontested Divorce Price
An uncontested divorce—also called a friendly divorce—costs $4,100 on average. Both spouses need to agree on all issues regarding the divorce and:
Find the necessary forms on the state website or at the courthouse
File them with the clerk
Pay the fees (if you can't cover the court fees, you can apply for a fee waiver)
Extra costs can pile up if the couple can't reach a compromise. Since there can't be any disagreements between them if they want an uncontested divorce, divorce mediation is often recommended.
Couples going for this type of separation also don't need to hire a lawyer because the process is simple.
The Average Cost of Divorce Mediation
Divorce mediation is a procedure that soon-to-be-separated couples opt for when they can't resolve issues such as:
The couple pays a mediator to help them reach a middle ground. They visit the mediator together or have one-on-one sessions to come up with ideas that will solve their disagreements. The mediator guides couples to discuss things openly so they don't have to go to court. Keep in mind that the mediator fees can be anywhere between $500 and $8,000.
How Much Does a Divorce Lawyer Cost in an Uncontested Divorce?
Hiring a lawyer to help you prepare and fill out court forms, file your papers, and draft a divorce settlement agreement can make your divorce fees sky-high.
You'll need to pay your lawyer a retainer ($2,500–$5,000), which is a form of downpayment that your attorney will charge you against until the money runs out.
Once that happens, you will either pay an additional retainer or be billed by the hour. Average hourly divorce attorney fees are between $150 and $400.
The good news is that you can get divorced without a lawyer if you're filing for an uncontested divorce. The process is straightforward, and you won't have to go to court to attend endless hearings.
As for your divorce settlement agreement, DoNotPay can help with that.
Get a Divorce Settlement Agreement That Won't Break the Bank
Among the divorce papers that you need to file to get divorced, you'll also have to draw up a divorce settlement agreement. This is an important document that outlines the terms on which you're getting divorced. You can hire a lawyer to create it for you, but this will significantly add to the cost of your divorce as legal services can be exorbitantly expensive.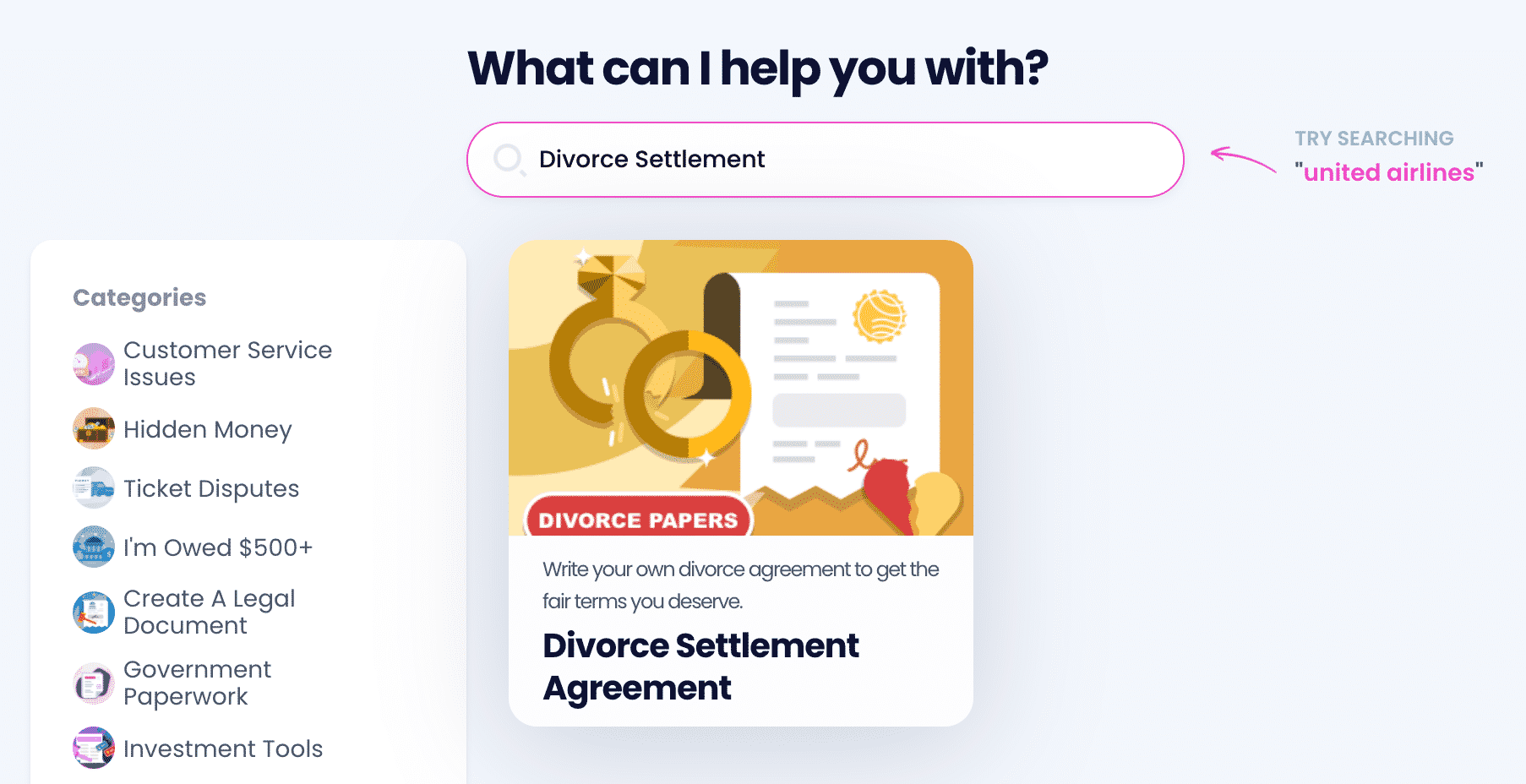 A more affordable and easier option of getting a divorce settlement agreement is to use DoNotPay! With our Divorce Settlement Agreement product, you can get a professional document that will make sure you get the fair terms you deserve! To get the agreement, follow these steps:
Select our Divorce Settlement Agreement product
Provide the necessary details about your spouse and children (if any)
Decide if you want to get your documents notarized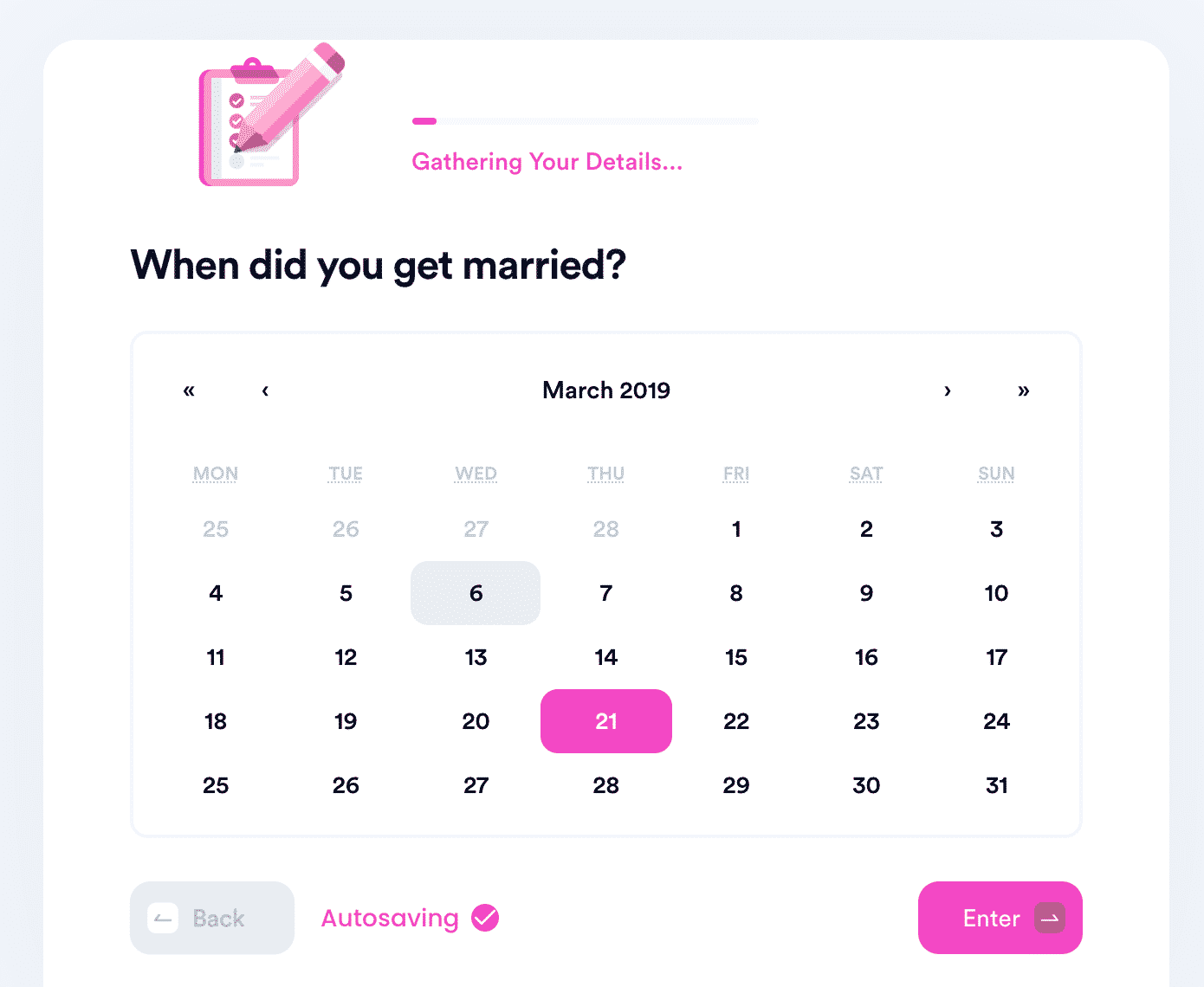 Once you submit everything, we will generate a settlement agreement for you, which you can then get notarized via an audio-video call if you choose that option.
Need answers to more divorce-related questions? DoNotPay has got you covered! Learn how to:
DoNotPay has also prepared a table with all the U.S. states so you can get to know the ins and outs of divorce laws in your location. Check it out:
DoNotPay Resolves Both Bureaucratic and Legal Issues
One of our app's best qualities is its versatility. You can use your personal AI-powered assistant to overcome both legal and bureaucratic obstacles without breaking a sweat. No more waiting in lines or breaking the bank due to sky-high lawyer fees!
Take a look at what you get access to for a low monthly fee:
Can DoNotPay Do Anything Else?
The world's first robot lawyer is capable of so much more! No matter if you want to find your unclaimed money, apply for clinical trials, get rid of email or text spam, prepare for a government test, fight workplace discrimination, or get gift card cash back, DoNotPay can help!
What are you waiting for? Sign up for DoNotPay now to enjoy our nifty products!