How Much Does a Divorce Cost in Utah? DoNotPay Has the Info!
Heading down the divorce path can be bumpy. You can get a smooth ride if you collect the specifics of the necessary divorce documentation, filing procedures, waiting periods, and expenses.
How much does a divorce cost in Utah? In this article, we provide the answer and additional helpful information!
What Fees Are Associated With a Divorce Cost in Utah?
Check out the following table to get a better understanding of what fees you might need to cover during a Utah divorce:
Court Fees
Details
Filing fee
To file for divorce, you need to settle the required court fee of $325
Online Court Assistance Program (OCAP) fee
You can apply and pay a fee for OCAP if you need help to prepare court paperwork
Divorce classes fee
If you and your spouse have underage children, you'll also need to cover the fees for the following classes:

Divorce Education—$35 per person
Divorce Orientation—$30 per person

Service fee
To have the divorce papers served to your spouse, you'll need to settle the service fee. The price depends on who implements this service. Here's the list of professionals who can serve the divorce documentation in Utah:

Peace officers
Sheriffs and their deputies
Licensed private investigators
Constables and their deputies
Authorized state-employed investigators
Since all court fees are changeable, you should check the current ones on the Utah Courts website.
If you cannot afford to pay the required fees, you should file a motion to have them waived.
Does Hiring a Lawyer Affect the Cost of Divorce in Utah?
Attorney fees vary from one law office to another, but on average, they go from:
$190 and $250 per hour
$8,000 to $10,000 for the total costs
Keep in mind that you don't have to hire a lawyer if you file for an uncontested divorce in Utah.
The Cost of Divorce in Utah Depends on the Divorce Type
The cost of a divorce in Utah depends on what type of divorce you choose to file for. If you cannot afford to spend a lot of money and would like to reduce the total expenses as much as possible, you should file the papers for an uncontested divorce. To be able to do that, you need to negotiate all divorce matters with your spouse, such as:
To file for this friendly type of divorce, you should take the following steps:
Reach an out-of-court settlement with your spouse on all divorce terms (you can go to mediation if you need help resolving some issues)
Spell out all agreed-upon divorce matters in a divorce settlement agreement
Fill out the necessary court forms
File all divorce documentation with the court
Settle the required court fees or apply for a waiver
Not only can an uncontested divorce save you money, but it is also the least time-consuming and complicated procedure you can go for.
How To Draw Up a Divorce Settlement Agreement
To prepare a divorce settlement agreement, you could take the following steps:
| How To Create a Divorce Settlement Agreement | Specifics |
| --- | --- |
| Visit a law office | While a divorce lawyer can draw up all documentation for you, this service can increase your total divorce cost drastically. Keep in mind that you might not need an attorney if you and your spouse agree on all divorce terms |
| Online divorce services | Some websites provide online templates for you to complete, but you need to investigate them carefully. If the provided templates don't comply with state laws, you'll need to modify them to be valid in the court |
| Register for DoNotPay | Our app can save you time, money, and nerves by generating a divorce settlement agreement that meets the necessary legal requirements and the specifics of your case |
Use DoNotPay To Get a Divorce Settlement Agreement in a Flash!
Opting for an uncontested divorce enables you to go through the divorce process seamlessly and quickly. While you can prepare all court forms by yourself, you should use DoNotPay for the crucial part of your documentation—the divorce settlement agreement.
Want to receive this agreement in a few minutes? Follow these steps:
Open the Divorce Settlement Agreement product
Provide the specifics of your situation and the agreement reached with your spouse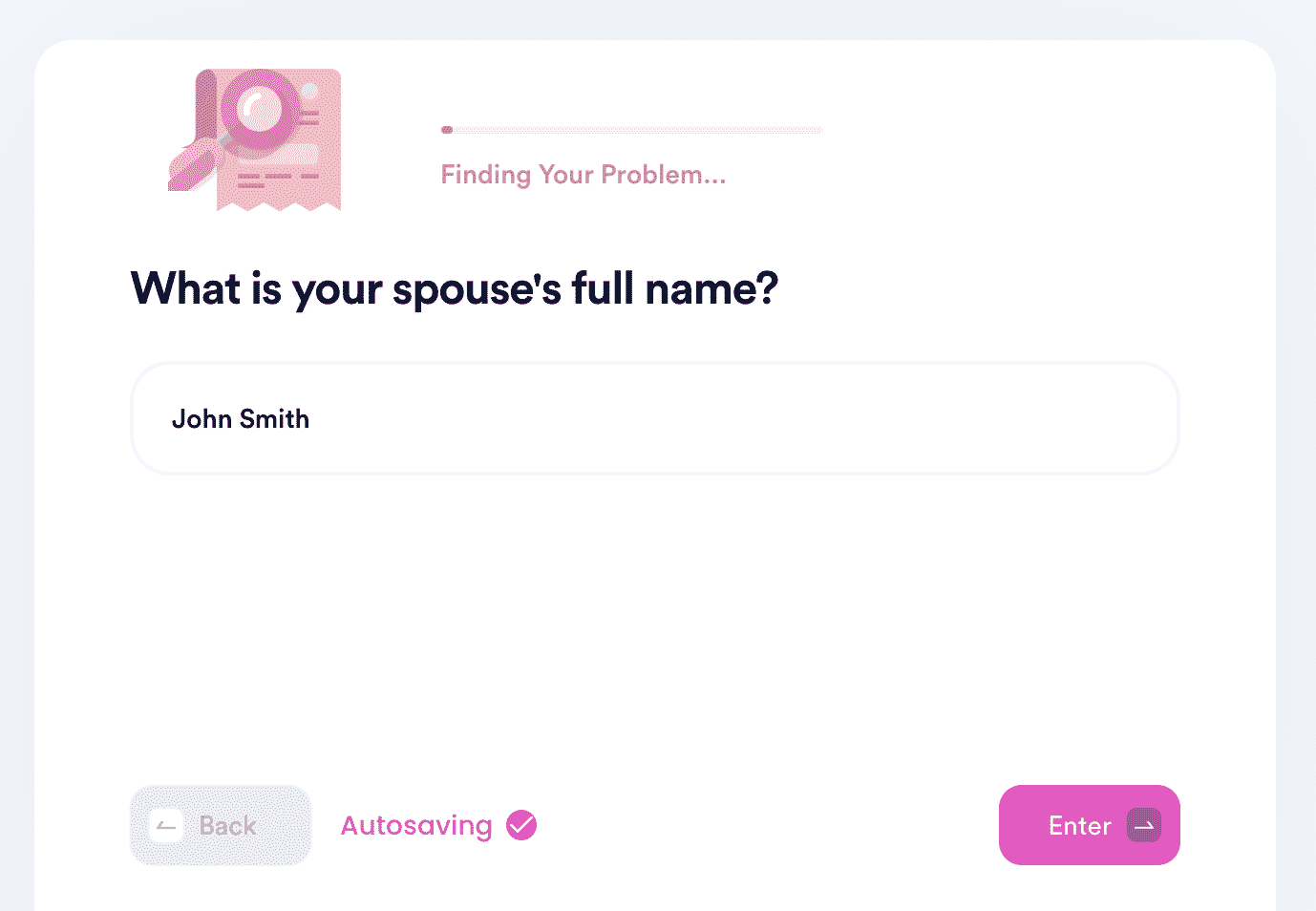 Do you need to get the agreement notarized before filing it with the court? We can help you deal with that part, too. Notaries public we cooperate with perform online notarization 24/7!
How To Prepare for Divorce Proceedings Well
Explore DoNotPay's website if you'd like to know what exactly you can expect during the divorce process so that you can protect yourself.
We publish useful divorce-specific articles where we answer lots of common questions. Take a look at some:
There Is No Shortage of Tasks DoNotPay Helps You With
If you find finishing administrative tasks tedious, you can rely on our app to assist you through the entire process and make it a smooth-sailing experience. Check out the table below to find out what DoNotPay can help you do:
| Deal With Companies By | Get Rid of Pesky Spammers By | Get Help With Your Studies By |
| --- | --- | --- |
| | | |
Buried in Paperwork? Not for Long!
Is creating legal documents giving you a migraine? Not everyone is acquainted with the law and legal jargon, which is necessary when writing documents, such as:
Luckily, DoNotPay can draft your legal documents in minutes! Why waste hours doing it yourself or hire a lawyer when you can have our app do it in no time?
Creating anonymous HR complaints and demand letters for your inconsiderate neighbors is also something our app does best!