How Much Does a Divorce Cost in Texas? Find Out With DoNotPay
It is well-known that getting a divorce is stressful and emotionally exhausting. What you may be less aware of is the fact that ending a marriage can be expensive. If you live in Texas and are considering a divorce, you should get all the information before filing the papers.
How much does a divorce cost in Texas? In this article, you can find the answer to that question and other useful information regarding the matter.
What Is the Average Cost of a Divorce in Texas?
According to a survey, the cost of a divorce in Texas is $15,600 on average. It's not a small price to pay, but it can vary significantly from one case to another.
Here are all the factors that affect the cost of a divorce in the Lone Star State:
Attorney fees
Court filing fees
Document preparation
Child custody professionals fees
Expert witnesses compensation
Out of all of the items from the list, attorney fees contribute the most. It's been estimated that the total cost for divorce lawyers in Texas varies from $11,000 to $13,000.
If you want to get a low-cost option, you should consider getting a divorce without a lawyer.
The Cost of a Divorce in Texas Based on the Process Option
Not every divorce costs the same—how much you're going to pay depends on the process option you choose. In the following table, you can see some of the divorce options and their relative costs:
Process
Explanation
Relative Cost
DIY divorce
In a DIY divorce, you as the plaintiff (the person who petitions for divorce) are in charge of everything. You have to:
It is the least expensive option
Mediation
This process involves a third-party mediator who facilitates negotiation between the spouses. They later provide the attorney with a summary, which helps develop a settlement
Mediators charge for their services, but they're still less expensive than hiring a lawyer and going to court
Negotiation
Negotiation refers to:

Talking to your soon-to-be ex-spouse and discussing the terms of a divorce privately
Having an attorney present

The cost can vary remarkably depending on the option. If you and your spouse can agree on the important matters without a lawyer's presence, it can save you a lot of money
Litigation
In severe cases that include domestic violence, substance abuse, or unwillingness to cooperate, spouses can request the court to make the important decisions for them
It is the most expensive option because it involves both the attorney fees and court fees for litigation
Collaborative divorce
It refers to settling the divorce outside the court with both of your attorneys present. This method is particularly helpful when there are children and co-parenting matters involved
This option is less expensive than litigation, but the costs can add up if other professionals (such as psychologists or economists) get involved in the process
Uncontested Divorce in Texas—All You Need To Know
You can file for a divorce in Texas without a lawyer, provided that you and your spouse agree on the important issues. To get an uncontested or friendly divorce, you have to meet other state-imposed requirements, such as:
Having been a resident of the state where you're filing for a divorce for at least three months
Having lived in Texas for at least six months before petitioning for a divorce
To be eligible for an uncontested divorce in Texas, you and your wife or husband have to reach a settlement on the crucial matters, including:
Do you meet all the criteria? Here's how to file for a divorce:
Gather the necessary Texas divorce forms
Make copies of the documents
File the uncontested divorce forms with the court at the clerk office in your county
How Much Are the Divorce-Filing Fees in Texas?
Once you collect and make copies of all the divorce forms, you need to file them with the court. Be prepared to set aside a lot of money for this step—the filing fee can range from $250 to $300 in Texas. If you can't afford it, you can fill out and submit the Affidavit of Inability to Pay. The court will make a decision based on your financial information, and you may get exempt from paying a filing fee.
Besides the filing fees, you may have to pay copy or service ones as well.
Considering the standard and additional expenses, paying someone to create the document that should finalize the process seems almost extravagant. Pay no more—register for DoNotPay, and we'll draw up a divorce settlement agreement for you in a breeze!
How To Get a Divorce Settlement Agreement Using DoNotPay
If you need a marital settlement agreement but don't have the time or knowledge to create it on your own or money to hire a lawyer, you're in the right place!
DoNotPay uses a comprehensive database of state laws and requirements and can draft this important document stress-free!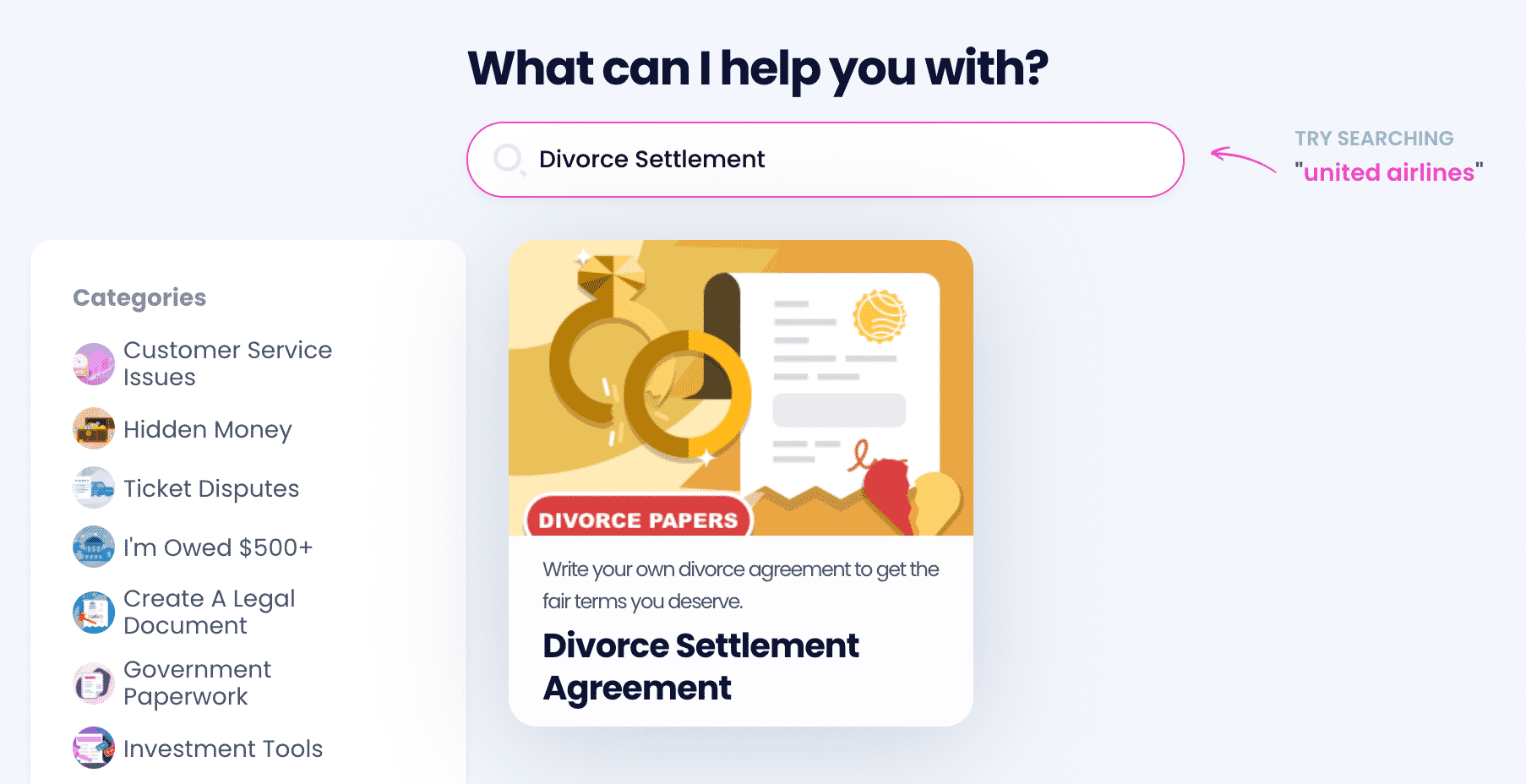 All you need to do is open DoNotPay and follow these steps:
Locate the Divorce Settlement Agreement tool
Answer our chatbot's questions regarding your spouse and children (if you have any)
Give us information about your financial assets
You'll have a personalized divorce settlement agreement within minutes! Need a notary? Inform us while filling out the questionnaire, and we'll connect you with one in no time!
Divorces are complicated, so it's understandable if you have more questions! Visit our learning center to find answers to questions such as:
Are you curious about the divorce cost in other states? DoNotPay has that information about numerous states, including:
DoNotPay Covers All the Bases
From getting you ready for various government tests to helping you reduce your property taxes, DoNotPay offers valuable assistance with the tasks that make most people at least roll their eyes. Dealing with bureaucracy isn't fun, but it also doesn't have to be as difficult as it is.
Every product in DoNotPay's portfolio is designed to efficiently deal with a specific issue within a few minutes and without sacrificing your comfort. Take a look at the tasks our app can make much more simple:
A Little More Money Never Hurt Anybody
Hardly anyone would turn down a chance to earn some more cash. That's why DoNotPay not only protects your rights and interests but also offers great opportunities to improve your financial situation.
With our help, you can find paid clinical trials, locate your missing money in any state, get your cash back from used gift cards, or enter various raffles and win great prizes.