How Much Does a Divorce Cost in Oregon? DoNotPay Helps You Find Out
If you plan on parting ways with your spouse, you're probably asking yourself, 'how much does a divorce cost in Oregon?' The answer mainly depends on the type of divorce you opt for, and DoNotPay is here to help you make the right decision!
In our easy-to-follow guide, you'll find out how much you'll need to spend to end your marriage and how to do it hassle-free.
What Is the Average Cost of a Divorce in Oregon?
On average, getting divorced in Oregon costs between $11,000 and $15,000. The final amount you'll have to pay depends on whether you get:
A contested divorce
The Cost of a Contested Divorce
Contested divorces are more expensive and can cost more than $15,000 due to the court and attorney fees, which can accumulate to a hefty amount if the trial stretches out. They are for couples who can't reach an agreement on issues such as alimony or asset division, so the judge has to decide in their stead.
The Cost of an Uncontested Divorce
Uncontested divorces are for spouses who are in agreement on key divorce aspects and don't have to:
Go to court—This type of divorce doesn't require couples to attend multiple court hearings. They have greater control of the divorce, and they decide on its terms instead of the judge
Hire a lawyer—Because they don't have to go to court, spouses in agreement also don't have to hire a lawyer to represent them. This greatly diminishes the cost of the uncontested divorce as attorney fees are quite costly
This type of divorce is much cheaper, as you'll only have to pay the filing, serving, and mediator fees (if it's required). Getting divorce mediation is for couples who can't reach a middle ground and have to hire a professional to help them come up with solutions.
You may need to hire a lawyer to get a divorce settlement agreement, which is a costly solution. If you use DoNotPay, you'll get this crucial document without having to break the bank.
How Much Is the Oregon Divorce Filing Fee?
As of September 2019, the filing fee in the Beaver State is $287. If you can't afford it, you can ask the judge to waive the fee or postpone your payment to another date. You'll have to file several forms and prove that your income is low or your expenses are higher than your income. The judge will review them and approve or deny your request accordingly.
Which Papers Do You Need To File for an Uncontested Divorce in Oregon?
Besides the settlement agreement and the optional waiver fee, you will also have to file the following divorce papers:
Instructions
Petition for summary dissolution
Summons
Proposed judgment or order
Acceptance of service
Record of dissolution of marriage
Which Divorce Type Should You Get in Oregon?
If you and your spouse don't want to spend a fortune on the divorce, you should get an uncontested divorce. Besides being cheaper, this divorce type has other benefits too, such as:
Quicker procedure—Unlike contested divorces, which can take anywhere from six to 12 months to complete, uncontested divorces can be finalized in a few weeks
Better terms with your spouse—Most couples who opt for this divorce type stay in a friendly relationship after the procedure
Fewer papers to file—You won't have as many papers to file because most of your resolutions will be written down in the divorce settlement agreement
Requirements for Getting an Uncontested Divorce in Oregon
To get an uncontested divorce in Oregon, you must meet the following requirements:
At least you or your spouse must have lived in Oregon for six months before filing for divorce
Your marriage must not have lasted more than ten years
You don't have any children under 21 who are currently attending school
Neither you nor your spouse can be pregnant
You don't own a total of $30,000 in personal assets
Your debts mustn't total over more than $15,000
You or your spouse don't have any divorce actions pending in Oregon or any other state
Use DoNotPay and Get an Affordable but Professional Divorce Settlement Agreement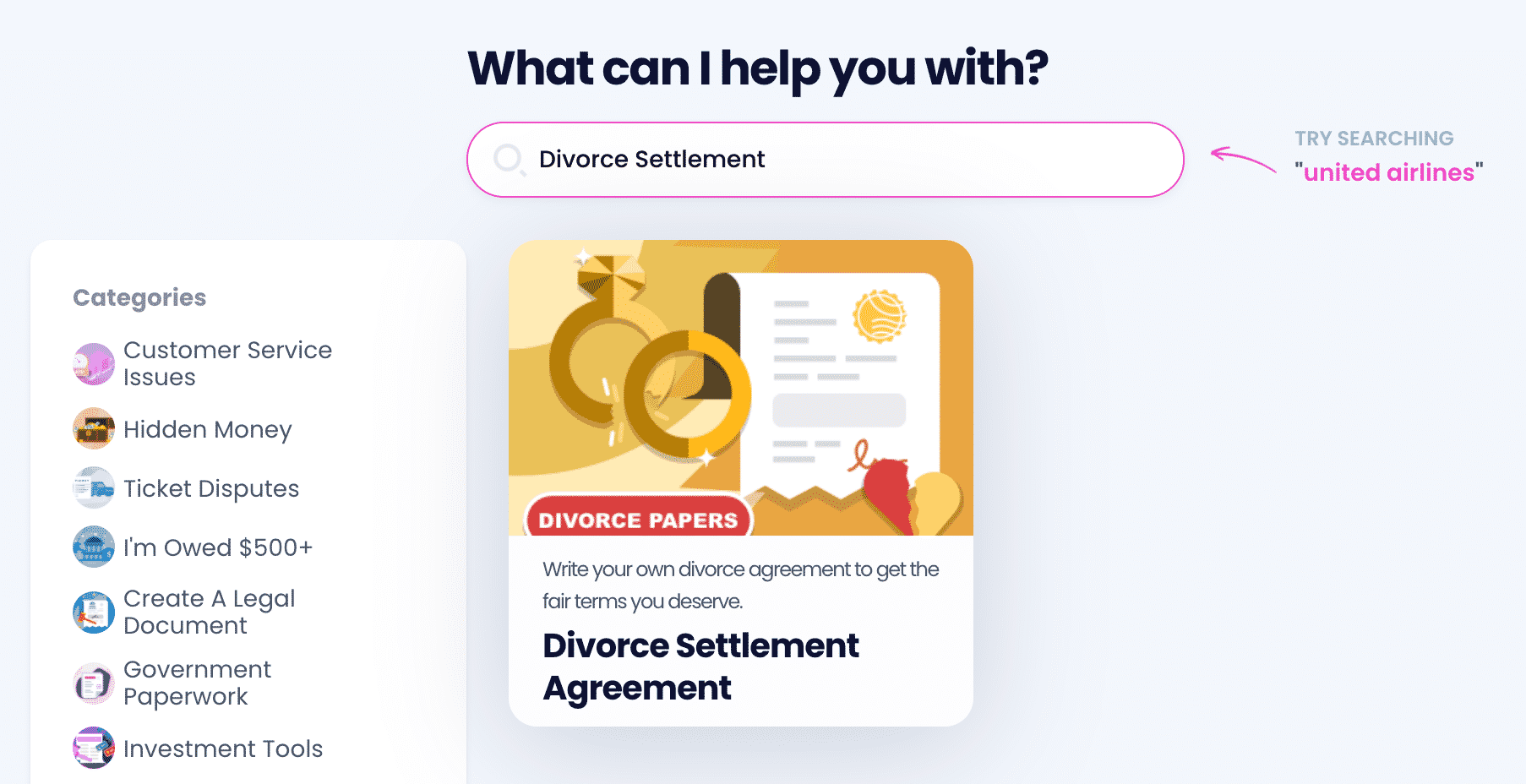 Besides being tough and emotionally draining, divorces can be costly. That's why DoNotPay has developed a tool to save you some money! Don't hire lawyers and waste money on their unnecessarily expensive fees to get a divorce settlement agreement. We'll draw this key document up for you in no time. All you have to do is:
Choose the Divorce Settlement Agreement tool
Give us information about your spouse and children (if any)
Provide details regarding your assets and income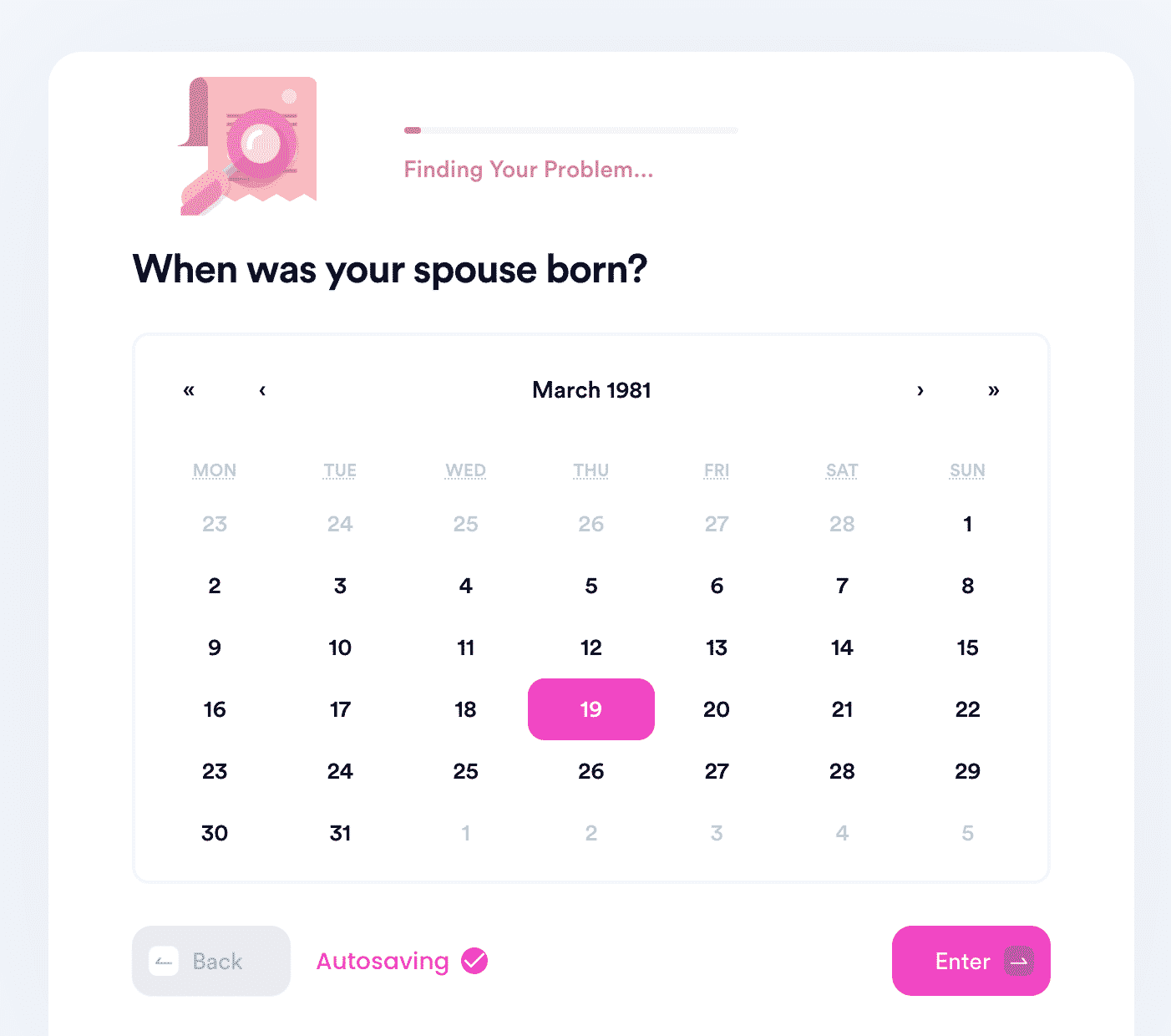 If you want to have your document notarized, we can connect you with an online notary so that you don't even have to leave the comfort of your home.
We've prepared some articles to help you out with your divorce and divorce laws in various Oregon counties. Check them out in the table below:
Use DoNotPay To Complete a Variety of Tasks at Any Time
Why waste time and money completing mundane tasks on your own when you can let DoNotPay assist you? Take a look at the table below to find out what our AI-powered app can do for you:
| DoNotPay Can | Services |
| --- | --- |
| Protect your safety and privacy | |
| Draft legal documents | |
| Help you get your money back | |
DoNotPay Has More in Store for You!
Since communication is key, you'll appreciate our feature that helps you get in touch with customer service reps quickly! We'll also show you how to send faxes online and have your documents notarized by an online notary with ease!
Going on vacation? Use DoNotPay to take a valid passport photo at home or get a tourist visa!