How Much Does a Divorce Cost in Ohio? DoNotPay Has the Answer
If you're parting ways with your spouse, one of the first issues that you'll be worried about is the cost of the process. Various factors impact the final amount you'll have to pay, so getting to know them can go a long way.
How much does a divorce cost in Ohio? DoNotPay will help you find out and draw up a marital settlement agreement. With it, you'll get a dissolution that won't cost you a fortune, and you won't have to hire a lawyer!
How Much Is a Divorce in Ohio?
Marriage dissolution in Ohio costs between $3,000 and $3,500 for uncontested divorces, whereas the price can go up to $17,500 in the case of contested divorces. Check out the table below to see the factors that impact the final price:
| Factor | Explanation |
| --- | --- |
| The complexity of the case | The more assets, debts, and other aspects of the divorce the court has to take care of, the bigger the cost will be |
| Whether there are any marital children | If you have any children with your spouse, custody battles and child support analysis can impact the final price of the divorce |
| Willingness to settle the matter out of court | In case you and your spouse want to lower the cost of the procedure, you can get an out-of-court settlement. To do this, opt for an uncontested divorce and reach a settlement agreement |
Can You Get a Cheap Divorce in Ohio?
To get a cheap divorce in Ohio, you must file for an uncontested (friendly) divorce based on no-fault grounds. This means that you have to terminate your marriage without blaming your spouse and agree with them on the following issues:
Average hourly fees for lawyer services in Ohio are between $210 and $245. Getting a cheap, uncontested divorce in OH means that you won't have to hire a professional to represent you in court. This diminishes the cost of the procedure and saves you the time you'd spend in endless court hearings.
If you can't agree on the issues listed above, divorce mediation can help. The mediator will help you and your spouse come up with solutions to reach a compromise. OH mediation saves you a lot of money that you'd have to spend on attorneys.
How Much Does It Cost To File for Divorce in Ohio?
Filing for divorce in Ohio will cost you around $200 if you don't have children. If you do, it can amount to $300. The fees vary from one county to another, so be sure to inquire your local courthouse about the exact pricing. If the filing fee is too expensive for you, you can ask for a waiver.
How To File for a Cheap Divorce in Ohio
To file for divorce in the Buckeye State, you must:
Get a divorce settlement agreement—Getting a valid divorce settlement agreement is crucial as it will contain the terms on which you and your spouse will part ways. It has to comply with your state's laws and not contain any mistakes. You can hire an expensive lawyer to draw it up for you or and let us generate a tailor-made agreement for you in a jiffy
File the required forms—Find the required Ohio divorce forms on the official government website and complete them. Once filled out, you must have them notarized and then file them with the clerk of the court
Go to a final hearing—Once you file the divorce papers, the judge will appoint a date for a final hearing. They will make sure everything is in order with your forms and then finalize the divorce
Get a Top-Notch Divorce Settlement Agreement That Won't Break the Bank—Use DoNotPay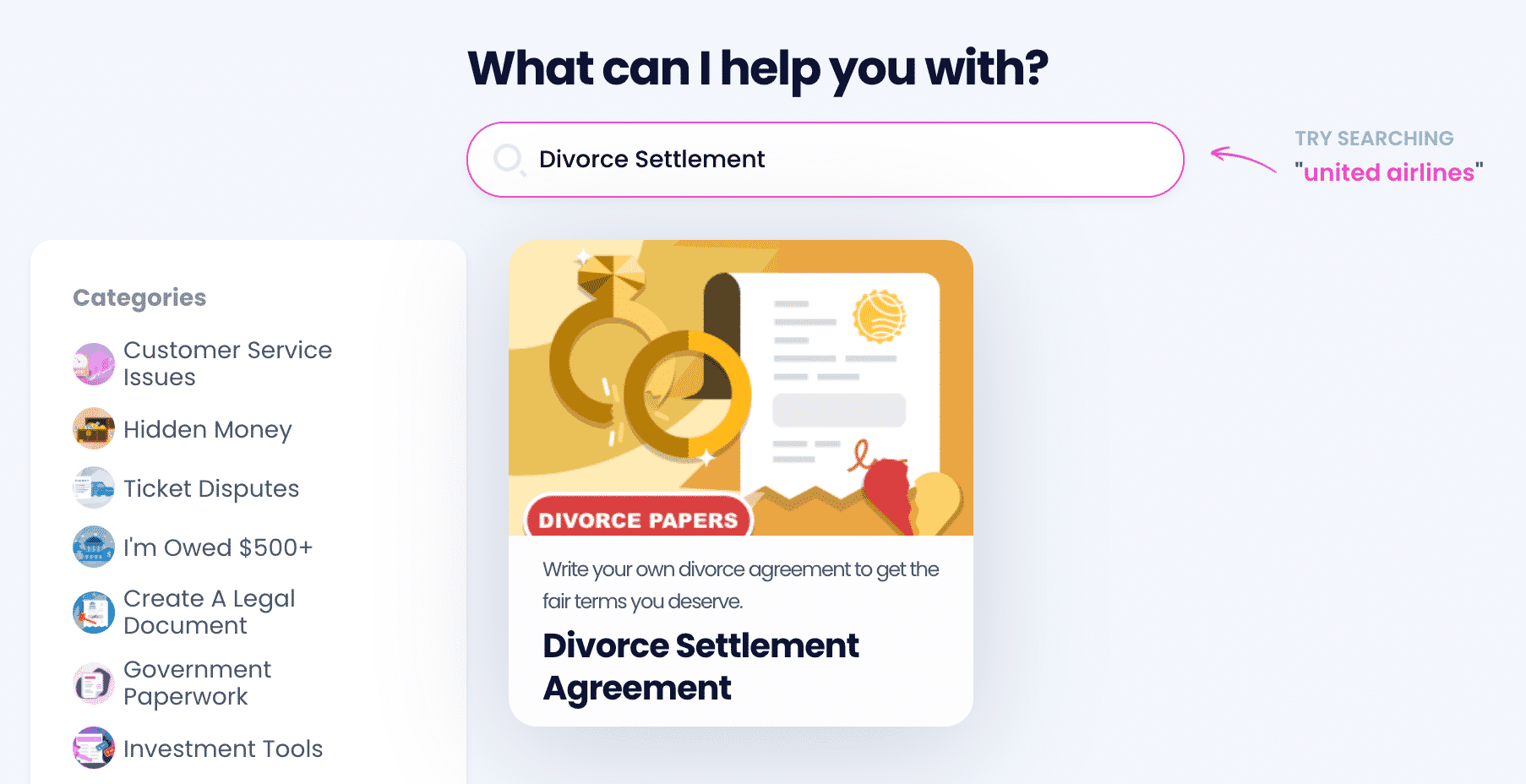 Don't waste time with expensive lawyers if you need a divorce settlement agreement because DoNotPay offers the ultimate solution! We'll generate this document for you in no time and make sure it's suited to your needs perfectly. To get it, you only have to
Select the Divorce Settlement Agreement tool
Answer our chatbot's questions
Opt for online notarization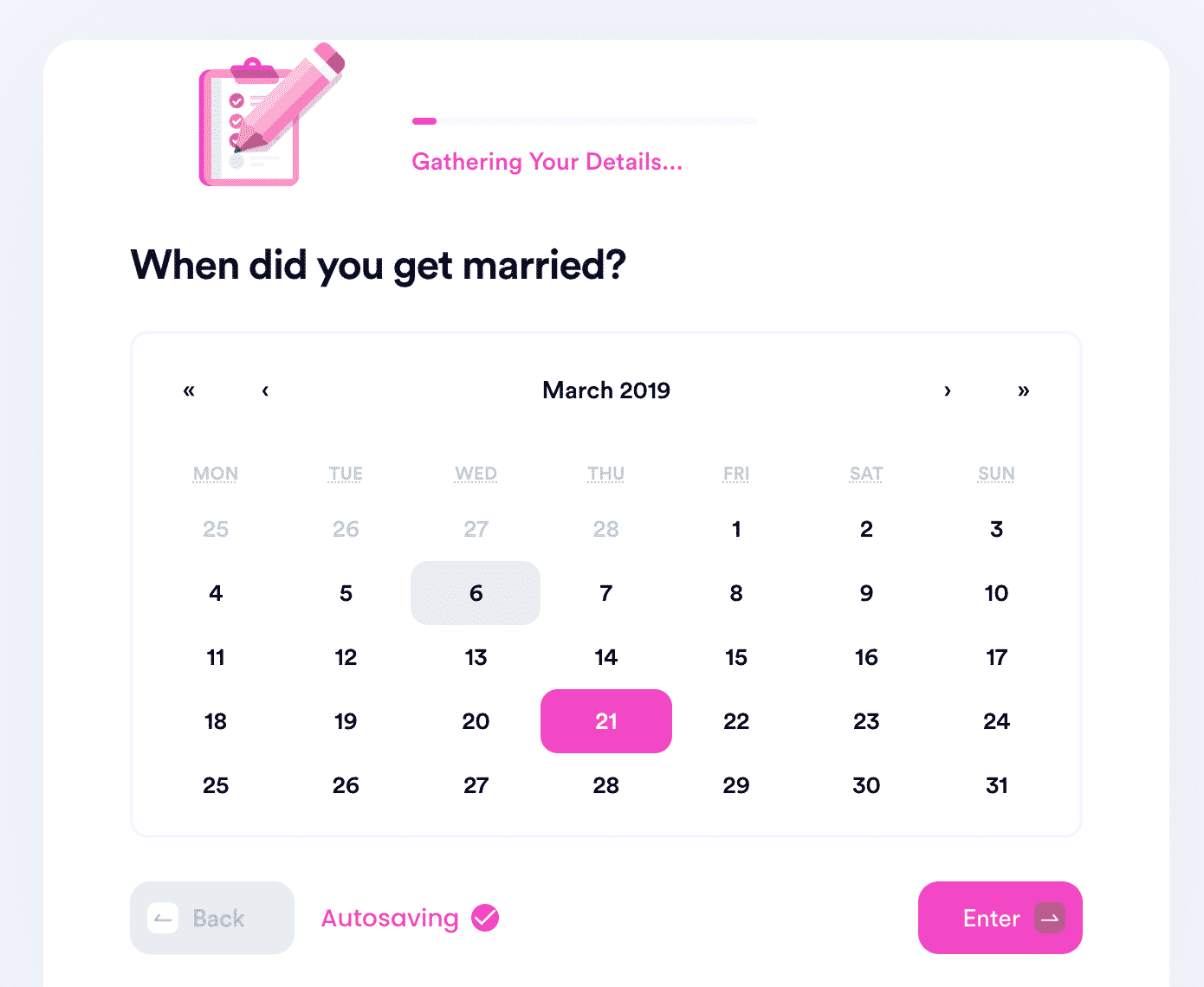 Once you click on Submit, you leave all the work to us. We'll use the details you provided to generate a tailor-made divorce settlement agreement and send it your way in minutes. If you aren't willing to waste time finding a notary near you, we can help you have your documents notarized from the comfort of your home. Follow the link we send you via email and schedule an appointment with one of our partner online notaries.
If you want to learn the ins and outs of divorces, read the articles DoNotPay has prepared for you, such as:
Discover the Entire Spectrum of Our Features
A click or two will be enough to discover the amazing universe of DoNotPay's tools and products. Our app is here to show you the best way to get:
Financial Issues? Let DoNotPay Take Care of Them!
DoNotPay can track down your unclaimed money, submit insurance claims, or request compensation for delayed flights on your behalf. This way, you can save some money and get what you're owed. Our app can also make it easier for you to lower your utility bills, cancel active subscriptions and stop further charges, or appeal parking tickets.