Emperor's Ransom in the Empire State—How Much Does a Divorce Cost in NY?
When you embark on a divorce in New York, you want it to be quick, cheap, and as free from trauma as possible.
In any divorce, though, your costs can quickly spiral out of control, leaving you with nothing but a bad taste in your mouth.
How much does a divorce cost in NY? DoNotPay is here to help with facts, advice, and watch-outs to help you keep your divorce costs under control in New York.
What Costs Are Involved in a Divorce?
Every step in a divorce in NY can involve costs, as follows:
| Divorce Step | Explanation | Approximate Cost |
| --- | --- | --- |
| Filing divorce papers | You are liable for a filing fee as soon as you lodge your divorce papers with the Supreme Court | $335 |
| Serving your papers | You have to serve your divorce papers on your spouse and obtain a signature proving receipt—even if your case is uncontested. This is normally done by a deputy sheriff or a professional process server | Around $50 |
| Negotiating and drafting your settlement agreement | Your divorce settlement agreement is the make-or-break document in your divorce. If you can agree on a settlement with your spouse before your case is heard, you may not have to appear in court | Between $4,000 and $20,000 depending on how complex your case is and how much you collaborate towards a friendly divorce with an out-of-court settlement |
| Running a court case | Court costs are charged daily, so the more hearings you need, the higher your court and attorney's costs | From $120 per day plus lawyers' appearance fees |
NY divorce costs depend on how acrimonious and complicated your divorce is, but the average costs you can expect are:
$25,000 per spouse for contested divorces
$4,000–$5,000 per spouse for uncontested cases if you use attorneys
What Can You Do To Reduce the Cost of Divorce in NY?
Everything is negotiable, and there are ways you can reduce every element in your divorce cost in NY.
You can lower the cost of each stage of your divorce as follows:
Paying filing fees
Serving your papers
Drawing up a settlement agreement
Paying Filing Fees
If you are experiencing financial difficulties, you can appeal to the Supreme Court to have your filing fee waived.
There is no pre-set format for your request, but it should include:
A description of the case
A breakdown of your financial situation
A request to waive the fees
You may have to provide proof of your financial hardship, but this is a matter for individual judges to decide.
Serving Your Papers
New York state law states that anybody over 18 who is not connected to a case can act as a process server and deliver your papers to your spouse.
You do not need to use a sheriff or professional process server.
Drawing Up a Settlement Agreement
If you can agree on a settlement before your case reaches court, you can avoid all the costs involved in court proceedings by achieving an uncontested divorce.
Negotiating and drafting your divorce settlement agreement is often the largest single cost element in any divorce, though.
How much each step costs depends on your ability and willingness to work together with your spouse to keep your expenses down.
How To Negotiate a Settlement Agreement
A settlement agreement is a legal document that regulates how your family should be divided after your divorce, including:
Your options to negotiate a settlement are:
Lawyer
DIY
Lawyer
Engaging attorneys to negotiate your settlement agreement can quickly become astronomically costly.
Even though lawyers can save you some trauma by negotiating on your behalf, you can reduce your and your spouse's costs significantly if you avoid them.
Under NY law, you don't have to use a lawyer if you don't want to.
Mediation Service
A mediator is not a lawyer but can help you by facilitating face-to-face negotiations between you and your spouse—at a fraction of the cost of a lawyer.
DIY
If you and your spouse are on friendly terms and already agree on the broad details of your settlement, you can work out the finer points without any third-party intervention. This won't cost you a cent.
Where To Have Your Agreement Drawn Up
Once you have finalized your settlement agreement, you need to have it drawn up as a legal document.
You can use the following resources to accomplish this:
Lawyer—This is the most expensive option, involving potential costs of over $1,500
Online service—Many websites offer online templates for you to fill out, but you may find that they are too generic to cover your exact needs
DoNotPay has the solution you are looking for! We can create a tailor-made, comprehensive settlement agreement for you with no lawyers' fees to pay!
DoNotPay Has You Covered in New York!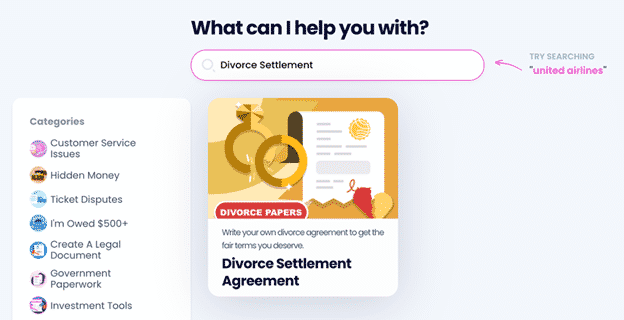 DoNotPay is committed to making divorce as painless and affordable as possible!
Our Divorce Settlement Agreement feature is exactly what you need to take the sting out of your divorce costs. With our product, you can give us the details of your agreement, and we will create a customized, watertight legal document that ticks all the boxes!
Here's what you need to do to set up your settlement agreement:
Sign up with DoNotPay in any browser
Click on our Divorce Settlement Agreement feature
Give us the details you and your spouse have agreed on
Your settlement agreement will be ready in an instant—all the two of you need to do is sign and have it notarized.
If you don't know where to look for a notary in your area, we can even help you get your agreement notarized online!
For extra help in New York County, you can also check out our handy divorce checklist and make sure you don't miss a trick!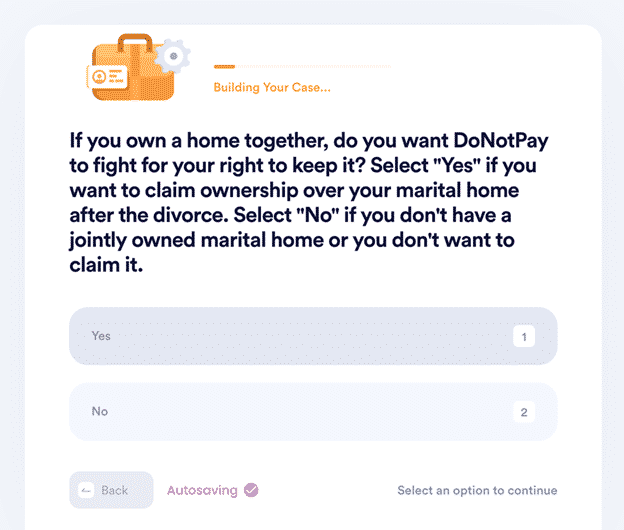 Our App Solves Your Legal Issues!
Do you really have to set aside astronomical amounts to pay lawyers for drafting legal documents or taking a person or business to small claims court?
The answer is no—all the cash remains in your pocket, thanks to DoNotPay! From now on, you can perform many legal tasks from home with the help of our app. It enables you to create flawless powers of attorney, divorce settlement agreements, and child travel consent forms in a snap.
That's not all—once we generate these documents for you, we also help you have them notarized via a video meeting. No need to waste your time and fuel visiting notary offices.
Check Out Other Perks DoNotPay Offers!
DoNotPay provides a wide selection of services, from creating virtual credit cards and burner phone numbers to getting refunds from companies and canceling subscriptions. Have you received an unfair parking ticket? Appeal it with our app before you know it! Are email spam and robocalls making your life a living hell? No scammer stands a chance against our efficient AI-powered tools and features!
We also work in your favor when it comes to safety. Our app offers perfect ways to prevent copyright infringement, stalking and harassment, work discrimination, sex offenses, and disputes with annoying neighbors.