How Much Does a Divorce Cost in NC? Find Out Now!
Ending a marriage is a difficult endeavor in many ways. Before filing for divorce in North Carolina, you should get familiar with the whole process. Luckily, you don't have to dig through different legal websites to get the information you need.
DoNotPay provides answers to all of your divorce-related questions—from "How can I file for divorce?" to "How much does a divorce cost in NC?"
What Is the Average Cost of Divorce in NC?
In 2020, the average cost of divorce in North Carolina was $13,100 for cases with no children involved. The average cost for marriages with children was $19,700.
Having kids is not the only factor that affects the divorce cost. How much you'll have to pay depends on many other aspects, such as the divorce type, attorneys, and methods.
What Expenses Contribute to the NC Divorce Cost?
The cost of a divorce consists of many smaller fees. Check out the following table for an explanation:
Divorce Expenses
Fees
Attorneys
$100–$300 per hour
Divorce paper-filing fees
$225
Serving divorce papers
$7—via mail

$30—for a sheriff to serve them

Changing maiden name
$10
Court costs
$96
Another important cost-inducing factor is any dispute you might have with your spouse. Couples usually have trouble negotiating the following issues:
The more contested disputes you have, the longer it'll take to get divorced and the more it'll cost. Take a look at the average costs of divorces in North Carolina under some of the most common situations:
No contested issues (with lawyers): $3,500–$4,200
One dispute but without trial: $5,100–$6,200
Two or more disputes but no trial: $8,800–$10,600
Going to trial: up to $14,500
How Can I Reduce the Cost of Divorce in NC?
The best way to get a divorce if you have no money is to choose the cheapest marriage dissolution method. In the table below, you can find all the information you need about each method:
Divorce Process
Explanation
DIY divorce

The petitioner (plaintiff) does all the work
There's no need for lawyers

Mediation

Mediation in NC is used when the couple is having some disputes that they cannot negotiate between themselves
It involves a third party—the mediator—who's guiding the couple through the process
The mediator may or may not be a lawyer
Mediators charge their hourly fees separately from the lawyers

Collaborative divorce

It involves an out-of-court divorce settlement with both of the attorneys present
This method is typically used when the divorce involves child custody and other related matters
It can involve other professionals, such as economists and child psychologists

Litigation

It is the most expensive divorce method
It's used for cases that involve domestic violence, substance abuse, and other complicated issues
Spouses have to pay attorneys' fees and court fees for litigation
If you want to save up some money, you should try the DIY option. To file for an uncontested divorce, you and your spouse must not have any unresolved disputes. You have to agree on important issues regarding your property and children (if you have any) and make a divorce settlement agreement.
How To File for an Uncontested Divorce in North Carolina
If you're terminating your marriage on amicable terms, you don't need to hire lawyers. The process is not complicated, but you should be familiar with the state laws and requirements. Here's a step-by-step guide to filing for an uncontested divorce in North Carolina:
Check whether you qualify—You are eligible for an uncontested divorce in NC if you or your spouse has been a resident of the state for at least six months before petitioning. You also have to agree on the following major issues:

Child custody and support

Prepare the paperwork—Uncontested papers you need to start the process include:

Domestic Civil Action Cover Sheet (Form AOC-CV-750)
Civil Summons (Form AOC-CV-100)
Servicemembers Civil Relief Act Affidavit (Form AOC-G-250)

File the forms—File the necessary forms with the court at your local clerk's office
Serve your spouse—You can serve divorce papers to your spouse by having a sheriff or someone older than 18 deliver them. You can also send them via certified mail
Make a settlement agreement—Once you and your spouse reach an agreement on the most important matters, you should put the terms you agreed on in a divorce settlement agreement. Sign up for DoNotPay to get this binding document drafted within minutes
Request a hearing—In North Carolina, there's a 30-day waiting period. Once it passes, the court will schedule a hearing. Here are the documents you need to submit to finalize your divorce:

Judgment for Absolute Divorce
Certificate for Absolute Divorce
Divorce Settlement Agreement and Property Settlement Contract
Parenting Plan (if you have children together)
Speed Up Your Divorce Process Using DoNotPay
A good divorce settlement agreement should comply with the state requirements and contain the information specific to your case. Wondering how to create such a document? With DoNotPay, it's as easy as ABC!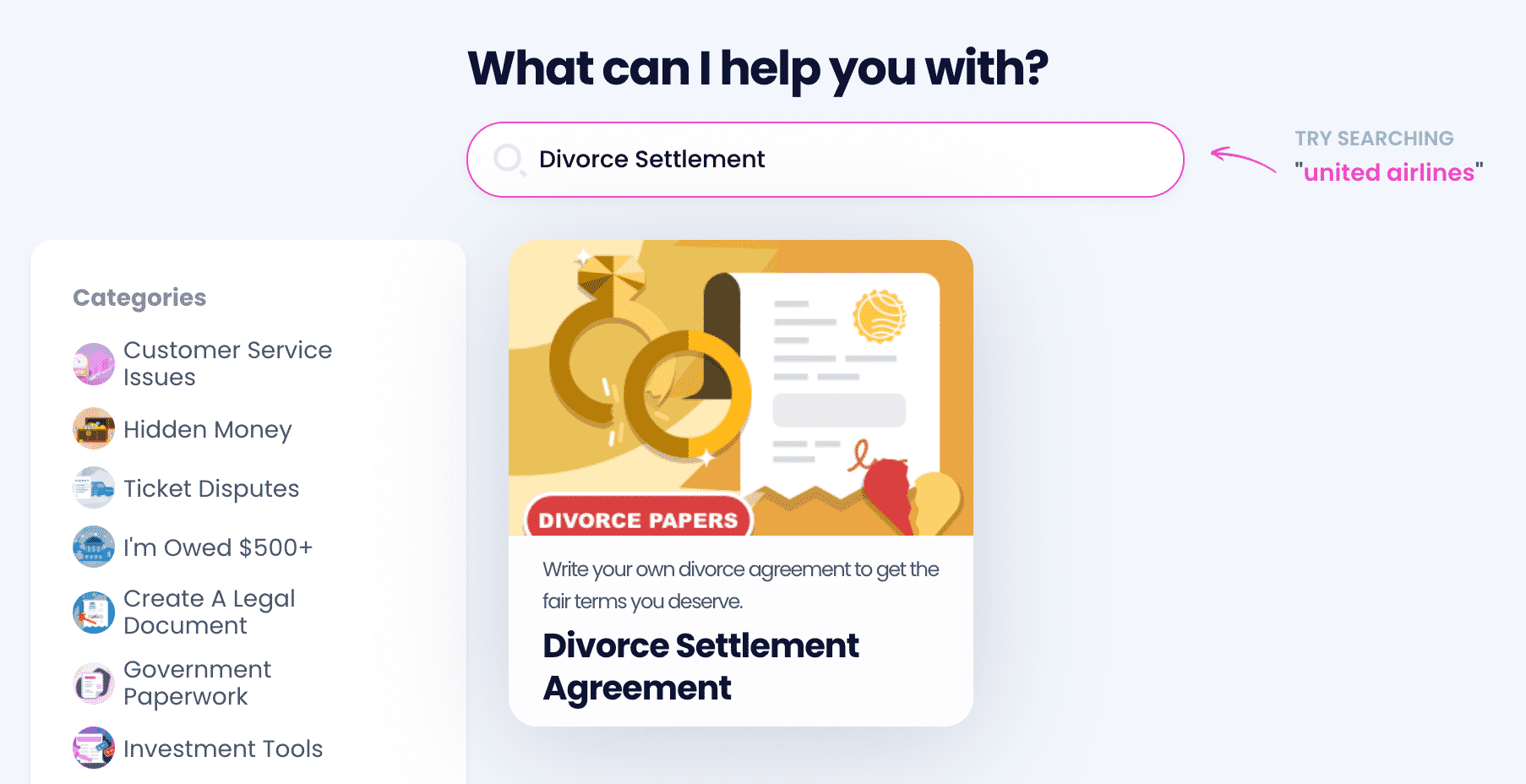 Here's everything you need to do:
Choose the Divorce Settlement Agreement tool
Answer our chatbot's questions
Notify us if you need a notary
With our custom-made divorce settlement agreement, you'll be able to finalize your divorce in no time!
Is there anything else you might need help with? Visit our knowledge base to get answers to other divorce-related questions, such as:
DoNotPay Is Righting Wrongs Left and Right
DoNotPay is a platform that puts its subscribers' safety in the first place. We can keep you safe from sex offenders, stalking, and harassment. In case you're a victim of a crime, we can help you get compensation.
Fight for discrimination at your workplace with the world's first robot lawyer or sue any company or person in small courts if you feel like you've been wronged.
Is There Anything DoNotPay Can't Do?
The short answer is no, and the list of our AI-based app's features keeps growing by the day. We offer professional assistance with issues that no other platform can help you with. Sign up now and: