How Much Does a Divorce Cost in Louisiana? DoNotPay Knows
Everybody knows that divorces are painful and stressful, but ending a marriage can also cost you a lot. If you're considering a divorce in Louisiana, you should get all the details regarding marriage dissolution before you file for one.
How much does a divorce cost in Louisiana? DoNotPay will answer this and any other divorce-related question you might have in this article!
Divorce in Louisiana—Average Cost
The cost of your divorce in Louisiana depends on many factors, but the most important one is the type of divorce you file for.
If your divorce is contested, it will cost more due to high attorney fees and multiple court hearings. A contested divorce suggests that you and your spouse can't agree on the terms of your divorce, so a judge has to decide on your behalf.
Listed below is the average cost of a contested divorce in Louisiana:
Without underage children—$12,600
With underage children—$18,900
You and your spouse can reduce the cost of your divorce if you opt for an uncontested one. This type doesn't require you to hire a lawyer or attend court hearings—it implies you and your spouse agree on all terms of your divorce, including:
Another method of reducing the cost of divorce in Louisiana is to get a collaborative one.
This type of marriage dissolution is a way to reach an out-of-court divorce settlement. It implies that the spouses will negotiate the terms of their divorce with their lawyers present.
Note that, even though it is much cheaper than litigation, a collaborative divorce imposes additional expenses. It typically involves a team of financial and divorce specialists who may charge significant fees for their services.
Why Is Getting an Uncontested Divorce the Cheapest Option?
An uncontested divorce is known as a low-cost divorce since it imposes modest expenses—compared to other types of divorces. Consult the table below for further clarification:
| Expenses in an Uncontested Divorce | Explanation |
| --- | --- |
| Covering the court filing fees | In an uncontested divorce, you typically only need to pay the fee for filing the divorce papers with the court |
| Serving divorce papers | You can hand-deliver the papers to your spouse in Louisiana. Another option is to deliver the papers via certified mail or by hiring a sheriff's deputy. Note that it will cost you more if you decide to hire a professional server |
| Attending mediation | You should attend mediation if you and your spouse can't agree on all the terms of your divorce. It is a process that enables you to reach a mutually acceptable agreement via negotiations guided by a neutral third party |
How To Get a Cheap Divorce in Louisiana
The steps to filing for friendly divorce in Louisiana are as follows:
Check whether you meet the residency requirements
Draw up a divorce settlement agreement
Obtain and fill out all the necessary divorce forms
File your divorce papers
Serve your spouse
Attend the final hearing
Meeting the Residency Requirements
To meet the residency requirements in Louisiana, you need to have lived in the state for at least six months before you file for divorce.
Creating a Divorce Settlement Agreement
A marital settlement agreement is one of the crucial uncontested divorce papers—it outlines all the terms of your divorce.
You can obtain it via a lawyer or an online divorce service, but both options are impractical. Having a lawyer draft this document could cost you a small fortune, and getting it via an unreliable online service is risky.
You can also create your divorce settlement agreement by signing up for DoNotPay. We will provide you with a professionally written document that will conform to Louisiana laws.
Obtaining and Filling Out the Required Paperwork
The forms you need for your Louisiana divorce vary from one county to another, but the basic ones are:
Petition for Divorce
Summons
Acceptance of Service
Judgment of Divorce
Motion for Preliminary Default
Child Support Worksheet and Parenting Plan (if you have underage children)
Affidavit of Correctness in Lieu of Testimony
Motion for Confirmation of Divorce Judgment of Default Without a Hearing
These forms are available on the Louisiana court website or at your local county clerk's office.
Filing the Divorce Papers
After you gather and fill out all the necessary paperwork, you should file it with a county clerk's office.
The filing fee ranges from $250 to $400. If you can't afford to pay the fee, you can request a fee waiver.
Serving the Divorce Papers
The sheriff or a process server will personally deliver the summons and petition to your spouse for signing. If your spouse decides to waive the service, you can deliver the papers yourself and have them sign the waiver of service form—which you will have to file with the court.
Attending the Final Hearing
If the terms of your divorce are fair and compliant with Louisiana law, the judge will approve and finalize your divorce. Note that you'll need to honor the mandatory waiting period of 180 days (365 days if you have minor children) before your divorce can be finalized.
Get a Cost-Effective Divorce Settlement Agreement With DoNotPay's Help
Do you and your spouse agree on everything regarding your divorce terms and want to save even more money on your divorce? You should register for DoNotPay and create a marital settlement agreement with our help. Our platform can draft a professional and completely customized divorce settlement agreement at an affordable price.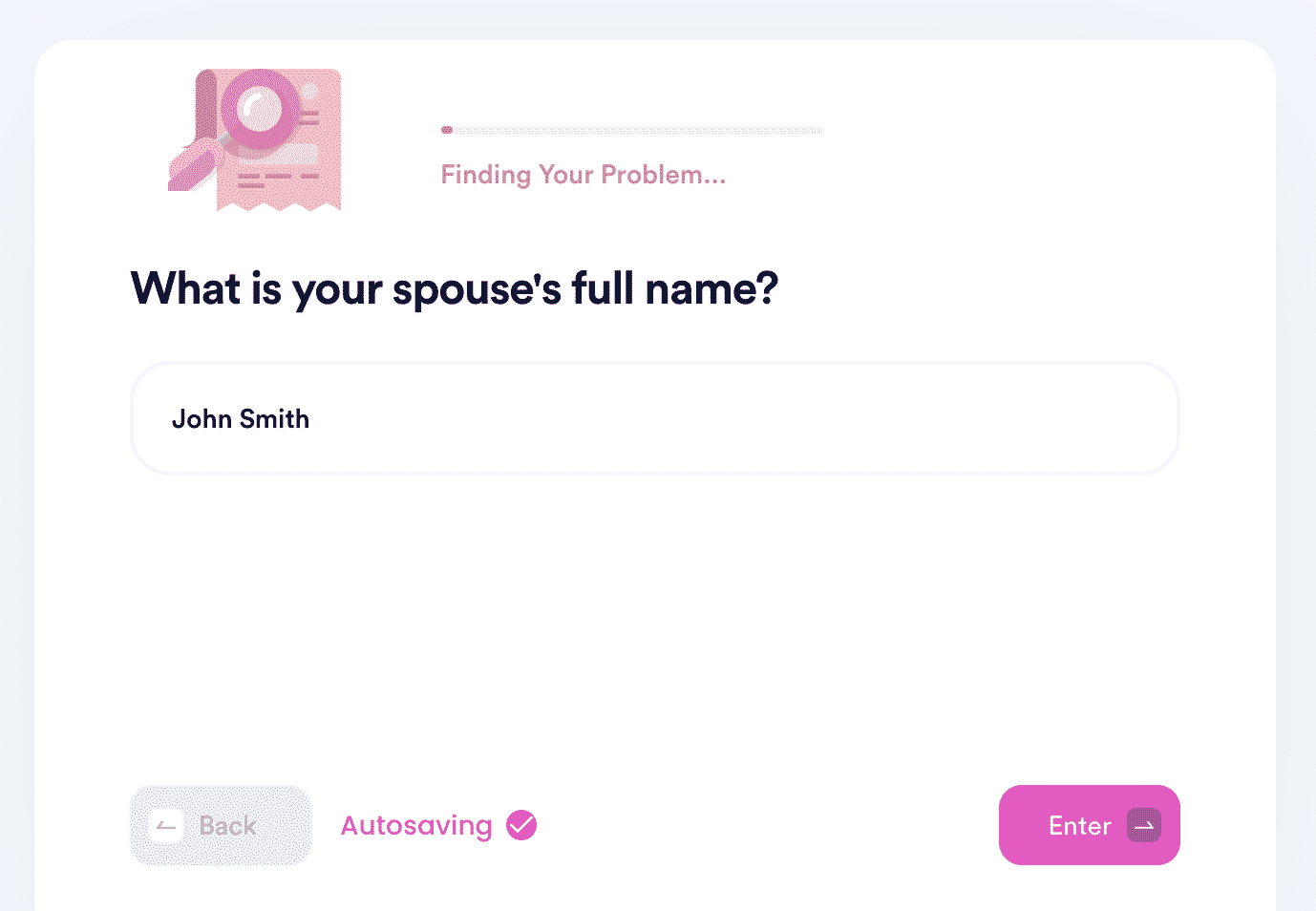 The steps you need to follow are listed below:
Select the Divorce Settlement Agreement tool
Complete a questionnaire
Tell us if you need a notary
DoNotPay will draw up a divorce settlement agreement and send it to you immediately. You and your spouse should sign it and get it notarized. You won't have to visit a notary in Louisiana in person—DoNotPay will find an online notary and help you make an appointment at your earliest convenience!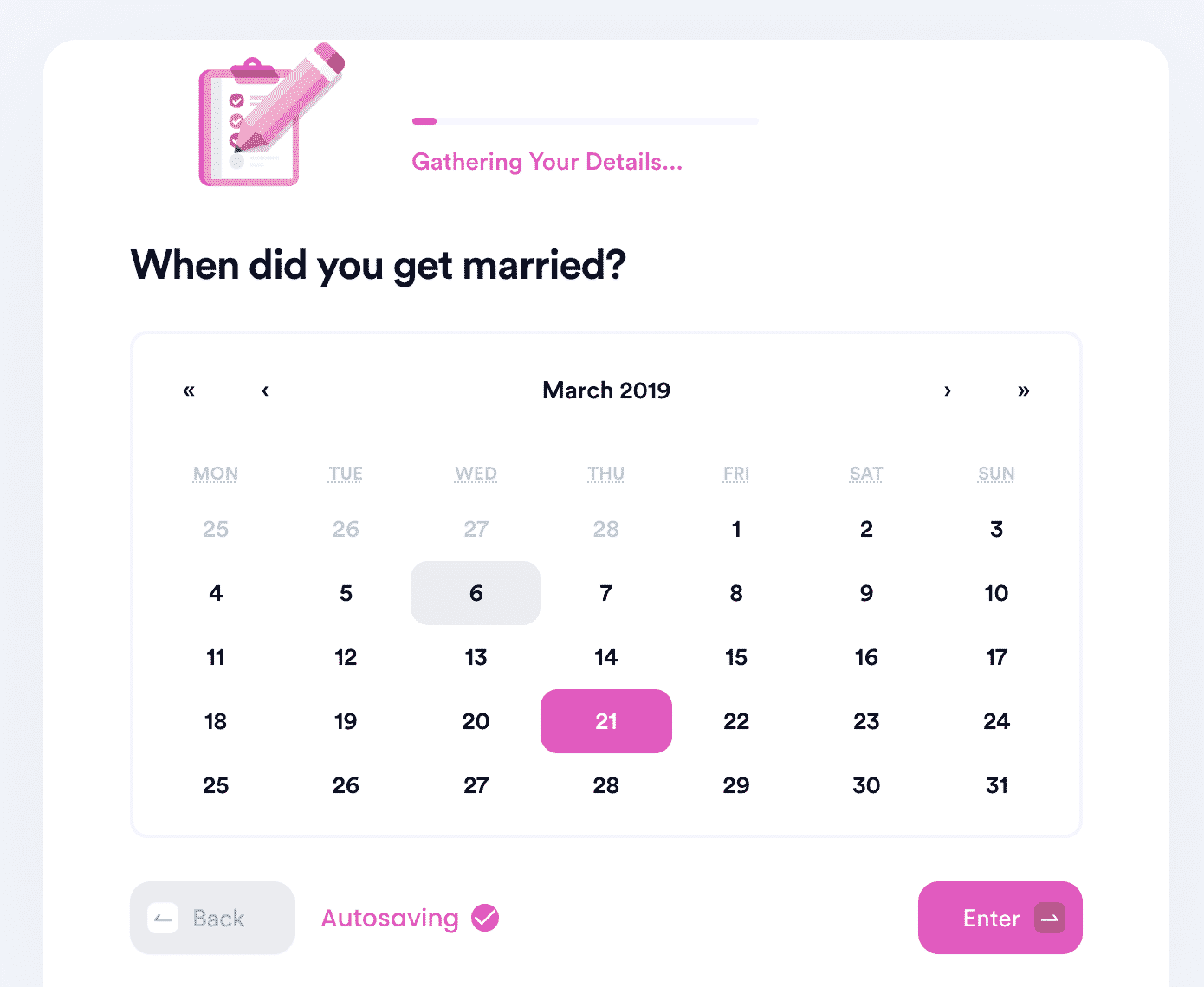 Save Time With DoNotPay
DoNotPay is not done helping you! We offer you assistance in completing a variety of tasks quickly and efficiently, such as:
Canceling Subscriptions Has Never Been Easier!
If you keep getting charged a monthly subscription fee even though you no longer want to use a certain service, don't let your money go to waste! Some companies tend to renew your subscription automatically, but that doesn't mean you have to put up with it—use our app to terminate your membership or subscription in a few clicks!
Do you want to sign up for free trials and create a virtual credit card or a burner phone number to protect your sensitive info? Once you subscribe to DoNotPay, we will walk you through the process of doing all of the above in no time!
You can also count on our assistance if you need to get rid of spam or robocalls.