How Much Does a Divorce Cost in Las Vegas? Find Out!
While Las Vegas is the most popular place for eloping, Nevada carries the title of the "divorce capital of the world." Whether you tied the knot too fast or other unsolvable problems ruined the marriage, you probably want to know all about divorce in Nevada's most famous city. DoNotPay has the deets on the whole process—from gathering divorce papers to reaching a settlement.
How much does a divorce cost in Las Vegas? Discover the answer to this and other questions about the matter in this article!
Are You Eligible for a Divorce in Las Vegas, Nevada?
Before you start calculating the expenses, check whether you can petition for divorce in the first place.
Nevada is a no-fault state, so you don't have to blame the other party for the marriage dissolution. You can get a divorce in Las Vegas based on one of the following reasons:
Incompatibility
A separation that has lasted for at least one year before petitioning
Legal insanity (of one of the spouses) that has lasted for at least two years before filing for divorce
You are eligible for a divorce in Nevada if you or your spouse lived there for at least six months of filing a divorce petition.
How Much Are Basic Divorce Fees in Las Vegas, Nevada?
Nevada (as any other state) sets the mandatory filing fees, but they can differ within the state. To file a petition for divorce in Las Vegas, you have to pay between $300 and $500. There might be other fees included, such as those for finalizing a decree of divorce or judgment of divorce.
You can expect some other expenses regarding the divorce papers, such as:
The Average Cost of a Divorce in Las Vegas
According to a study by the 24/7 Wall St. website, the average cost of a divorce in Nevada is $13,700 or $20,600 for marriages with children. It is the 14th highest amount out of 50 states in America.
How Much a Divorce in Nevada Costs—Which Factors Affect It?
How much your divorce in Nevada is going to cost depends on several aspects. Here's a brief explanation of the factors that influence the overall expenses:
Factors
Explanation
Divorce type
What makes the biggest difference in the cost of a divorce is the type of proceeding. Nevada recognizes two types:

Formal or contested proceedings
Summary or uncontested divorces

If you're eligible for an uncontested divorce, you don't even need a lawyer. This will minimize your expenses significantly

Custody battles
Disputes that involve children are much more difficult to resolve. If you and your spouse cannot agree on custody, child support, and parenting plan, you should prepare for much higher legal fees.

Besides that, the court might appoint a guardian to watch your children during the case, which will increase your expenses. You may even need to pay for your children's psychiatric examinations

Marital assets
Marital property affects the complexity of your divorce. The more joint assets you have, the more complicated the process is going to be. You might have to hire a financial professional and a real estate appraiser to help you divide the property
Divorce method
The cost of divorce also depends on the process. Here are the most common methods, rated from the most expensive to the cheapest:

Litigation
Collaborative divorce
DIY divorce
How To Get a Cheap Divorce in Las Vegas
Most of the expenses in divorce come from unresolved issues between the spouses. Resolving disputes requires hiring professionals, which can be expensive. If you and your spouse can negotiate terms of marriage dissolution among yourselves, you can get divorced without lawyers.
To qualify for an uncontested divorce in Las Vegas, you and your wife or husband have to meet all of the following requirements:
Both of you agreed to a divorce
You are incompatible or have lived separately for at least one year
You don't have children under 18 years old, or you have settled on child custody and support
There is no joint property, or you have decided how to divide it
Both of you waive your right to alimony, or you have agreed to a certain amount and a payment method
You and your spouse waive the right to a formal proceeding
To finalize your friendly divorce, you need to submit a settlement agreement for a judge to review it. to get this legal document carefully written by the world's first robot lawyer!
DoNotPay Is Your Money-Saving Ally During the Divorce Process
Ending a marriage costs enough already—you shouldn't waste more money on having a lawyer draft uncontested divorce documents for you. Use DoNotPay to get an ironclad settlement agreement and complete your divorce swimmingly!
The process is straightforward— and follow these instructions:
Find the Divorce Settlement Agreement tool
Provide some details about your marriage
Submit info about your assets and how you intend to allocate them
Specify whether you need a notary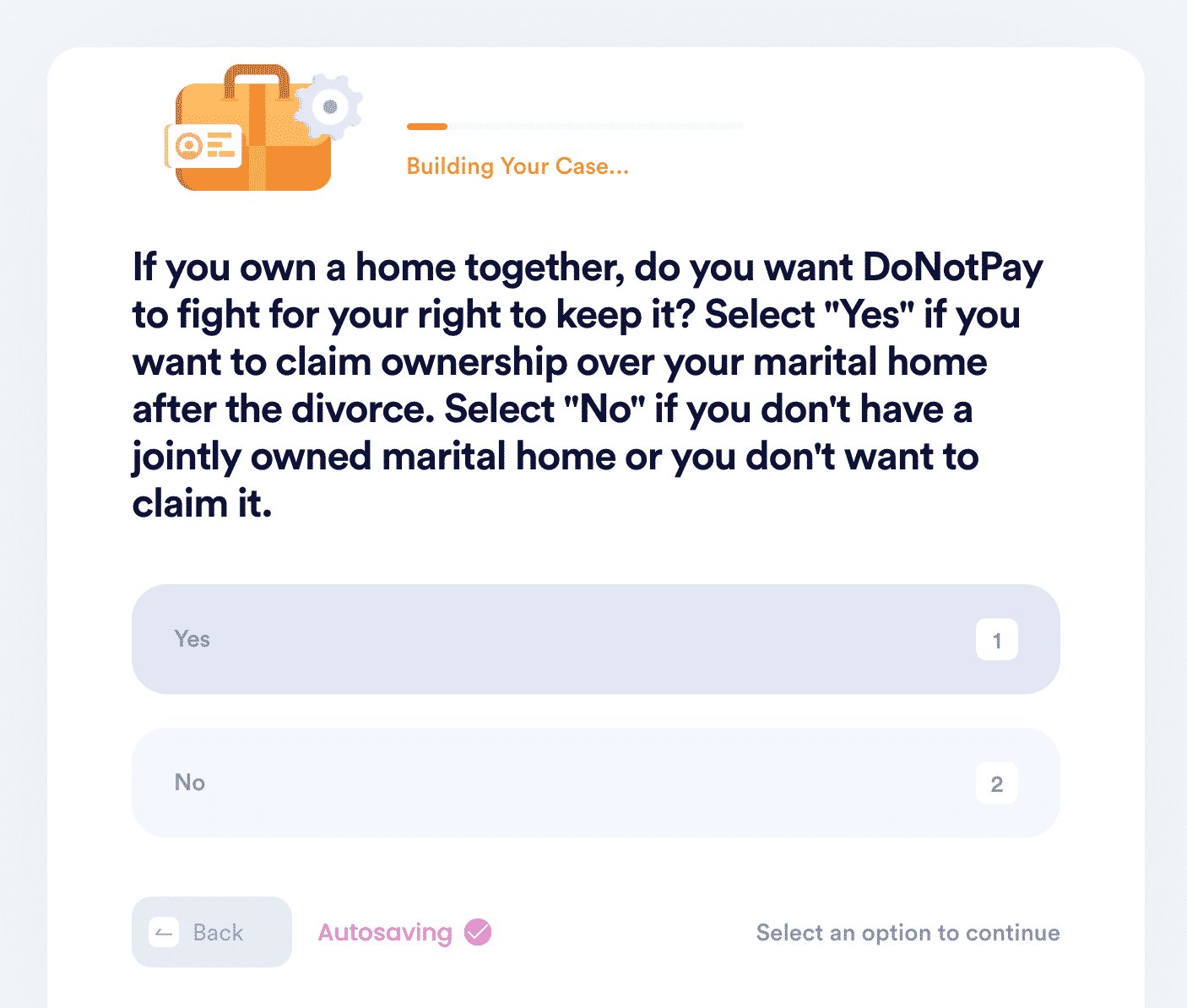 We'll draw up a divorce settlement agreement that abides by your state regulations and covers the information you provided.
DoNotPay has other useful information for you! Find out:
DoNotPay Can Help You With Almost Anything
DoNotPay's goal is to have a multitude of features that can be useful to you with handling various issues. Whether you want to apply for clinical trials, prepare for government tests, or even get in touch with your locked-up friends or family—DoNotPay has got you covered!
For a small yearly fee, our AI-based app will help you:
Want To Save and Earn Money at Once? Subscribe to DoNotPay
DoNotPay can help you earn and save a buck or two. We'll assist you in reducing your property taxes, canceling any unused subscriptions, and signing up for free trials with our virtual credit card.
As if that wasn't enough, we'll save you money and spare you from a headache if you receive any faulty deliveries by filing a refund or an item return request in your stead! This is just the tip of the iceberg of features that DoNotPay has in store for you.