How Much Does a Divorce Cost in Indiana? DoNotPay Provides All the Answers
If you're planning to file for divorce, you need to have answers to all your questions to avoid making any mistakes—where should you start, how long does the process last, or how much does it cost?
No need to ask yourself, "How much does a divorce cost in Indiana?" for too long—DoNotPay can provide definitive answers regarding the financial expenses that come with getting a divorce in Indiana.
We can also provide tips and tricks for:
Requirements To File for Divorce in Indiana
You need to meet one of the following requirements to file for divorce in Indiana:
You or your spouse must be residents or living in the state for at least six months before filing for divorce
One of you has been stationed in Indiana as a member of the armed forces for the last six months
Indiana is a no-fault divorce state, so you don't need to provide a reason for the divorce other than irreconcilable differences.
Cost of an Uncontested Divorce in Indiana
In an uncontested or friendly divorce, both spouses agree on the divorce terms and conditions, making the process easier, quicker, and less stressful.
Filing for an uncontested divorce in Indiana costs approximately $4,000 if you hire a lawyer to draw up your paperwork:
| | |
| --- | --- |
| Procedure | Cost |
| Filing a divorce petition with the County Clerk's office | $180 |
| Serving the divorce papers | $28 |
| Attorney fees | $175–$270 per hour |
Costs can vary depending on the county where you file for divorce.
Cost of a Contested Divorce in Indiana
In a contested divorce, spouses disagree on the key divorce matters, such as child support, spousal support, and property division, and need to get lawyers, making the process much more expensive.
On average, a contested divorce costs approximately $13,000. If you're filing for one, you have to pay the following fees:
| | |
| --- | --- |
| Type of Fee | Amount |
| Filing the petition | $180 |
| Process server | $28 |
| Attorney fees | $175–$270 per hour |
| Mediator fees | $300–$400 |
| Parenting classes | $50–$100 |
Other costs vary from case to case and can include the following:
Document preparation fees
Child custody evaluation fees
Expert witness compensation
Home appraiser fees in case of property division
Financial advisor fees
Can You Get a Free Divorce in Indiana?
You can get a free divorce if you and your spouse opt for an uncontested one without any lawyers, paid alternative services, or court visits. You can also waive the divorce filing fee if you can prove to the court that you cannot afford to pay it. To do that, you need to take the following steps:
Fill out the Indiana Verified Motion for Fee Waiver form
Gather documents confirming your unemployment or inability to pay the fee
Present the documents in court
If your evidence holds up, you will be able to avoid the filing fee.
How Much Does a Divorce in Indiana Cost With a Lawyer?
If you and your spouse are unable to reach an agreement, you might need to hire a mediator to settle the dispute, increasing both the time and cost of the divorce process. In case hiring one doesn't work out, you have no option but to hire a lawyer.
On average, a lawyer charges between $175 to $270 per hour in Indiana, but it can be higher or lower depending on the following factors:
The law firm you choose
The amount of time the lawyer invests in your process
The fee they charge to prepare a divorce settlement agreement
Before you hire a lawyer, have an initial meeting with them to discuss their charges and confirm whether they are the right fit for you.
You don't need to hire a lawyer to prepare the divorce papers if you opt for an uncontested divorce—you can do it yourself! If you don't know how to make legal documents, we're here to help! and get a customized divorce settlement agreement in the blink of an eye!
DoNotPay Provides a Divorce Settlement Agreement Without a Hassle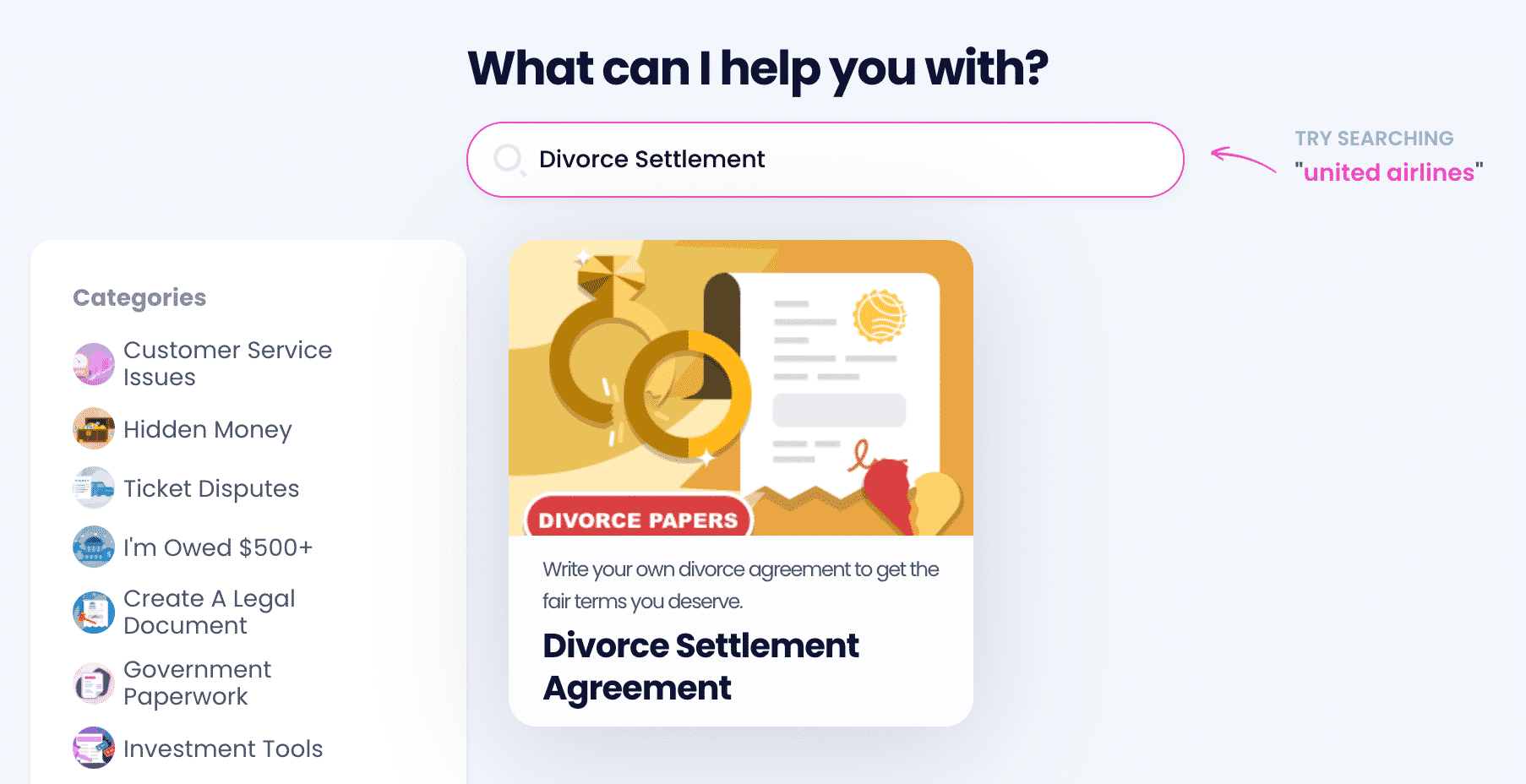 When filing for an uncontested divorce, you can reduce the cost significantly by carrying out the following tasks yourself:
Gathering the divorce papers
Paying the court filing fee
Creating the divorce settlement agreement
A divorce settlement agreement lays out all the divorce-related terms and conditions and must fulfill all state requirements. Skip the headache of learning legal jargon and use DoNotPay to create the document by following these steps:
in your web browser
Type Divorce Settlement Agreement in the search bar
Provide details to our chatbot to personalize the agreement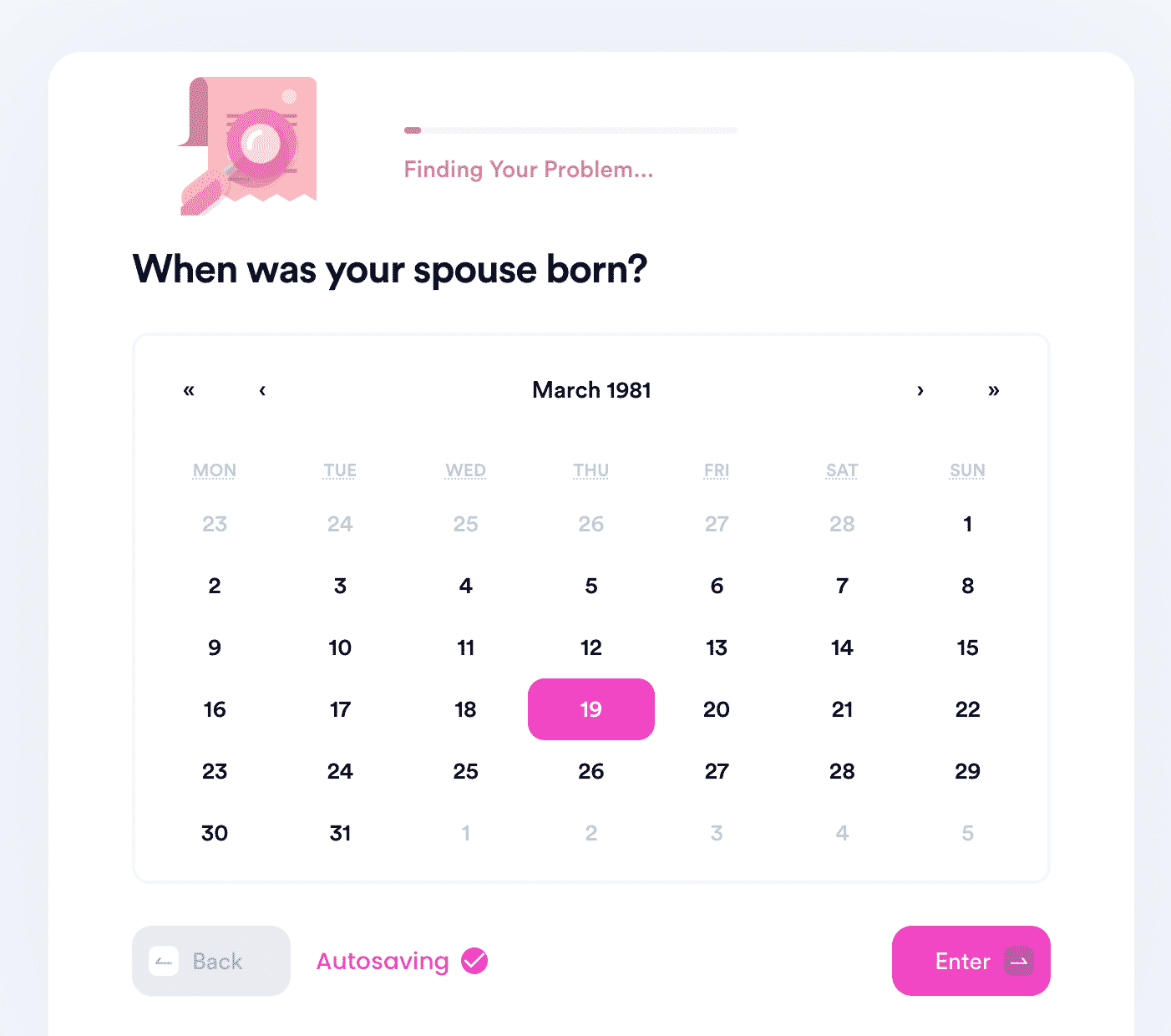 Our AI-powered app will take all required info into account to generate a customized legal document. If you want to get it notarized, all you need to do is inform us during the process. DoNotPay's Notarize Any Document feature will connect you to an online notary at any time of the day!
Tackle Any Legal Task With Our Lawyer App Like a Pro!
Why bother with tedious legal tasks on your own when you can let DoNotPay cut your work in half? No more worrying about how to draft legal documents or sue a company in small claims court—we'll guide you through it effortlessly!
There is no shortage of tasks our Al-powered app can help you with. Once you sign up, you'll learn how to:
Fight Scammers in a Few Clicks!
Is your phone buzzing incessantly, and you can't take it any longer? Use DoNotPay to stop annoying robocalls and fight scammers with ease!
Having a company spam you with unwanted emails about their products isn't uncommon, but that doesn't mean you have to put up with it. DoNotPay helps you create a burner phone number, fight email spam, and stop spam text messages in a snap!
You can also find our features super useful when requesting a refund, filing insurance claims, and locating your missing USPS, UPS, or other parcels.