How Much Does a Divorce Cost in Illinois? We Have All the Deets
Going through a divorce can be a dreadful experience, both emotionally and financially. If you live in the Prairie State and you want to know, "How much does a divorce cost in Illinois?" you're in the right place. DoNotPay has answers to all your questions, including how to create a divorce settlement agreement in a flash.
What Is the Average Cost of Divorce in Illinois?
The average cost of divorce in Illinois is $13,800. When you include child custody and support, alimony, and property division, a divorce can cost you a staggering $35,300.
The cost of a divorce mainly depends on the duration and complexity of the process. The price will also depend on the type of divorce you opt for:
Contested
Uncontested
The Cost of a Contested Divorce in Illinois
A contested divorce involves lawyers and numerous court hearings. This type of process is necessary when you and your spouse can't or won't agree on the terms of your divorce, and the judge needs to decide on your behalf.
A contested divorce will cost you an arm and a leg because of all the court and lawyer fees you need to cover. The following factors affect the cost of contested divorces:
Children—If you have children, you can end up paying around $20,700 for your divorce in Illinois since disputes over child support and custody can complicate your case further
Alimony—The cost of your divorce can increase by up to $19,100 on average if you start an alimony battle
The division of assets—If your income is high, you'll have a high-cost divorce. When multiple assets are involved in a divorce, the prices can skyrocket (usually around $19,400)
Attorney's hourly rates—Illinois lawyers charge an average hourly fee of $260
Other divorce-related fees—You can expect to pay for the following:

Fees for paralegals
Legal staff
Court filings
Expert witnesses
Financial analysts
Appraisers
Professional child custody evaluations
Uncontested Divorce in Illinois—Cost
Getting an uncontested divorce in Illinois is a cheaper and simpler option than a contested one, especially if you decide to avoid hiring lawyers. If you and your spouse can agree on all terms of the divorce before filing for it, you will be able to avoid court hearings, and you can expect to pay only the following fees:
| Fee | Average Amount |
| --- | --- |
| Filing fee (varies from county to county) | $289 |
| Responding to divorce petition | $225 |
| Serving the divorce papers | $75 |
| Transcript fee | $50 |
| State-required online seminar about children | $25 |
How To Reduce the Cost of Divorce in Illinois
You can lower your divorce costs in Illinois by opting for an uncontested divorce and avoiding lawyers. Engaging a lawyer to get divorced isn't necessary if you and your partner can agree on every aspect of the divorce.
Hiring a mediator can be beneficial for you and your spouse if you need help reaching an agreement but would like to dodge lawyers and courts. An IL mediator will help you negotiate all the terms of your divorce effortlessly so that you can achieve a friendly divorce
How To File for a Cheap Divorce in Illinois
To file for a no-fault, uncontested dissolution of marriage, you need to have lived in Illinois for at least 90 days. You and your spouse also need to have been separated for at least two years. To start your divorce process, follow these steps:
Collect and file all the paperwork
Pay any incurring fees
Serve your spouse
Create a divorce settlement agreement
Collecting and Filing All the Necessary Paperwork
The most important form that you need to file is the Petition for Dissolution of Marriage. You can find that one and other divorce forms on the Illinois Supreme Court website. Check with your county if they require any additional forms. For example, Cook County requires you to obtain and file the following forms:
Domestic Relations Cover Sheet
Petition for Dissolution of Marriage—four copies
Summons—four copies
Affidavit of Service
Certificate of Dissolution
If you have children, you'll need to file these forms as well:
Joint Parenting Agreement
Visitation Form
Uniform Order of Support (in child support cases)
Paying the Filing Fees
You'll need to pay the filing fees at the county clerk's office, but if you don't have enough money, you can request a fee waiver.
Serving the Divorce Papers
You can have your divorce papers served by a professional server or the sheriff's office.
Creating a Divorce Settlement Agreement
A divorce settlement agreement is a crucial document in an uncontested divorce as it spells out all the terms of your divorce, such as child support, maintenance, visitation, division of property, and similar. You can find many templates online, but keep in mind that they won't be personalized to your case, so you may not get exactly what you need. There's also a risk that the court won't accept them.
You can have a lawyer draw up your divorce settlement agreement, but this won't help you reduce the costs of your divorce.
If you want to save money and time in your divorce process, you should subscribe to DoNotPay and let us create a perfect divorce settlement agreement.
Have DoNotPay Draft Your Divorce Settlement Agreement Effortlessly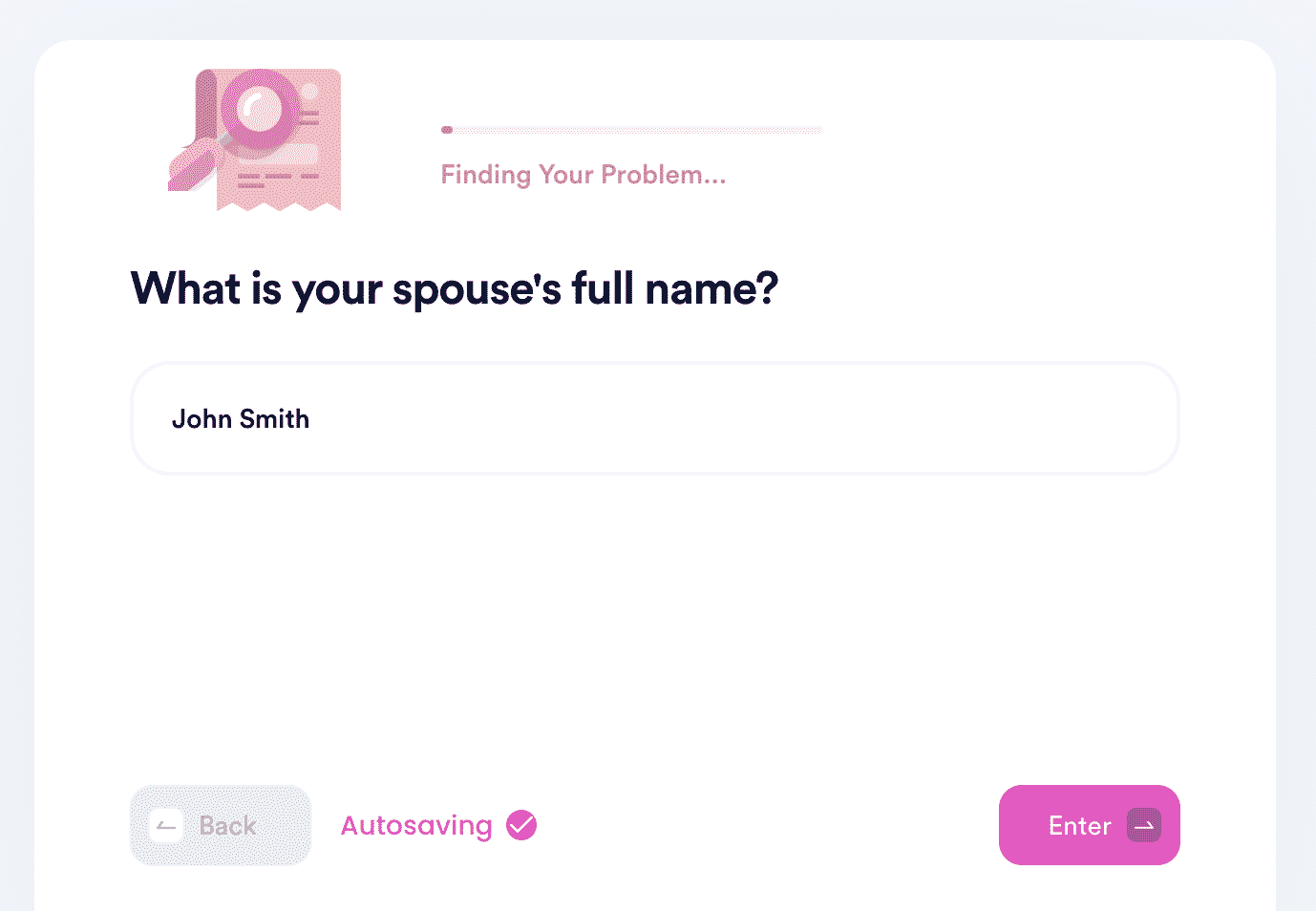 If you don't want to download risky online templates and spend a small fortune on a lawyer to create a divorce settlement agreement, register for DoNotPay and have your document ready in minutes! Follow the instructions below to create your divorce settlement agreement:
Open our Divorce Settlement Agreement product
Answer a few questions
Indicate whether you need DoNotPay to book an appointment with an online notary in Illinois so you can get your document notarized remotely
We will generate a fully personalized divorce settlement agreement that you should sign with your spouse to make it legally binding.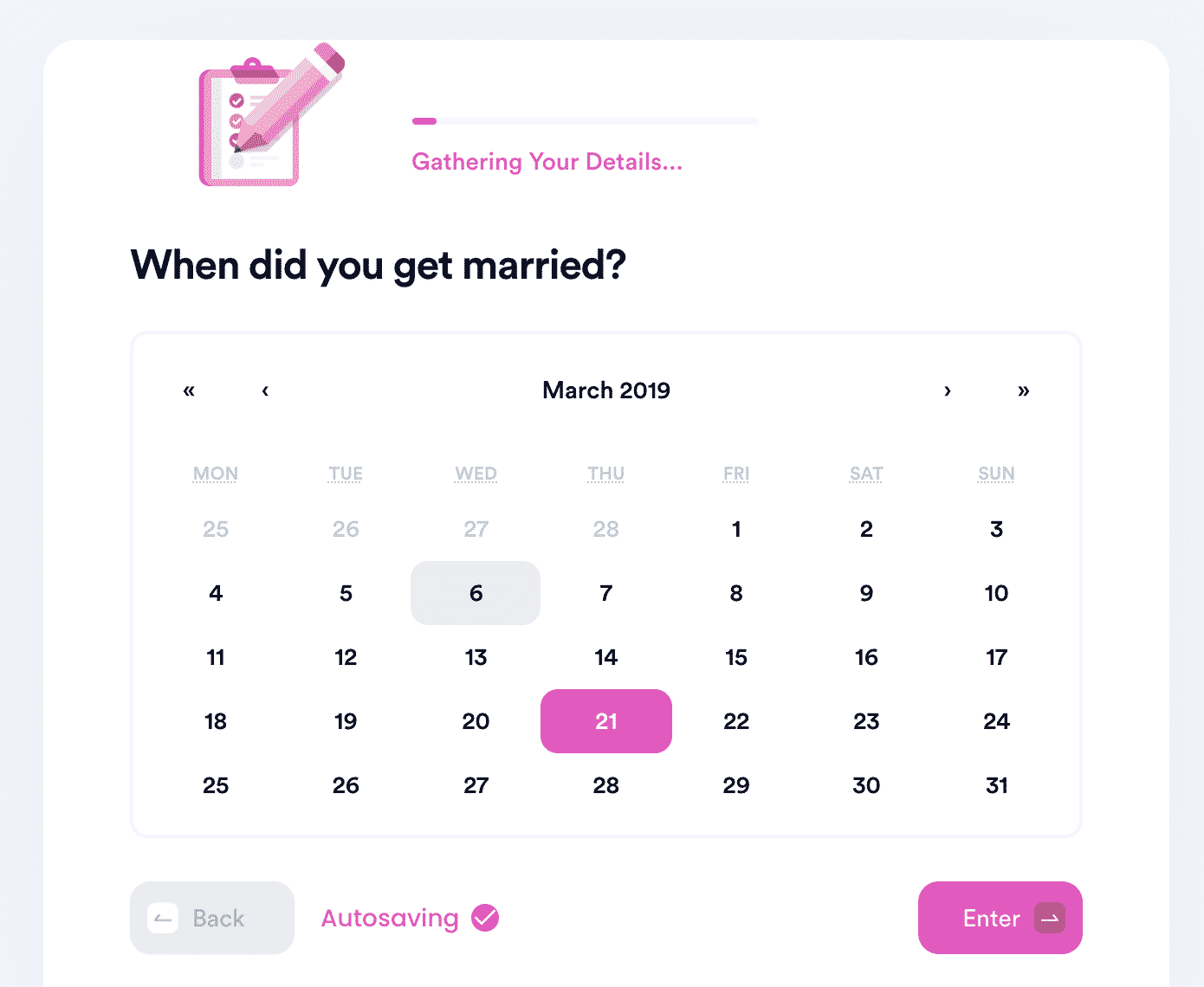 With DoNotPay, you can find out more about divorce in any of the following IL counties:
Tackling Administrative Issues Has Never Been Easier
DoNotPay was created to help you deal with burdensome everyday tasks you would rather skip. The features we offer will make sure you can:
Dealing With Legal or Security Issues? DoNotPay Will Make Them Go Away
Has a company refused to issue a refund you are entitled to? Sue it in small claims court and get your money back with the help of the world's first robot lawyer! You can also turn to us if you want to protect your work from copyright violation, prevent stalking or harassment, or get virtual credit cards to avoid disclosing your credit card info.
Besides assisting you in seeking justice and security, DoNotPay can help you arrange DMV appointments, contest parking tickets, prepare divorce settlement agreements, and compose various legal documents.