How Much Does a Divorce Cost in Florida? It Depends on a Few Factors!
When deciding to end your marriage, you need to factor in numerous elements of the divorce process. To protect yourself in a divorce, you should get to know state laws, filing procedures, and necessary divorce papers and prepare the budget.
How much does a divorce cost in Florida? DoNotPay provides the answer and assistance with the required documentation!
How Much Does It Cost To File for Divorce in Florida?
State laws require you to pay a fee when filing for divorce. While the filing fee for divorce in Florida depends on the county—e.g., Lee, Seminole, Volusia, Osceola, or Palm Beach—it typically goes between $350 and $430. You can check the precise amount on your county court clerk's website.
If you cannot afford to pay the required fee, you can apply for a waiver. In that case, you will need to complete an Application for Determination of Civil Indigent Status and might need to:
Provide additional documents confirming your financial situation
Wait for the court to review your application
Keep in mind that you might need to settle additional fees, e.g., for having your spouse served with the divorce papers.
Florida Divorce—Cost of the Proceedings
The average cost of divorce in Florida is:
$13,500 for a divorce without children
$20,300 for a divorce with children
While the above-listed are the average costs, you need to know that the actual amount varies from case to case.
A Florida divorce cost can go from a few hundred dollars to more than $100,000, depending on whether you:
Factors That Influence Divorce Costs in Florida—Detailed Information
The following table provides additional information on the factors that affect the duration and total cost of divorce in Florida:
Factors To Consider
Additional Info
Children
The cost of a divorce in Florida can increase if you and your spouse have minor children and cannot agree on parenting plans during the divorce
Assets
If your property is significant and you and your spouse dispute over the division, the procedure will be longer and more expensive. In that case, you'll probably need to hire a lawyer to protect your interests
Legal services
Since hiring a lawyer can drive up the divorce cost in Florida, you should check their:

Hourly or flat rate

If you choose an uncontested divorce, you can:

Type of divorce
You can finalize a low-cost, easy, and quick divorce procedure if you:

It means you first need to reach an out-of-court agreement with your spouse on all divorce matters, including:
Once you and your spouse agree on all relevant aspects, you should list them in a divorce settlement agreement. Keep in mind that you should prepare this document carefully because it'll become the basis of your post-divorce life once the judge signs it.
Need Help Creating a Divorce Settlement Agreement?
As you need to file a divorce settlement agreement—together with other uncontested divorce papers—with the court for review, you need to ensure it complies with all state and local requirements.
Here are some options that can help you draw up this document:
Get a lawyer—While experienced attorneys can prepare all the necessary divorce documentation, you need to be careful about their fees. Since this type of service can cost an arm and a leg, it'll increase the total cost of your divorce
Check out online divorce services—You could use online templates to create a divorce settlement agreement and some additional documents. Keep in mind that some templates are generic and don't take state laws into account
Register for DoNotPay—Our app can help you create a reliable and affordable divorce settlement agreement in a flash!
Use DoNotPay To Prepare a Trustworthy Divorce Settlement Agreement
Our AI-powered app scans state and county requirements to ensure your divorce settlement agreement meets them. We will also take your specific situation into account and personalize the document according to your needs.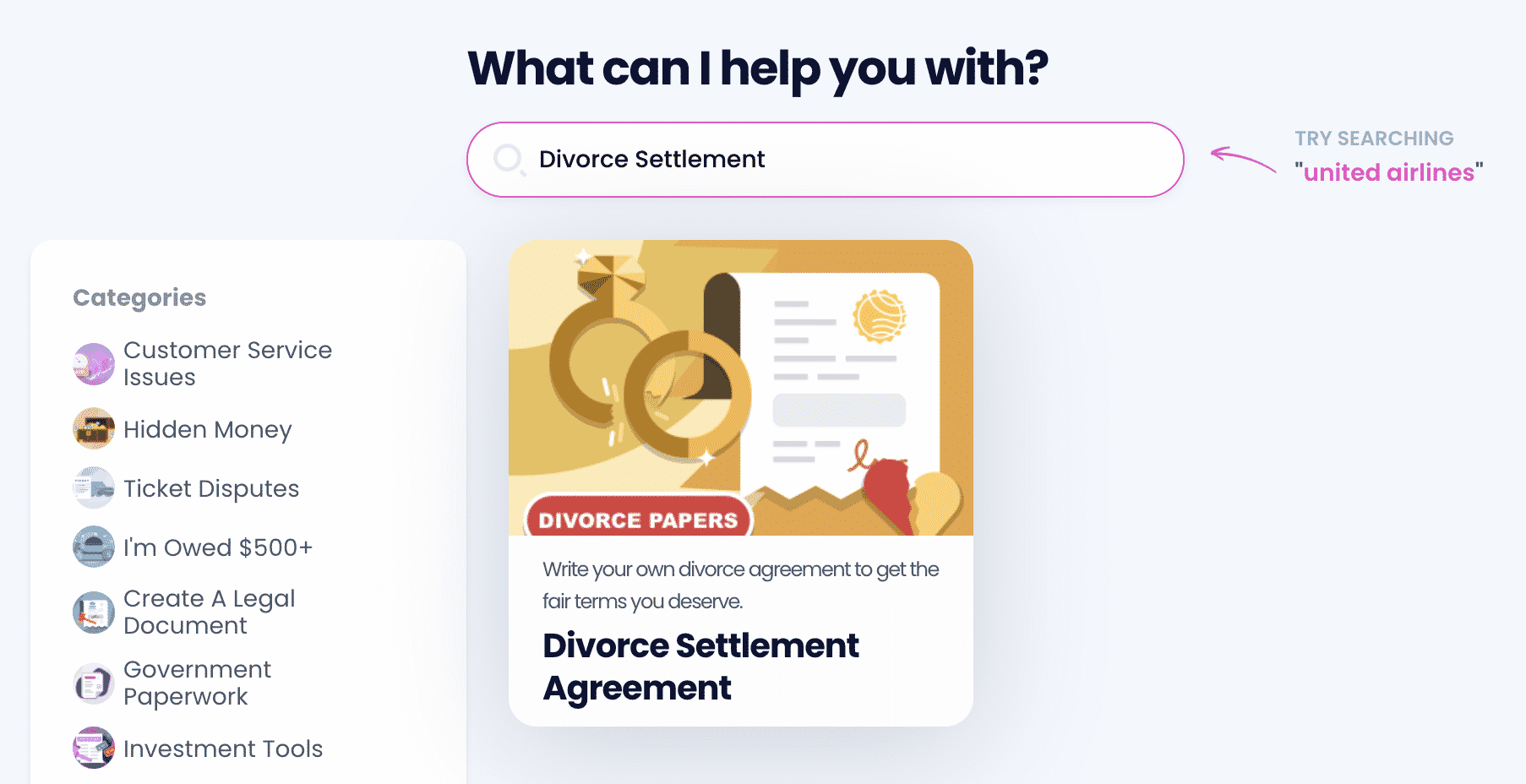 To receive a rock-solid agreement, subscribe to DoNotPay and complete these steps:
Select the Divorce Settlement Agreement product
Provide answers to our chatbot's questions about your income, property, children, and debts
Choose if you'd like to get the document notarized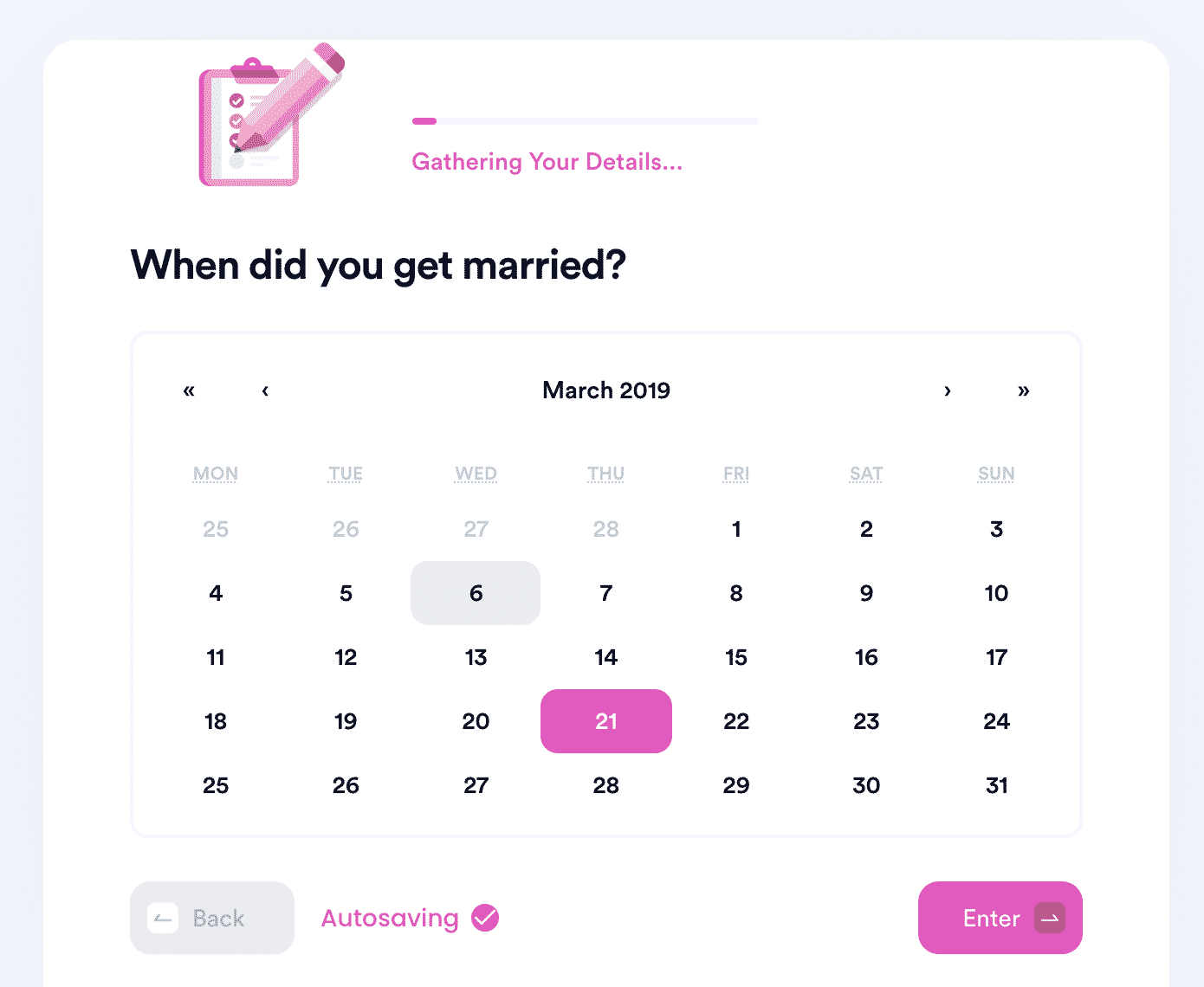 Once you've signed the document, present it to the court and wait for the judge to approve it.
Divorce Cost in Florida Depends on Your Knowledge
As DoNotPay provides lots of useful guides, you might want to go through our website to prepare well for the upcoming divorce proceedings. Here are some of the many divorce-related questions we offer answers to:
| General Divorce Questions | Florida-Specific Divorce Questions |
| --- | --- |
| | |
DoNotPay Goes the Extra Mile for You
We are dedicated to providing solutions to difficult and time-consuming tasks you may have on your to-do list. If you are struggling to reduce your monthly bills, contest parking tickets, or set DMV appointments, DoNotPay will help you do it in no time!
We have also created numerous easy-to-use features that can make the following procedures run smoothly:
Get Justice From Companies That Wronged You
Do you feel like you have been played by a company? Instead of wasting your time writing requests, demand a chargeback or refund or claim a warranty via DoNotPay! If the company doesn't seem too cooperative and keeps refusing to return your money, our app can assist you in suing it in small claims court.
To help you save some coins or regain what's yours, DoNotPay will also help you locate unclaimed funds, submit insurance claims, lower your property taxes, and cash out gift cards.