How Much Do You Get Paid for Jury Duty—Mystery Solved
If you have been called for jury duty, you must respond promptly, or you risk being held in contempt of court. Depending on the duration of the court proceedings, you will need to take time off and might miss a few wages during that period.
Does the legal system compensate you for this time? How much do you get paid for jury duty? We will provide you with all the details.
The Basics of Jury Duty
Jury duty is an essential part of our democratic judicial system because it allows all citizens of the United States to be tried fairly. It is your responsibility to serve whenever you are required, or you'll be penalized if you fail to appear.
You are eligible to become a juror if you are:
U.S. citizen who's between 18 and 70 years old
Fluent English reader and speaker
Not a legal guardian or caregiver of a physically or mentally ill person
Registered voter
Can You Get Paid for Jury Duty?
The law mandates employers to give time off to their staff for jury duty. In some states, employers aren't obligated to provide daily wages, while in others, they are obligated to do so.
Your employer does not need to pay you if you are:
Self-employed
Employed as an independent contractor
Working as a freelancer
You can claim a loss of earnings from the court if you are a full-time employee if your boss isn't obligated to give you paid leave. Your pay will depend on the state or county you have been summoned in.
If you want to learn about state-specific laws on jury duty payments, check out the table below for information about all 50 states and the District of Columbia:
How Much Do You Get Paid for Federal Jury Duty?
Federal jury tries those accused of federal crimes. It comprises 12 members who need to reach a verdict unanimously.
Check out the table below to see how federal jurors are paid based on the trial duration:
| Number of Days | Amount per Day |
| --- | --- |
| 1–10 | $50 |
| After 10 days | $60 |
If a juror is an employee of the federal government, they are paid their regular salary instead. In addition to this amount, jurors can also claim funds for the following:
Food
Drinks
Transportation
Parking
Accommodation (if they are required to stay overnight)
The reimbursement process varies throughout the U.S., so you should check your state laws beforehand.
What To Do Once You Receive a Jury Summons
Fortunately, the law does not allow the employer to intimidate or fire an employee for serving on a jury, but it is your responsibility to inform them timely. If you are selected for jury duty, here are the steps you need to take to prepare for it:
Inform your employer that you will need time off by writing a leave request letter
Present the jury summons as evidence
Delegate your tasks to your team members
Are you having trouble drafting the letter? Subscribe to DoNotPay to get an airtight leave request letter without breaking a sweat.
DoNotPay Can Help You Draft a Leave Request Letter in Minutes
Whether you are called for jury duty only once or are frequently summoned, you need to inform your employer so they can give you time off. Do you need to tell your boss but want to avoid confrontation? DoNotPay can be your savior!
We will prepare a tailor-made leave request letter and send it to your employer for you! If you want to send the letter yourself, you can download it and hand it over to your employer.
All you need to do is follow these instructions:
Search for the Request Jury Duty Leave tool
Enter the required information about the jury duty
Upload the jury summons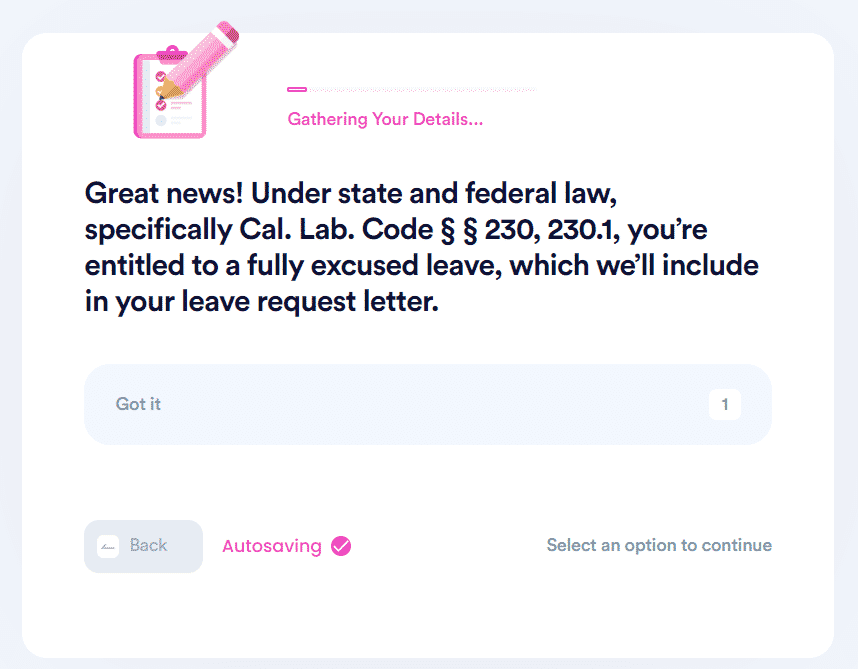 Let Our App Assist You With Paperwork
You don't have to deal with bureaucratic tasks on your own! DoNotPay is here to help you cancel your memberships, appeal parking tickets, discover unclaimed funds, and get any document notarized online.
If you need help covering your bills or you'd like to get extra cash by signing up for clinical trials, we are your go-to!
We can also assist you in drawing up and sending out the following documents:
Keep Your Online Safety Intact
Staying anonymous is almost impossible these days, but with DoNotPay's help, your contact and payment details will remain private.
Thanks to our Burner Phone product, you'll be able to keep your phone number to yourself and get a temporary one you can use when you register on various platforms.
If you want to avoid getting charged and revealing your personal info when signing up for free trials, we can help you kill two birds with one stone. Get our multifunctional virtual credit card and skip submitting your name, email address, and payment details.
With our app, you can also handle stalkers and harassers, fight workplace discrimination, and block spam.