How Much Did Each Victim Receive Through the VCF Fund? Find Out With DoNotPay
After the initial 9/11 victim count of 3,000 deceased victims and 6,000 injured ones, the numbers have increased to around 10,000 people that have been diagnosed with cancer or died from it.
While providing victim compensation for so many survivors and first responders may take some time and require a bigger budget, the 9/11 Victim Compensation Fund bill was passed almost unanimously and welcomed by the general public.
In this article, DoNotPay finds the answer to the question many people ask—how much did each victim receive through the VCF Fund?
What Is the Victim Compensation Fund?
The federal government needed a way to avoid lawsuits against airline companies involved in the attack on the World Trade Center on September 11, 2001. By creating the 9/11 Victim Compensation Fund (VCF), the Air Transportation Safety and System Stabilization Act managed to get victims to agree not to file any lawsuits in exchange for monetary compensation.
The Victim Compensation Fund has a long history with several reauthorizations. The VCF endured many reenactments and improvements of 9/11 victim compensation bills, such as the James Zadroga 9/11 Health and Compensation Act.
While the VCF was established to avoid potential lawsuits, its main goal now is to reimburse the Twin Towers attack victims and their families for the 9/11-related deaths and injuries.
Until 2019, the Victim Compensation Fund was temporarily funded. In July of 2019, the Senate passed the Never Forget the Heroes: Permanent Authorization of the September 11th Victim Compensation Fund Act, extending the Fund and giving it permanent funding.
Who Is Eligible for
Victim Compensation Awards
?
Before reauthorization and expanded budget, the Victim Compensation Fund had already spent more than $7 billion compensating more than 2,500 surviving victims and nearly 3,000 deceased victims' family members.
The 9/11 attack victims are all individuals and first responders present anywhere in the New York City Exposure Zone—including World Trade Center and the debris removal sites—in any period from September 11, 2001, and May 30, 2002.
Not everyone can file a claim with the VCF. Here is who qualifies:
Individuals who suffered direct injuries from the attack or developed attack-related illnesses

Family members of people who died during 9/11 or from cancer or other illness caused by the attack

Personal representatives of incapable surviving victims
If you believe you or your family member qualify for 9/11 victim compensation, here is what the VCF requires you to do:
Register with the Victim Compensation Fund before the deadline according to your case

File a claim with the VCF before October 1, 2090

Withdraw or settle any lawsuit regarding the World Trade Center attack

Prove that you were present in the New York City Exposure Zone

Get certified for treatment by the

World Trade Center Health Program

for any 9/11 attack-related injury or illness

Prove that your illness considerably worsened, in case you have already received compensation from the VCF

Show proof of the lawful authority if you're filing a claim on someone else's behalf
Everything You Need To Know About the
Victim Compensation Fund Payouts
According to the Eighth Annual Status Report, in 2019, the VCF made victim compensation payouts to nearly 26,000 claimants in the amount of $6 billion.
Check the following table to see the payout amounts per claimant category in that fiscal year:
| | | |
| --- | --- | --- |
| Claimant Category | Number of Awarded Claimants | Payout Amount |
| First Responder—New York | 18,213 | $4,273,923,287 |
| Non-Responder NYC—Other Capacity | 3,551 | $888,702,178 |
| Non-Responder NYC—Cleaning and Maintenance | 732 | $94,006,674 |
| Resident Within NYC Exposure Zone | 632 | $141,524,390 |
| No Response | 410 | $75,241,165 |
| NYC—Other Capacity | 215 | $58,116,927 |
| First Responder—Pentagon | 36 | $11,059,484 |
| Non-Responder—Pentagon | 16 | $3,823,901 |
What Is the
Average Compensation for 9/11 Victims
?
In the first years of the Victim Compensation Fund, compensation for personal injury claims ranged from $500 to $8,6 million. For death claims, the average compensation was $2,082,128.
From the VCF's reauthorization, the Fund has approved more than 50,000 claims, with more than 16,000 still in the process of getting compensation.
The lowest compensation amount was $87.02.
Apply for
9/11 Victim Compensation Fund Payouts
With DoNotPay
The world's best virtual assistant enables you to file claims with the 9/11 Victim Compensation Fund in no time! We will help you avoid all the hassle and do the grunt work for you.
from a web browser and follow these steps:
Open the

Compensation for Crime Victims

product

Specify if you're the victim or your family member got injured or died in the attack

Answer a set of questions to help us understand your case and the expenses you need to cover

Confirm the information with the signature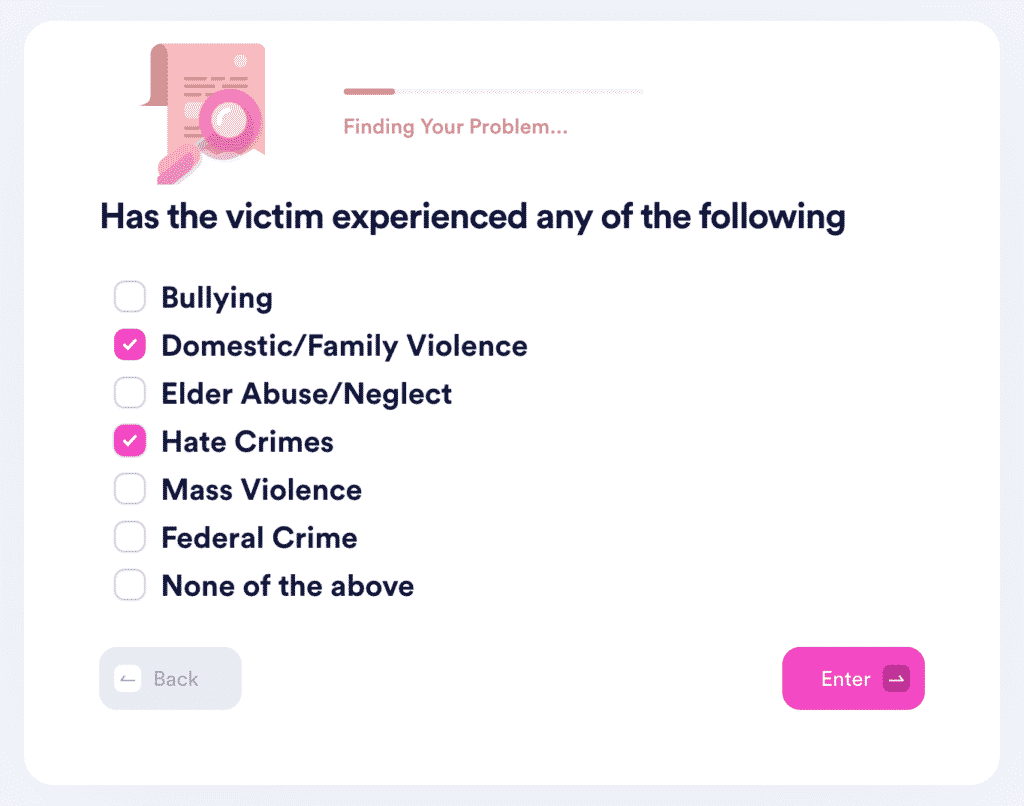 We will immediately process the information you give us and file a claim with the Victim Compensation Fund.
You can use our learning center to acquire information about:
and apply for crime victim compensation in other states, including:
Keep Your Money Safe With DoNotPay
Don't let greedy companies threaten your consumer rights by holding back refunds, refusing to cancel your subscriptions, or charging you after your free trial ends.
DoNotPay helps you try out different services without providing your credit card info or phone number—you will never again have to deal with unexpected post free trial charges!
Our app also helps you avoid paying unnecessary parking tickets, delay challenging bills, or waive your college application fees.
If any company refuses to issue you a refund or an airline won't compensate for canceled flights, we can help you sue them in small claims court.
DoNotPay Is a Time-Saving App
How many customer service reps do you have to deal with only to file an insurance claim or book your DMV appointment?
DoNotPay helps you sort out these tasks and much more in only a few clicks.
Get your revenge on robocallers, report text scammers, find validated clinical trials, claim your warranties, get in touch with your loved ones in prison, and protect your creative content—all in less than five minutes.
No more hours-long phone calls, emails, or in-person visits.
We cover everything from freeing your inbox from spam to providing excellent prep tests for government exams! Save time with your all-in-one app!