How Many Times Can You Postpone Jury Duty?
Serving on a jury is mandatory for all eligible citizens, but life gets in the way sometimes. While it's illegal to skip jury duty without a valid reason and proof, most states allow prospective jurors to postpone it.
In this article, we will answer common questions regarding jury duty postponement, such as:
How many times can you postpone jury duty?
What are the acceptable reasons to do it?
How to request postponement?
If your work schedule interferes with your jury duty summons, we can also help you draft and .
How Many Times Can You Reschedule Jury Duty?
While jury duty postponement policy varies by state, most courts allow postponing jury duty up to two or three times within one year of the initial summons date. Once this limit is reached, jurors are not allowed to submit additional postponement requests.
What Are Common Reasons for Postponing Jury Duty?
Jury duty can be postponed for various reasons, such as:
Excuses
Overview
Medical reasons

Feeling ill or recovering from surgery allows jurors to postpone their service
Submitting a doctor's note as proof is obligatory

Extreme financial hardship
Full-time student
Full-time students can request a postponement by presenting a copy of their student ID and their school term schedule
Military service

Active military officers can request postponement or exemption from jury duty, especially in federal courts
Submitting a notice from your commanding officer as evidence is a must

Essential service
The following individuals can postpone jury duty by providing a written statement signed by a superior:

Medics
Police officers
Firefighters

Breastfeeding
Breastfeeding mothers must provide a doctor's letter or a midwife's note when rescheduling jury duty
Jurors who have served on a jury in the previous year
Jurors who are summoned again in the same year can submit their past jury service certificate to postpone their duty
Conservatorship or childcare

Postponement is granted to individuals responsible for the care of a child or an adult who can't find someone to cover for them
Written explanation and relevant documents verifying the caregiver status are mandatory
How To Postpone Jury Duty
After preparing relevant documents, you can contact the court via phone or send a written notice via email or mail. The contact details should be provided in your summons.
You will be notified of your postponement status via email, over the phone, or through the court's official website
You can also request postponement or excusal during the jury duty selection process.
Can You Postpone Jury Duty Because You're Afraid of Losing Your Job?
No. It's illegal for employers to fire their employees for serving on a jury. Some states even obligate employers to grant paid leave for the duration of jury duty. Regardless of your state's employment laws, you need to notify your employer of your summons beforehand so they can verify your summons and organize the workload accordingly.
Create a Jury Duty Leave Request Letter With DoNotPay
If you're not sure how to inform your employer about your jury duty summons, DoNotPay is here to assist you! We can help you prepare a formal letter to request time off. Here's how:
Find the Request Jury Duty Leave product
Provide some information about your workplace and your juror service schedule
Upload the photo of your summons and submit the form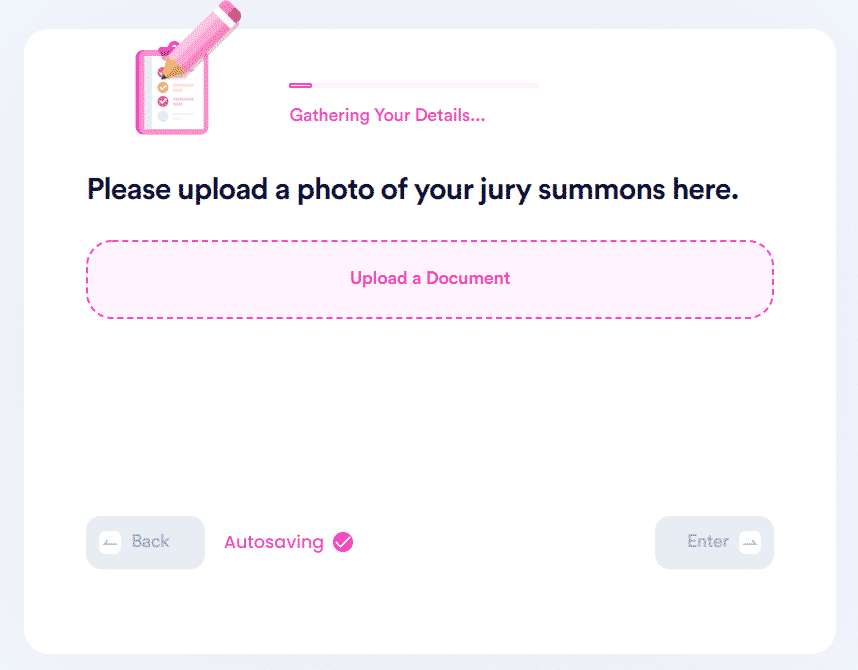 You will receive the letter within minutes. Send the letter on your own or email it to your employer through our app—the choice is all yours.
Jury Duty Laws by State
If you are unsure of how jury duty in your state works, we have a number of extensive guides that might help:
Check Out DoNotPay's Exhaustive Product Range
You can use our app to deal with any issue you could think of—from contesting parking tickets, applying for clinical trials, drafting an affidavit to homeschool, and sending defamation demand letters to contacting government representatives, applying for scholarships, appealing banned accounts, and getting in touch with embassies and consulates.
With DoNotPay by your side, you will never have to worry about how you'll cover your utility bills or property taxes again. Sign up now to discover all the ways in which we can assist you!
DoNotPay Puts Your Fears to Rest
Have you been dealing with workplace discrimination lately but don't know how to submit a complaint to your HR? Do you have a stalker or creepy neighbor who's a registered sex offender and who keeps you up at night? Do you want to put an end to robocalls and email and text spammers once and for all? DoNotPay can help you out!
If you're a victim of crime, we can help you get compensation as well. No matter the issue you're facing, you can count on us for swift and reliable assistance.