How Many Students Are Homeschooled in the United States? DoNotPay Answers!
If you want to homeschool your child, you're probably wondering how many students are homeschooled in the United States. Our article will provide you with all the necessary statistics and help you decide whether you should homeschool your child or not.
We'll also assist you with figuring out how much homeschooling costs, when you can start homeschooling, and what the requirements are.
What Percent of Students Are Homeschooled?
The number of homeschooled students in the United States has been growing steadily since the end of the 20th century. As of 2021, around 3.4% (two million) of U.S students are homeschooled.
Homeschooling vs. Public Education Statistics
If you're wondering whether you should take your child out of school to homeschool, you probably want to know the statistics. Check out the most important ones in the table below:
Academic Area
Details
Maths
Although parents can teach subjects such as reading or writing fairly well, many of them struggle when teaching math curriculum. That's why public school students come out on top in this area
Socialization
There's a misconception that homeschooled children have poor social skills, which is wrong. Homeschoolers have many opportunities for social interaction and can be more sociable than their peers from public schools
College graduation
Students who were homeschooled graduate college at a rate of 66.7%. This is 10% higher than that of public school students
College admission
The acceptance statistics for the 2015/2016 years suggest that homeschoolers have the same chance as their peers of attending Ivy League colleges, including:

4% for Stanford
17% for Williams
Why Do Parents Choose To Homeschool Their Children?
There are various reasons why parents decide to teach their children at home instead of admitting them to public schools, including:
Security concerns—80% of parents homeschool their kids because they are worried about the school environment and their kids' exposure to negative peer pressure
Religious beliefs—36% of parents prefer to teach their kids from a religious point of view and instill the right belief in them
Concern for education quality—61% of parents think that their kids will have better learning opportunities available at home instead of the public schools
Discontentment with teaching methods—19% of parents think that the teaching methods used in public schools are inadequate and that adjusting curriculums can maximize their children's learning efficiency
Disability—5% of parents consider that their kids can get better special care at home
Financial issues—21% of parents think that homeschooling can save them money and allow them to spend more time with their family
COVID-19—Many parents transitioned to homeschooling after the shutdown of the educational institutions
Should You Homeschool Your Child?
There isn't a definite answer to this question as it's completely up to you whether you should homeschool your child or not. To help you with your decision, we've listed some benefits, such as:
Academic flexibility—Homeschooled students learn everything at their own pace. Parents who teach their kids can create a curriculum instead of following the traditional one
Children's physical health—Teaching parents can prioritize their children's physical health, emotional well-being, and behavior
An abundance of family time—Students who are homeschooled get to spend more time with family and nurture values they can't at public schools
Lots of socialization—Homeschoolers socialize with other kids through volunteering, entrepreneurship, community service, etc.
How To Start Homeschooling Your Child
To get started on your journey to homeschooling your child, you will first need to withdraw them from the public or private school they're attending. Afterward, you will have to file a notice of intent. This letter shows the superintendent of your school district that you wish to homeschool your child. You can either write it yourself or hire an expensive lawyer to do it for you. A more effective and affordable solution is to use DoNotPay. We'll generate this document for you in no time, and all you have to do is follow a few simple steps.
DoNotPay Creates a Tailor-Made Letter of Intent for You in No Time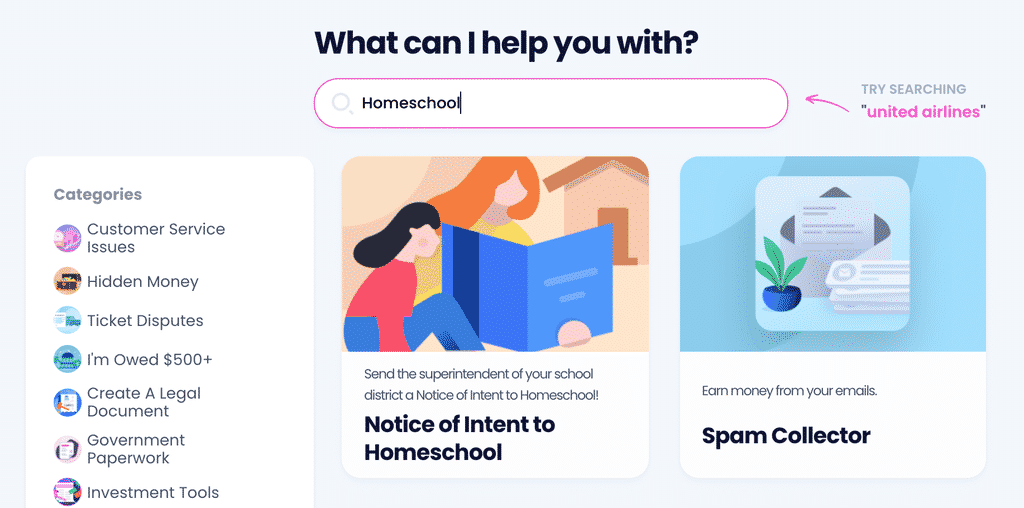 You don't have to waste time writing the letter of intent yourself or hiring expensive lawyers to draw one up for you. With DoNotPay's Notice of Intent to Homeschool product, you can get this key document in minutes. All you have to do is:
Choose our Notice of Intent to Homeschool product
Answer our chatbot's questions regarding yourself, your child, and your homeschooling plan
Choose whether we should:

Send the document your way in PDF form
Forward the letter to your school district's superintendent
Connect you with an online notary so you can get the letter notarized remotely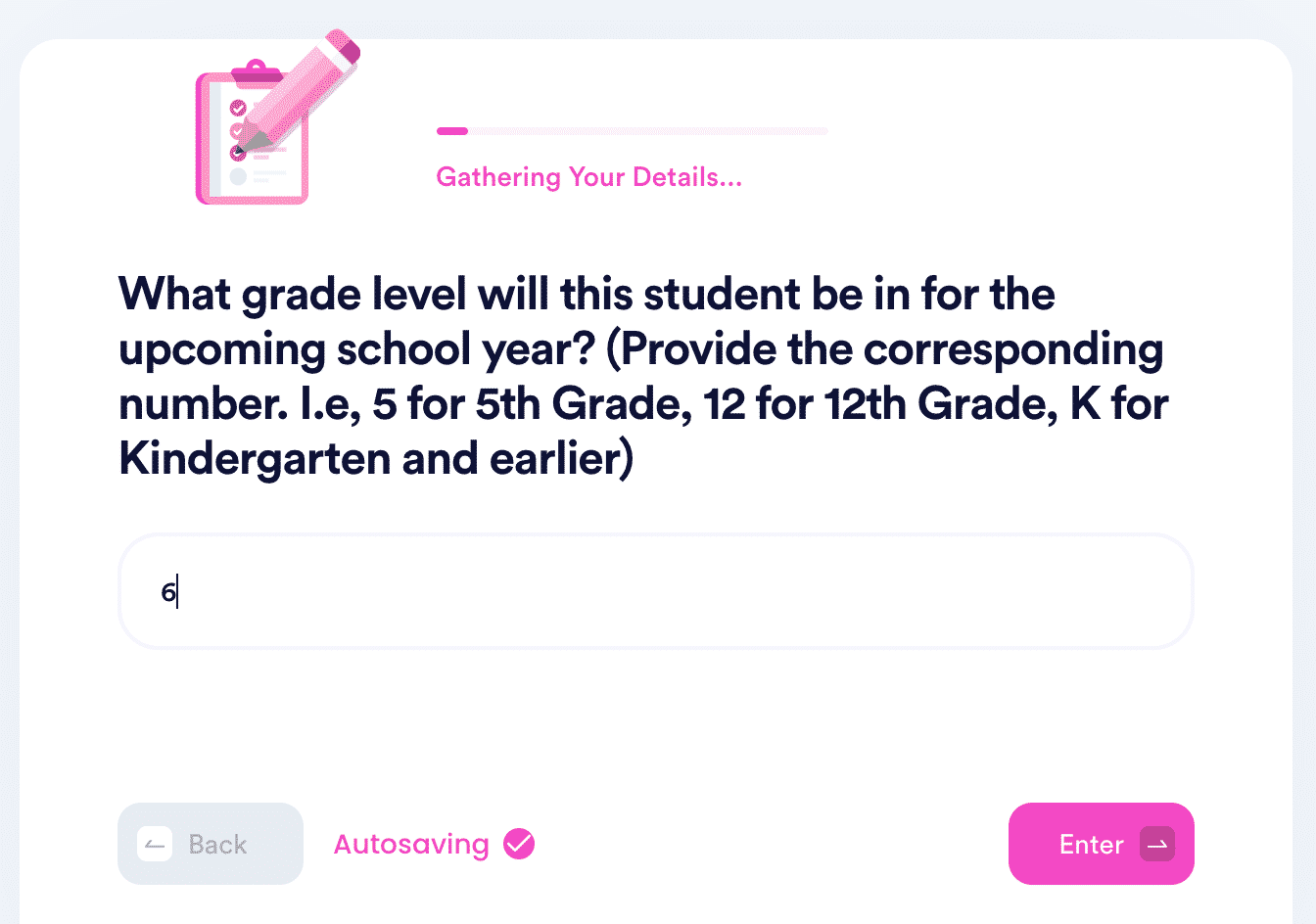 Once you hit Submit, we'll generate the letter for you in a snap. Want to find out more about homeschooling? Check out DoNotPay's learning center to find out what the key homeschool laws are, what the easiest state to homeschool in is, whether someone else can teach your child, and more!
Discover DoNotPay's Solutions to Mundane Tasks
Our product range doesn't end there—we can also help you sue anyone in small claims court, cancel any subscription, start a free trial risk-free with our virtual credit card, get refunds and chargebacks, send anything through online fax, pay your utility bills, demand airline compensation, and deal with your annoying neighbors.
As soon as you sign up, we can also put an end to robocalls, copyright infringement, email and text spam, and stalkers and harassers. Our app's abilities don't stop there either—get perfect passport photos, free raffle tickets, compensation for victims of crime, or insurance or warranty instantly!
There's So Much More We Can Assist You With
Check out how else we can help—DoNotPay can:
Sign up now to take advantage of our nifty products!