How Long Should You Be Separated Before the Divorce? DoNotPay Has the Answer
The first step in marriage termination should be checking how long you need to be separated before a divorce. Each state has different requirements for separation, residency, grounds, and waiting times.
The laws can be hard to grasp, so DoNotPay has prepared a guide that'll make the rules clearer! We'll explain how separation laws work and help you get a quick and friendly divorce with a personalized settlement agreement.
What Does Living Separately Mean?
Living separately means that the spouses live in different residences. The court won't consider the requirement met if the couple lives under the same roof or if one of the spouses:
Sleeps on the couch
Sleeps in the same house, but a separate bedroom
Visits the marital residence occasionally to spend the night
In some states, the court won't ask for evidence of separate living. If one spouse states that the living requirement hasn't been met, the other can provide proof of residing in a different location. They can bring a rental agreement or utility bills as evidence.
Is Physical Separation the Same as Legal Separation?
Legal separation is an official agreement in which the married couple lives separately. It's an alternative to divorce for spouses who are unsure about the termination of their marriage but need to regulate specific issues, such as child custody and support.
Courts in some states recognize legal separation as a reason for divorce. A person can also file for dissolution if their spouse:
Abandons the family
Commits adultery
Becomes pregnant with another man
Forces the other out of the marital home
Endangers the life of the other party
Becomes an alcoholic or a drug addict
Makes the other spouse's life intolerable
Physical separation is not an official arrangement but a personal decision to live in different residences. Some jurisdictions recognize it as grounds for divorce.
In both cases, spouses can file for an uncontested, no-fault divorce. This type of divorce gives you more control over the process as you'll be the one deciding on crucial aspects of the dissolution. It's also much cheaper and faster to complete.
How Long Do You Have To Be Separated To Get a Divorce?
Whether you need to be separated before getting a divorce depends on the state you live in. Some states don't impose the separation rule, and some do, including:
Maine—You and your spouse must live separately for 60 continuous days before starting the procedure
Arkansas—You need to live apart from your spouse for at least 18 months before filing for divorce
South Carolina—Before the court can grant you a divorce, you and your spouse must live apart for one year
There are states that don't require you to wait at all before filing for divorce. In Nevada, you can file for a no-fault divorce, claiming that you and your spouse are incompatible even if you still live together.
Want to get to know your state's divorce laws in detail? See the table below:
What's the Fastest Way To Get Divorced?
The best and the fastest way to get a dissolution of marriage is an uncontested divorce.
You will also save loads of time and money because you won't have to attend numerous hearings or hire expensive lawyers, and you can get an out-of-court settlement. To benefit from an uncontested divorce, you'll have to agree on these issues with your spouse:
Once you've reached a middle ground on these issues, you'll have to state the terms of your dissolution in a settlement agreement. The judge will review this document at the final court hearing, and if they deem everything is valid, they'll finalize the divorce.
Get a Proper Divorce Settlement Agreement in No Time With DoNotPay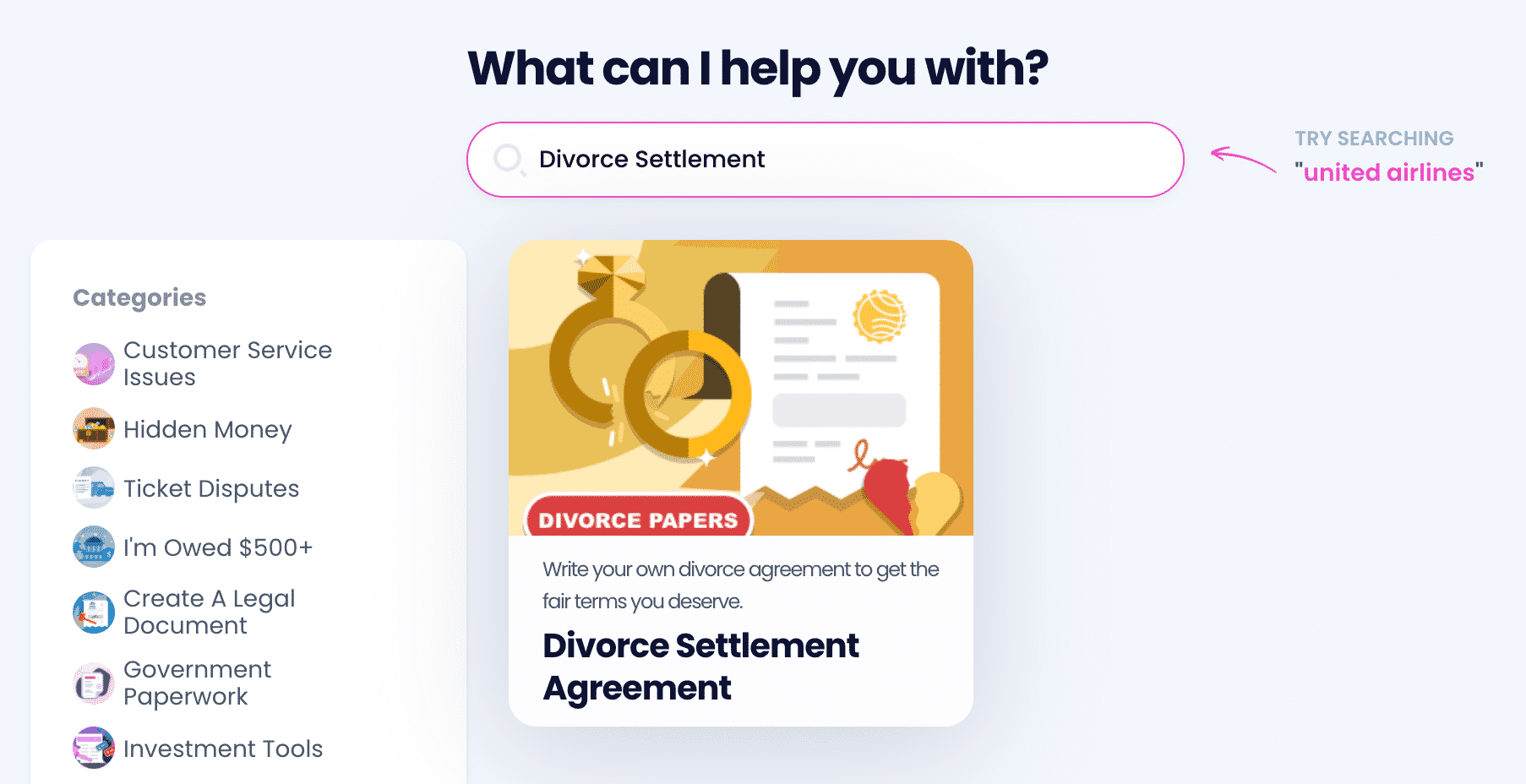 Getting a professionally made divorce settlement agreement is crucial since this divorce document affects various aspects of your post-marital life. You can spend a fortune on hiring lawyers to draw one up for you, write one yourself and risk making a mistake, or and get the desired document in no time.
We'll draw up the agreement personalized according to your particular situation. On top of it all, our tool is super easy to use. This is how we roll:
Select our Divorce Settlement Agreement tool
Answer our chatbot's questions
Opt for online notarization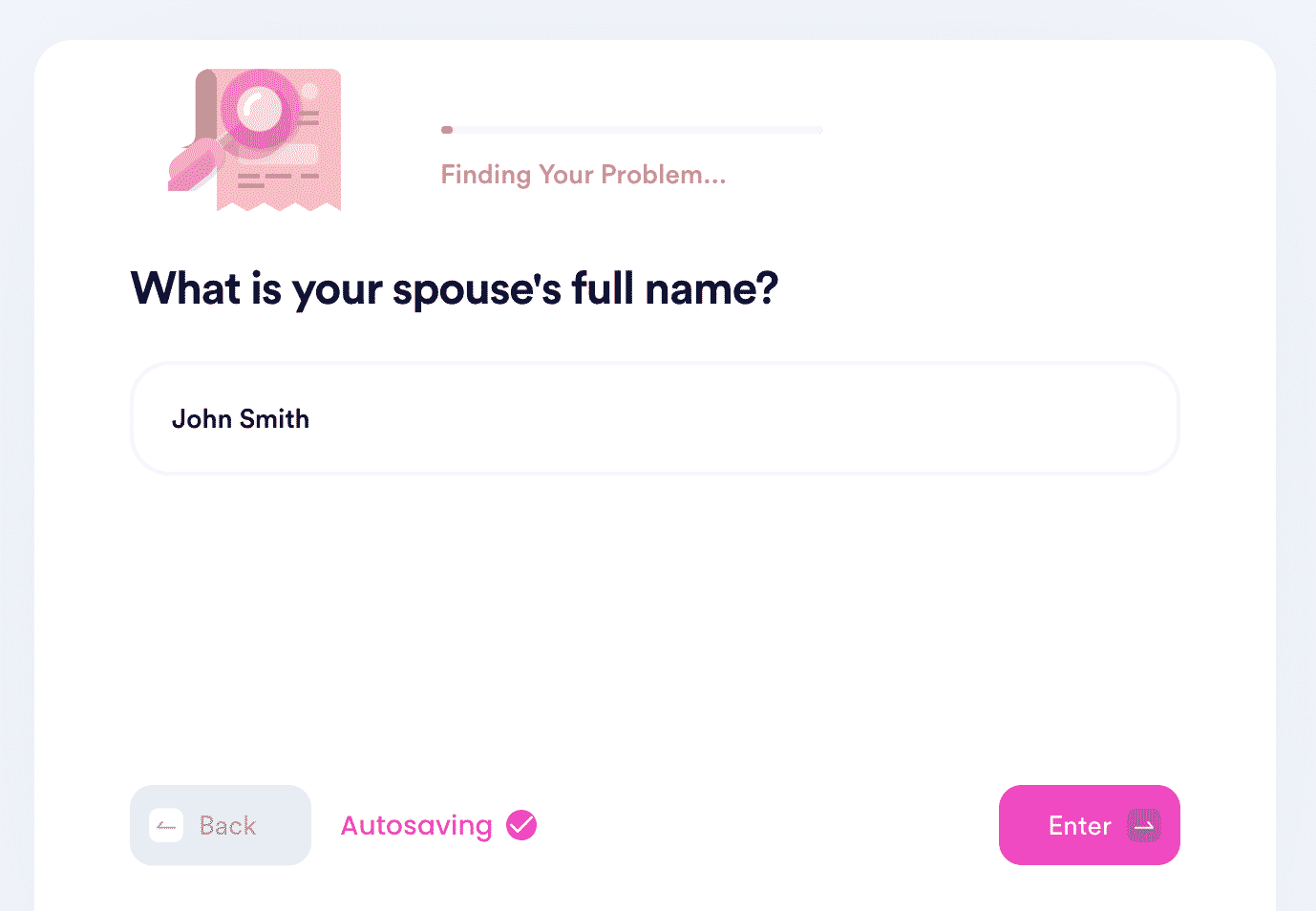 Once you submit your request, you'll receive the desired document in minutes. Most states mandate notarization of the marital settlement agreement, and DoNotPay facilitates the procedure! Follow the link we send you via email and set up an appointment with an online notary.
DoNotPay Has the Answers To All Your Divorce-Related Questions
Do you have other divorce-related queries? ! Check out our easy-to-follow articles and find out:
Discover the Entire Spectrum of Our Features
A click or two will be enough to discover the amazing universe of DoNotPay's tools and products. Our app is here to show you the best way to get:
Financial Issues? Let DoNotPay Take Care of Them!
DoNotPay can track down your unclaimed money, submit insurance claims, or request compensation for delayed flights on your behalf. This way, you can save some money and get what you're owed. Our app can also make it easier for you to lower your utility bills, cancel active subscriptions and stop further charges, or appeal parking tickets.