How Long Is the Opposition Period for a Trademark in the USA?
Whether it is a business name, logo, or slogan, registration with the U.S. Patent and Trademark Office (USPTO) helps you protect the distinctive assets of your company. Submitting a successful application to this agency is an important step when filing a trademark for your small business. Before the Office approves your trademark, the solution must go through the opposition period.
What does this term mean? Who can oppose your trademark, and how long is the opposition period for a trademark in the USA? Stop looking for answers all over the internet—our guide has the answers to all your questions!
What Is a Trademark Opposition?
Once you complete an application form and submit it to the USPTO, it must go through a detailed check. The institution assigns the application to an examining attorney that must review it and approve the registration. They must check if you meet the basic requirements, including:
Choosing the correct trademark class for your goods
Providing accurate and up-to-date details in your application form
Paying the processing fees on time
If no issues arise, your trademark gets published in the weekly Trademark Official Gazette, and that is the moment when the opposition period begins.
During the specified time frame, other business owners and third parties have the right to try to prevent the registration of your mark. To oppose your trademark, they must:
Have a real interest in the proceeding and a solid reason to do it
File a notice of opposition with the USPTO and wait for the outcome
How Long Are Trademarks Published for Opposition?
In the U.S., other parties can oppose your trademark registration within 30 days from the publication in the Gazette. Once the deadline for sending notices expires, it is not possible to complain anymore.
Why Would Another Party Oppose Your Trademark?
Other people may consider your trademark harmful for various reasons, including the following ones:
They believe the idea you are trying to register is too similar to their existing marks
The trademark infringes on their business ideas and rights in any other way
The mark:

Is too generic to describe a specified type of goods/products
Does not describe the purpose of your products sufficiently
Contains false suggestions
Implies a false connection with the opposer
Is abandoned
Is geographically misdescriptive
What Should You Do if Someone Opposes Your Trademark?
The following table illustrates the procedure you must go through after the other party opposes the registration of your trademark:
| Phase | Details |
| --- | --- |
| Responding to a notice of opposition | Once the opposer files a notice, you will receive a copy of it. From that moment, you have 30 days to respond to the allegations made in the document. When the Trademark Trial and Appeal Board receives your answer, they will set a date for the opposition proceeding |
| Preparing your defense | While waiting for the hearing, you can hire an attorney to help you build your case and defense. You must show up on each trial date |
| Receiving a final answer | The Trademark Trial and Appeal Board needs a few months to process the arguments of both parties and issue a final decision. If you believe it is unfair, you can complain by filing an appeal with the Federal Circuit or a local district court |
What if No One Opposes Your Trademark?
If there are no complaints about the idea you want to trademark, the agency will finalize the registration process. From time to time, you must submit additional documentation to maintain your ownership. If you follow all the protocols and renew the trademark regularly, it can last as long as you need it for your business purposes.
DoNotPay Files a Faultless Trademark Application in Your Stead
Registering your trademark with the USPTO does not have to be burdensome if you have the right kind of assistance. If you are afraid that you will make a mistake while completing your application form, DoNotPay jumps in to save the day and help you solve the problem in a breeze!
You do not need to worry about making mistakes or forgetting an important detail—all you should do is click a few times! Provide us with the relevant info about your trademark, and we will run a trademark search to check its eligibility for registration.
Once we confirm the requirements are met, our app will file a registration request in your stead. We will send the application to the USPTO registration department and help you check the status regularly by giving you a tracking number!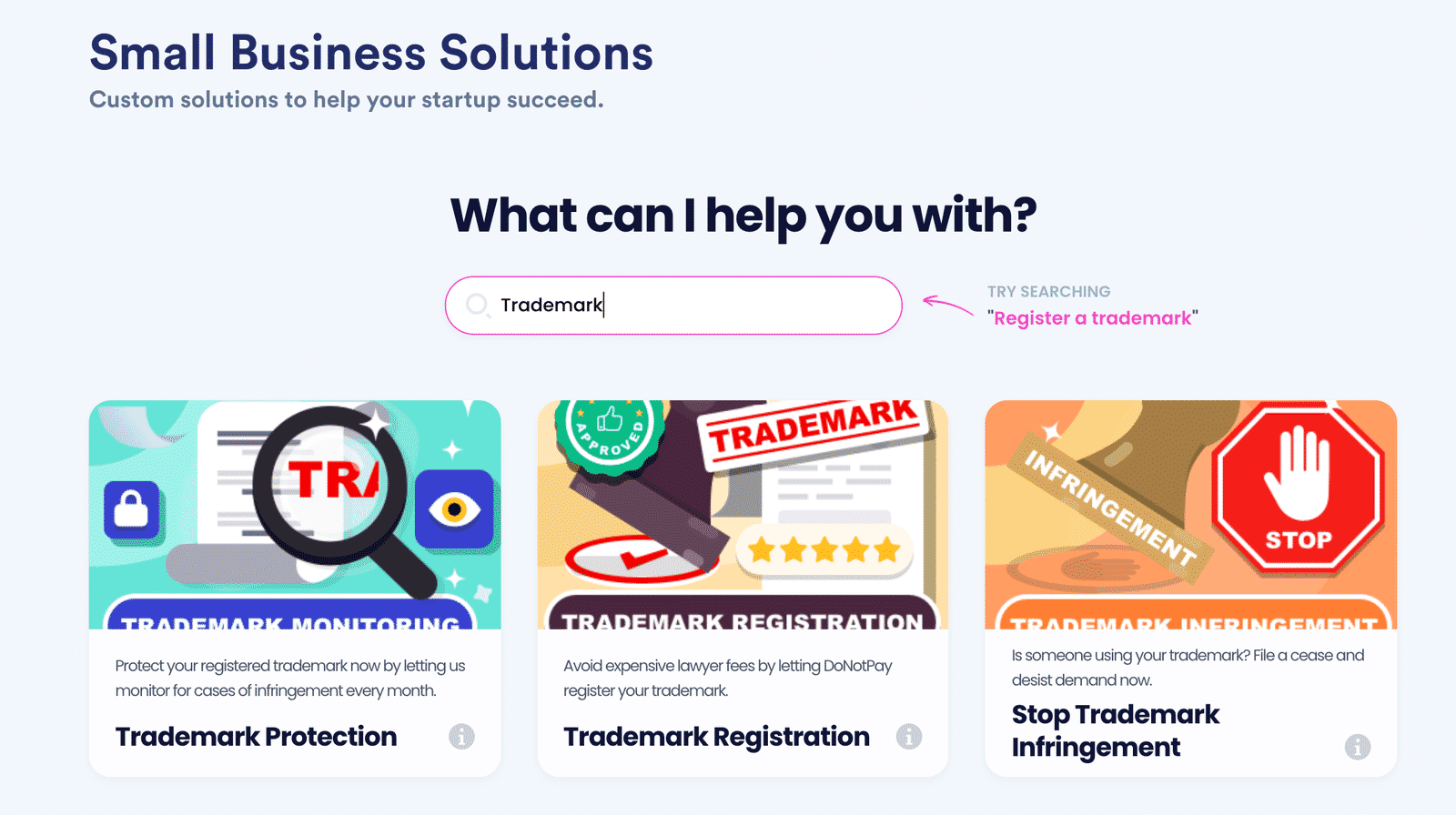 How Can I Get My Trademark Application Filed With DoNotPay?
To have us start a registration process for you, follow the steps below:
and pick Trademark Registration
Choose the class and type of the goods you want to trademark
Help us collect the necessary info about your mark by answering a few questions
Confirm the application fee payment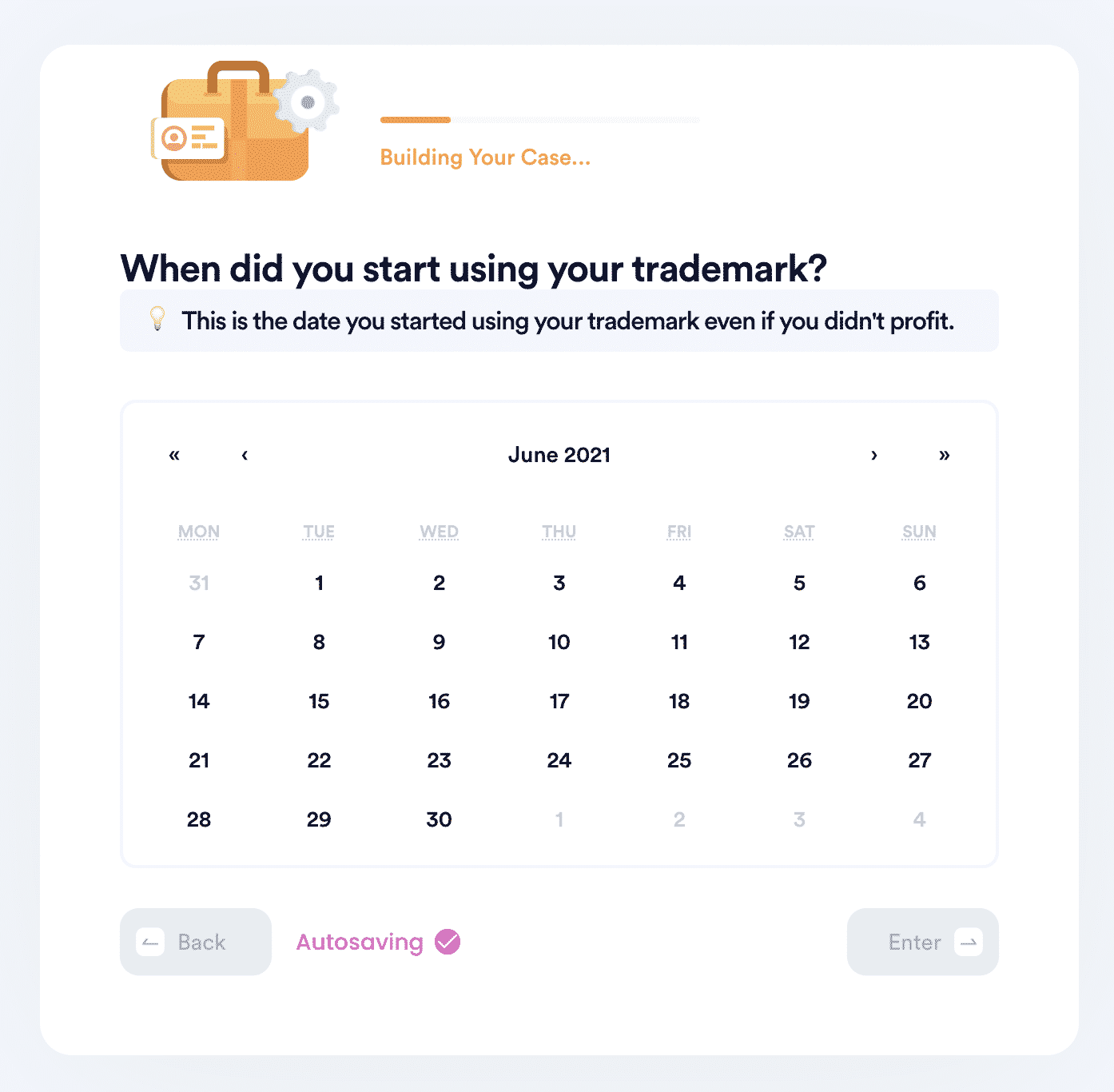 That is not all! Check out DoNotPay's learning center and find out more about copyrights, service marks, trademark protection law, and other related topics!
DoNotPay Helps You Raise the Bar in Business
Whether you are just getting started with your small business or are well into the game, DoNotPay can be your valuable assistant. We can help you manage various issues, such as:
Trademark infringement
Negative reviews
Suspicious chargebacks
You can focus on what is important while we take care of administrative tasks and problems.
Get More Done With Our Help
DoNotPay's features at your disposal are versatile. We can assist you in registering your DMCA agent with the U.S. Copyright Office so that you can avoid exorbitant copyright infringement fines. Thanks to our app, preparing and filing business loan applications will also be smooth sailing.
If you want to protect your slogan, logo, and company name, we will guide you through the trademark registration process. The Employer Identification Number (EIN) issuance is another procedure our app is able to assist you with.
Would you like to self-certify your business under the EU-U.S. Privacy Shield program? DoNotPay will complete and file the request in your stead. Our app can help take care of your employees, too. Use DoNotPay to create and submit 83(b) election forms to the IRS.
Is the pile of documents due to be sent getting bigger by the minute? Not to worry—your pocket assistant can mail and fax your documents with ease.