How Long Is Jury Duty Orientation? Find Out Here
Performing jury service is a compulsory civic duty for everyone, and it is important because it fosters fair and unbiased trials for all U.S. citizens. On your first day of jury duty, you will go through orientation. DoNotPay is here to answer the following questions:
What happens during orientation?
How long is jury duty orientation?
We'll also tell you more about other aspects of jury duty, including how to inform your employer of your absence by .
What Happens During Jury Duty Orientation?
The purpose of jury duty orientation is to familiarize prospective jurors with the requirements of their service. During orientation, jurors are typically shown videos that explain the history of jury duty, behavior rules, and similar.
After they are informed, they are sworn in to serve their term of service. Once that is over, prospective jurors are asked questions that help the court determine whether jurors can be objective about the case.
How Long Will Jury Duty Orientation Last?
The duration of jury duty orientation varies from court to court, but it typically lasts for an hour. Check out the table below to find your state's jury duty laws:
Other Information About Jury Duty
You'll find basic information about jury duty in the table below:
Key Aspects
Explanation
Qualifications
In most states, to be a prospective juror, you must be:

A resident of the summoning county and citizen of the U.S.
At least 18 years old
Able to read and write in English

Preparation for jury duty
You can follow these steps to prepare for jury duty:

Inform your employer on time
Bring:

Lunch
Water (no glass bottles)
Reading material
Electronic devices (must be turned off in the courtroom)

Don't bring:

Knives
Kitchen utensils with sharp blades

Duration of jury service
Most trials last for about three to five days, but it depends on the complexity of the case
Consequences of skipping jury duty
Consequences of missing jury duty depend on your state, but in most cases, you will be:

Fined up to $1,000
Imprisoned (up to six months in some states)

Jury duty pay
Compensation depends on your state—you can be paid anywhere between $6 and $40 per day of service.

Federal jurors can receive up to $50 per day

Frequency of service
In most states, you can be called at any time, but you can request to be excused if you served in the previous year. In some states, you may be called once every three years
Work and Jury Duty
All states have laws that forbid employers from firing, threatening to fire, or penalizing their employees in any way. They also obligate employers to provide days off during jury service. Some states even have laws that request employers to pay their employees—these states are:
Alabama
Colorado
Connecticut
Louisiana
Massachusetts
Nebraska
Tennessee
In states that don't have this law, you may be paid if you are an exempt employee who worked a part of the week.
Inform Your Employer About Jury Duty With the Help of DoNotPay
DoNotPay is the platform for you if you don't know how to notify your employer that you've been summoned for jury duty. Our app will create a leave request letter that complies with all the relevant jury duty laws in your state. The letter will remind your employer that they mustn't interfere with jury duty.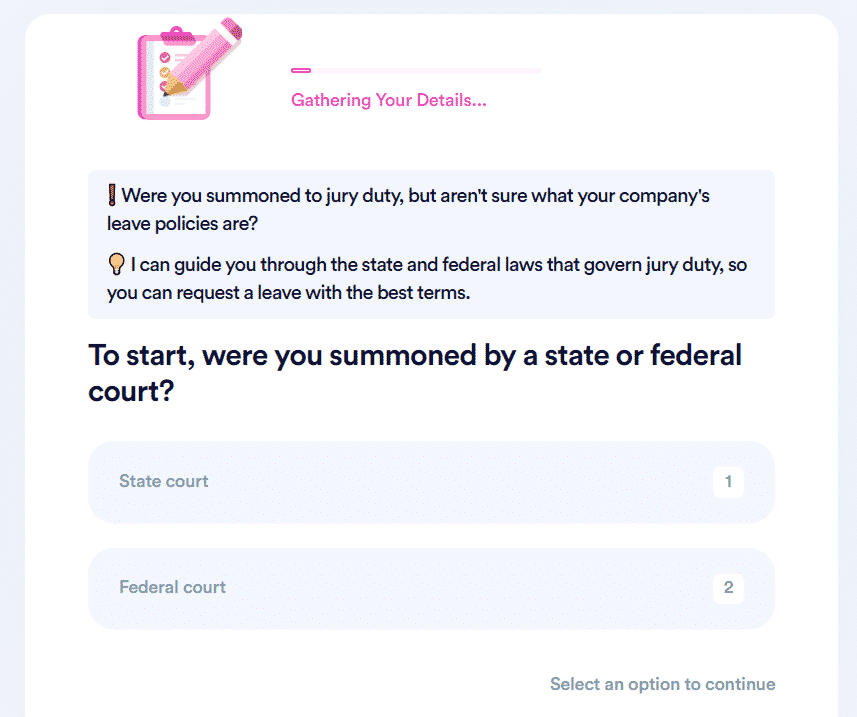 To create the letter immediately, and follow the instructions below:
Select the Request Jury Duty Leave tool
Tell us more about:

Which court summoned you
What company you work for
When you have to report for jury duty

Provide a photo of your jury summons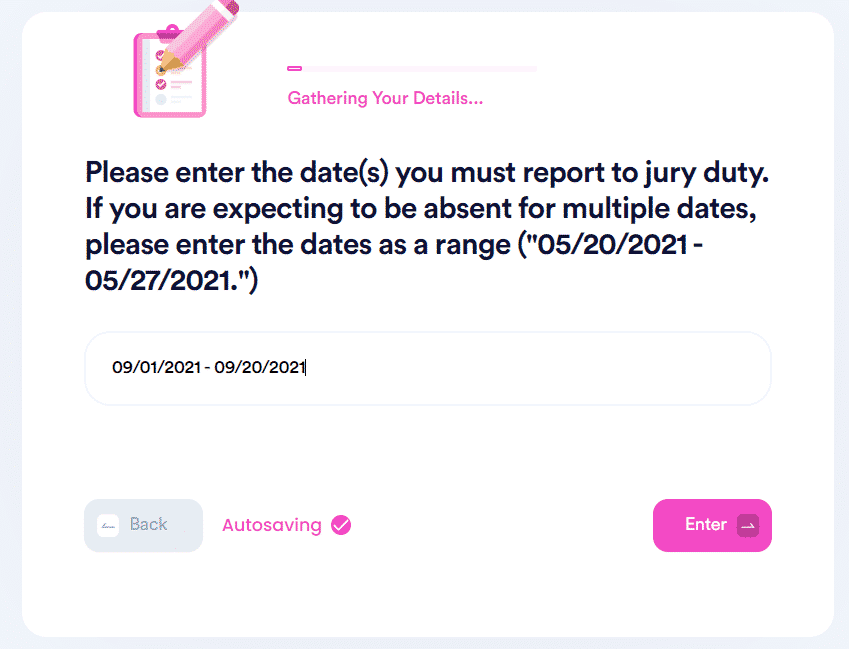 Expect More Help From DoNotPay
Do you want to know what else DoNotPay can do for you? Have a look at the following lists and discover some of our most prominent services:
Type
Particular Services
Getting more cash or saving the existing funds

Lowering property tax bills

Fighting various issues
Other helpful services

Composing revocable living trusts

,

divorce agreements

, and other

legal documents

in minutes
Let Our App Fight Grabby Merchants in Your Name
Have you received a damaged item? DoNotPay helps you file a return request and get a replacement for the faulty product. We can reach out to companies and demand refunds or chargebacks in your stead or request late delivery refunds. This way, you avoid paying for the goods that didn't meet your expectations and standards.
Our app can also send refund requests to airlines and help you get compensated for postponed or canceled flights. You won't need to contact the particular company yourself—DoNotPay does the grunt work and lets you enjoy the results!