How Long Is Grand Jury Duty Supposed To Last in the U.S.?
Jury duty is as revered as military service. It is a practice that has been the hallmark of a fair judicial system for centuries. Whenever a citizen is summoned for jury duty, they are obliged by law to respond to the summons, even if it clashes with their employment responsibilities.
If you are summoned for a grand jury selection process, you need to be fully aware of what it entails. How long is grand jury duty supposed to last? How does it affect your employment obligations? We will answer all these questions and show you how our AI tool can help you .
How Does Grand Jury Duty Work?
A grand jury functions differently from a trial jury, but the selection process is essentially the same. Serving as part of a grand jury will require you to be able-bodied, of sound mind, and able to look at situations objectively based on available facts. To meet the grand juror eligibility requirements, you must:
Be a citizen
Be older than 18 and younger than 70
Have a good command of English—you will need it to comprehend and deliberate over trial proceedings
Not be the legal guardian of any dependent adult
Not have any felony or misconduct on your record—or if you did, your name has been cleared
Reside within the summoning court's jurisdiction
What Happens After Getting a Grand Jury Duty Summons?
If you are summoned for a state or federal grand jury selection process, your first move should be to respond to the summons. Upon receiving a jury duty summons, you must take these steps:
Report to the courthouse or other location listed on the summons at the specified time. You will go through an interview-style selection process to determine if you will become one of the 16–23 jurors
Contact your employer about the summons and keep them in the loop if you make the grand jury
Sort out your work absence with your employer and provide proof of your jury duty summons
Prepare to commit to your jury duty service hours
Never ignore a jury summons if you get one—not showing up for jury duty can have serious penalties, ranging from fines and community service to jail time. If you fail to respond to a jury summons or are selected for a jury but do not appear in court, you will likely be brought to court. The penalties that apply to you are determined by the laws of your resident state—some states mete out harsher penalties than others—and the discretion of the judge who hears your case.
How Long Does Grand Jury Duty Last?
Grand jury duty typically lasts for a few months at a time. This is usually a matter of concern for many employers. Since jury duty supersedes any employment obligations, different states have laws protecting summoned citizens from employer penalties.
You can also check if you're entitled to any payment from the court or your employer for the duration of your jury duty. This payment, if applicable, will be different for state and federal jury duty.
Jury Duty Laws in Different States
While the selection process and requirements for a federal or state grand jury are the same, each state has unique laws dictating the following:
Service length and hours of jury duty
Penalties for not showing up for jury duty
Payment for jury duty
Restrictions on a juror's employer
Our learning center includes essential jury duty information on all states:
Prevent Awkwardness With Your Employer—Let DoNotPay Help You Request Jury Duty Leave
You should want to handle your preparation for jury duty in a way that respects your employer and upholds your rights. DoNotPay can help you request jury duty leave by following these instructions:
Use a web browser to and select the Request Jury Duty Leave product
Select whether you received a summons from a state or federal court and specify the state
Type in the days you will be away on jury duty and upload a photo image of your jury summons
Choose if you want us to email the letter to your company on your behalf and verify your signature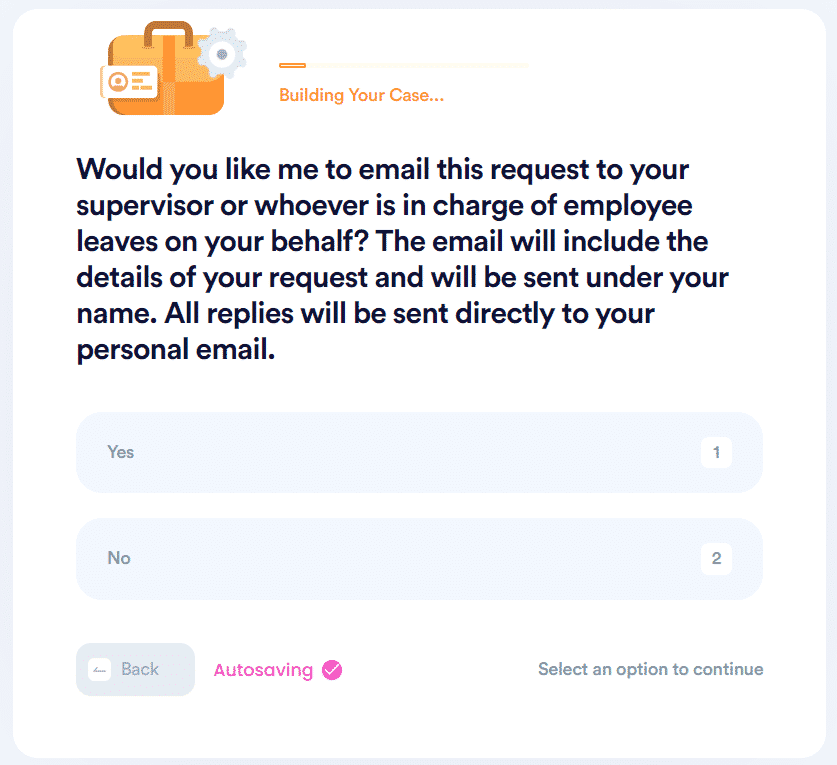 DoNotPay will use the provided information to generate a professional jury duty leave request letter. We can email it to your company's HR department or your supervisor. If you wish to submit it yourself, there's an option for you to download it.
Check Out DoNotPay's Exhaustive Product Range
You can use our app to deal with any issue you could think of—from contesting parking tickets, applying for clinical trials, drafting an affidavit to homeschool, and sending defamation demand letters to contacting government representatives, applying for scholarships, appealing banned accounts, and getting in touch with embassies and consulates.
With DoNotPay by your side, you will never have to worry about how you'll cover your utility bills or property taxes again. Sign up now to discover all the ways in which we can assist you!
DoNotPay Puts Your Fears to Rest
Have you been dealing with workplace discrimination lately but don't know how to submit a complaint to your HR? Do you have a stalker or creepy neighbor who's a registered sex offender and who keeps you up at night? Do you want to put an end to robocalls and email and text spammers once and for all? DoNotPay can help you out!
If you're a victim of crime, we can help you get compensation as well. No matter the issue you're facing, you can count on us for swift and reliable assistance.