How Long is Child Support Paid?
Child support is usually court-ordered specified payment, paid by the noncustodial parent to provide financial support for a child's expenses with the custodial parent. The answer to the question, "How long is child support paid?" varies by state and by agreement. 
However, in most states, child support is required by law, until the child is eighteen years old, with some exceptions. If a child reaches the age where child support is terminated, any child support left unpaid, is still due to the custodial parent, and is considered overdue or delinquent and is still collectible. Penalties for unpaid court-ordered child support include fines and possible jail time.
If your child support payments are not being made to you on time, are not being made at all, and you have tried to get a response from the noncustodial parent, DoNotPay can help you compose and send a demand letter to collect the amount due to you. DoNotPay helps you prepare a professional, complete demand for child support, quickly and easily.
At What Age Will My Child Stop Receiving Support?
As stated above, the age of the child is normally 18, with some exceptions.
If the child graduates from high school before their eighteenth birthday, child support may stop at graduation.
If the child graduates after their 18th birthday, support may be continued until graduation.
If a child is emancipated
If the child stops attending school or fails to progress to graduation or reaches age 20
If the child support decree states another time that is agreed upon by both parents.
What Should I Do If I Am Not Receiving Child Support Payments?
Usually there are three ways to pursue a delinquent parent, when child support is not made according to your court ordered agreement:
Even if you have tried email or text, you should begin by filing a notice or demand for payment. 
If you have a court-approved child support agreement, and you are not receiving scheduled child support payments, you can begin by submitting to the noncustodial parent a demand letter.  This is where pristine record-keeping comes into play.  Keep documentation on payment times and amounts, as well as missed or short payments.  You can point out the details outlined in your child support agreement, how they have been violated and the total amount the person is in arrears.
Contact your local government or child support agency to file a claim.  
Many times these agencies can help get in touch with the delinquent parent and enforce some options such as wage garnishment.
Take the delinquent parent to court.
Although penalties for non-payment differ by location, the delinquent parent may be penalized in the following ways:
They may be held in contempt of court.
Their wages may be garnished
Their driver's license may be suspended
Liens may be filed against their property and any tax refunds may be withheld until they are current on their payments
Their bank accounts may be frozen
They could have a negative report made to the credit bureau
They could go to jail
What If I Am Unable to Do This Myself?
If you are confused about how to prepare a demand letter, or just don't know where to start, DoNotPay can help.  We offer fast and easy solutions to preparing and sending a demand letter, as well answer your questions about:
Demand Child Support Payments with the Help of DoNotPay
If you should be receiving child support payments and the delinquent parent is not complying with the court order, DoNotPay can help. If you want to file a demand letter for late child support payments but don't know where to start, DoNotPay has you covered in 3 easy steps:
1. Search child support on DoNotPay and enter the details of the person who owes the payments.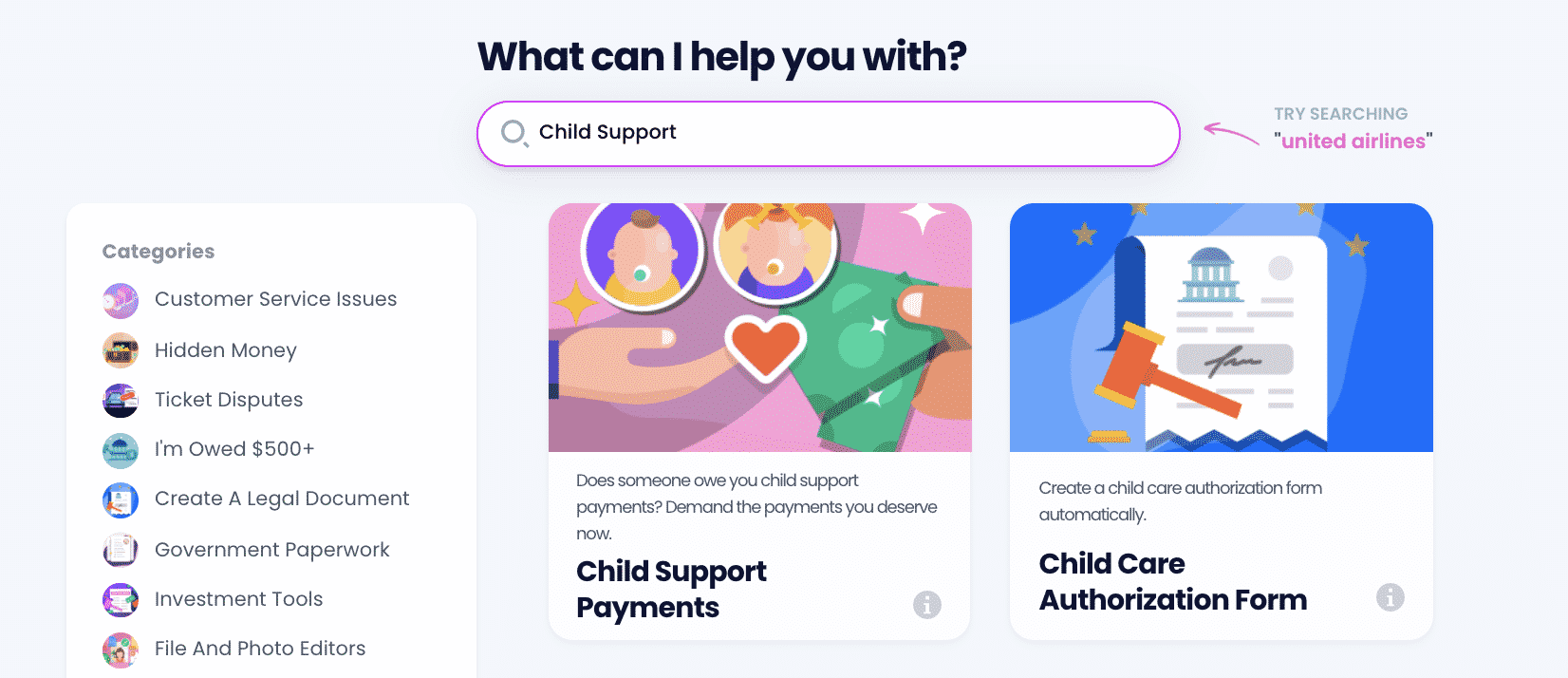 2. Tell us more about the payment schedule, including the amount and frequency of the payments, the last payment they made and number of missed payments, and how much they owe you in total.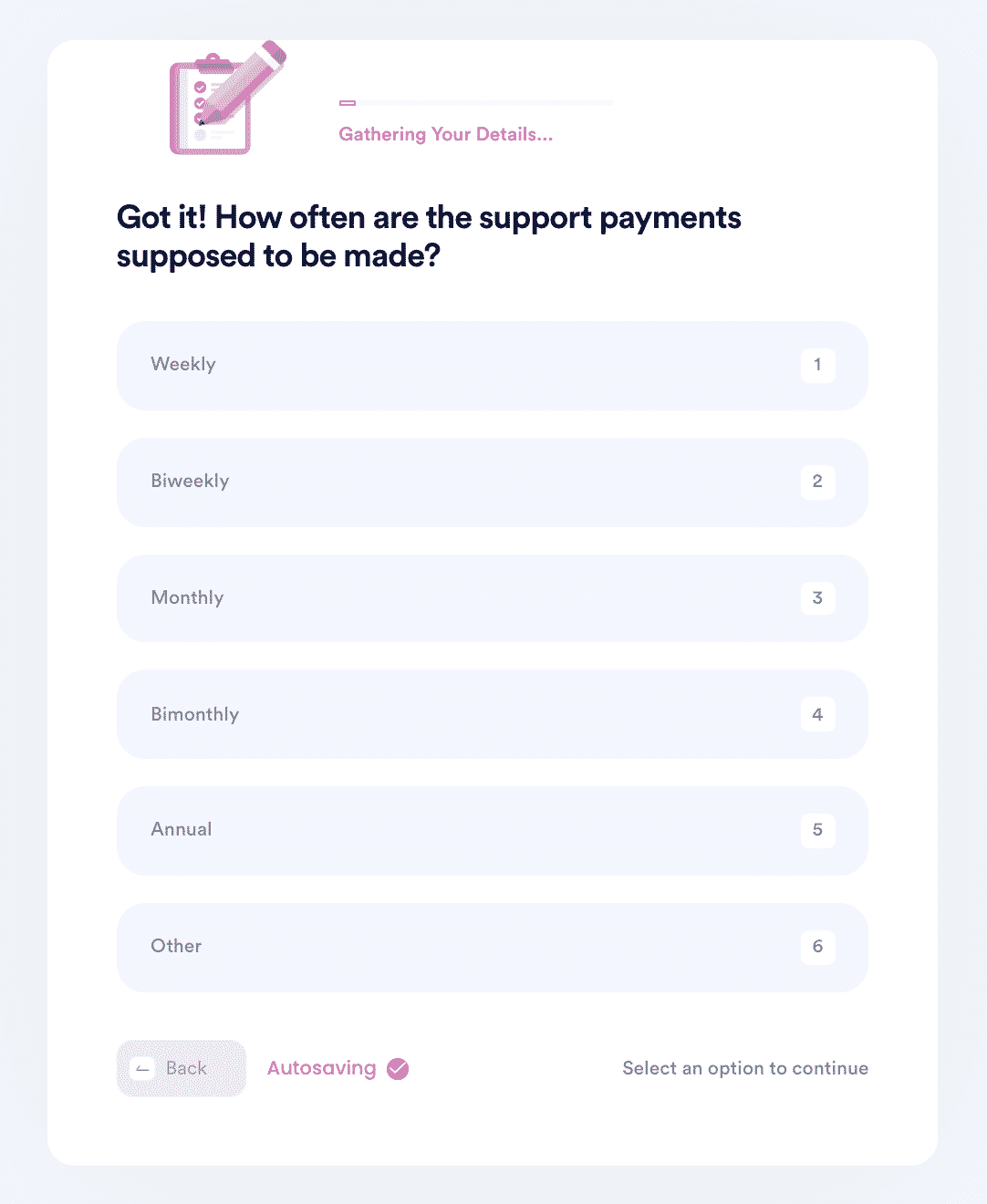 3. Confirm your contact information and select whether you want us to mail or email the letter on your behalf. Choose how you would like to receive the payment and verify your signature.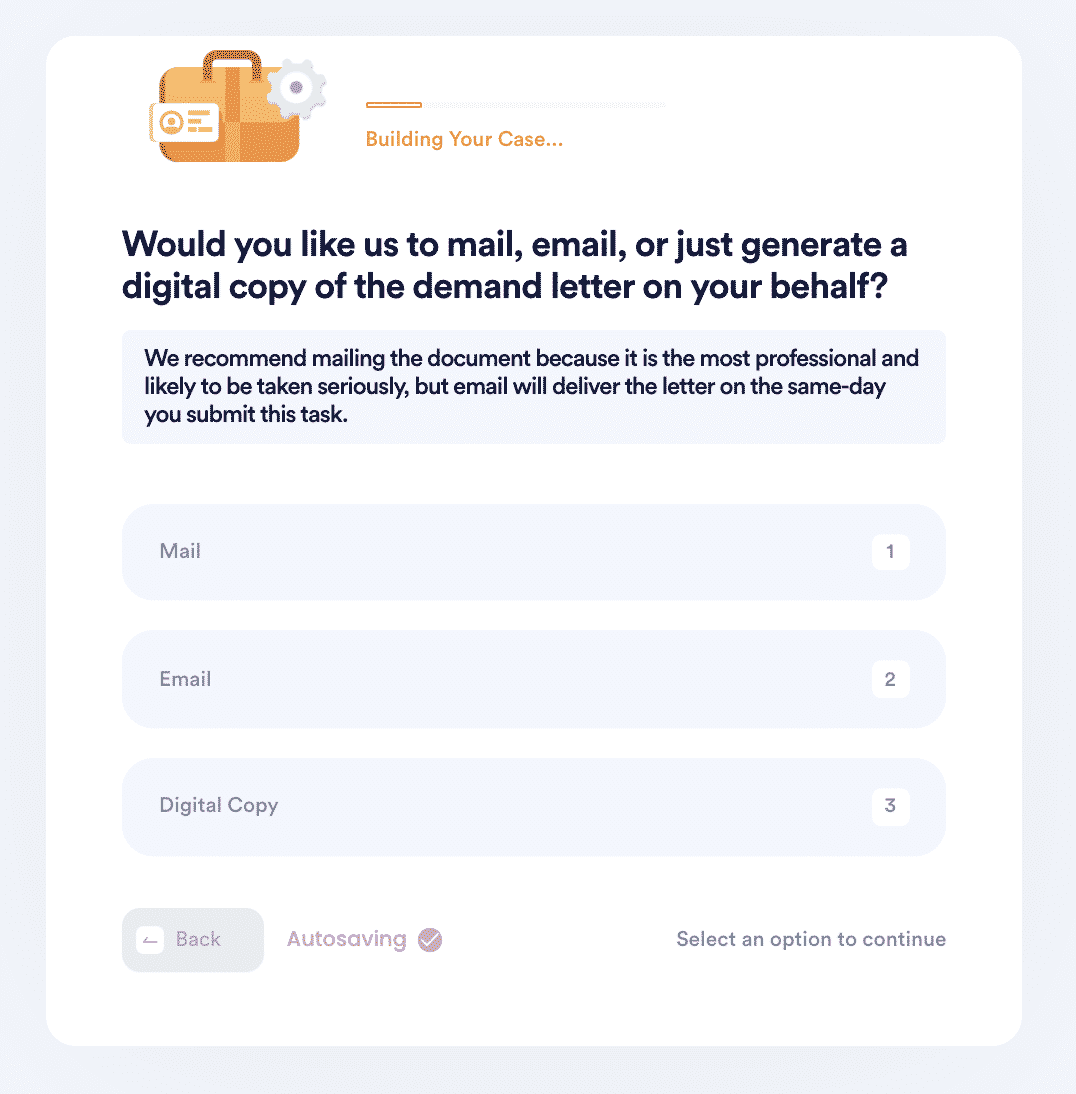 That is all there is to it! DoNotPay will compose the letter and send it to the specified recipient.
Child Support Guidelines by State
The entire process for child support payments can be overwhelming as each state has different rules and regulations. Fortunately, DoNotPay has child support guides for each state. Check out yours below:
Why Should I Use DoNotPay?
DoNotPay makes sending a demand letter:
Easy - We know what information is needed and make it easy for you to use.
Fast - You don't have to waste time filling out tedious forms or waiting on hold.
Successful - We handle your case with care, getting the best result possible.
How Else Can DoNotPay Help Me?
Beyond child support, DoNotPay has many products that can solve your everyday problems, including:
Let DoNotPay help you solve your problem today.